1 Stock To Buy, 1 To Dump When Markets Open: Adobe, Alibaba

Stocks on Wall Street closed lower on Friday, with the benchmark declining for the second week in a row as investors await the Federal Reserve's timeline for tapering asset purchases.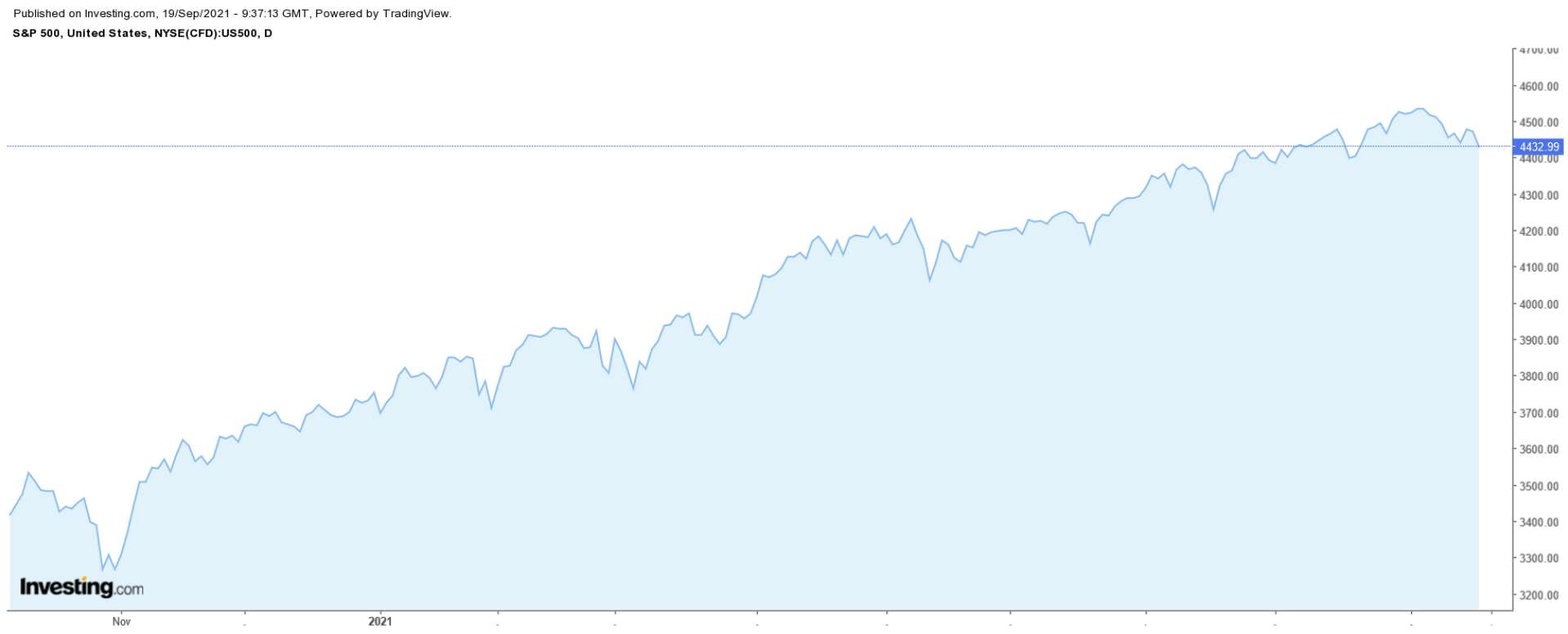 The week ahead will be filled with important economic data, e.g., the U.S. central bank's key monetary policy , as well as another batch of notable earnings from companies like Nike (NYSE:), FedEx (NYSE:), and Costco (NASDAQ:), making it a busy one.
Regardless of which direction the market goes, below we highlight one stock likely to be in demand in the coming days and another which could see fresh losses. 
Remember though, our timeframe is just for the week ahead.
Stock To Buy: Adobe Systems
Adobe Systems (NASDAQ:) will be in focus this week, as investors await the latest financial results from the high-flying software giant, which is slated to release fiscal third-quarter earnings after the bell on Tuesday, Sept. 21.
The tech titan has Wall Street's profit and sales estimates in nine out of the last 10 quarters, dating back to Q4 2018, thanks to booming demand for its wide array of subscription-based digital media and marketing software tools.
Consensus expectations call for earnings per share (EPS) of $3.01, improving roughly 18% from EPS of $2.57 in the year-ago period. Revenue, meanwhile, is forecast to rise around 21% year-over-year to $3.9 billion, reflecting strong growth across its key business segments.
Beyond the top- and bottom-line numbers, investors will pay close attention to Adobe's outlook for the current quarter and beyond as the existing operating environment has created a perfect backdrop for the cloud-based tech company to thrive.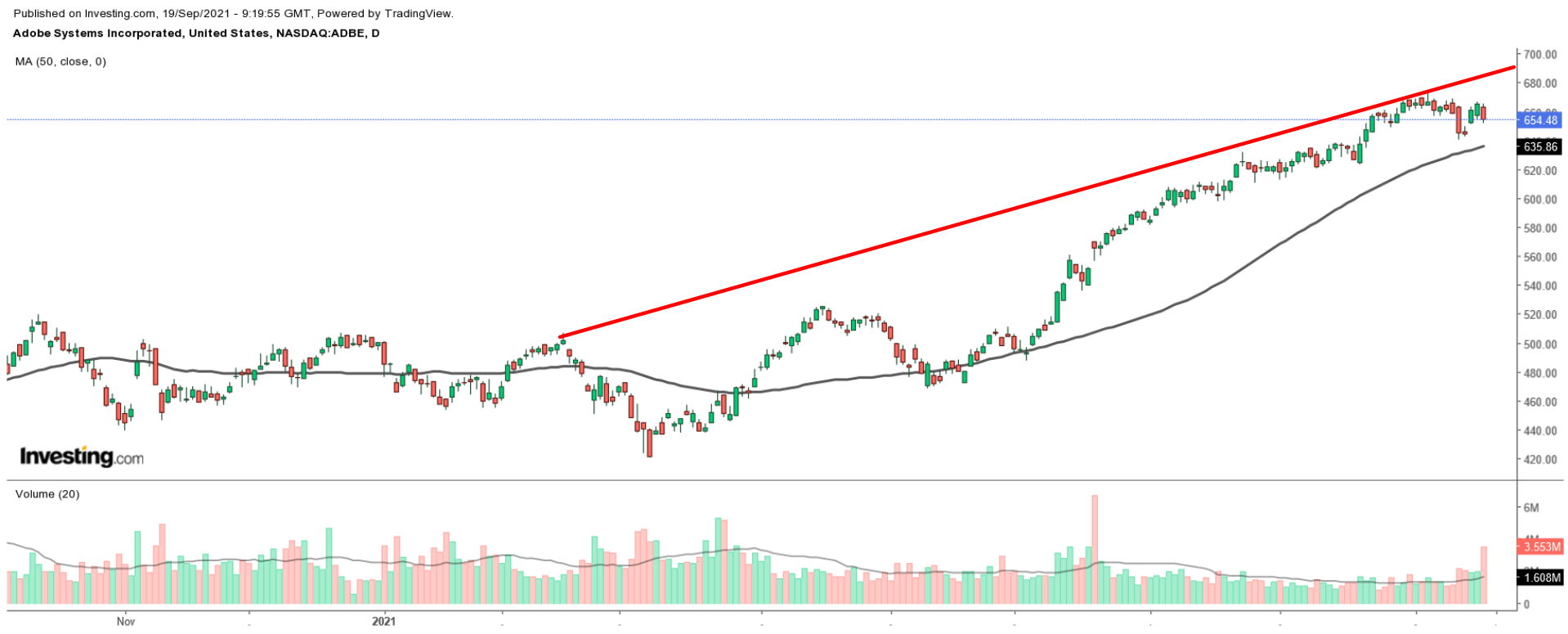 Shares of the San Jose, California-based software-as-a-service powerhouse—which tacked on 52% in 2020 thanks to a growing wave in enterprise digitization spending during the COVID pandemic—have gained an additional 31% in 2021.
ADBE—which reached an all-time peak of $673.88 on Sept. 3 before pulling back—ended Friday's session at $654.48, earning the software leader a valuation of $311.8 billion.
Stock To Dump: Alibaba Group Holdings
Shares of Alibaba Group Holdings (NYSE:) are expected to suffer yet another challenging week amid worries over the negative impact of ongoing scrutiny by Chinese authorities to crack down on the country's other tech behemoths. Alibaba is the country's major online e-commerce player, often referred to as the 'Amazon of China.' 
The latest negative news came after China's top securities regulator defended Beijing's ongoing clampdown on the country's tech sector in a private meeting with Wall Street executives. China Securities Regulatory Commission (CSRC) Vice Chairman Fang Xinghai said during the meeting, which took place last Thursday, that the crackdown was aimed at strengthening regulations for companies with consumer-facing platforms and improving data privacy.
The three-hour gathering included the head of the People's Bank of China, and executives from Goldman Sachs, Citadel, and other Wall Street firms. Taking this into consideration, (BA)(BA) shares look set to remain on the defensive this week as it continues to face uncertain regulatory challenges ahead.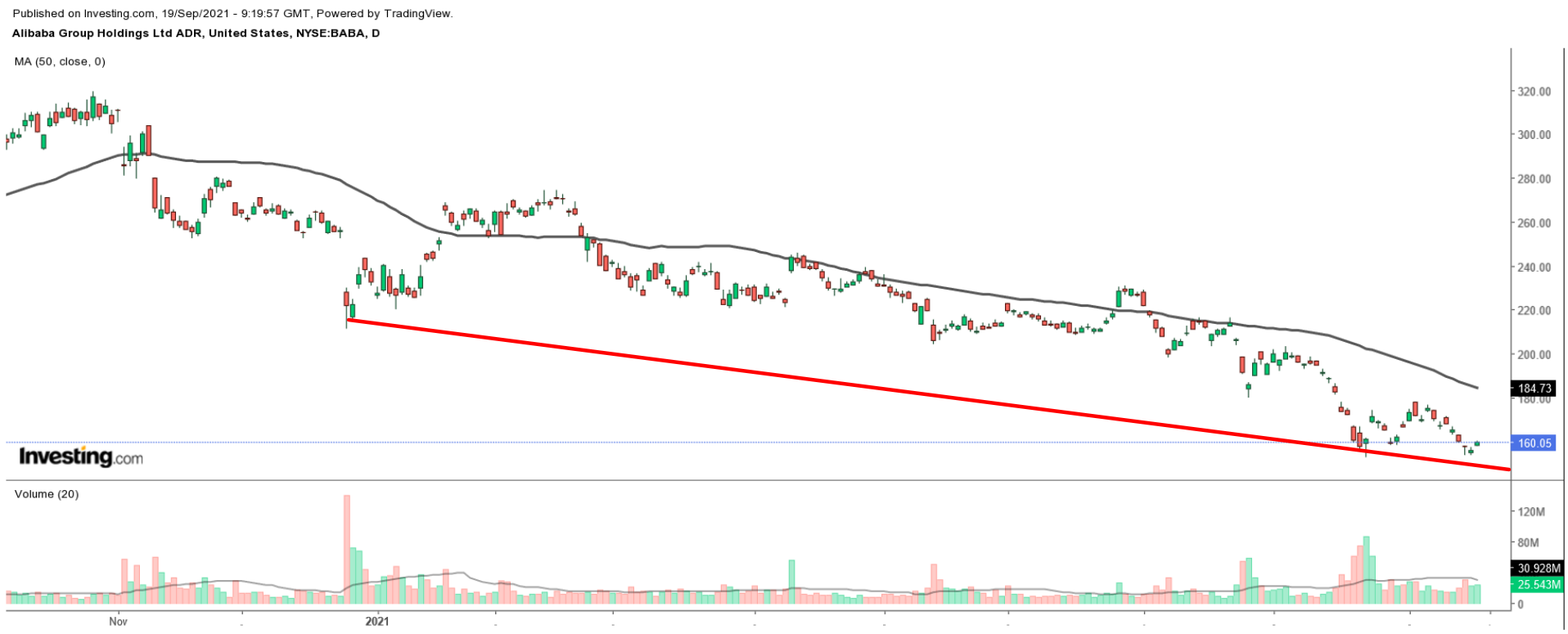 (BA)(BA) stock—which has fallen 31% year-to-date—closed at $160.05 on Friday, not far from a recent two-year low of $152.80 touched on Aug. 23. Shares now stand roughly 50% below their record high of $319.32 hit in October 2020.
At current levels, the Hangzhou, China-based tech behemoth has a market cap of $433.9 billion.

1 Stock To Buy, 1 To Dump When Markets Open: Adobe, Alibaba