AMD News – How to Buy AMD Stock, Step by Step (with Screenshots)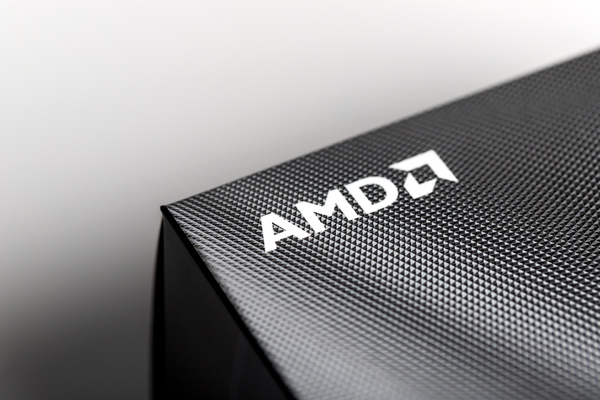 AMD logo." width="600″ height="400″/>
Would you like to buy AMD Stock to gain indirect exposure to the digital currency mining market? Follow this step-by-step guide to learn how you can buy shares in the leading graphics card producer.
Introducing ADVANCED MICRO DEVICES INC
According to the AMD website,
"Technology changes the world, but not on its own. When processing power meets brain power, the future comes alive."
AMD is at the forefront of our rapidly changing world. In direct competition with Intel, the two companies have been fighting for market dominance in the computer processor space for decades.  As of April 30, 2021, AMD had a market cap of 99.3B and a stock price of $81.62. Intel had a market cap of 232.3B and a stock price of $57.53.
The digital currency mining market is an industry still in its growth phase. Companies are investing millions of dollars in bitcoin mining. Graphics cards are a key part of the mining process and AMD is at the cutting edge of graphics cards.
Buying AMD stock is one way to add exposure to your portfolio to this digital currency mining sector.
For other listed companies with exposure to the crypto mining industry read our guide to bitcoin mining stocks.
How to Buy AMD Stock on ETrade in 3 easy steps
If you already have an Etrade account log into your account. If you don't have an account yet you will need to sign up and choose which account type best suits your needs.
Step One
From the 'Trading' menu select 'Stocks' and type AMD into the symbol box. Alternatively, you can also type AMD into the search box in the top right-hand corner of the screen and select AMD.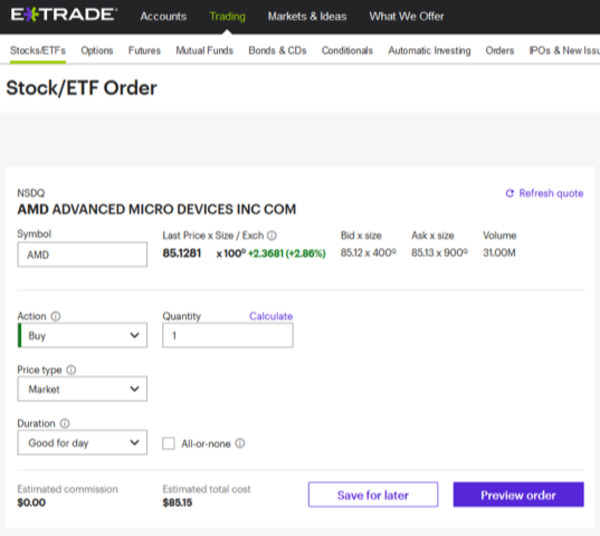 Step Two
For this example, we'll select 'Buy' from the Action menu.
Type in the quantity you want.
Choose if you want to buy at market price or enter an order at a different price.
Choose the duration of the order.
If you are unsure about the difference between any of the options in any of the menus click the question mark button for that menu for more helpful information.
Click on 'Preview Order.'
Step Three
This is your confirmation screen. You can double-check your order before finalizing it. If everything is accurate click 'Place Order' and your order will go live. If it's a market order it should be filled almost instantly (during market hours).  If it's an order at a price you set it will be filled if/when the market reaches that price.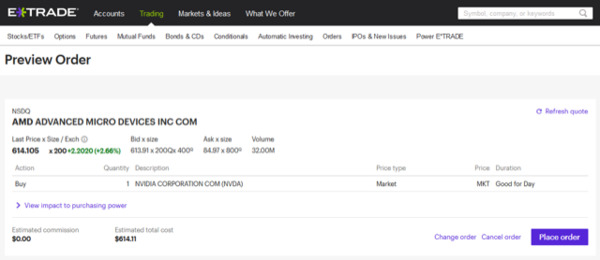 If your order is incorrect click on 'Change Order' and correct the errors. If you have completely changed your mind click 'Cancel Order'.
It's that easy?
Yes!
If you want to buy any other stock on ETrade follow the same steps substituting your favorite stock for AMD.  If you want to sell a stock change the buy action to sell.
Related Articles:
If you want to stay up-to-date with the latest trends and developments in the digital asset markets, subscribe to the Bitcoin Market Journal newsletter.


AMD News – How to Buy AMD Stock, Step by Step (with Screenshots)

Tags: AMD News