AMD News – Stocks Jump As 'Value' Stocks Lead The Way

Stocks finished the day higher on Feb. 24, with the gaining around 1.14%. The market seemed to like Chairman Powell's and commitment to low rates for a long time.
He literally said nothing new, nothing.
Rates were basically unchanged today at 1.38% on the Treasury.
S&P 500 (SPY)
It left the () at a rather important level of resistance of 3,931. A break above that level likely sets up a retest of the highs at 3,950. I think at this point it really does get tough for the market to push beyond 3,950. It may turn out that 3,950-ish proves to be a top in the market.
I'm sure there are plenty of you that think I am crazy to say it, and perhaps I am. But unless the is going to break below 20, which to this point hasn't been able to happen, and the 10-year yields drop some, the juice needed to lift stocks isn't there.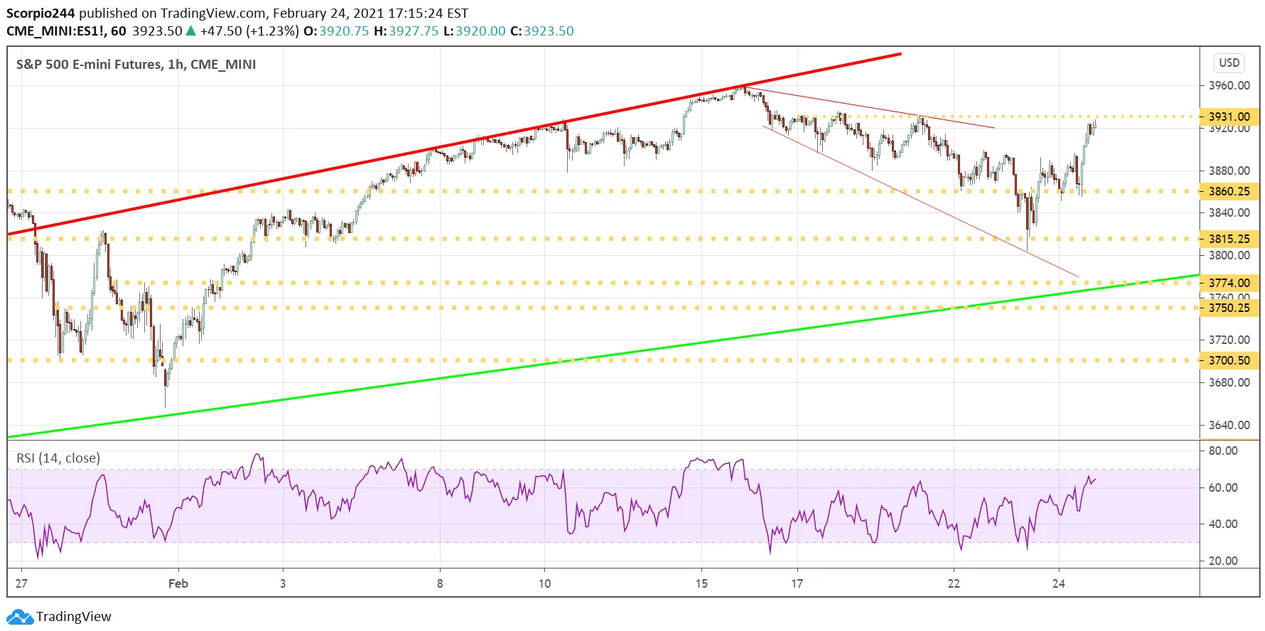 S&P 500 E-Mini Futures 1-Hr Chart
Options Volume
Option volumes are still extremely high, in fact, higher than even in December. So the amount of options volume continues to grow. That will make it harder for implied volatility levels to decline; at least, I don't see why market makers would start reducing their pricing now after all this time.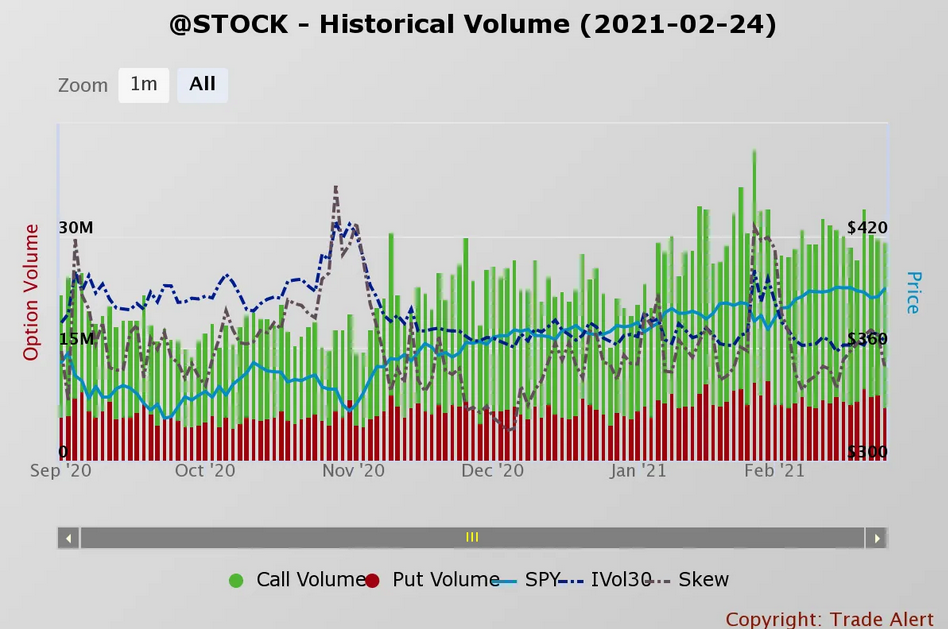 Break-evens
Perhaps one reason why the equity market has brushed off the rising 10-year is that the TIPS market has been slower to react. The is still trading at -80 bps, and while that is higher than in past weeks when it was -1%, it hasn't moved fast enough to result in break-even inflation rates falling. That could change next week when we get our next rounds of ISM data.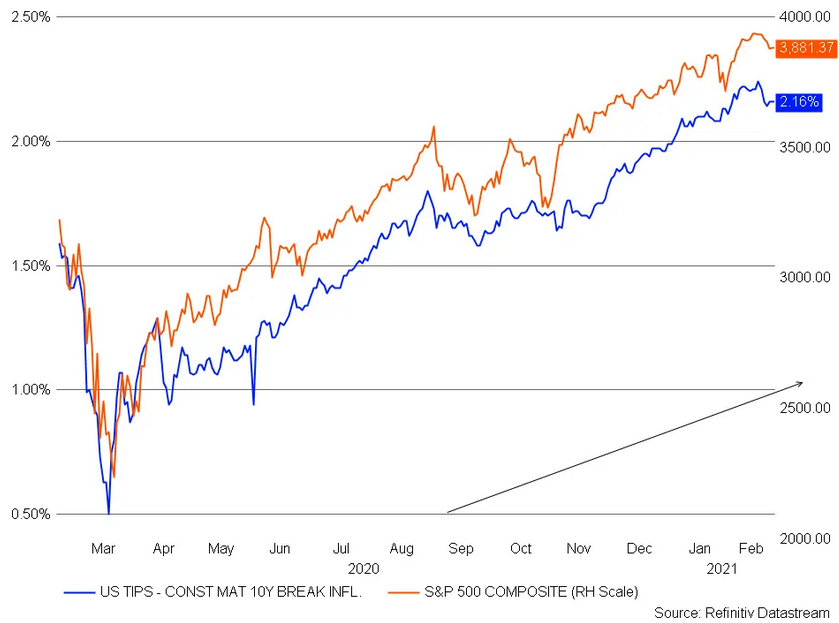 US TIPS Constant Maturity
Nvidia (NASDAQ:) is trading lower post-results, despite reporting better than expected and earnings and providing better than expected revenue guidance. But those gross margins are hurting. The company posted more than 60% revenue growth but no gross margin expansion.
So do they have no pricing power? Gross margin guidance was no better.
I was surprised to see the stock trade higher at first. I am not surprised to see it trading lower now. This is the same problem Advanced Micro Devices (NASDAQ:) had. If AMD is a guide, then Nvidia will have much further to fall. Perhaps back to $525 for starters.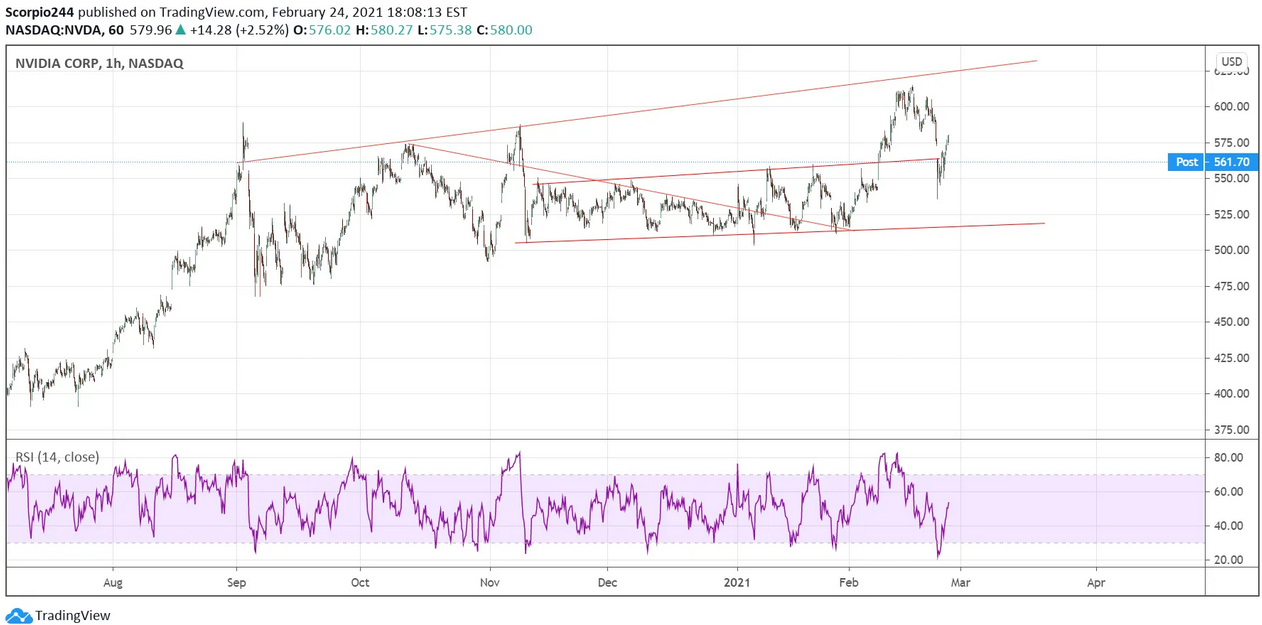 JPMorgan Chase and Co.
JPMorgan (NYSE:) helped to lead the value stocks higher today. Seriously, JPMorgan trading an all-time high is considered a value stock; it is the number two holding in the SPDR® Portfolio S&P 500 Value ETF (NYSE:).
Clearly, the banks are the big winners of rising rates. Probably a touch overbought with an RSI at 81.5. It is the highest since late 2016.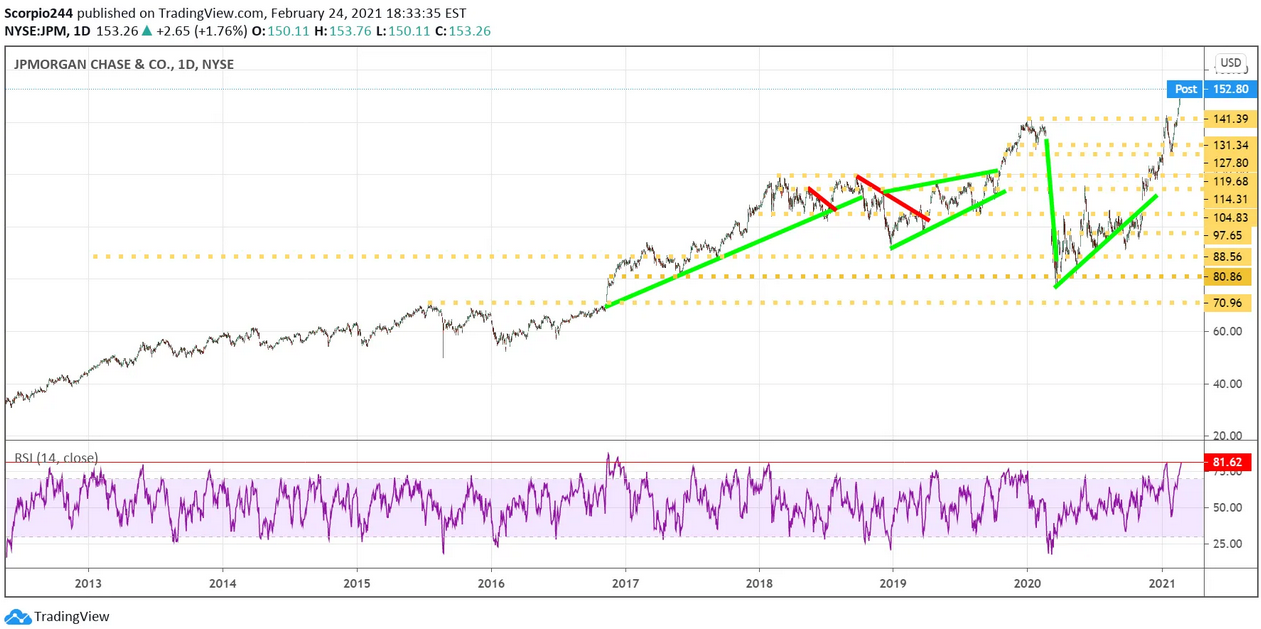 JP Morgan Chase Daily Chart
AT&T
AT&T (NYSE:) is a value stock, too, that I can see. That stock has done nothing but go down for years—probably a good reason for it being so 'cheap'. So much for HBO Max.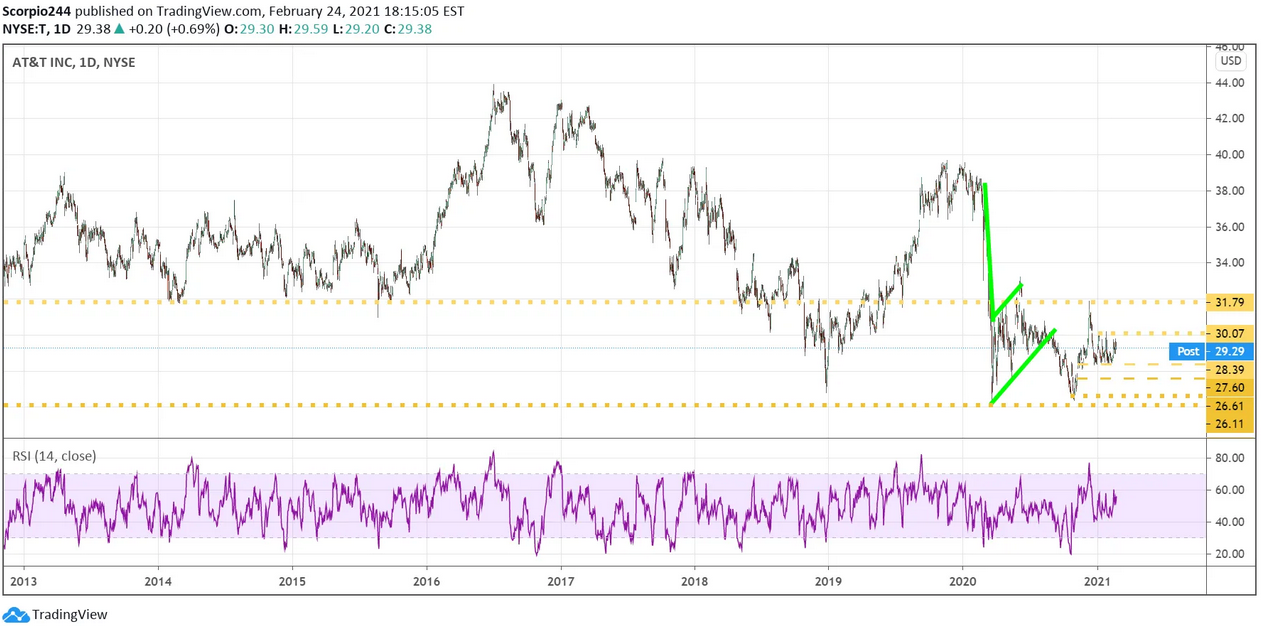 Walmart (NYSE:) didn't help the value stocks at all today. The stock trades at 23.1 times one-year forward earnings estimates, which is at the upper end of its 5-year trading range, and well above its average of 19.7 over that time. A value stock? Sounds like an overvalued stock to me.
Walmart EPS Chart" src="https://d1-invdn-com.akamaized.net/content/pic73239a2bf71e50479f25c743a9d160eb.png" alt="
Walmart
EPS Chart"/>
Original Post


AMD News – Stocks Jump As 'Value' Stocks Lead The Way

Tags: AMD News