Semiconductor companies should continue to benefit from trends like cloud computing, auto tech, and the transition to 5G connectivity. The growing adoption of digital games also bodes well for suppliers of graphic chips used in gaming systems.
Where to find the best semiconductor stocks
The rise of e-commerce, online video streaming, and remote working and learning are fueling the demand for cloud services. To meet this demand, cloud providers like Amazon, Microsoft, and Google are rushing to expand their capacity. In the processing, they are consuming more semiconductor components from memory chips to processors.
In auto, electric vehicles and self-driving cars are in fashion. In fact, they appear to be the future. Many semiconductor components go into electric vehicles like those that Tesla produces. As more companies from established automakers like GM and Ford to startups like Lucid Motors, Proterra, and Rivian, shift to electric vehicles, the demand for electric vehicle chips will only continue to rise.
Article continues below advertisement
Self-driving cars, like those that Google sister company Waymo has developed, incorporate even more chips. More companies are entering the business of making self-driving cars, which means that the demand for chips used in such vehicles will continue to be strong.
The auto market for semiconductor companies goes beyond electric and self-driving cars. Even conventional cars are incorporating more chips for functions like navigation and entertainment.
Article continues below advertisement
5G promises to be a major demand catalyst for semiconductor companies. First, phone makers will launch more 5G-capable devices in 2021. At the same time, the deployment of 5G networks continues. A lot of chips will be consumed in these areas, which means more business for semiconductor companies.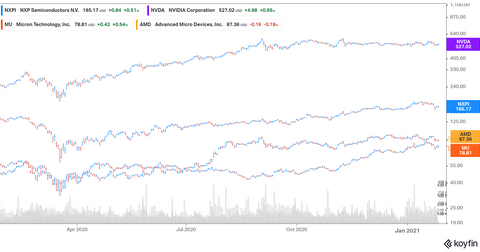 Article continues below advertisement
Best semiconductor product stocks in 2021
The semiconductor industry is vast and there's a long list of companies you could invest in. Here are some of the companies that could be a good fit for investors shopping for the best semiconductor stocks.
NXP Semiconductors (NXPI) supplies chips used in a variety of products, but it's best known for its autos. Sales to the auto market account for almost half of the company's revenue. NXP Semiconductors is such a good business that Qualcomm wanted to acquire it. 
Article continues below advertisement
The growing interest in electric and autonomous vehicles bodes well for NXP Semiconductors. Trading at 20x the forward earnings and about off its 52-week peak, NXPI stock reasonably priced considering its potential. NXP Semiconductors plans to report its fourth-quarter earnings on Feb. 1.   
Nvidia ((NVDA)) is best known for its chips that go into gaming devices. The company also supplies to the data center, auto, and phone markets. (NVDA) stock looks like a bargain right now considering that it trades about 10 percent below its 52-week high. The company pays dividends and its prospects are bright.
Article continues below advertisement
Broadcom (AVGO) makes radio frequency chips that are used a lot in mobile phones. The transition to 5G will generate a huge sales opportunity for the company. Broadcom products are also used in data centers. Trading at 16x forward earnings, AVGO stock looks fairly valued, especially for a company that pays dividends.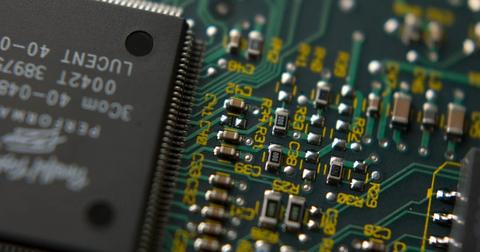 Article continues below advertisement
Qualcomm (QCOM) supplies wireless chips used in mobile phones. The company also licenses its technology to phone makers. Its customers include smartphone market leaders Samsung, Apple, and Huawei. Since Qualcomm makes money from both chip sales and technology licenses, it looks well-positioned to ride the 5G trend. The company plans to report its earnings on Feb. 3. Trading at 19x forward earnings and with dividends in tow, QCOM stock looks attractively valued. 
Advanced Micro Devices (AMD) chips are used in many places. The company is best known for its components used in gaming devices, like consoles from Microsoft and Sony. AMD also makes chips used in data centers and cryptocurrency mining. 
Article continues below advertisement
AMD is acquiring Xilinx in an all-stock transaction valued at $35 billion. Merging with Xilinx will enable AMD to expand its product portfolio and potentially boost its sales and profits. AMD and Xilinx expect the transaction to close in 2021. Trading about 10 percent off its 52-week high, AMD stock looks like a bargain.
Micron Technology (MU) also ranks among the best semiconductor stocks that you might want to have in your portfolio in 2021. Micron specializes in memory chips and supplies diverse markets ranging from mobile phones to data center and auto. MU stock looks cheap right now. The stock is trading more than 10 percent below its 52-week high. The stock has an attractive valuation at 10x forward earnings.