American Airlines – Dr. Fauci Supports Idea of Vaccine Requirement for Air Travel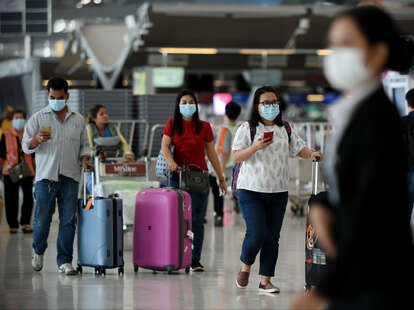 Photo by 1000 Words / Shutterstock
Vaccine mandates have become a widely used—dare we say normal—aspect of international travel this year, with countries across the globe adopting shot requirements for entry. Now, chief medical advisor to the president, Dr. Anthony Fauci, has endorsed a similar mandate for air travel in the United States. 
In an interview with theSkimm earlier this week, Fauci voiced his support of a vaccine mandate for air travel, telling the outlet, "I would support that if you want to get on a plane and travel with other people, that you should be vaccinated."
While President Biden himself has yet to publicly mention any such policies, during a press briefing last Friday, White House COVID response team coordinator Jeff Zients said officials are "not taking any measures off the table," according to The New York Times. The comment follows last week's announcement that fines will double for those refusing airline mask requirements.
Major airlines, however, don't seem quite as keen on the idea of a vaccine mandate. While speaking with CBS This Morning, Delta Air Lines CEO Ed Bastian voiced his opposition of the idea, calling it a "logistical dilemma" trying to verify vaccinations and vaccination exemptions. Meanwhile, American Airlines CEO Doug Parker echoed Bastian's comments in his own interview with The New York Times last month, telling the paper that it would be "incredibly cumbersome" to check statuses.
"You can do this on international flights," he said in the NYT podcast interview with Kara Swisher. "There's a lot of time between when the aircraft lands and when it takes off. We have to check passports and things as well. It wouldn't be physically possible to do without enormous delays in the airline system."
Want more Thrillist? Follow us on Instagram, Twitter, Pinterest, YouTube, TikTok, and Snapchat.
Megan Schaltegger is a staff writer at Thrillist.


American Airlines – Dr. Fauci Supports Idea of Vaccine Requirement for Air Travel