American Airlines News – The Most Important Number of the Week Is 91.3


Economists are tripping over themselves to see who can boost their U.S. economic growth forecasts the highest. A Bloomberg News survey of 82 economists shows no fewer than 12 expecting gross domestic product to expand 6% or more this year. As I pointed out last week, not since Ronald Reagan occupied the White House in 1984 has growth been that strong. This is one reason  bond yields shot higher this week. 
There's just one problem. Most of the optimism is rooted in the notion that consumers are like a coiled spring, ready to loosen the purse strings and spend much of the $1.6 trillion that has built up in excess savings once the economy fully opens. Although that may still happen, some of the data this week suggests it's no sure bet to happen. Overlooked in the flood of reports showing big gains in manufacturing and housing for January was a report from the Conference Board on February consumer confidence.
Far from finding "animal spirits" poised to be unleashed, the group — which has been tracking the consumer since before the 1970s— revealed that consumers are unusually cautious about the present as well as the outlook for the coming six months. Although the Conference Board's overall index of consumer confidence edged higher to 91.3 for February from 88.9 in January, it's still almost 50 points below the recent peak in late 2018 and even 10 points below last year's high. More concerning is the expectations portion of the index, which dipped to 90.8 from 91.2 and remains below the pandemic-era high of 106.10 in June.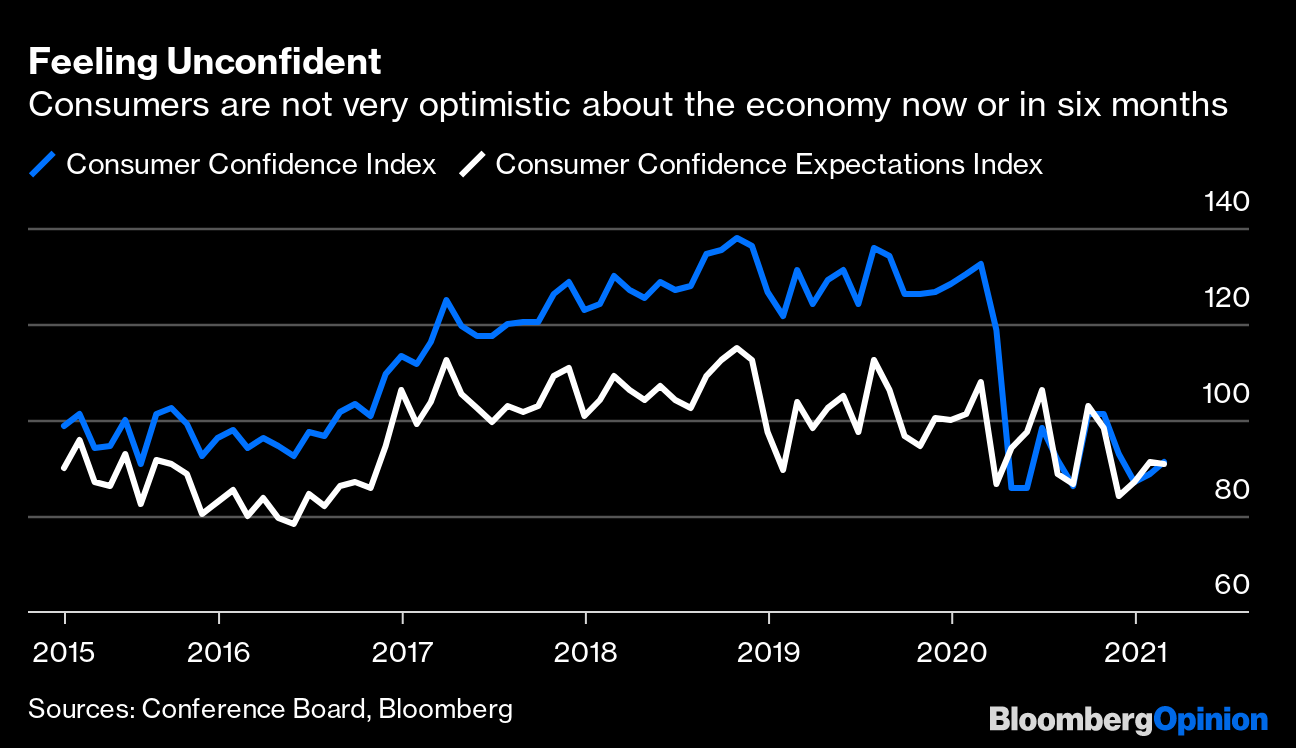 A downward trend should not encourage economists. Diving deeper into the report brings up even more concerns. The part of the index measuring plans by consumers to buy an automobile in the next six months has been falling along with plans to buy major appliances and those who expect to to take a vacation. It's certainly possible that consumer confidence will soar once the economy fully opens, with restaurants, movie theaters, cruise lines, hotels and gyms no longer forced to restrict capacity. But some recent corporate announcements should give pause. American Airlines Group Inc. warned 13,000 employees earlier this month that they could be laid off, many for the second time in six months, because an anticipated summer travel rebound wasn't materializing. Carnival Corp.'s Carnival Cruise Line said Wednesday that it was extending its Covid-19 shutdown through May 31.
If that wasn't bad enough, the one true bright spot in the economy — housing — could be in for a slowdown. The Conference Board said its index measuring intentions to buy a home fell to the lowest level since April. A fluke? Maybe. But it came just a day before the Mortgage Bankers Association said its weekly measure of applications to buy a home dropped to the lowest since May, the third consecutive weekly decline. Economists are probably hoping the drop is due more to bad weather (applications dropped in each of the past three Februaries) or a halt in searches because of the dearth of inventory rather than the recent uptick in mortgage rates to  a six-month high or the surge in home prices making housing unaffordable.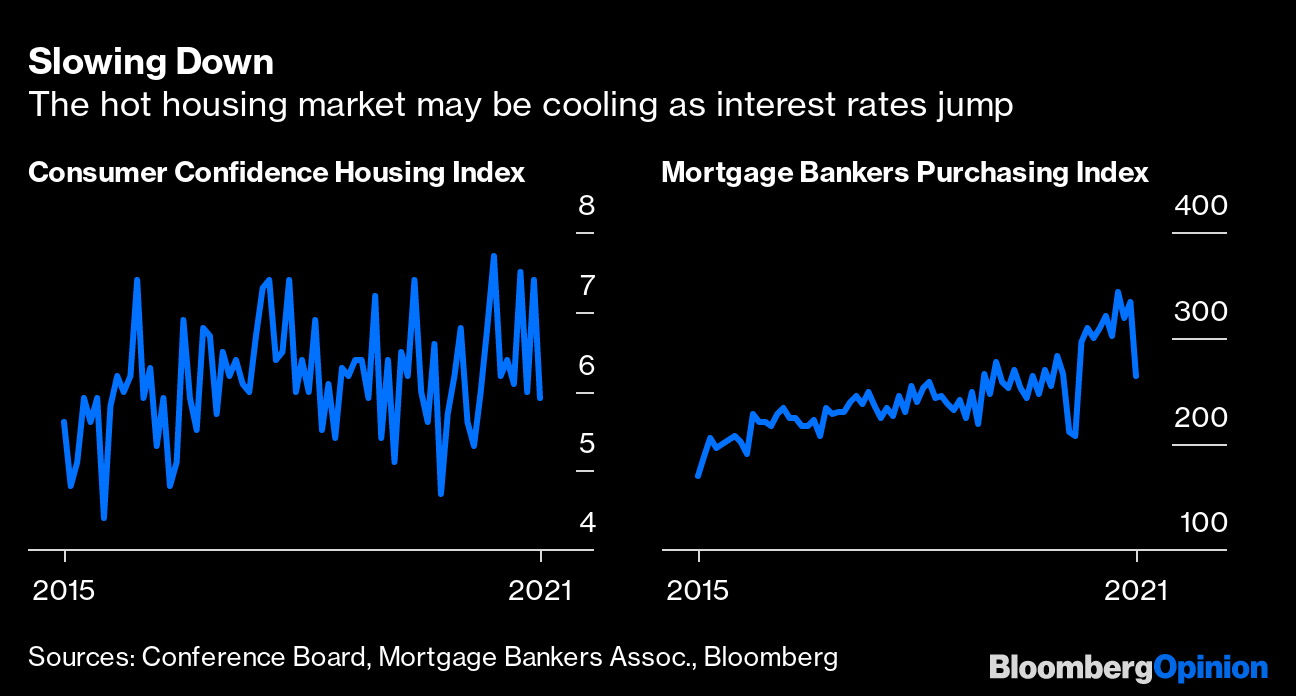 If it's the latter, then economists should be worried that the economic recovery is extremely tenuous at this point because it would suggest that evidence of strong spending in January was a byproduct of consumers pulling forward purchases in anticipation of the approval of the Biden administration's $1.9 trillion relief and stimulus package rather than a sign of confidence in the outlook. (The University of Michigan's Consumer Sentiment Index for February also showed similar trends for significant purchases.)
It doesn't help that consumers say the outlook for employment is still troubling. The Conference Board's index of consumers who say jobs are plentiful also retreated from levels seen in September, October and November. I guess that is to be expected with an extra 10 million or so people still out of a job because of the pandemic and an additional 4 million or so having dropped out of the labor force altogether because finding work has been impossible. At 61.4%, the labor force participation rate edged down in the last half of 2020 and sits at its lowest since the late 1970s, which was not a great time for the economy. Here's how Bloomberg Economics sums up the situation:
"Expectations for future labor market improvement softened, suggesting households may not expect economic reopening to automatically mean a return of old jobs."
The coming week will fill in part of the puzzle, with the government issuing the employment report for February on Friday. The median estimate of economists surveyed by Bloomberg is for a gain of 145,000 jobs, up from the underwhelming 49,000 added in January. The increase is encouraging but nowhere near where it needs to be to help fulfill those 6% GDP forecasts.
To contact the editor responsible for this story:
Daniel Niemi at dniemi1@bloomberg.net


American Airlines News – The Most Important Number of the Week Is 91.3