My Apple Inc (NASDAQ:AAPL) stock price valuation

This discussion of my Apple Inc (NASDAQ: AAPL) stock valuation first appeared in Rask's weekly newsletter. Create a free Rask account to read these every week.
My weekly emails will be accompanied by a recent episode of The Australian Investors Podcast, Australia's top expert investor podcast. If you haven't already, you can click these links to subscribe to the series: iTunes, Google or Spotify. You'll get some of my latest stock ideas every week.
Alternatively, I highly encourage you to sit back and watch the video version on Rask's YouTube channel.
Now onto this week's story…
Why I took a bite of Apple
Let's start with a full disclosure: I own Apple stock. I've owned it for years.
It's my largest global stock position — and number-two overall. It's also the first company I formally recommended to members of our Rask Invest stock picking service.
(Side note: Why is it not my largest position? Well, there is one ASX software stock I've also owned for years, which has returned multiples of its initial value, and so it is now my largest holding… you can probably guess the company I'm talking about.).
Given that I buy all of the stocks I recommend to Rask Invest members (I buy 5 days after we release the research), we're both sitting pretty.
We recommended Apple to Rask Invest members at a split-adjusted price of $47.56.
At the time, Apple wasn't a sexy tech stock to recommend. It was already one of the largest companies of all time.
'I don't see it', a very prominent analyst said at the time. 'How can the company transition the profits of iPhone to something else?'
Then there was the $US1 trillion valuation. For some reason, people thought ,'it's already at $US1 trillion in market cap, it can't get any bigger'.
Obviously, that's a non-sensical comment because size does not make an investment better or worse by itself. Good investors know to focus on what's possible, not what's happened.
In other words, what is the company likely to become, since the market looks to the future to price stocks today.
Here's exactly what I wrote to Rask Invest members on June 4th, 2018: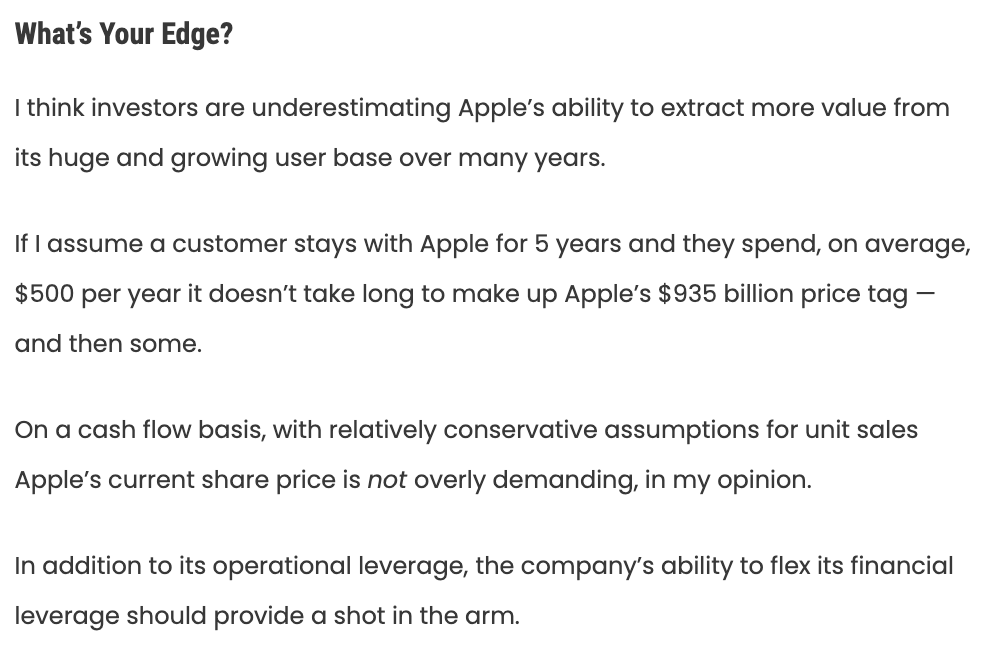 Then, as now, I believe the saying is true: "once you go Mac, you never go back".
Sure, a shiny new iPhone or Apple Watch might draw you in (I bought one yesterday). But the friendly, secure and sticky iOS software keeps you paying.
To be frank, last week's results from Apple showed that even I underestimated its ability to keep winning, faster.
As 7Investing's Dr Anirban Mahanti and I discuss on the latest episode of The Australian Investors Podcast, Apple seems to be growing like a small-cap tech stock… yet it's currently priced at ~$US2.4 trillion dollars ($3.3 trillion Aussie!).
When I went on the television last month, I was asked to name 3 stocks to watch. Most people know me for small-cap ASX shares because I run the successful Rask Rockets programs.
Therefore, I named Laserbond Ltd (ASX: LBL) and Xero Limited (ASX: XRO), for my smaller caps. But I threw in Apple Inc as my third.
Each of these three companies has performed extremely well for Rask members. Yet I continue to believe their best days lay ahead.
However, it was Apple — the largest company which 'everyone already knows' — that was most contentious on telly. How can a big company like Apple still be amongst an analyst's top stock ideas?!
Well, it's simple: it's an incredible business. And my valuation is still above the current price.
Some of the key risks to Apple include government regulation (e.g. the company getting broken up, a fine/breakup of its App Store domination, its Chinese expansion going sour, etc.), the current chip shortage, and/or a fundamental change in the way people use technology.
Also, you should know I'm forecasting very strong growth for Apple's Services business to justify my valuation. This is Apple's impressive iCloud, software and subscriptions businesses.
The Services business has deliciously wide margins — far better than iPhone sales — while also being super sticky.
(Remember, even if you don't have an Apple subscription or develop Apps, your parents have probably saved 10 years of family photos in iCloud — maybe without even knowing).
I suspect Services revenue could double from here in the next five years. If that happens, keep a watch on those already wide profit margins, and let's see if more of that free cash flow pours out.
TL;DR (Too Long, Didn't Read)
In summary, I'm thrilled we recommended Apple to our members as our first-ever stock idea.
One of the big investing reminders for me is to give great businesses time to compound.
Find them, understand what makes them tick, ensure they have great management and hold on for 5, 10 or 20 years if you can.
If it's that good, your intrinsic valuation will go up faster than you expect (I know mine has).
In this week's Australian Investors Podcast, Anirban and I reviewed all of the major tech stock earnings from the US: Apple, Tesla, Microsoft, Google/Alphabet, and we covered some Aussie stocks like Dubber and Temple & Webster.
Interestingly, Anirban identified Tesla as one of the great companies of our time.
The more I think about it, the more I believe it could be growing into another Apple-like cash flow machine. A hardware + software beast that beautifully redefines how we interact with technology.
Sure, it's already valued at over $US600 billion… but see above, does that really matter?
Tune in to the podcast to find out.
And, hey, watch the video version so you can see Anirban explain what he's looking for in Tesla — in real time!
~~~
If you want to ask me any questions or share your feedback on this email or our podcasts, join me inside Rask Invest or request a story for us to cover, on Twitter.
Cheers!
Owen Raszkiewicz
Lead Analyst, Rask Rockets
Founder, Rask Australia

My Apple Inc (NASDAQ:AAPL) stock price valuation

Tags: Apple Stock, Apple, Apple (AAPL)
Stock Market, Latest News on C N N.