Since taking charge of ING Groep NV in 2013, Chief Executive Officer Ralph Hamers has labored to make it the most digitally advanced lender in Europe. His motto: disrupt yourself before a competitor does it first.
It's safe to say the tumult at ING during the last few weeks isn't what Hamers had in mind.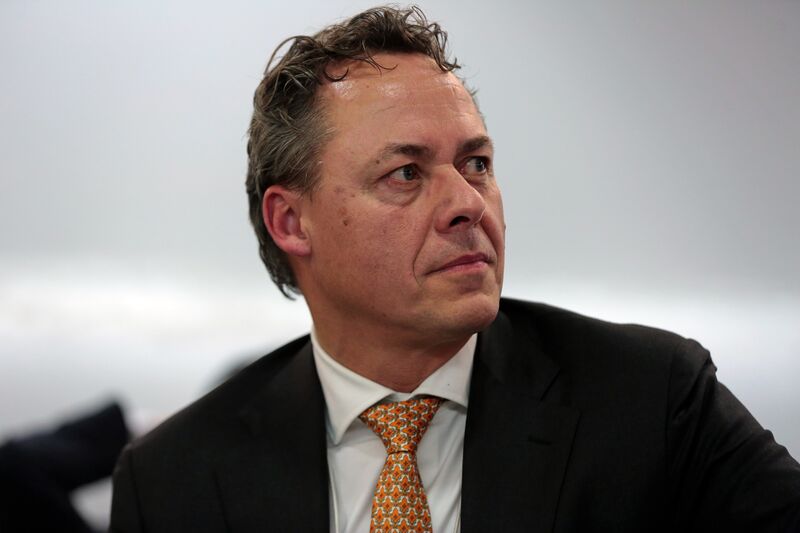 Technology failures at its Belgian unit and a breakdown in ING's anti-money laundering practices have revealed weaknesses at Europe's sixth-most-valuable bank and raised the ire of clients and regulators. Investors, frustrated by the 27 percent swoon in the share price this year, say Hamers is under pressure to turn the page on these episodes.
"People have doubts now and Hamers is in a vulnerable position," said Jos Versteeg, an analyst who covers ING at InsingerGilissen, a Dutch private bank. "If there is another mistake it will be difficult for him to defend. But Hamers is very devoted to ING and I don't believe the board will sacrifice him. Very few people inside ING want him to leave."
The troubles are a jarring turn of events for an institution that appeared to have left such drama behind. ING became a banking-and-insurance giant in the 1990s by expanding in Asia and the Americas and buying Barings, the British merchant bank sunk by rogue trader Nick Leeson. After the financial crisis forced it into a state rescue, the humbled firm hived off its insurance businesses and shrank its far-flung banking operations. When it reemerged under Hamers, ING's orange lion logo no longer stood for a firm that echoed the golden age of Dutch trading, but rather a retail lender focused on the digital wizardry of the future.
Yet persistent glitches at its bank in Belgium, ING's second-biggest market, are undercutting its reputation for technological prowess. People familiar with the unit's operations say customers must sometimes wait hours or even days for routine transactions to be processed because of crashing software programs and system shutdowns. In some instances, backlogs have left business clients unable to pay bills and make payrolls, said the people, who requested anonymity to describe ING's internal procedures.
ING is merging its computer systems in Belgium with those in the Netherlands in a process that won't be completed until 2021, the bank said in an emailed statement to Bloomberg News. Under the project, dubbed Orange Bridge, more than 600,000 customers have been moved to the new platform so far and about 5,000 employees at the Belgian unit were shuffled into new roles last year.
"A transformation like this doesn't happen in a day and the model needs some time to mature," the Amsterdam-based bank said in the email. "And while there has been some pressure on certain internal service levels, these were all acceptable and within control limits and we do not recognize the delays as described."
Read more: ING to Pay $900 Million to End Probe
The tech problems come on the heels of a two-year criminal investigation that found ING's bank in the Netherlands permitted suspected lawbreakers to use its services to launder money between 2010 and 2016. In a report issued Sept. 4, Dutch prosecutors described an institution that failed to execute basic anti-laundering practices such as scrutinizing new customers or acting on indications of suspicious activity. In one case, a subsidiary of telecom company VimpelCom Ltd. paid $55 million in bribes through an ING account to a government official in Uzbekistan to win business in the central Asian nation, according to Dutch prosecutors. The bank agreed to pay a settlement of 775 million euros ($895 million) and take action to address "structural shortcomings."
"The combination of failings we see at ING point to an environment with little incentive to comply with regulations," said John Howell, a British consultant to banks and governments on financial crime measures.
Reacting to the case, the city of Amsterdam, which has long used ING to manage dozens of its municipal accounts, announced on Sept. 10 that it would take the unusual step of putting the contract out to bid before the current term expires next year. The Dutch central bank said ING needs a "prolonged and intensive process" of improvement to fulfill its role as a gatekeeper of the nation's financial system. Lawmakers were already miffed by ING's bid to give Hamers a 50 percent pay raise, to 3 million euros, this year. The board withdrew the proposal in the face of protests by officials including Prime Minister Mark Rutte.
ING stockholders want the company to quickly put these issues behind it. "The only thing ING can do to restore trust is to deliver results," says Joost de Graaf, senior portfolio manager at Kempen Capital Management NV, which holds shares in the bank. "It has to make sure it has top quality compliance procedures and delivers easy-to-use products to its customers."
ING's woes serve up a lesson in the challenges of transformation. In Hamers, a youthful 52-year-old who favors jeans and orange Pumas over neckties, ING has a leader who exudes techie cool. He's a star attraction at financial technology conferences, with a knack for making provocative statements. He once mused that someday lenders may no longer need balance sheets—they'll simply match financial services with consumers the same way Uber links taxis with riders.
"People now do their banking when they're waiting for the subway or their coffee at Starbucks. You have to rethink the bank for that technology," Hamers said in a podcast at the Money 20/20 conference in Amsterdam in July. He declined to be interviewed for this article.
ING's embrace of technology predates Hamers' rise to CEO. In 1997, the company pioneered the branchless bank with its ING Direct franchise and today operates online lenders throughout Europe and Australia. Its German venture, ING-DiBa, is the nation's third-biggest private consumer lender, with more than 9 million customers and 162 billion euros in assets.
Under Hamers, ING put cutting-edge fintech in the hands of its customers. The bank, for instance, evaluates loans of as much as 100,000 euros for small businesses in France, Italy, and Spain in just 10 minutes via algorithms that analyze not only the borrowers' credit data but also their Facebook and Twitter posts.
Read more: ING's Anti-Money Laundering Fixes Will Take Time
In 2016, he began an 800 million-euro project to overhaul the bank's IT. A key aim: consolidating its systems to deliver a uniform experience for customers, while generating savings. In Belgium, the bank said it would eliminate more than 3,000 jobs. Merging old and new computer networks is a notoriously complex task, and, for all its tech cred, ING appears to have run into a quagmire in Belgium.
ING started shifting banking functions to new automation systems before they were ready to handle the load, say the people familiar with the problems. Applications for processing loan requests, for example, often don't work properly and the mortgage department is dealing with backlogs that can force customers to wait more than four months to be approved for home loans. As a result, the atmosphere inside the unit is chaotic, said one of the people.
Taken together, ING's compliance and technology shortcomings suggest an organization that's been in such a hurry to embrace digitalization that it's paid too little attention to fundamental business practices, say finance experts.