Bitcoin News Today – Bitcoin, GameStop Ignore Bond Market Meltdown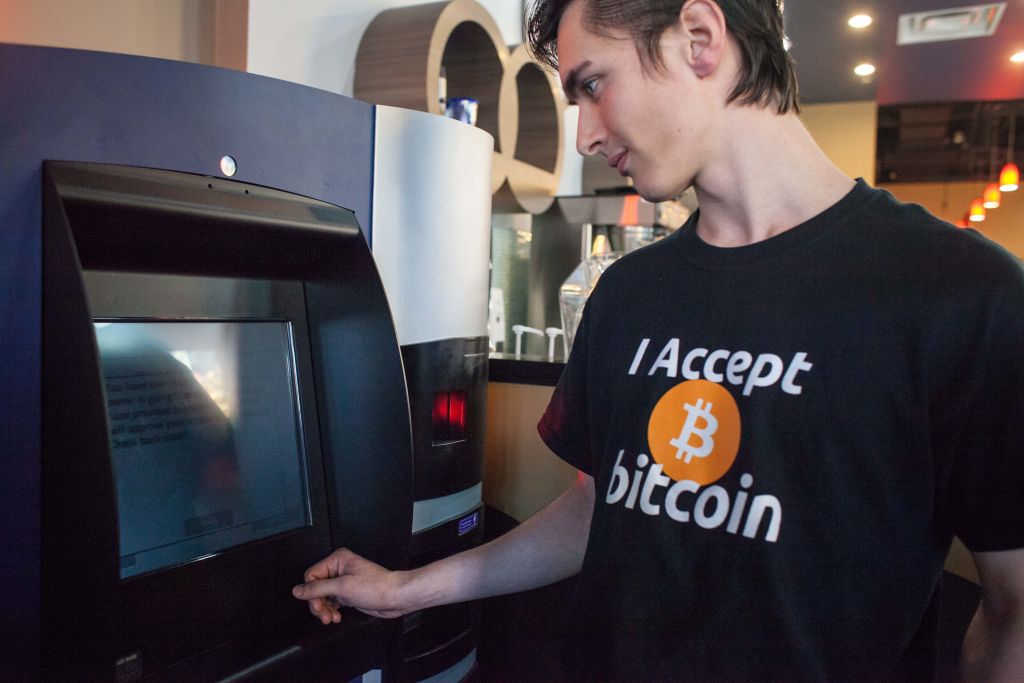 This is Bloomberg Opinion Today, a bond-market tantrum of Bloomberg Opinion's opinions. Sign up here.
Today's Agenda
Waiting for the Judgment Day
Is this the Big One? 
Stocks, bonds and ETFs that have flown sunward for the past year felt the wax melting from their wings today, as long-term interest rates flash-rose and people maybe wondered if the end of the Bad Times meant the end of the good times for markets. But as historically wild as bonds were today, they still weren't wild enough to change any paradigms or the Fed's mind about continuing to flood the market with liquidity, writes Brian Chappatta.
To be sure, the Big One, the day of reckoning for an overheated market rife with speculation, is probably coming. Joe Nocera caught up with a bunch of dot-com-bubble veterans from his home town of Providence, Rhode Island. All of them — with the exception of the unfortunately deceased former mayor Vincent "Buddy" Cianci, who Joe notes got re-elected after being convicted of torturing a guy, because Providence — hear very loud echoes of that bubble in today's manic markets. Lionel Laurent warns regulators must try to temper the dangerous speculation whipped into a froth by the likes of Cathie Wood, Elon Musk, Dave Portnoy and Reddit without snuffing out optimism entirely.
And wild moves of the sort we've seen in the past few days are built not on fundamentals, writes John Authers, as much as rapid-fire judgments about whether the Fed will keep making the money printer go brrr.  
But there's also little reason to think it will stop just yet. While everything else got shellacked today, Wood/Musk darling Bitcoin rallied hard. So did Reddit darling GameStop, yet again, which Matt Levine notes happened, yet again, for no real economic reason, although arguably the principle of YOLO has some basis in economics. Anyway, this isn't the Big One. Probably. 
Further Market-Yikes Reading: The Fed may soon have to keep short-term interest rates from going negative. — Bill Dudley 
What Are We Paying You For Anyway?
Because absolutely everything must be a cryptocurrency these days — stay tuned for this newsletter's BOTcoin — people naturally are wondering why the Fed doesn't release its own. It might be one way to counter the threat of cryptocurrencies replacing traditional money, something Mohamed El-Erian suggests governments need to start taking seriously. 
The Fed is trustworthy enough that it wouldn't even need to use the planet-destroying mining technology Bitcoin uses, Noah Smith writes. The Fed could just ride herd on a cheap, frictionless global payments system, and everybody would be happy — everyone except, Noah notes, all the banks and other parties already making money in that business, who would quickly stop making money. So the Fed probably won't do it, leaving us with uncomfortable questions about why we're paying those other people so much.
On that note, Goldman Sachs is charging a 0.35% fee for a robot to manage people's money in Marcus accounts, which Nir Kaissar notes is much less than the 1% carbon-based advisers tend to demand. Like imaginary FedCoin, this is a threat to an old, lucrative business model. Unlike imaginary FedCoin, it is real.
Biden's Sticky Cabinet Doors
Maybe it's just because there's a lot going on right now, but President Joe Biden's cabinet-filling process has gotten off to kind of a slow start: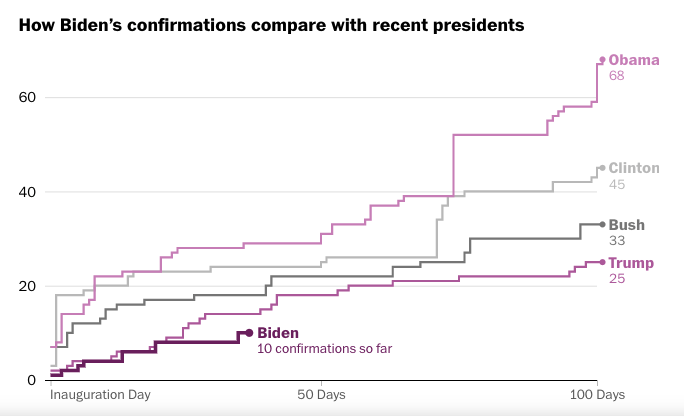 And that was the case even before Senate Republicans started objecting to some of his picks. Neera Tanden, his choice to run the Office of Management and Budget, appears to be a non-starter, not because of policy but because she was too snarky online, writes Bloomberg's editorial board.
Republicans are starting to object to other picks for more substantive reasons, too. Perhaps inspired by our own Ramesh Ponnuru, they're suggesting Xavier Becerra lacks the medical expertise necessary to run Health and Human Services. But Jonathan Bernstein writes that politicians such as Becerra have long filled HHS and other cabinet jobs and done just fine. Because what's needed is political and bureaucratic skill, not the ability to perform brain surgery.
Further Biden-Advice Reading: 
Telltale Charts
The way to fight the temporary inflation we're seeing now is to produce more stuff to address supply constraints, writes Conor Sen.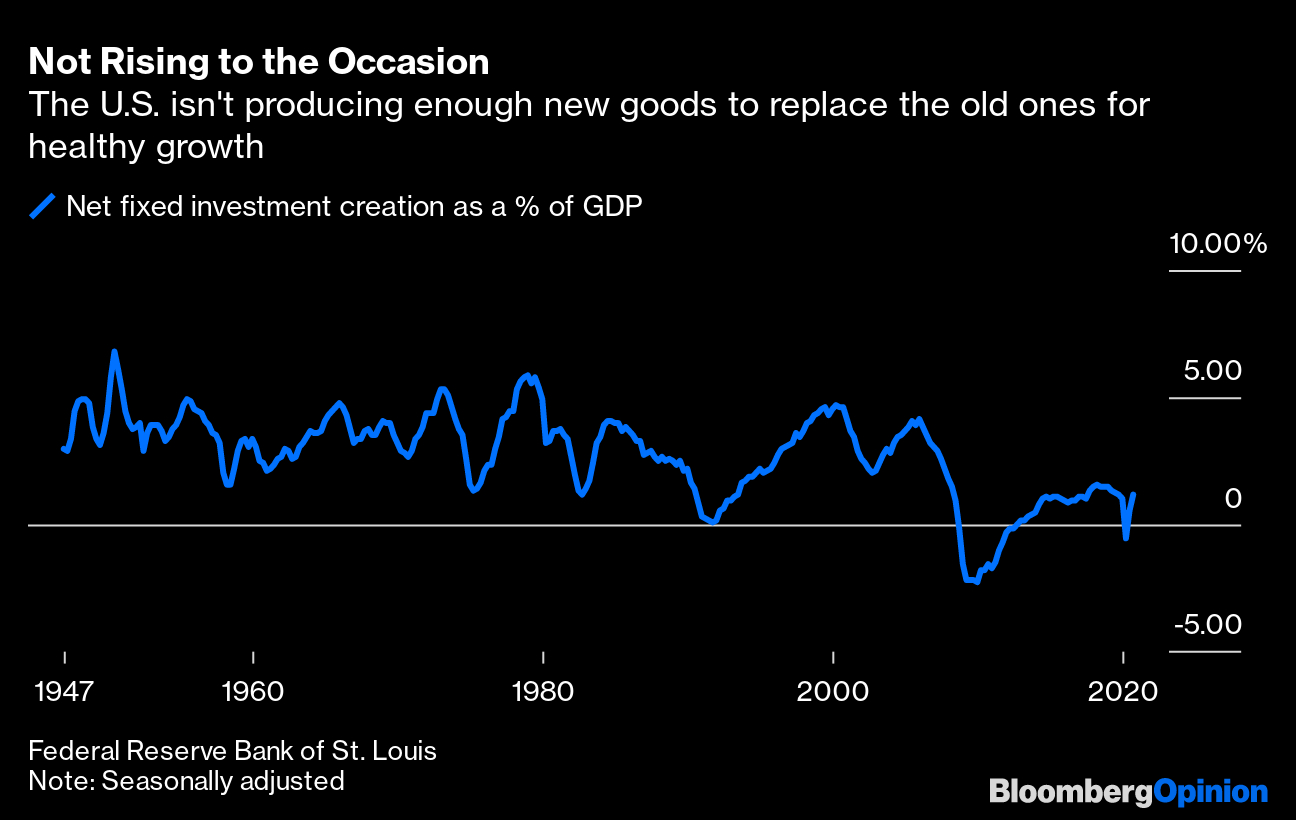 Exxon taking 6 billion barrels of oil and gas off its books is on the one hand a routine accounting change and on the other hand a reminder of deeper issues, writes Liam Denning.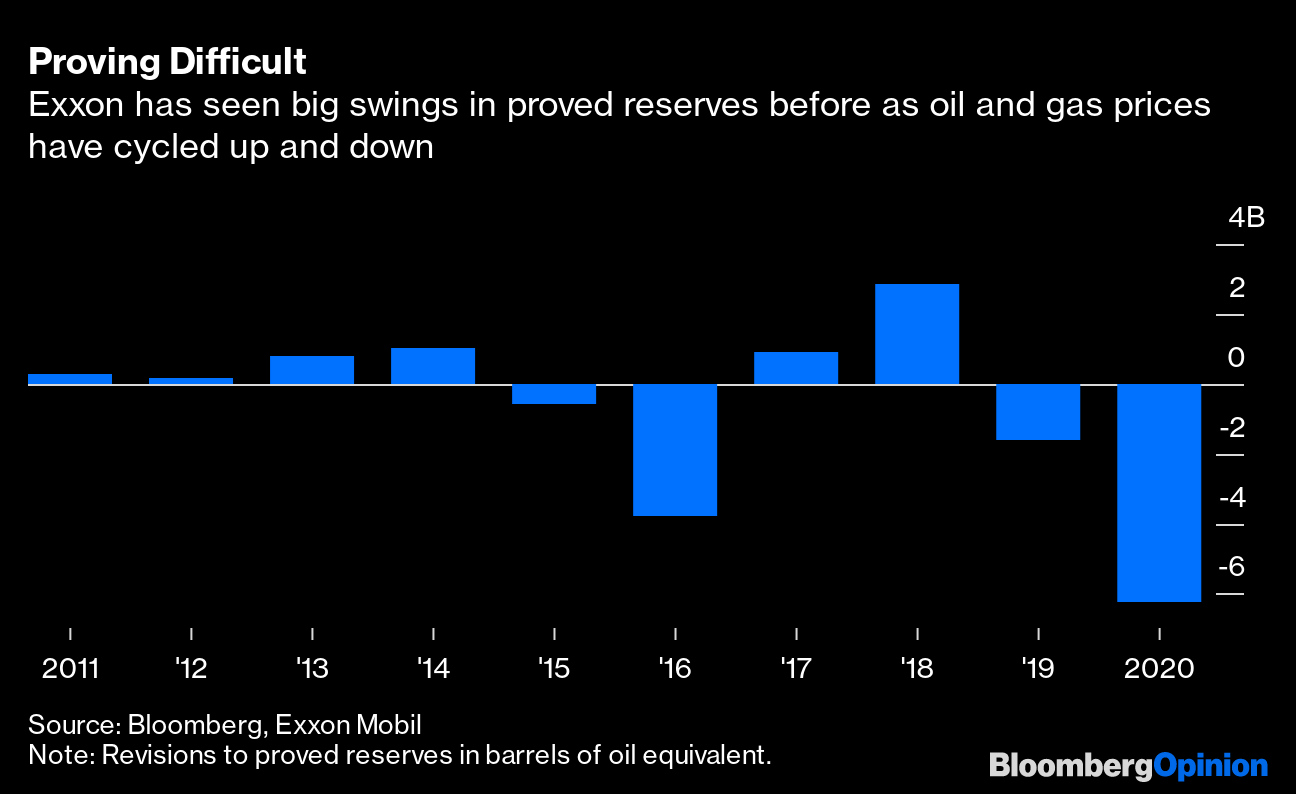 Further Reading
India could be a key U.S. ally against China, but there are limits to how deep the relationship can go. — Hal Brands 
China's crackdown on divorce, meant to force birth rates higher, will backfire by keeping people from getting married. — Adam Minter 
The Paramount+ streaming app has the content and potential to challenge Netflix and Disney. — Tara Lachapelle 
Twitter's right to diversify, but its competition and bad track record with acquisitions offer little reason to hope. — Tae Kim 
Interest rates have lost their effectiveness as a monetary policy tool. — Dan Moss 
Don't blame elderly users for the failures of vaccine websites. — Sarah Green Carmichael
ICYMI
Coinbase filed to go public.
Tesla temporarily halted Model 3 production.
Zillow is offering to buy houses at its own Zestimates.
Kominers's Conundrums Hint
If you've never solved one of our puzzles before, this week's Mars Rover Conundrum is the perfect one to start with. It's clear all the Martians in the puzzle are trying to speak human languages, but when you translate the words into English, they look pretty random at first glance. But is there anything the words in each line have in common? — Scott Duke Kominers
Kickers
Scientists begin building a digital twin of Earth.
Scientists create new Turing patterns in E. coli. 
Graveyards are hot spots of biodiversity.
The 101 best movie endings of all time.
Note:  Please send digital twins and complaints to Mark Gongloff at mgongloff1@bloomberg.net.
Sign up here and follow us on Twitter and Facebook.
To contact the editor responsible for this story:
Brooke Sample at bsample1@bloomberg.net


Bitcoin News Today – Bitcoin, GameStop Ignore Bond Market Meltdown