Bitcoin to $500,000 | InvestorPlace
Open a Free Account and Retire with Bitcoin!
Easily Buy and Sell Crypto on Bitcoin IRA!
The right perspective for crypto today … snowballing adoption … big-time price predictions … an invitation to a special, live event tonight at 7 PM ET with Luke Lango and Charlie Shrem
Last week, bitcoin and the broader crypto market suffered a flash crash.
Prices haven't yet bounced back to recent highs, which has some crypto bears predicting bitcoin's price will slide back beneath $40,000.
Let's say that happens…
And then what?
Does the investment "game clock" runs out, so if you buy now, you're stuck with losses?
Would bitcoin under $40,000 represent the beginning of bitcoin's decline into irrelevance?
As investors, we often get confused between market prices and intrinsic value. It's understandable – price is in our face all the time. It's on our phone, whenever we need to scratch that itch.
Intrinsic value is hard to quantify, and open to debate. And that's even if you take the time to try to calculate it.
But a surefire way to make lifechanging wealth is by recognizing when an asset's market price doesn't adequately represent its true value, and then being in position when the masses wake up to the imbalance, sending prices surging.
So, do I know the intrinsic value of bitcoin and other digital assets? No.
However, it's a bit like the old Ben Graham quote, "you don't need to know a man's weight to know that he's fat."
In this case, I don't need to know the exact intrinsic value of the crypto sector. I just need to know its adoption is growing like crazy, which suggests future prices will be significantly higher.
***Globally, retail investors, professional investors, and the business community are all moving into crypto, which suggests major price-gains in coming years
Below, I've created a crude visual – please excuse my lack of artistry.
The blue parabolic line represents global crypto adoption.
The green volatile line represents crypto asset prices.
As you'll see, the green price line is all over the place, though it's loosely anchored to the blue overall adoption curve.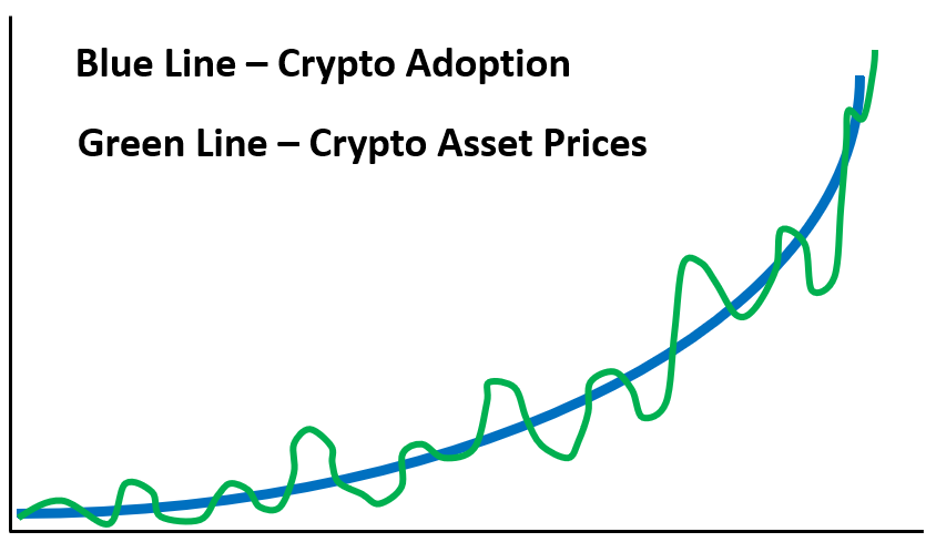 Now, if I was looking at this chart from a short-term perspective, the green price line is incredibly important. After all, due to volatility, I could easily buy "high" right before a selloff, leaving myself sitting on painful losses.
However, when looking at this chart from a long-term perspective, the blue line is what's important.
That's because as long it follows the "up and right" trajectory, price will eventually play catch-up.
This helps illustrate what's critical to remember today…
What matters most for the long-term crypto investor at this stage in the game is adoption – not price.
***So, where is the crypto sector in regards to adoption?
Well, let's look at just a handful of recent headlines.
This latest drawdown in bitcoin's price was prompted by El Salvador going live with its use of bitcoin as legal tender.
But just let that settle in a moment – bitcoin is now legal money in El Salvador.
And it won't be the last country to make this move.
In June, Paraguay proposed a bill that would make bitcoin legal tender. Of course, they might get beaten to the punch by Ukraine.
From CityAM:
(Ukrainian President) Zelensky – a vocal Bitcoin evangelist – has already instructed ministers to transform Ukraine into a crypto-friendly nation…

The plan, says Professor Vyacheslav Evgenyev, is for Ukraine to make Bitcoin legal tender by the start of 2023 and create a "duel-currency country" where Bitcoin sits alongside the fiat hryvnia before potentially being phased in as the dominant financial structure.
Meanwhile, Argentina, Brazil, and Panama have all been supportive of El Salvador's move, which could lead to their own adoption of bitcoin as fiat currency at some point.
***Closer to home, institutional dollars continue to pour into the crypto sector
Yesterday, we learned that billionaire, Steve Cohen, who owns the New York Mets, is investing in a new cryptocurrency trading firm.
From Cohen:
While the cryptocurrency market is now a $2 trillion asset class, we are still in the early stages of institutional adoption.
Don't forget that hedge-fund billionaires Paul Tudor Jones and Stanley Druckenmiller have already embraced the crypto sector. Last year, Jones said it was just the "first inning of bitcoin and it's got a long way to go."
Meanwhile, on Sunday, Fintech Zoom echoed Cohen's and Jones' belief about institutional adoption just getting started:
Institutions investing in Bitcoin or getting into digital currencies as a payment mechanism are still at their nascent stages.
Also yesterday, the popular trading platform, Interactive Brokers, announced it has launched cryptocurrency trading access on its platform.
From their CEO, Milan Galik:
As financial markets evolve, sophisticated individual and institutional investors are increasingly seeking out allocations to digital currencies as a means of achieving their financial objectives.
And it's not just here in the U.S. Last week, we learned that Switzerland has greenlit crypto trading.
From the Wall Street Journal:
Switzerland cleared the way Friday for more trading of bitcoin and other digital assets in the country by authorizing a new digital stock exchange.

Stock exchange SIX said its new SIX Digital Exchange, or SDX, will let investors, via regulated institutions, trade, settle and store digital tokens through one venue, underpinned by "the highest Swiss standards of oversight and regulation."
Frankly, the adoption is happening everywhere, and it's picking up pace.
***Though shorter-term price predictions aren't where our focus should be, let's throw in a couple for fun
Bloomberg just published its September issue of Bloomberg Crypto Outlook.
From the report:
We see Ethereum on course toward $5,000 and $100,000 for Bitcoin.

Portfolios of some combination of gold and bonds appear increasingly naked without some Bitcoin and Ethereum joining the mix.
By the way, that price prediction is for the end of this year.
Our (prediction) depicts a simple, yet logical, way for Bitcoin to get toward $100,000 by following the performance of No. 2. Ethereum (up about 300% in 2021 to Aug. 6), which we see as highly probable, especially after last year's supply cut.

Post-halving years have seen the greatest appreciation, and 4x in 2021 would be quite tame for the No. 1 crypto compared with 55x in 2013 and 15x in 2017.
Meanwhile, famous fund investor, Cathie Wood, is putting bitcoin's price even higher if we look further out – specifically, $500,000 bitcoin in five years.
From Fintech Zoom:
Ark Invest CEO Cathie Wood expects bitcoin to soar to $500,000 in five years, and her firm's conviction in ether has strengthened tremendously…

Her price prediction depends on whether companies continue to diversify their balance sheets into bitcoin, the biggest cryptocurrency by market value, and whether institutional investors begin to allocate 5% of their funds to it.

If that happens, "we believe that the price will be tenfold of where it is today," she said. "So instead of $45,000, over $500,000."
***Bottom-line, major growth is coming – it will be volatile, but it's coming nonetheless
With this in mind, I invite you to join crypto experts, Luke Lango and Charlie Shrem, this evening at 7 p.m. ET. They're holding their first-ever Crypto Code Event that dives into the enormous wealth-generating opportunities in the crypto sector today.
Here's Luke describing the evening:
Tonight at 7 PM ET, I am sitting down with my colleague and legendary Bitcoin investor Charlie Shrem at our first-ever Crypto Code Event, where we will tell you about our proprietary system for picking the best cryptos in the market.

This system is the real deal. It's produced an average gain of 760% in our model portfolio of cryptos.

And tonight, we're going to tell you all about it.
If you're still skeptical about the crypto sector, I understand. But if so, that's even more reason to join tonight and learn. There's zero obligation. At worst, you become a more informed investor.
But I believe once you have a greater awareness of just how big this is becoming, you'll join the millions of investors who see this as a once-in-a-generation investment opportunity.
Click here to join Luke and Charlie, and we'll see you tonight.
Have a good evening,
Jeff Remsburg
Bitcoin price Today – Bitcoin to $500,000 | InvestorPlace

Tags: Bitcoin price, Bitcoin price Today, Bitcoin
---
Read here about Ethereum price.
And here about markets data.
---