Ethereum price Rallies After London Hard Fork Upgrade, ADA, LTC, AAVE, Aug. 9
Open a Free Account and Retire with Bitcoin!
Easily Buy and Sell Crypto on Bitcoin IRA!
ETH London upgrade could cut energy usage 99%. LTC gets another exchange-traded product. ADA to list on Japanese exchange. AAVE leads defi.
ETH
The Ethereum price has rallied strongly in the last two weeks after the project completed the London hard fork upgrade.
The latest improvement to the blockchain is part of the highly-anticipated move to ETH V2.0 and this latest upgrade moves the coin closer to improving its energy efficiency in the mining process.
The latest upgrade to Ethereum is seen as the most significant since 2015 and the network is set to reduce its energy use by 99%, according to founder Vitalik Buterin.
The world's most-utilized blockchain project updated its blockchain with the London hard fork, which includes a fee reduction element named EIP 1559. The drop in fees is already burning millions in fees on the Ether chain. 
Glassnode research said that the launch of the London upgrade had seen a total of 43.6k ETH being issued via PoW mining:
In that same time, a total of 15.25k ETH has been burned representing a 35% reduction in total net issuance.
"1559 is definitely the most important part of London," Vitalik Buterin said in an interview with Bloomberg. The London upgrade is "proof that the Ethereum ecosystem is able to make significant changes," he added.
That change to ETH 2.0 will be carried out by a process called the merge and is expected by early 2022 but could come as early as year-end, Buterin said.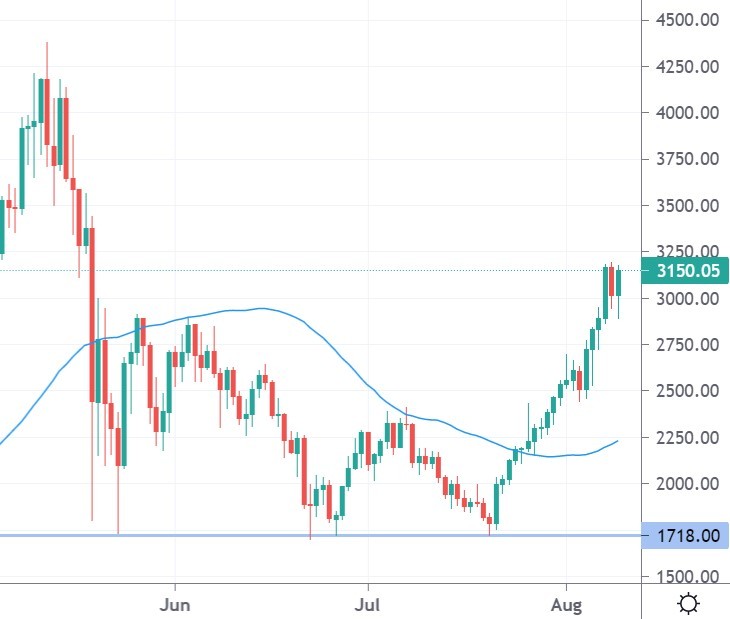 ETH has almost doubled from the lows at the $1,718 support level and the coin is trying to hold support at the $3,000 level. Some resistance is evident at $3,500, with the all-time highs being at $4,250.
ADA
Ethereum rival Cardano has now gotten approval to list on Japanese exchanges.
Crypto investors in the country can now buy and sell the fifth-largest crypto asset and a former Cardano developer has said that it is not easy to gain approval for trading in Japan.
Sebastien Guillemot, the former executive EMURGO, said that "strict" rules involving the listing of cryptocurrencies on the country's exchanges made it complicated.
Cardano was finally listed in Japan! ADA. Japan has extremely strict rules for crypto exchange listings. Only a small number of tokens can be listed in Japan, and ADA is now on that list!
"As a company with Japanese heritage, EMURGO has been working with Japanese exchanges for some time, and we are happy that ADA will be listed soon on its first-ever Japanese exchange, Bitpoint," Guillemot added.
According to Bitpoint, the launch of ADA is scheduled for later in the month. The crypto exchange will make an announcement once the official date is confirmed. 
In July, news agency Reuters said that Japan was looking to increase its regulatory manpower as it looks to manage assets. Reuters cited an anonymous source that said the Japanese Ministry of Finance is looking to build its digital currency staff levels. As countries move to digital central bank currencies, Japan will undoubtedly do the same.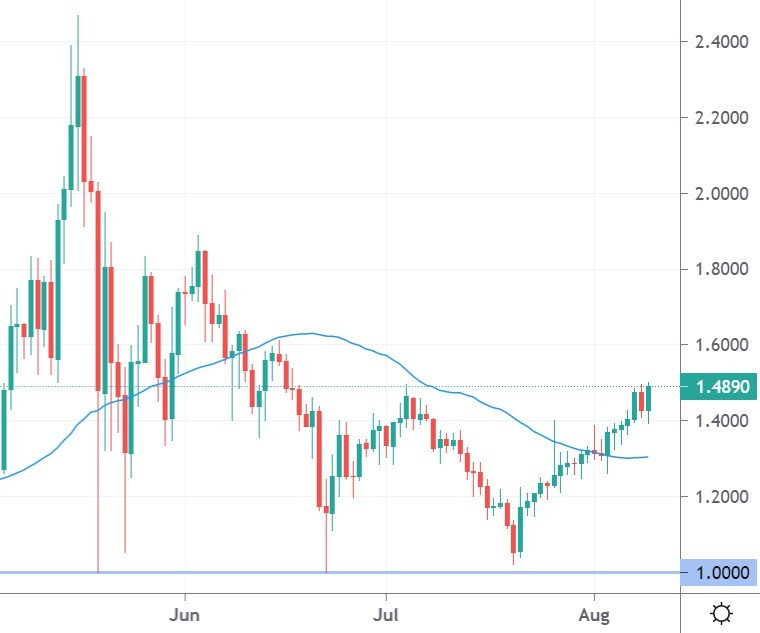 ADA found support after a third attempt at the $1.00 level and has since rebound 50% to the $1.50 level. There is support at $1.80 and the all-time highs stand above the $2.40 level. 
Litecoin has been following the rally higher in Bitcoin and the coin got a boost from another issuance of an exchange-traded product in LTC.
Swiss-based CoinShares is the largest European digital asset company and they have launched a physically-backed exchange-traded product (ETP) in Litecoin. LITE will be listed on the Swiss SIX exchange, with USD, EUR, and CHF currency options.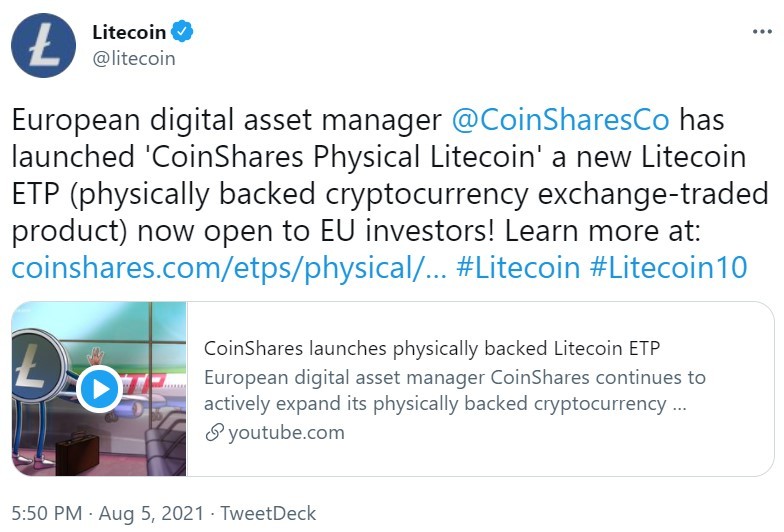 Litecoin's recent rally has seen the coin move back towards the number 10 position in the list of coins by market cap. The project now has a valuation of $11.2 billion at number 12.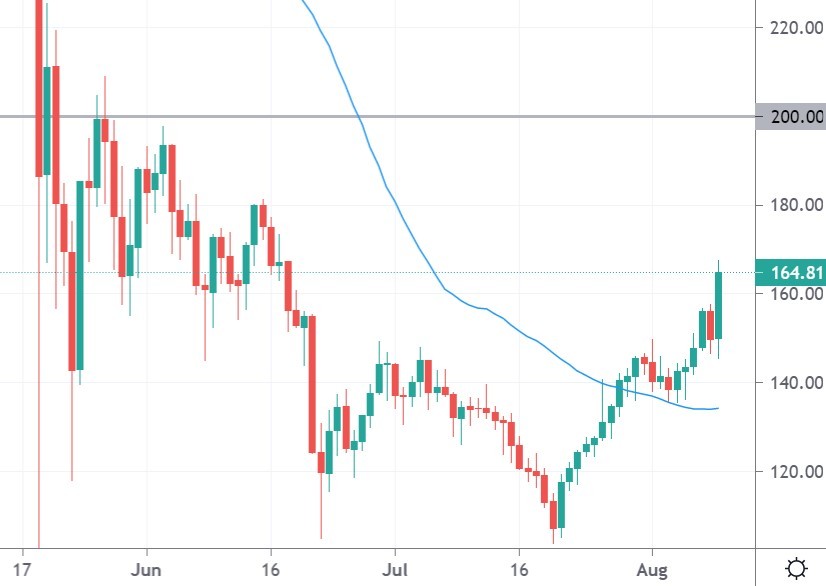 The price of LTC has rallied again on Monday to trade at $164. There is resistance ahead between the $200-220 levels and that opens the door to the all-time highs above $400, which were set in early May before the Bitcoin sell-off dragged altcoin assets lower. 
AAVE
The AAVE token has rebounded from the June lows to see a 100% return. The project currently has the most value locked in the decentralized finance (DeFi) space. 
The Aave project is an open-source protocol for staking and lending and now has a market valuation of nearly $5 billion and ranks at number 27 in the list of coins.
Aave users can participate as depositors or borrowers, where depositors provide liquidity to the market for passive income, while borrowers can borrow with, or without, collateral.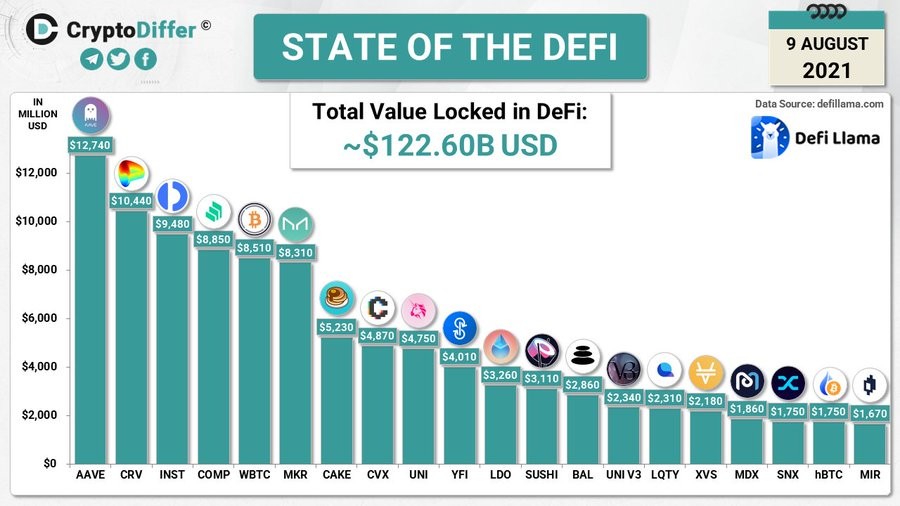 Aave has $12.7bn in TVL, according to Defi Llama, with projects such as Curve and Compound following close behind.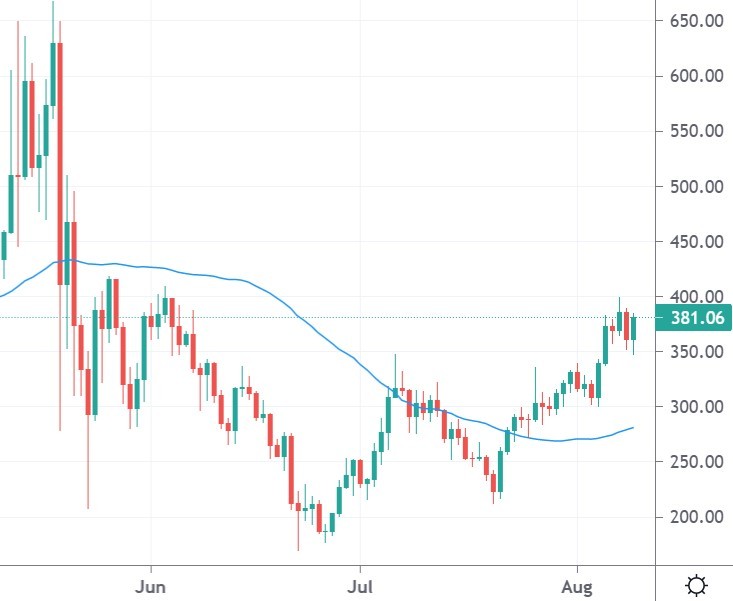 The AAVE token trades at $381 after briefly touching $400 and the next resistance would be at $450, before the all-time highs at $650.
Disclaimer: information contained herein is provided without considering your personal circumstances, therefore should not be construed as financial advice, investment recommendation or an offer of, or solicitation for, any transactions in cryptocurrencies.


Bitcoin price Today – Ethereum price Rallies After London Hard Fork Upgrade, ADA, LTC, AAVE, Aug. 9

Tags: Bitcoin price, Bitcoin price Today, Bitcoin
---
Read here about Ethereum price.
And here about markets data.
---