]

Check out the Jan. 24 edition of What's Trending in Aerospace, where editors and contributors for Avionics International bring you some of the latest headlines and updates happening across the global aerospace industry.
Commercial
Air Canada to Resume Boeing 737 MAX Flights in February
In a Jan. 18 press release, Air Canada confirmed its plans to resume flying the Boeing 737 MAX on passenger carrying routes starting Feb. 1, 2021. The schedule update comes following the issuing of an airworthiness directive (AD) by Transport Canada and lifting of the existing Notice to Airmen (NOTAM) in Canadian airspace for the 737 MAX.
"We are very confident the nearly two-year regulatory process undertaken by Transport Canada and other regulators worldwide ensures the utmost safety of the Boeing 737 MAX fleet from nose to tail, and from wing to wing. As part of Air Canada's multi-layered approach to reinforcing and enhancing safety, our internal experts have also worked with independent specialists to conduct assessments of the aircraft and our operating procedures," Captain Murray Strom, Vice President, Flight Operations at Air Canada, said in a Jan. 18 press release.
Air Canada routes featuring the 737 MAX include Toronto to Halifax, Montreal, Ottawa, Edmonton and Winnipeg, with others to follow. Since the Boeing 737 MAX first resumed commercial flights in early December 2020, more than 1,025 flights have been operated safely by airlines worldwide, according to Air Canada.
The airline is providing passengers with the option to change their flight from a 737 MAX if preferred at no extra charge.
Airbus Updates Monthly Production Rates for A220 and A320
Airbus is updating its production rate planning for its A320 Family aircraft in response to the market environment.
The new average production rates for the A320 family will now lead to a gradual increase in production from the current rate of 40 per month to 43 by the third quarter, and 45 by the fourth quarter of 2021.
This latest production plan represents a slower ramp up than the previously anticipated 47 aircraft per month from July.
The A220 monthly production rate will increase from four to five aircraft per month, starting in the second quarter.
Connectivity
Gilat Demonstrates Electronically Steered Antenna Over Inmarsat GX Network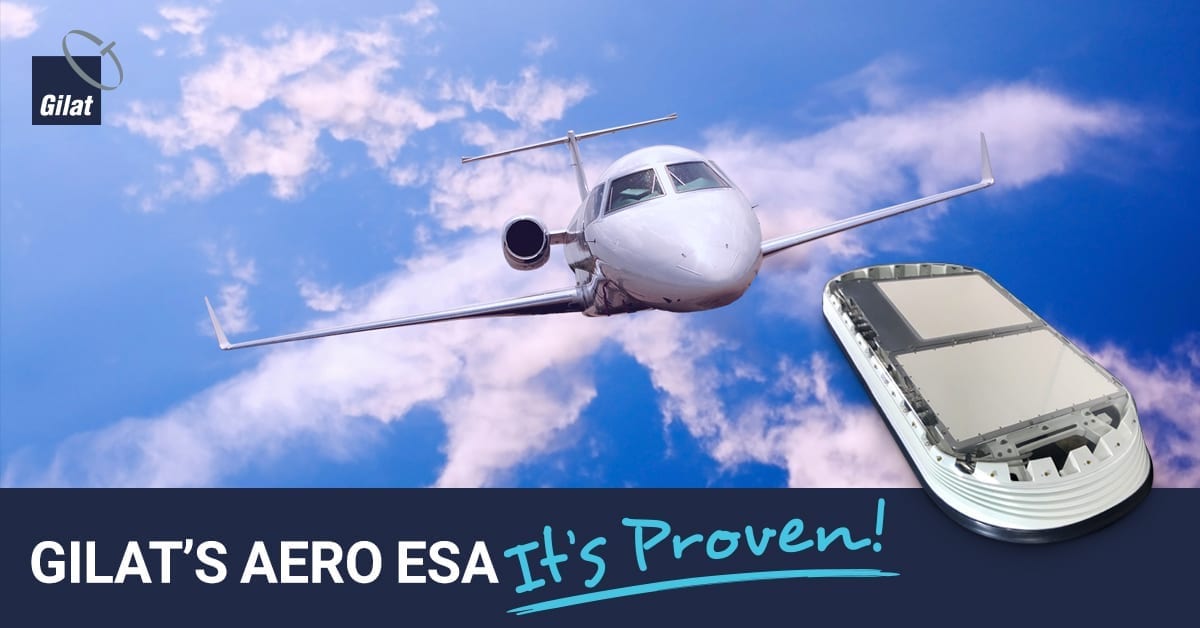 Petah Tikva, Israel-based satellite networking provider Gilat Satellite Networks has successfully tested the use of its Electronically Steered Antenna (ESA) over Inmarsat's Global Xpress (GX) network, according to a Jan. 21 press release.
For the first time, a live demonstration of an ESA terminal was performed on an Inmarsat operational GX satellite. The successful test was performed on Inmarsat-5 F1 satellite at 62.6 degrees East. Gilat said its self-pointing antenna logged-on automatically to the GX network, supporting bi-directional real-time communication in both fixed and dynamic antenna positioning modes.
Beam steering under the changing elevation and skew angles was done while managing the power spectral density (PSD) threshold, in order to minimize interference with neighboring satellites, in accordance to regulations, according to Gilat.
"We are pleased with the successful demonstration of Gilat's ESA technology operating over Inmarsat's Global Xpress network," Jerome Soumagne, chief engineer, VP of networks at Inmarsat said in the release. "The seamless integration of our G-MODMAN with Gilat's antenna control system, via standard open interfaces, is a key enabler to demonstrate the ability to support Electronic Steered Array Technology in Inmarsat's global satellite network."
IAG Now Operates 250 Total Aircraft Using EAN In-flight Internet Service
International Airlines Group (IAG) airlines, including British Airways, Iberia and Vueling, are now operating more than 250 aircraft that feature in-flight Internet service provided by the European Aviation Network, according to a Jan. 20 Inmarsat press release.
EAN, developed by Inmarsat and Deutsche Telekom in partnership with Thales, Nokia, Airbus, Cobham and Eclipse Technics provides a blend of ground and satellite-based connectivity to EAN-equipped aircraft.
"An important factor in crossing more than 250 aircraft activations, including British Airways' entire short-haul fleet, has been the record-breaking installation time we have achieved with EAN – less than nine hours per aircraft," Philip Balaam, President of Inmarsat Aviation said in the release. "This will ensure a smooth rollout on remaining IAG aircraft and we're excited that even more passengers will soon have access to the industry's best-in-class inflight connectivity, providing the same quality of broadband that people expect on the ground, from the comfort of their cabin."
Military
Northrop Grumman Receives (BA)CN Contract Worth Up to $3.6 Billion
The U.S. Air Force awarded Northrop Grumman a potentially $3.6 billion operations and sustainment contract for the company's  Battlefield Airborne Communications Node ((BA)CN) on Jan. 21.
"This contract provides for research, development, test, and evaluation, integration and operations and sustainment for existing and future payloads contained in or connected to the (BA)CN system and associated ground stations or controls, ancillary equipment, support equipment and system integration laboratories.," DoD said in a contract announcement. Work is to be completed in San Diego and overseas locations by Jan. 24, 2026.
Last month, Northrop Grumman said that (BA)CN has 200,000 combat hours in more than 15,500 missions since its first deployment with the U.S. Air Force in October 2008.
Carried on four Northrop Grumman EQ-4B Global Hawk Block 20 drones and three E-11A modified Bombardier business jets, (BA)CN is a high-altitude, airborne communications gateway that translates and distributes multi-domain imagery, voice and tactical data for missions, such as airdrop, convoy, humanitarian assistance, close air support, and theater air control systems operations.
The Air Force has dubbed (BA)CN "Wi-Fi in the Sky."
Elbit to Establish Flight Training Program for Hellenic Air Force Following Agreement from Israeli and Greek Ministries of Defense
Israeli and Greek Ministries of Defense have made an agreement to establish and operate a flight school for the Hellenic Air Force which Elbit Systems will operate, according to a Jan. 5 press release from the Israeli Ministry of Defense. The agreement with Elbit and the Hellenic Government will extend for about 20 years and is worth approximately $1.68 billion (approximately €1.375 billion).
"This is not just a defense export agreement, but rather a partnership for at least 20 years," Brig. Gen. (Res.) Yair Kulas, Directorate for International Defense Cooperation in the Israel Ministry of Defense (SI(BA)T) Director, said in a press statement. "I would like to thank the Greek Ministry of National Defense for its trust and for assigning this important task to the Israel Ministry of Defense and our excellent defense industry."
The agreement between the Israeli and Greek Ministries of Defense includes the procurement of ten M-346 aircraft, and maintenance of T-6 aircraft, according to the release.
According to the release, Elbit Systems will also be establishing a Greek Flight school in the near future.
"We are honored to have been selected to provide such an important capability to the Hellenic Air Force, which we believe will contribute to the further strengthening of the bilateral relationship between Israel and Greece," Bezhalel (Butzi) Machlis, President and CEO of Elbit Systems, said in a press statement from the company. "This selection attests to the leading position we hold in the area of training, providing tested know-how and proven technologies that improve readiness while reducing costs."
Unmanned
Flight Test of New Surveillance Technology on Japanese Coast Guard Drone
The Japanese Coast Guard completed a successful flight test of new maritime surveillance technologies including a SeaVue Expanded Mission Capability (XMC) radar and AN/DAS-4 multi-spectral targeting system giving its drones wide-area surveillance to identify targets like small maritime vessels, according to a Jan. 21 press release.
The Japanese Coast Guard used a General Atomics Aeronautical Systems, Inc. (GA-ASI) Remotely Piloted Aircraft (RPA) for the test flight equipped with the radar and sensor from Raytheon Intelligence & Space, accord to the release.
"Our advanced intelligence, surveillance and reconnaissance solutions can aid the Japan Coast Guard to perform their duties effectively in alignment with Japan's maritime security priorities," Barbara Borgonovi, vice president of Intelligence, Surveillance and Reconnaissance Systems for RI&S, said in a press statement. "Through our partnership with GA-ASI, SeaVue XMC and DAS-4 contribute to SeaGuardian's critical role to help operators make decisions faster. Our wide-area surveillance technologies have proven track records that can be tailored to any mission in the maritime environment."
Business & GA
HAI HELO-EXPO Cancelled Following Backlash
The Helicopter Association International (HAI) announced the cancellation of the HAI HELI-EXPO 2021 after backlash from industry voices following a previous announcement that the expo would occur despite rising COVID-19 cases, according to a Jan. 20 press release.
"Please understand that we did not make this decision lightly," James Viola, president and CEO of HAI, said in a press statement. "HAI is here to support our members and customers. Leading up to mid-January, the majority of industry voices who contacted us supported holding Expo as long as health and safety protocols were in place. We took extraordinary steps, working with our partners in New Orleans, to be able to conduct a safe event. Pandemic conditions have changed, and the majority of our stakeholders have recently expressed discomfort with the logistics involved in business travel at this time. In response, we concluded that we had to cancel HAI HELI-EXPO 2021."
The expo will not be rescheduled and instead, efforts will go into producing HAI HELI-EXPO 2022 which is scheduled to occur in Texas in March of next year, according to the release.
Planet Nine Adds More Aircraft to Managed Fleet
Planet Nine added a Bombardier Global Express BD-700 to its managed fleet marking the third aircraft to move to its Part 135 Air Operator's Certificate since March 2020, according to a Jan. 20 press release.
According to the press release, Planet Nine's clients have turned to private aircraft citing safety concerns because of the pandemic. The company plans to bring its total managed aircraft to 14 by the end of February with the addition of a Global Express and Dassault Falcon 7X.
"Our floating model aircraft operation has enabled us to support a wider range of charters and flight repatriations this year, often at short notice," Matt Walter, Planet 9 Cofounder and Director of Business Development, said in a press statement. "We have flown for charter brokers on both sides of the Atlantic, as well as assisted with urgent medical professional flights. With the US borders still closed to people from the Schengen region and vice versa, leisure and business travel between North America and Europe continues to be very restrictive."
Space
Florida Gets FAA Space Reentry Site Operator License
Florida's Shuttle Landing Facility in Titusville was approved by the Federal Aviation Administration (FAA) for a commercial space Reentry Site Operator License (RSOL), according to a Jan. 19 press release.
The application process included determining that no significant environmental impacts would result from operations at the facility, according to the FAA. The license will be good for five years.
SpaceX's Starlink Constellation Hits 1,000-Satellite Mark after Successful Launch
SpaceX sent a new batch of Starlink internet satellites into orbit aboard a Falcon 9 rocket launched from NASA's Kennedy Space Center on Jan. 20. The rocket carried 60 new satellites to join SpaceX's constellation, which now totals more than 1,000 satellites operating in Low-Earth Orbit (LEO).
The Falcon 9 rocket used in this morning's launch returned to Earth approximately 9 minutes after takeoff. The rocket landed safely on SpaceX's "Just Read the Instructions" drone ship in the Atlantic Ocean. This marks SpaceX's 8th use of this particular booster and the 72nd successful landing of a reusable Falcon 9 rocket.
Air Taxi
Airbus Creates Test Lab for Emerging Helicopter Tech
Airbus Helicopters announced the creation of Flightlab, a "platform-agnostic flying laboratory dedicated to maturing new technologies," according to a Jan. 22 press release. Flightlab will work on anything from technology for its current helicopter range to future fixed-wing aircraft and electric vertical take-off and landing (eVTOL) aircraft.
"Investing in the future remains essential, even in times of crisis, especially when those innovations bring added value to our customers by targeting increased safety, reduced pilot workload, and reduced sound levels," Bruno Even, Airbus Helicopters CEO, said in a press statement. "Having a dedicated platform to test these new technologies on brings the future of flight a step closer and is a clear reflection of our priorities at Airbus Helicopters."
According to Airbus, testing this year by Flightlab will include image-detection solutions with cameras to enable low altitude navigation, the Health and Usage Monitoring System (HUMS) for light helicopters, and an engine back-up system to provide emergency electric power in the event of a turbine failure.