Bond Yields Today – Bond Market Case for Stocks Is Getting Weak

For the better part of the past 10 months, investors have justified the huge melt-up in equity prices in the face of economic and societal hardship from the Covid-19 pandemic with three simple words: "But bond yields."
I know this in part because I made that exact argument in early September in a column that ended up coinciding with an all-time high for the S&P 500 Index that would last for more than two months. It showed that the dividend yield on the S&P 500 and even the Nasdaq 100 were reliably above the benchmark 10-year Treasury yield, indicating that equities still had plenty of relative value when compared with the world's largest bond market.
Fast-forward five months, and that case is no longer nearly as compelling. The S&P 500 is up more than 8% since September, pushing its earnings yield to a record low of 3.16% on Thursday and its dividend yield to 1.5%. The Nasdaq 100 has gained 9%, with an earnings yield of 2.5% and dividend yield of 0.72%. Meanwhile, 10-year Treasury yields have almost doubled to 1.14%, and 30-year yields are closing in on 2%. The yield on long bonds now exceeds the S&P 500's dividend yield by the most since before the Covid-19 pandemic reached U.S. shores.
Now, many investors wouldn't make that specific tradeoff, given the huge level of duration risk involved in owning the longest-dated Treasuries. But consider this instead: A Bloomberg Barclays index of double-A rated corporate bonds with an average maturity of 13 years, featuring companies like Apple Inc., Exxon Mobil Corp., Visa Inc. and Walmart Inc., yields 1.6%, the highest since June. That, too, exceeds the S&P 500's dividend yield. 
This, in a small way, is a return to normalcy for the stock and bond markets. It's been rare for equities to yield so much more than Treasuries and high-quality corporate bonds — the latter are "fixed-income assets," after all — but that was precisely the case from April through the end of 2020. In fact, in late July, the S&P 500 dividend yield was about 54 basis points higher than double-A corporate bond yields, eclipsing the previous record set in late 2012.
For me, the most appealing part of comparing stocks and bonds in this way is that it removes the narrative of a "bubble" in either asset class from the equation. Yes, Treasury yields seem suppressed and destined to rise in a hurry, especially if a combination of monetary and fiscal policy actually creates inflation as the Federal Reserve wants. And yes, equity values seem perilously high when looking at price-to-earnings ratios, or gauges of investor sentiment or the performance of technology companies that haven't yet turned profitable. But maybe neither one needs to necessarily burst. Maybe financial markets are still efficient enough to find something close to equilibrium.
I'm not brazen enough to assume I know that exact level. But a look at a chart of the 10-year Treasury yield compared with the S&P 500 dividend yield at least tells a story of how these two have interacted over the past decade.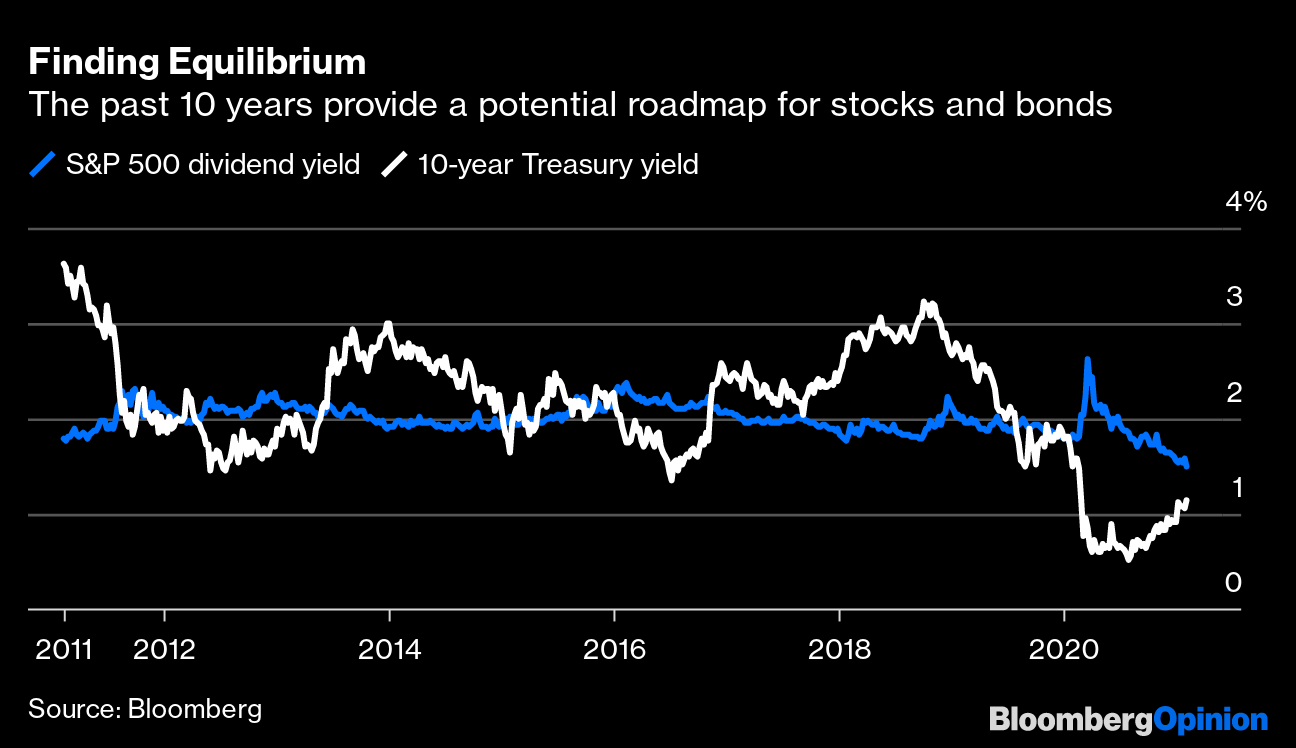 In 2012, Treasury yields plumbed generational lows, only to rapidly adjust in 2013 during the "taper tantrum." Treasuries again staged an extreme rally in 2016, hitting a record low in the wake of the UK.'s surprise decision to exit the European Union. Again, yields ratcheted higher in the following years, first on reflationary expectations and then as the Fed continued to lift interest rates in what some central bankers have since suggested was a mistake. The two were in near-perfect lockstep in January 2020 at just under 2% before the pandemic changed everything.
So, where to from here? If you subscribe to the theory that the bond market is the real bubble, given the bright economic outlook, perhaps it looks something like 2013, when 10-year yields increased 127 basis points while the S&P 500 delivered 32.4%, its best annual return of this century. I'm not in this camp, at least when it comes to Treasuries. I've argued for months that negative 10-year real yields can and likely will last for years, breaking the record that lasted 382 trading days from November 2011 to June 2013. The Fed is simply too determined to let this recovery proceed unimpeded to tolerate a disorderly move higher in longer-term rates from any bond vigilantes still out there. 
That's not to suggest yields won't grind higher as the U.S. economy strengthens, however. Bank of America Corp. already boosted its year-end target for 10-year Treasuries to 1.75% from 1.5%, and it probably won't be the last revision on Wall Street. "The long-standing bullish mantra for stocks has been 'There is no alternative' or TINA," strategists led by Savita Subramanian wrote. "But our rates strategists' forecast for a 10-year yield of 1.75% by year-end renders TINA less compelling."
Currently, 64% of S&P 500 stocks have dividend yields higher than 10-year Treasury notes, but that would drop to just 44% if the benchmark yield reached 1.75%, Bank of America's strategists note. They argue that the "magic number" at which income investors would go back to bonds could be as low as 1.5%, based on the average recommended stock allocation after the global financial crisis, or as high as 4% to 5%.
Of course, if stocks are in a TINA bubble, then any correction would increase dividend yields and presumably cause Treasuries to rally as well. That doesn't seem all that likely when looking at the S&P 500. The Nasdaq 100 dividend yield, by contrast, is well below long-term Treasury yields. The argument that interest rates are so low that investors might as well own high-flying tech stocks that pay more, which held some truth earlier in the pandemic, no longer stands up to scrutiny. At least through this lens, these equities are no longer the bargain they once were.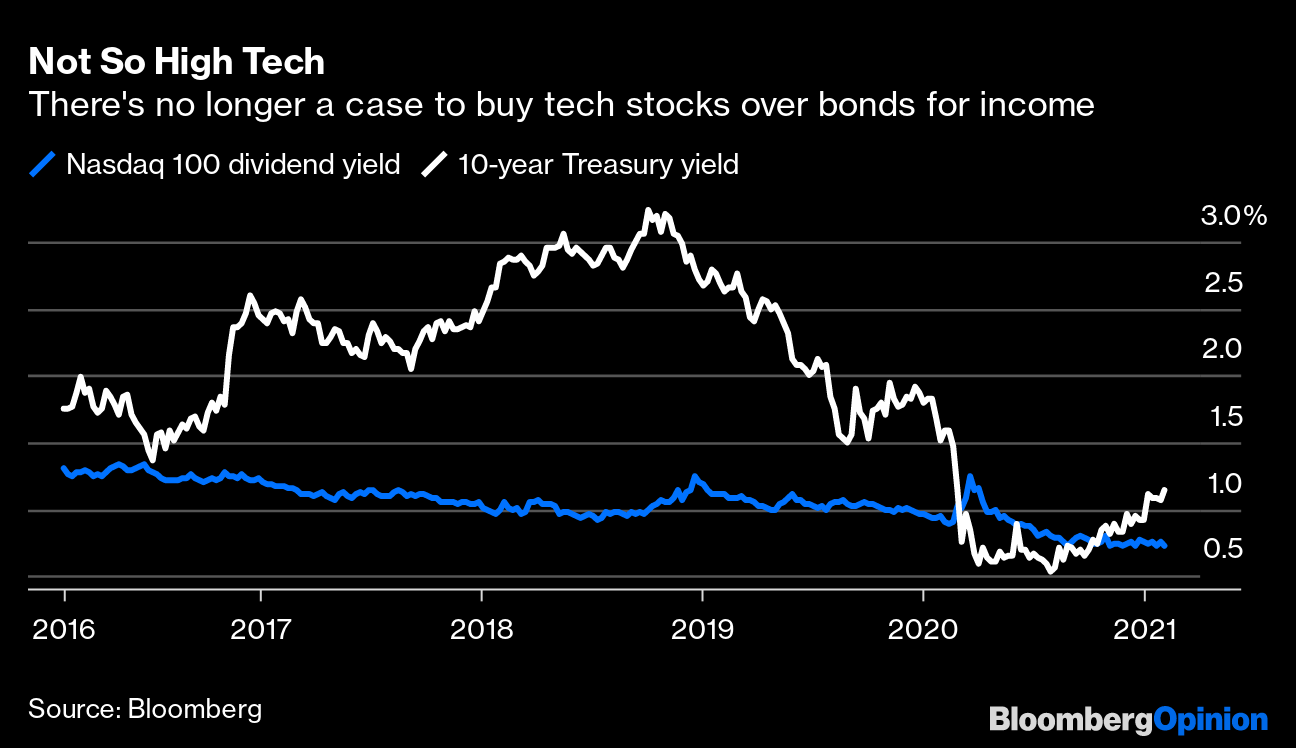 Trying to time the bottom of the bond market isn't without its risks. Owning 30-year Treasuries has cost investors 6% this year, a pace that would represent an almost 50% annualized loss, as the U.S. yield curve from five to 30 years reached its steepest level since 2015. As long as the Fed says its far too soon to discuss paring back accommodation in any form, there's no reason to think these curve-steepening trades have gone too far, too fast. Though it's worth noting that Treasury yields lurched to new highs in January just before 10-year and 30-year auctions only to grind lower afterward. Treasury is selling more of those maturities next week, suggesting this latest move may fizzle out soon.
Regardless, markets are fast approaching the point at which the call between stocks and bonds is no longer a no-brainer from a pure income perspective. Equities obviously still offer more upside — even bond traders are willing to admit that. But the days of stocks beating bonds at their own game appear to be numbered.
To contact the editor responsible for this story:
Daniel Niemi at [email protected]

Bond Yields Today – Bond Market Case for Stocks Is Getting Weak