Boris Johnson News – Scottish election 2021: STV leaders' debate LIVE
Follow along here for Tuesday night's leaders debate.
With just weeks before the Scottish Parliament elections, the leaders of the major parties take to the stage to debate each other on the big issues.
The debate will be aired on STV at 7.30pm.
Follow here for all live updates.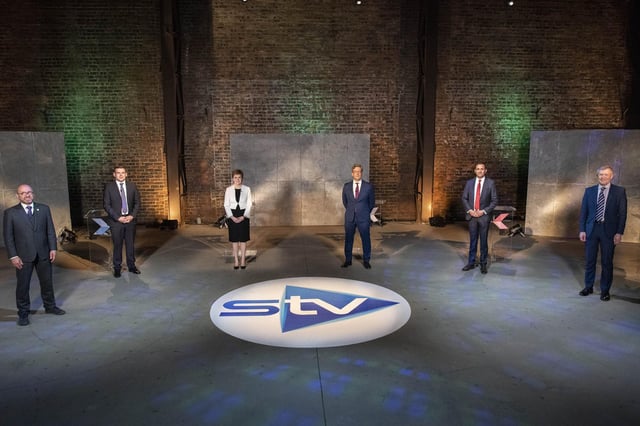 The five leaders of Scotland's main political parties – (L-R) Patrick Harvie (co-leader of the Scottish Green Party), Willie Rennie (Scottish Liberal Democrats), Douglas Ross (Scottish Conservatives), Anas Sarwar (Scottish Labour) and Nicola Sturgeon (Scottish National Party). Picture: STV/Kirsty Anderson
A message from the Editor:Thank you for reading this article. We're more reliant on your support than ever as the shift in consumer habits brought about by Coronavirus impacts our advertisers.
If you haven't already, please consider supporting our trusted, fact-checked journalism by taking out a digital subscription.
Last updated: Tuesday, 13 April, 2021, 20:52
Follow here for updates through Tuesday night's leadership debate.
AS: Five years ago, you promised to be a strong opposition. You've failed.
DR: We've held SNP to account. Opposed hate crime bill.
AS: I agree that there's failures of the gov, but there's also failures in opposition – given Patrick Harvie's question, hate crime isn't your best issue.
DR: People are watching at home tonight worried about the future.
AS: You want to talk up division to win votes.
DR: I would move on tomorrow if we could come together to recover.
AS: Isnt the reality is that you aren't good for the union – you aren't even good for the Tory's.
DR: We can ensure that the focus of the parliament is on recovery.
PH: You've repeatedly accused others of being divisive – you have built your career on being divisive about the gypsy traveller community. you've campaigned against their rights for a decade.
DR: I've apologised for the comments I made – it was the wrong answer. In my time as a councillor and MP, I have stood up for my constituents – there was a big issue.
PH: Your constituents are also gypsy travellers – they are a long, persecuted group in Scotland.
DR: There is far more I can do, and everyone can do. Cross party work in Westminster. I'm willing to open those discussions and accept the mistakes I've made in the past.
WR: Need proper climate change measures – are you taking them seriously.
DR: Those measures are included in our green recovery plan. Must create green jobs.
WR: The problem is that UK Gov is doing the exact opposite – sold off green investment banks, slashed funding for solar…
DR: In terms of our plans for Scotland, its that opportunity to tackle this issue. If we work together.
WR: You have to judge people on their actions. You dodged the question. Your record at Westminster is not good on the environment.
DR: We've got to ensure we are connected – I'm willing to work with you Willie if you are.
Douglas Ross to be questioned.
NS: Scot Gov has just voted unanimously to include childrens rights into local government. What were the small, tech reasons. What are they?
DR: We supported it through the stages in parliament. The UK Gov also supports the principle in the bill. Section 6 refers to powers held by Westminster.
NS: Fundamental issue, not a technical one. It's about the protection on the rights of children – why can't you tell the UK Gov to butt out?
DR: UK Gov has said they agree with the principles of the bill….
NS: Yet they'll challenge it in court? Scottish fishing industry now in a crisis
DR: WE haven't done enough for the fishing industry, we need to do far more.
NS: Whatever the UK Gov says, you just do it.
DR: We will deliver the most for people of the UK>
PH: Welcome Labours paper on the green issues. WE all know there is far more fossil fuel in the North sea that we can afford to burn. You have said that you would fight for the fossil fuel industry.
AS: Generational shift towards climate change – we have to confront emergency. Have to make sure that a transition doesn't decimate jobs in the process – need to work with industries.
PH: A transition thats too late is just as bad as not even trying – do you accept we should end exploration licencees?
AS: WE have the opportunity coming through this crisis to focus on the green jobs of the future.
DR: With 2.6 mil protected with the first dose, do you think we could cautiously open Scotland quicker?
AS: I think we're getting the balance right. I think we've got to strike the right balance. It's important we don't go so slowly that we stifle hope and optimism, but we can't go too quickly to cause another spread and another lockdown. Follow the data and the science.
DR: But the data is telling us that we can safely reopen quicker. The SCot hospitality sector is calling for it.
AS: I will listen to their calls, but I think the important point to make is if we do not get this right and go too quickly then we risk another lockdown. We need business support to not end when the lockdown end. Invest in skills and invest in jobs.
NS: As part of recovery, I'd like to more towards UBI and introduce statutory sick pay. WE don't have the power to introduce them – why do you want these powers in the hands of BJ.
AS: I support UBI, I think we can set out legislation with powers we already have. Agree on employment rights and minimum pay rises – we should focus on what we can do, not what we can't do. Need to move powers to local authorities.
NS: I respect that you oppose independence. If at this election, the people return a majority SNP – do you think that provides a mandate?
AS: I'm not going to prejudge the election. I want to focus. Of course Scotland has the right to choose and that's what their doing in this election.
Anas Sarwar to be questioned.
WR: Social Care section at eye of storm – if you were in charge, what would you have done differently?
AS: My thoughts go out to those who lost someone in care homes. We shouldn't have been sending anyone Covid positive into care homes. That didn't require medical guidance, that's common sense. A devastating consequence – wants to nationalist care homes.
WR: Concerned of high vacancy and lack of staff. What other reforms?
AS: We were having very positive discussions with finance secretary – we need deep reforms. No cuts to local government, human rights at the centre.
WR: We need national standards. Cautious about forming a nationalised care home.
WR: Said you would close the poverty attainment gap. Why haven't you?
NS: Covid has upended plans. Level 5 and 6 has been closed, just not completely.
WR: You said you would close it completely – why should people trust you on education?
NS: WE've employed 3,000 new teachers, not including the ones during Covid….. I'm not going to say that we couldn't have done more…
AS: You were the health secretary when QEU hospital was opened and FM when it opened. Hosp was opened with dangerous water supply.
NS: I think we've had these exchanged before – my condolences are with the family. It is not the case that reports I saw were ignored. We haven't established – detailed work has been done and published and we have established a public enquiry.
AS: Four years since Millie died, six years since the hospital opened – why don't we yet know.
NS: As you know, and I would pay tribute to the work you've done on this, do you agree that the best way to do this is with an independent inquiry…
PH: Last year, the SQA punished young people lowering their school grades for no reason other than their post code. Grades were restored due to Greens pushing. Asks about this year.
NS: We have to find an alternative way of certifying young peoples achievements. Teacher judgement is at the heart of that – SQA has issued guidance, differs depending on the subject.
PH: Are you able to give a promise now that pupils won't take an exam
NS: It's important that teachers are in the driving seat – again, subject dependent.
Nicola Sturgeon to be questioned.
DR: Asks about drug deaths.
NS: We took our eye off the ball. We've now put more investments in – have a task force working on that.
DR: Doesn't take back a single life that was lost.
NS: Can I say first of all, I take the view that when politicians get things wrong, it's important to face up to that and set up what we do to fix it. That's what I've done on drug deaths.
DR: Your former school hasn't been inspected in 10 years. You haven't delivered on any of your promises.
NS: We have made progress on the promises….
DR: I think we can agree that we should help pupils catch up with missed school. Funding recommended by Conservatives, do you support.
WR: It's important we make the pupil equity fund permanent as well as hiring more teachers.
DR: Under SNP, we have seen less teachers. Conservatives pledge fund to hire more. What will Lib Dems do.
WR: Around 2 and a half thousand teachers have left do to a mushrooming of temporary contacts. The teachers are there, we just need to recruit them.
DR: What more can we do after school?
WR: Job guarantee's for young people, retraining and re skilling budgets.
NS: Brexit is biting hard, I know you oppose Brexit. UK party says Lib Dems not a rejoin party. What is the way for Scotland in the UK.
WR: Persuade people to rejoin.
NS: You're saying to people in SCotland who want to rejoin, that there isn't a route back.
WR: You need to read the policy of the party. The most important thing is to put recovery first. If we spend years arguing about independence then we won't be doing that.
NS: How do we get Universal Basic Income without more devolved powers.
WR: We persuade the UK Government, we persuade Boris Johnson, or who ever is in charge.
AS: We have an educational come back plan after seeing the damage done to children during the pandemic.
WR: We want to employ more teachers to make every minute count in schools. Making the pupil equity fund permanent. We want to prioritise education.
AS: Not just younger children, but older children sitting exams- would you guarantee a free resit for pupils.
WR: That is a good proposal. But we also need to look at the younger end. Change the way we teach the youngest children in schools – use the Nordic model.
AS: What plans have you got for a summer come back?
WR: Want a fund to be put aside.
Boris Johnson News – Scottish election 2021: STV leaders' debate LIVE

Tags: Boris Johnson News