Boris Johnson News – Tattoo organisers want to bring capacity crowds back to Edinburgh Castle arena this summer
Organisers of the Royal Edinburgh Military Tattoo are aiming to stage a full-capacity event in August if Nicola Sturgeon follows Boris Johnson and gives the green light for social distancing measures to be lifted this summer.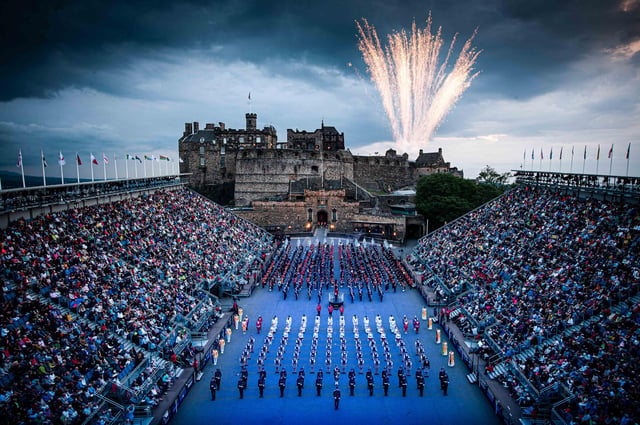 The Tattoo normally attracts an overall audience of 220,000 to Edinburgh Castle esplanade each August.
Around 220,000 ticket-holders could attend performances planned to be held across three weeks at Edinburgh Castle esplanade in August under plans to reboot the iconic events.
The Tattoo, which is held in an 8800-capacity arena, is expected to be heavily promoted to audiences in Edinburgh and around Scotland due to expected restrictions on international travel.
It was selling up to 53 per cent of tickets for each show, with social distancing in place, before the Prime Minister's announcement.
Major General Buster Howes was appointed to take over the running of the Royal Edinburgh Military Tattoo last May. Picture: Ian Georgeson
The spectator stands at the esplanade, where the Tattoo has been staged since 1950, could also be made available for other large-scale festival events to help ensure they can go ahead.
However these plans are hanging in the balance until the Scottish Government issues guidance on how and when large-scale events will be able to return.Major General Buster Howes, who was appointed chief executive of the Tattoo last year, said he expected to see an easing of restrictions on events in Scotland in line with the moves announced by the Prime Minister on Monday.
In an exclusive interview, he said: "The Scottish Government and the city council are really clear about wanting live events to happen this year. They've told us that if the Tattoo can happen it will happen.
"We have a good reputation. We're known to be rigorous and careful. We have a 70-year history of running a large event well.
The Royal Edinburgh Military Tattoo is staged at Edinburgh Castle esplanade for three weeks every August. Picture: Ian Georgeson
"We're hopeful that if they take a number of events to show how things should be done as exemplars then we will be one of them."
The UK Government's timetable would see crowds at up to half-capacity would be allowed at large-scale outdoor events from May, with all restrictions on on "social contact" lifted by 21 June.
Major General Howes said final decisions on the event had to be taken by 10 May.
He added: "Across the events industry, on both sides of the border, people were very pleased with the level of clarity from the Prime Minister.
"With luck, June will be a really seminal time and a lot of things will be able to forward.
"It is pretty clear there is a difference in approach in terms of what the First Minister is prepared to put out at this point.
"If it takes a bit longer for clarity to emerge around that then that's okay.
"I hope and expect we'll be in a similar place. The science is the science. I think there will be a convergence – I'm optimistic."
Major General Howes said there were likely to be more opportunities for other events at the esplanade due to a projected reduction in overseas visitors for up to four years.
He added: "The chances to exploit the amazing facility and location have been limited in the past.
"Edinburgh is the capital city and a world city of culture. But it doesn't have an equivalent of the Hydro in Glasgow.
"It costs us £2 million a year to build this open-air venue each year and it is absolutely phenomenal. We're trying to investigate opportunities. We're talking to all sorts of people."
A message from the Editor:
Thank you for reading this article. We're more reliant on your support than ever as the shift in consumer habits brought about by coronavirus impacts our advertisers.
If you haven't already, please consider supporting our trusted, fact-checked journalism by taking out a digital subscription.
Joy Yates
Editorial Director
Boris Johnson News – Tattoo organisers want to bring capacity crowds back to Edinburgh Castle arena this summer

Tags: Boris Johnson News