Boris Johnson – UK Will Share Coronavirus Vaccines With Other Countries Only After It's Hit Roll Out Targets, Liz Truss Says

3 min read

International Trade Secretary Liz Truss this morning dropped a big hint that the UK would give spare doses of coronavirus vaccines to other countries once it has hit its own roll out targets.
"It won't benefit people in Britain if we become a vaccinated island and many other countries don't have the vaccine, because the virus will continue to spread," she told Sky News's Ridge on Sunday.
She said: "It's a bit too early to say how we would deploy excess vaccines but we'd certainly want to work with friends and neighbours, we want to work with developing countries, because we are only going to solve this issue once everybody in the world is vaccinated".
In other coronavirus developments:
Generosity and cross-border cooperation were the themes of the day on Sunday, perhaps expectedly, after a week when the race between world leaders to secure jabs for their populations escalated into an extraordinary diplomatic row between the UK and the European Union.
The dust was still settling this morning after the European Commission on Friday night withdrew an explosive decision just hours earlier to invoke Article 16 of the Northern Ireland Protocol – a move that would have effectively imposed a border on the island of Ireland and undone years of hard work by EU and UK negotiators to not let Brexit disrupt the fragile status quo in Northern Ireland.
The bloc hastily U-turned after a furious backlash from virtually all sides of British politics, as well as from the Irish government.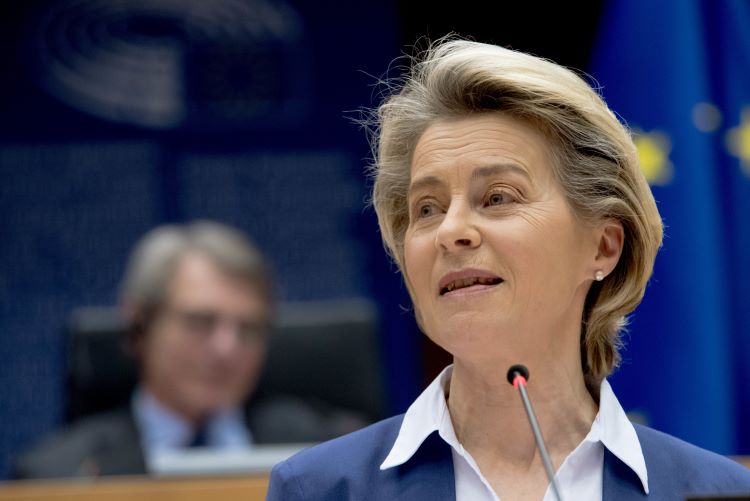 The EU very nearly took the nuclear option of overriding the Brexit deal for Northern Ireland as a last-ditch means of limiting the number of vaccine doses exported to the UK from Europe. Some EU member states have had to pause their rollouts amid a shortage of vaccines on the continent.
European Commission President Ursula von der Leyen has since given Prime Minister Boris Johnson a "very important assurance" that supplies to the UK "won't be disrupted," Truss told Ridge.
Brussels and Westminster will be very keen to put the episode behind them and that spirit of coming together – or attempting to, at least – was evident in Truss' interview this morning.
Similarly, vaccines minister Nadhim Zahawi this weekend told The Telegraph that the UK was ready to help the EU with its vaccine rollout, declaring: "This is about collaboration".
Former health secretary Jeremy Hunt, who chairs the health and social care committee, threw his support behind the UK giving surplus vaccine doses to the rest of the world, telling Ridge: "I think it goes without saying we are not safe until everyone is safe".
He said the Oxford-AstraZenica vaccine could make an "enormous difference" in Africa because "it can be transported at low temperatures and it is very cheap".