U.S. stocks: Uncertainty after Brexit

Uncertainty reigned on Monday as markets opened for the first time since the Brexit Freakout of 2016.
The UK. has voted to leave the 28-nation European Union, but on what terms is totally unknown — and won't be for at least two years.
The British government will have new leadership, but not until October — and it's unclear who'll be in charge.
On Monday, U.S. stock futures, which indicate how shares will open at 9:30 a.m. ET, were down between 0.5% and 0.6%.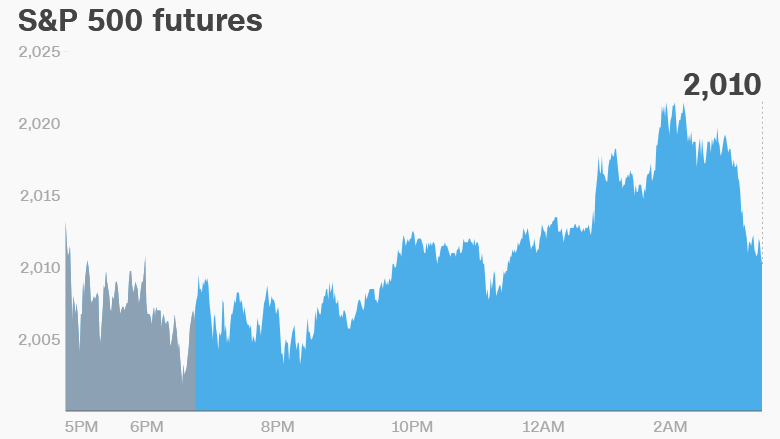 Markets in Asia ended the day mixed. The benchmark Nikkei index in Japan gained 2.4%, rebounding after a steep decline on Friday. The Shanghai Composite in China rose 1.5% and Hong Kong's Hang Seng fell 0.03%.
Things were worse in Europe. London's benchmark FTSE 100 index shed 2%. The broader FTSE 250, which is a better barometer of the British economy, was down about 6%. The DAX in Germany was 2.1% lower, and the CAC in France was down 2.2%. Stocks in Ireland, which is a major trade partner with the UK., fell more than 8%.
The pound, which on Friday crashed to a three-decade low, fell another 3.5% on Monday. Oil dropped on Friday, but it bounced back slightly.
Before Europe's market open, Chancellor of the Exchequer George Osborne spoke publicly for the first time since Thursday's referendum. Some businesses are already "pausing their decisions to invest and hire people," he said, adding that Brexit will hurt the UK. economy and government budget.
Related: Fear & Greed Index
When UK. voters made the momentous decision to leave the EU, investors reacted with immediate shock. Markets in Asia, Europe and the U.S. plunged.
The Dow Jones industrial average sunk 3.4%, while the S&P 500 lost 3.6% and the Nasdaq dropped 4.1%.
British Prime Minister David Cameron quickly announced he would step aside by October. Over the weekend, the opposition Labour Party fell into crisis with mass resignations of party cabinet officials.
The vote left the way forward very uncertain.
What is known: The EU has evolved over a half century into one of the world's true economic powerhouses. Now it's losing Britain, one of its most important members and the world's fifth-largest economy. Europe — the UK. included — is a different place than it was last week.
CNNMoney (London) First published June 27, 2016: 5:00 AM ET
U.S. stocks: Uncertainty after Brexit

Tags: FTSE Stock Market

Stock Market

Latest News on C N N.