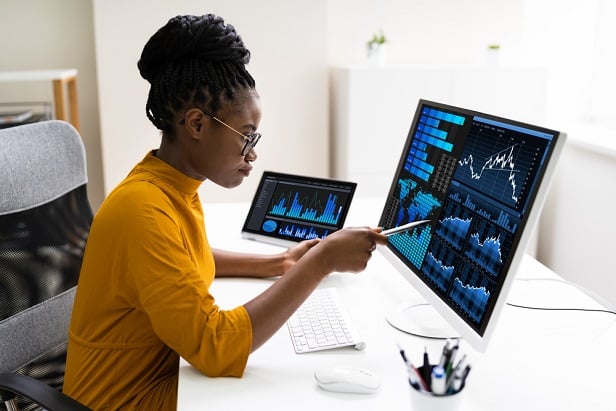 Racial and gender wealth gaps create an additional layer of complexity to investment decisions. The J.P. Morgan Wealth Management Women and Investing study reviewed the investing habits of affluent women in 2020 and took a deeper look to examine the factors that help Black and Latinx women build lasting wealth.
Although the majority of all women surveyed said the pandemic had a negative impact on their investments, affluent Black and Latinx women were more likely than affluent white women to feel optimistic about their financial goals over the next 12 months. Nearly one in five affluent Black or Latinx women found opportunities to capitalize on market volatilities created by the pandemic. They also were more likely to rely on themselves, doing their own market research using digital tools
The study uncovered three key findings:
1. Market volatility had a negative impact on investments for most women, but Black and Latinx women were more likely to seize on opportunities. While most affluent women reported that their portfolios were negatively affected, Black and Latinx women were more likely to start investing.
2. The majority of Black and Latinx women had to find their own path to investing, but they did so with confidence. Starting out, affluent Black and Latinx women take matters into their own hands, exploring investing paths through online educational resources, apps or TV shows. They also are more likely to be confident in their decisions from the start.
3. Financial education and inherited investment accounts helped set affluent Black and Latinx women on track for smarter financial decisions. Unsurprisingly, getting a financial jumpstart from family or loved ones — including both inherited wealth and education — helped set up affluent Black and Latinx women for financial success. The majority of women surveyed, regardless of race, inherited savings or investments from their parents or had regular money discussions growing up. This upbringing likely contributed to their smart financial decisions as adults.
Making progress in the racial and gender wealth gap still demands a lot more work, the writer of the report said. The study found that despite feeling more confident about their financial future, more than half of affluent Black and Latinx women surveyed feel that investing is more challenging for people of their race.
Why? About 21 percent of them felt that investing services that are offered did not fit their needs or they had a bad experience, compared to only 7 percent of affluent white women. In addition, nearly 30 percent of them financially supported friends and family in 2020, compared to 11 percent of white women.
Challenges stretch far beyond investing. According to past research from the J.P. Morgan Chase Institute, Black and Latinx families have 32 and 47 cents, respectively, in liquid assets for every dollar held by white families. In addition, home ownership rates are 25 percent lower for Black and Latinx families and, as rents continue to rise, Black and Latinx households are more likely to be cost-burdened than white households.
The J.P. Morgan survey polled 1,375 women investors with at least $150,000 in investable assets in October 2020.
READ MORE: