First Abu Dhabi Bank PJSC appointed Hana Al Rostamani as group chief executive officer, promoting a woman to the top leadership position in a male-dominated sector.
Al Rostamani will be the first female CEO of the biggest lender in the United Arab Emirates, taking over from Andre Sayegh, who spent less than a year in the role. She is currently deputy group CEO and head of personal banking.

"FAB has always been an organization that champions diversity and the appointment of our first female Group CEO to lead our company into the future is truly something to value," Chairman Sheikh Tahnoon Bin Zayed Al Nahyan said.
About Al Rostamani:
Currently the

chairperson

of FAB Private Bank Suisse
Served as independent director at Emirates Integrated Telecommunication Co. and vice

chairperson

of Emirates Institute for Banking & Financial Services
Rostamani takes the reins of the state-controlled bank at a challenging time for the domestic financial sector: distressed loans linked to the economic impact of the coronavirus pandemic are on the rise and there's mounting pressure to further cut costs as lenders become try to become more digital.
Consolidation has also been accelerating in recent years and is expected to continue with banks such as FAB expanding abroad in places like Egypt in search of growth.
Al Rostamani is among a growing number of women tapped to lead companies in the Middle East. Last week, Oman named Haifa Al Khaifi as the CEO of a new firm that controls the country's biggest oil block.
Other women in leadership positions in the region include Sarah Al Suhaimi, chairwoman of Saudi Arabia's stock exchange and head of NCB Capital Co., and Carmen Haddad, vice chairperson of Citigroup Inc's operations in the Middle East. Last month, Citigroup also appointed Elissar Farah Antonios to run its Middle East & North Africa operations.
Still, a report by JPMorgan Chase & Co. last year found that women's employment in the Gulf region isn't taking off despite efforts by some governments to encourage it, with representation in corporate suites very low. Al Rostamani will be among the few female CEOs of financial institutions in the UAE. Rola Abu Manneh, once an executive at FAB, is now at the helm of Standard Chartered Plc's business in the country.
JPMorgan Chase said it couldn't find clear data on female citizen employment in the UAE but estimated it at about 30%, below neighbors such as Saudi Arabia, Qatar and Kuwait.
Across 145 listed companies in the UAE, only eight have reported the presence of women on boards in their latest filings, according to data compiled by Bloomberg. The most recent figures for FAB show women in managerial roles make up about 27%, while the total number of female employees at the lender accounts for 39%.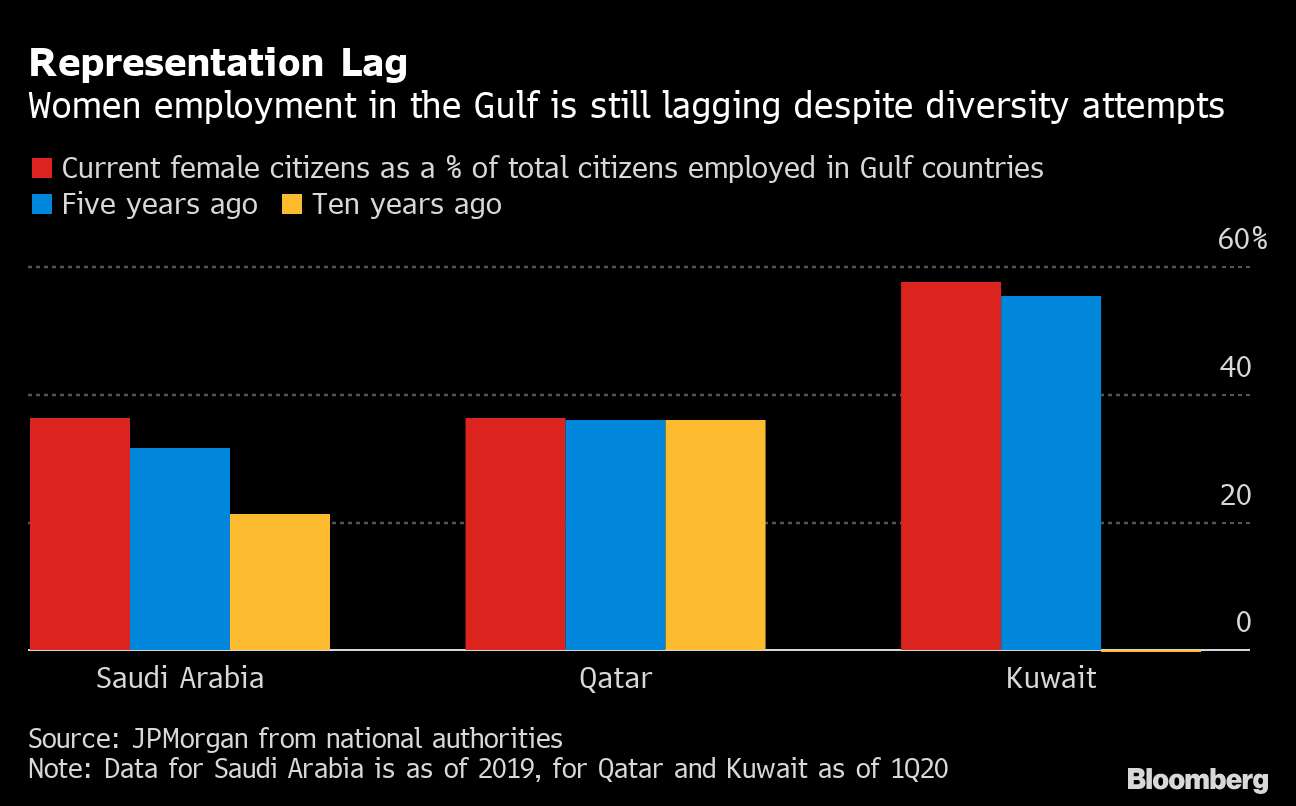 Rostamani rose through the ranks in recent years, having served several senior positions at First Gulf Bank, the lender that merged with National Bank of Abu Dhabi in 2016 to create FAB.
"She's very capable and is going to bring a breath of fresh air to FAB which has been strong in corporate but still can do more in retail," said Mohammed Ali Yasin, chief strategy officer at Al Dhabi Capital Ltd.
Appointing a female chief executive also sends a strong signal by the leadership about women taking on key roles in business, Yasin said.
"This is significant because she is entrusted by the leadership to manage such a big bank that is essential to the Abu Dhabi and UAE economy," he said.
(Updates with banking outlook, comment starting in fourth paragraph)