Cisco Stock – 3 Stocks To Watch In The Coming Week: Walmart, Home Depot, Cisco Systems

With the majority of earnings reports behind us, the next week will be all about retailers and their forecasts for consumer demand as the US economy reopens quickly in the wake of the COVID-19 pandemic. 
The coming week will be filled with earnings releases from some of the largest US retailers amid a slowdown in sales after a brisk activity over the past year. The Commerce Department on Friday said that were unchanged in the month of April, printing at 0.00% after a 10.7% increase in March.
Walmart, Costco (NASDAQ:) and Trader Joe's all said last week they're eliminating mask requirements for vaccinated customers, in response to the latest CDC guidance, indicating normal times are returning.
Below, we've short-listed three stocks which could see some trading action after they report their quarterly numbers: 
America's biggest retailer, Walmart (NYSE🙂 reports its fiscal 2022, first-quarter earnings on Tuesday, May 18, before the market opens. Consensus anticipates EPS of $1.21 on revenue of $132 billion.
Walmart has been a net beneficiary during the pandemic as customers, staying home, stockpiled grocery items and consumed more daily staples. The Bentonville, Arkansas-based retailer, however, warned investors in February that it expects a and profit for the year as life in the US gradually returns to normal after the country's mass vaccination drive.
According to the retail giant, earnings per share will decline slightly in the current fiscal year, with US comparable sales nonetheless staying in positive territory. As the pandemic's impact gradually tapers off, WMT share performance has remained mostly flat this year. The stock closed on Friday at $139.52.
Home-improvement giant Home Depot (NYSE🙂 will also report its Q1 2021 earnings on Tuesday before the market opens. Analysts expect $3.08 a share in profit on sales of  $34.75 billion.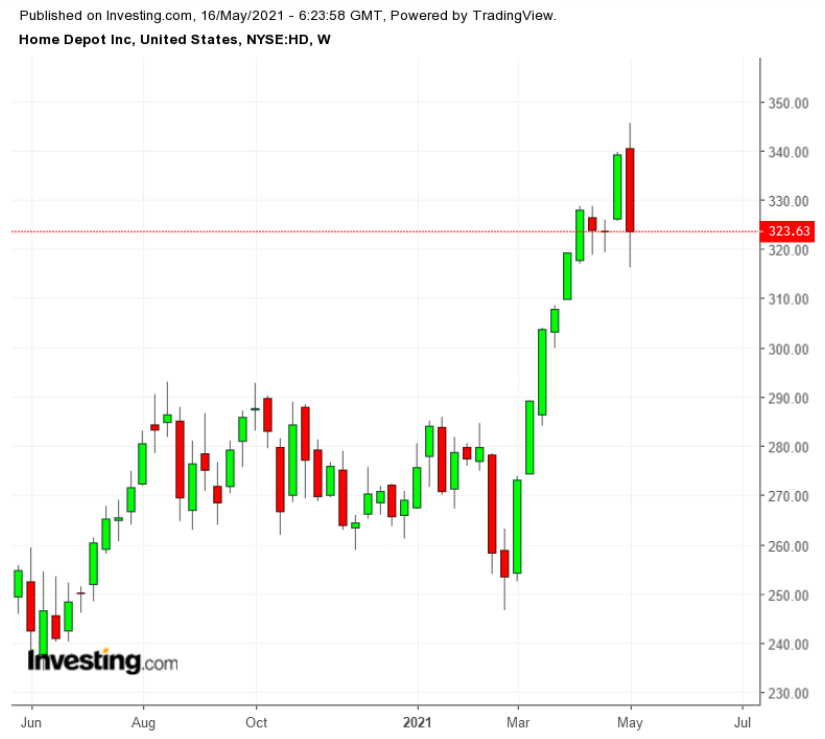 HD also benefited from lockdowns as people, stuck in their homes, spent more money on home renovations and setting up in-home offices. That trend may have continued during Q1 as rising home prices and low interest rates encouraged home owners to spend more on remodeling. 
The Atlanta-based retailer said in February that demand is still strong for home improvement projects even a year into COVID-19, but customer trends from the latter part of 2020 indicate that may be slowing a bit. Still, same-store sales in the US, a key measure in retail performance, rose 25% in the quarter ended Jan. 31. 
The stock, which closed on Friday at $323.63, has gained 20% this year, massively outperforming the benchmark .
3. Cisco Systems
Cisco Systems (NASDAQ:) will report its fiscal 2021, third-quarter earnings on Wednesday, May 19, after the closing bell. Analysts expect the networking technology giant to report $0.82 a share profit on sales of $12.57 billion.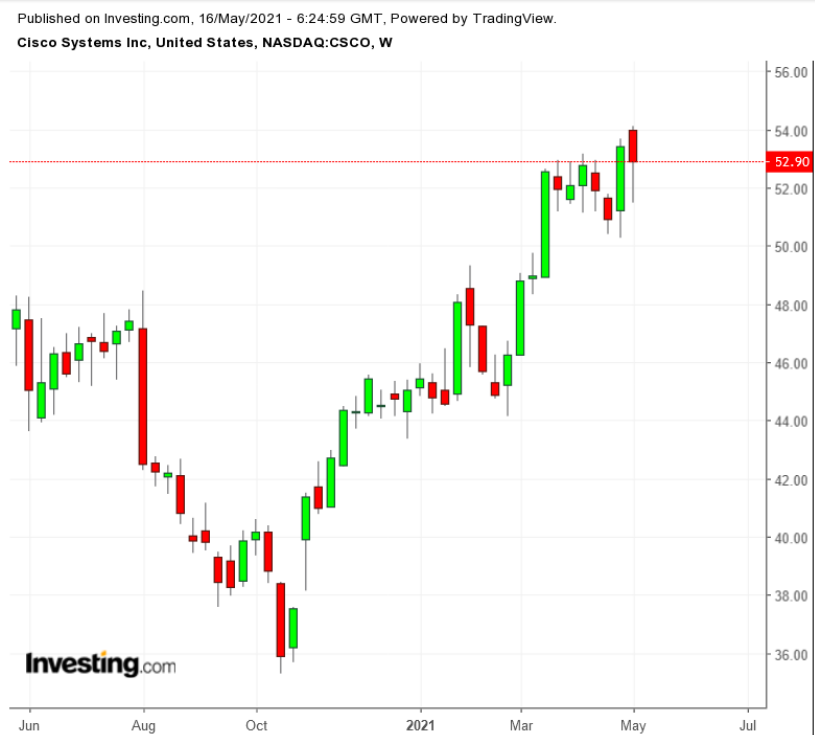 The San Jose-based communications tech giant is the world's largest producer of routers, switches, and other equipment that companies use to connect computers.
The company has meaningfully improved its after an aggressive diversification drive away from hardware to a software-driven model within new, high-growth areas of the market, such as cybersecurity, applications and services.
Goldman Sachs upgraded the stock in March, saying in a note that a return to offices would lead to better IT spending in general, with Cisco also seeing a tailwind from a replacement cycle for older technology. Cisco shares, after gaining 18% this year, closed on Friday at $52.90.

Cisco Stock – 3 Stocks To Watch In The Coming Week: Walmart, Home Depot, Cisco Systems

Tags: Cisco Stock