The battle for the control of Bitcoin Cash is getting expensive.
The fourth-largest cryptocurrency began attracting mainstream attention this week when two competing software-development teams failed to agree on how to best update the code and ended up splitting the network. The fight was cited Wednesday for contributing to the biggest drop in eight months for Bitcoin, which Bitcoin Cash had split off from last year.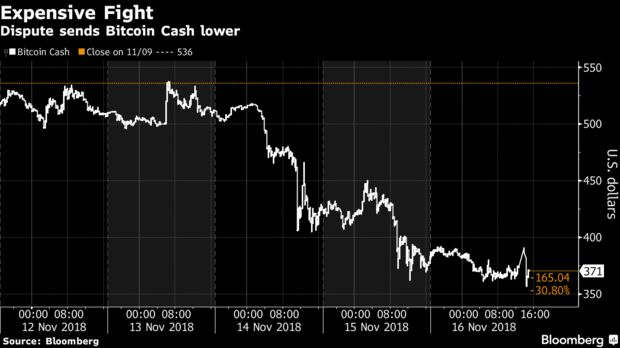 Both factions have been ramping up the amount of computing power they own to support their software version to win a race called Nakamoto Consensus, under which whoever has the most computing support wins. The groups, known as ABC and SV, are losing about $700,000 a day on expenses like electricity to run so-called mining rigs that compete to process transactions, according to BitMex Research. That's on top of another $1 million a day in lost opportunity cost from not having their computers mine Bitcoin, according to Jimmy Song, a Bitcoin core developer.
Each has pledged to keep going to win the so-called Hash War, where "hash" denotes computing power dedicated to the effort. While ABC is currently ahead, according to tracker Coin Dance, the balance of power could still shift.
Imagine a management takeover in a $100 billion company, which you could effect by directing your resources," said Lex Sokolin, global director of fintech strategy at Autonomous Research in London. "There is prestige, reputation and power that comes with being the main party responsible for deciding the vision and feature set of the future of money."
The winner will be able to make tweaks in the software to its benefit, such as figuring out how to mine coins more efficiently. Other pluses include being able to attract better developers, and more miners to join its pool. Whoever gains control will also have a lot of influence over the related coin's price.
"You can pump price, you can dump price, you can push hash rate in one way or another,"
said Travis Kling, founder of the hedge fund Ikigai. The coins, Bitcoin Cash ABC and Bitcoin Cash SV, together add up to significantly 
less
 than what Bitcoin Cash was worth before the fork, according to 
Poloniex 
exchange data. When Bitcoin Cash split off from Bitcoin in August 2017, investors actually saw the prices of the two coins appreciate.
The ABC faction is headed by Chinese crypto mining powerhouse Bitmain and investor Roger Ver, who is referred to as Bitcoin Jesus for his early advocacy of the original coin. The SV, or Satoshi's Vision, group is led by billionaire Calvin Ayre and Craig Wright, the self-proclaimed Satoshi Nakamoto, the anonymous creator of Bitcoin. Wright's claim has long been doubted in the crypto community.
In the meantime, the fight has been costly for investors, who have already seen Bitcoin Cash lose $2.75 billion in market value in the last week.