The tea-leaves may be turning again for Bitcoin. Chart patterns and measures of momentum are hinting at support just as the latest swoon by the largest cryptocurrency heightens apprehension among speculators and true-believers.
Technical indicators may be well suited to projecting buy and sell signals for digital assets, because they trade on limited fundamentals and are susceptible to animal spirits, as the 2017 mania that saw Bitcoin's market value jump from less than $1,000 to nearly $20,000 proved.
Bitcoin repeatedly tested levels near $6,000 this year, only to recover each time. On Tuesday, it dropped as low as $5,887. Meanwhile, the GTI Global Strength Indicator also proved prescient, issuing a sell-warning on July 30, just as a rally petered out — it's now flashing a buy signal.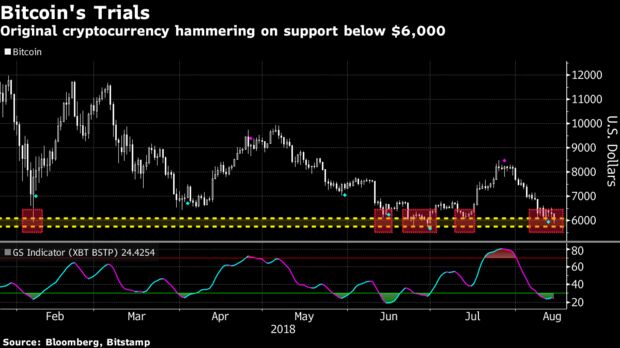 While some traders have written Bitcoin off as last year's news, enthusiasts believe the blockchain technology will shine through and that 2018's drop is just a correction in the rally. Under the HODL banner, they encourage a buy-and-hold strategy, pointing to the fact that it previously dropped as much as 90 percent only to recover.