Cryptocurrency News Today – Argo Blockchain: A FTSE Stock For Cryptocurrency Investors

Blockchain technology, also referred to as Distributed Ledger Technology (DLT), has attracted significant industry and investor attention.
Many analysts regard the financial sector as the primary user of the blockchain concept. Such an emphasis is partly because the most popular application of blockchain technology has been in the cryptocurrency space.
Meanwhile, over the past year, cryptocurrencies, including , , , , , have been hot. For instance, year-to-date (YTD) Bitcoin has returned over 70%. And over the past year, Bitcoin is up close to 450%.
Fry J and J-P Serbera of the University of Bradford, UK, point out:
"Bitcoin is the first widespread usage of blockchain technology. However, blockchain has an identity and a reach potentially far beyond this. There appear to be two key conditions for blockchain applications. These conditions are convenience and consensus/trust."
Further research by the US National Institute of Standards and Technology highlights:
"Blockchains are tamper evident and tamper resistant digital ledgers implemented in a distributed fashion (i.e., without a central repository) and usually without a central authority (i.e., a bank, company, or government)."
We previously investing in exchange-traded funds with a focus on blockchain. Today, we extend the discussion to another British business that has been among the highest gainers on the London Stock Exchange (LSE). It is the crypto miner Argo Blockchain (LON:) (OTC:).
The company's share price has become somewhat of a proxy for cryptocurrencies, especially for the price of Bitcoin. Let's take a closer look.
Argo Blockchain
London-based Argo Blockchain mines Bitcoin and at its facilities in North America. The group prides itself as the only cryptocurrency mining company listed on the LSE. Its market capitalization is shy of £1 billion (or about $1.4 billion).
Argo has recently announced it is investing in a new facility in Texas. Some of the cost will be raised from a new share issuance. Given the share price growth in recent months, such a move makes financial sense. The current higher market valuation allows it to raise money more easily.
Over the past year, ARB stock is up over 4,700%. Put another way, the proverbial $1,000 invested in the shares a year ago would now be worth about $48,000. YTD, ARB shares have returned about 700%. On Mar. 4, the stock closed at 266.57p ($3.55 for US-based shares).
Argo Blockchain Weekly Chart.
On Mar. 3, the company made headlines when it announced that CEO Peter Wall, as well as other interested employees, would receive salaries in Bitcoin from Mar. 1. Argo "will automatically convert salaries from fiat to Bitcoin at the daily market rate using the Toronto-based Satstreet exchange using their 'Bitcoin Savings' service."
According to the latest trading statement, in February, the group "mined 129 Bitcoin or Bitcoin Equivalent (together, "BTC") compared to 93 BTC in January. This takes the total amount of BTC mined year-to-date to 222 BTC… At the end of February, the company held 599 BTC."
What can investors expect from ARB shares in the rest of the year? As Argo's fortunes track the returns of Bitcoin, the stock price is likely to be highly volatile. It is a speculative asset that might be appropriate for some portfolios.
Bottom Line

In addition to ARB stock, another Essex, UK.-based company, Online Blockchain (LON:), has been in the limelight, too. The company incubates cryptocurrency startups and develops blockchain technology products.
YTD, OBC shares are up 51%, while over the past 12 months, the stock has returned about 500%. On Mar. 4, the stock closed at 75p. Its market cap stands shy of £11 million (or about $15.3 million).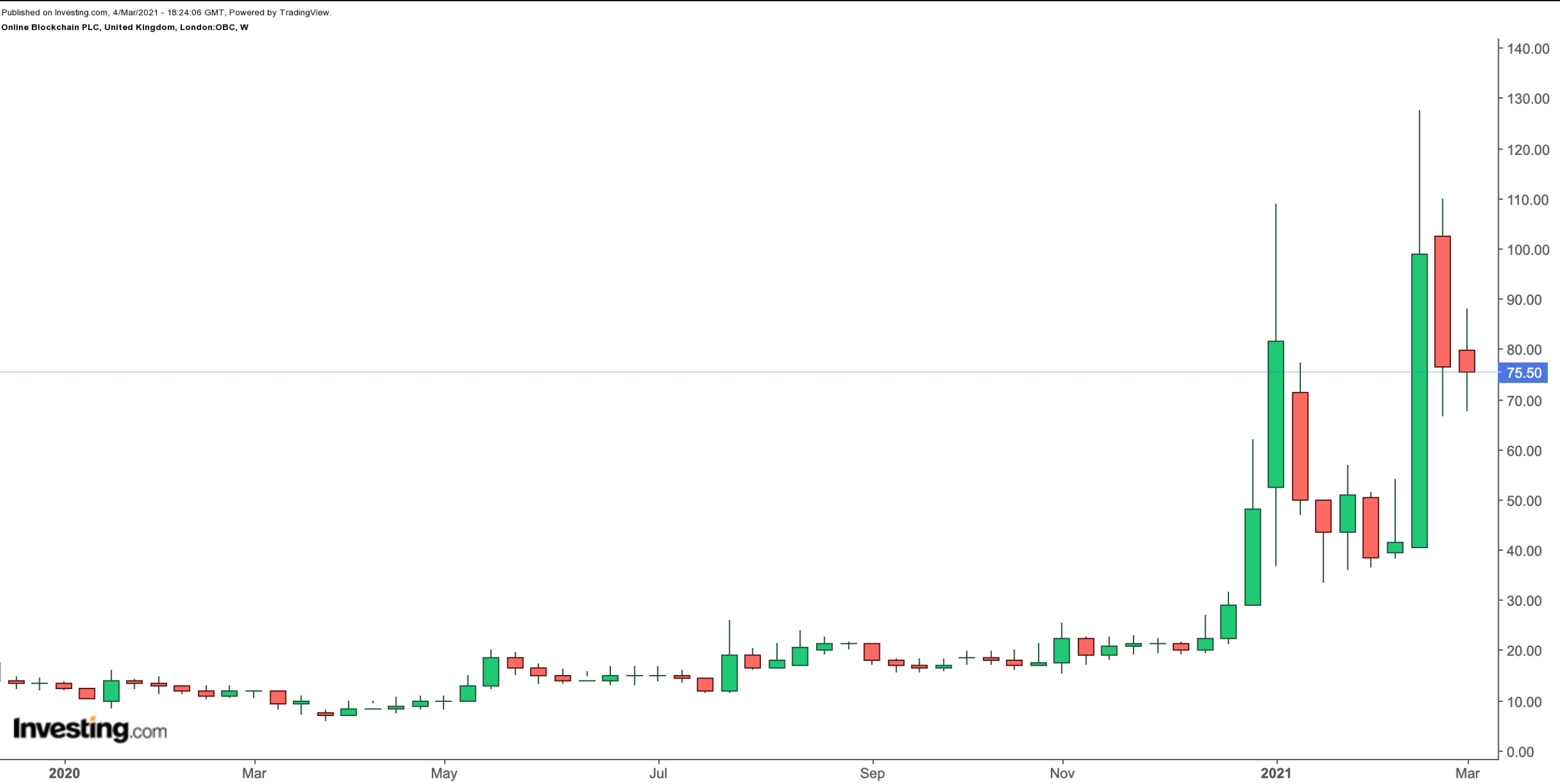 Online Blockchain Weekly Chart.
Readers interested in the blockchain, financial technology (fintech) or cryptocurrency space could also consider investing in an exchange-traded fund (ETF). Examples include:



Cryptocurrency News Today – Argo Blockchain: A FTSE Stock For Cryptocurrency Investors