The biggest roadblock to Wall Street behemoths rolling out cryptocurrency businesses could come from their own clients, rather than from regulators.
Large institutions currently have little appetite for investing in digital assets, said Nikolay Storonsky, a former Credit Suisse Group AG trader turned fintech entrepreneur. His London-based banking startup, Revolut Ltd., allows retail users to speculate on tokens including Bitcoin and Ether and is now valued at over $1 billion.
Storonsky's comments, which were made at Web Summit 2018 in Lisbon, chime with those of BlackRock Inc.'s Larry Fink, who said earlier in the year that his company's clients have zero interest in crypto. That will make life difficult for the roster of large Wall Street banks that are developing sophisticated derivatives tied to digital assets and considering offering trading and custody of crypto.
"Unless these big institutional investors and hedge funds move heavily into the crypto world I just don't think banks will move because they simply try to make money from their clients,'' said Storonsky. "There is no interest from big institutional investors so far.''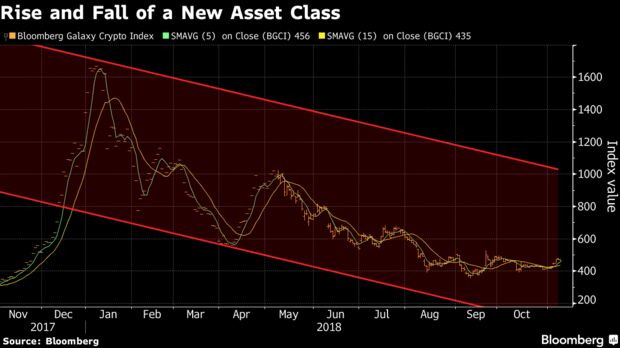 Morgan Stanley is technically prepared to offer swaps tied to Bitcoin futures, but will only start trading once there is proven institutional client demand for the contracts, a person familiar with the matter said in September. Goldman Sachs Group Inc. and Citigroup Inc. are also developing products tied to Bitcoin.
For almost everyone operating in the crypto market, big and small, the collapse in digital assets this year — Bitcoin has lost over half its value, while other tokens have lost a lot more — has been painful. Revolut's crypto trading volumes are as low as 20 percent of what they were in December when Bitcoin reached its record high, said Storonsky.
Still, 2019 is likely to see an improvement in the crypto market's fortunes, said the Revolut chief executive officer. Wall Street will not be the prime beneficiary though, he said.
"Fintech will be very big in crypto for the foreseeable future,'' he said. ''I just don't think banks will catch up.''