XRP Higher as Analyst Sees a Further Breakout Against BTC, MIOTA, IOST, SOL
XRP Higher as Analyst Sees a Further Breakout Against BTC, MIOTA, IOST, SOL
XRP analysts see gains, but whale activity threatens. IOTA recovers much of its losses this year. SOL marches to $145. IOST creeps higher.
The price of XRP was higher again as the rally in crypto continued for another week.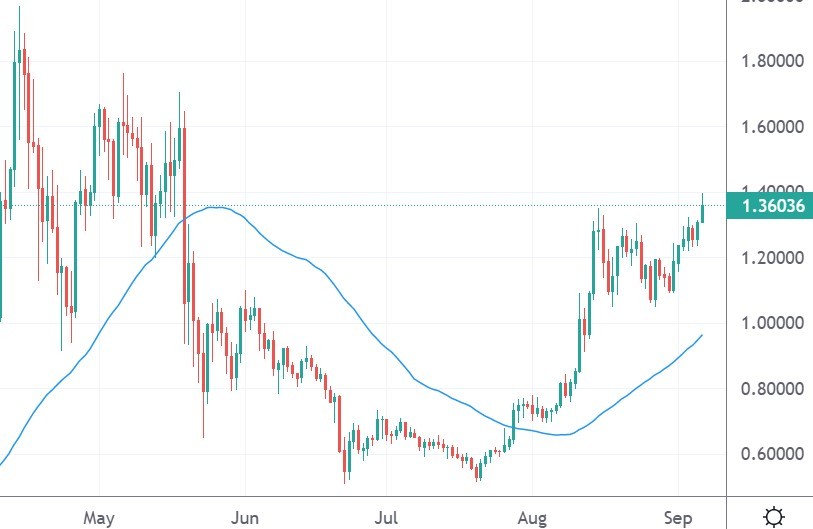 One analyst sees a big breakout potential for XRP against Bitcoin, but whale activity warns of a potential dump. 
As September began, the so-called "whales" moved tens of millions of XRP between unknown wallets, Bittrex, Binance, and Ripple. This could signal a potential dump of coins coming. 
One of the smallest transfers saw 10 million XRP sent from Ripple to an unknown wallet, but the largest transfer was 218,682,488 XRP (more than $280 million) sent from an unknown wallet to Ripple, according to Whale Alert. 
However, crypto strategist and trader Michaël van de Poppe is keeping an eye on XRP as he says the sixth-largest crypto token is gathering momentum.
He told his 120,000 YouTube subscribers that XRP is threatening to launch a 46% rally from its current price of $1.26.
 

Looking at XRP, we do see that we are having this beautiful [support] flip at $1.06. I've also marked the level around $1 as that is a very good entry point. But we can see that the very important, significant level at $1.06 is providing support here. Some consolidation, sideways action and most likely we're going to have a new breakout to the upside for XRP.

 
The analyst also predicted a move higher in the Bitcoin pair (XRP/BTC). He said that XRP/BTC is one resistance away from starting a potential 140% surge from its current value of 0.000025 BTC or $1.25.
MIOTA
IOTA was the strongest-performing coin this week with a move of almost 100%. 
The IOTA project developers say that they have "re-engineered distributed ledger technology, enabling the secure exchange of both value and data, without any fees."
In the early stages, the coin was targeted at being an Internet of Things (IoT) and saw early partnerships with automobile makers which sparked hopes of adoption in some of the major carmakers. 
You can read this complete story at: https://www.bitrates.com/news/p/xrp-higher-as-analyst-sees-a-further-breakout-against-btc-miota-iost-sol-sep-6
XRP Higher as Analyst Sees a Further Breakout Against BTC, MIOTA, IOST, SOL