Dollar Index – DXY set to drop in the days

If today's slide in the Dollar index (DXY) proves successful, we might see the Dollar give up 1.4% in the next few days.
The start of the year tends to set the trend for the rest of the year for currencies, and as in many other things in life, the start can be messy. This holds true for the Dollar index that has had some large swings in the first two months of the year, and until today, we still don't have a clear trend. However, a head and shoulders pattern suggests that the trend will be bearish over the next few weeks.
Since the start of 2021, the Dollar index carved out a head and shoulders pattern, something we reported last week.Today, that pattern has been properly triggered, and unless the Dollar manages to turn aggressively higher before the end of today and close above 90.01, we might see the index slide to the 88.60 level. 
The pattern target is derived by subtracting the difference between the "head" of the pattern, the 2021 high of 91.60, and the" neckline." The neckline is a trendline that goes via the January 22 and February 16 lows. The difference is then subtracted from the breakout level of 90.12, and we arrive at the pattern target of 80.60.
The triggering of the pattern happened already on February 22, yet, it is first today, on January 25, that the price aggressively turned lower, and it looks like we have a confirmed activation of the pattern. 
There are different schools on when a pattern like the head and shoulders will fail. But I will remain bearish as long as we trade below the February 24 high of 90.43.
DXY (Dollar index) six-hour chart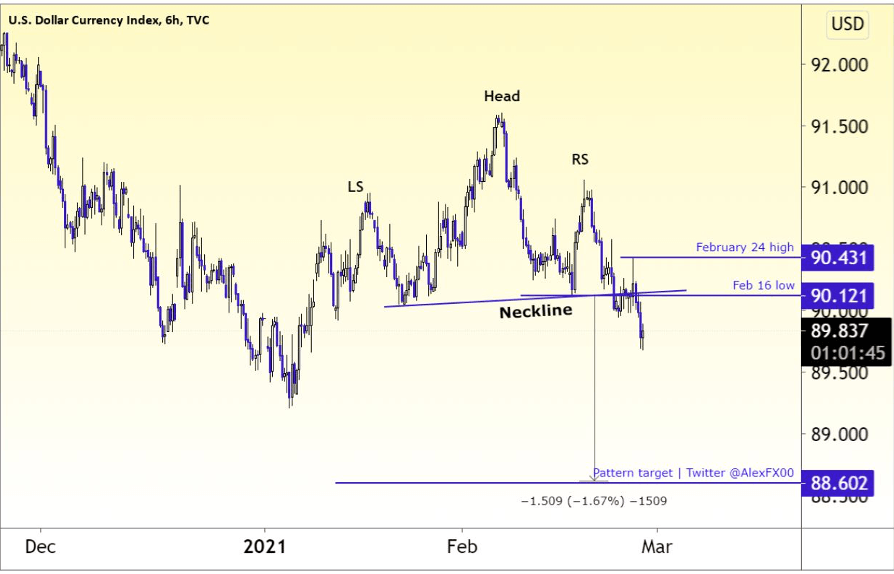 Dollar Index – DXY set to drop in the days

Tags: Dollar Index