CYDY – OTC Markets Hits Major Milestones in Mid-Year Along With Big Volume and Gaining Securities

Photo by Kyrie Kim on Unsplash
In a similar vein to 2020, the market's volatility to start 2021 gave way to less volatility in the second quarter, and even less volatility now that we're in the third quarter.
Substantial milestones have been crossed since the beginning of 2021 especially on OTC Markets.
There are now over 500 OTCQX companies actively trading.
Over 1000 OTCQB companies actively trading.
And, over 100 U.S. banks represented on the OTCQX.
Additionally, the number of trades and volume of shares on the markets have reached significant levels in the year so far.
The OTCQX market had an average number of daily trades on the market of 167,533, with an average daily share volume of 107.7 million.
The OTCQB had an average number of daily trades on the market at 113,787, with an average daily share volume of 362.9 million.
Here's a look at how trading on the top two tiers of OTC Markets—the OTCQX Best Market and OTCQB Venture Market—shaped up in the first half of the year.
OTCQX Achieves Record Volume, Crypto Securities Popular Throughout 2021
Overall, total dollar volume on the OTCQX Market has increased significantly in 2021 compared to 2020, with over $140 billion worth of shares traded on the market. A landmark rise in crypto assets helped this increase to grow further and faster.
Cryptocurrency-based securities had a highly impactful level of volume on the OTCQX Market. The Grayscale Bitcoin Trust (OTCQX: GBTC) and Grayscale Ethereum Trust (OTCQX: ETHE) were extremely popular with traders in 2021 and volume benefited from high volatility. Roche Holding Ltd. (OTCQX: RHHBY), the most actively traded security through the first half of 2020, was third in terms of dollar volume.
The OTCQX has also experienced strong growth in terms of size. There were 122 new securities added to the OTCQX Market through June—compared to 115 securities added to the OTCQX and OTCQB markets combined in the same time period last year.
OTCQX Top 10 Dollar Volume Through June
OTCQX Top 10 Gainers Through June

OTCQB Also Grows By a Significant Number
Trading on the OTCQB Market was strong, with total dollar volume traded reaching over $26 billion. Four securities traded on OTCQB reached over $1 billion in dollar volume in the year's first half: American Battery Metals Corporation (OTCQB: ABML), CytoDyn, Inc. (OTCQB: CYDY), Fannie Mae (OTCQB: FNMA), and Alpine 4 Holdings Inc. (OTCQB: ALPP).
Of the 224 new securities on OTCQB, 161 are based in Canada– a trend that may point to a larger group of Canadian companies seeking to be traded in the U.S.
OTCQB Top 10 Dollar Volume YTD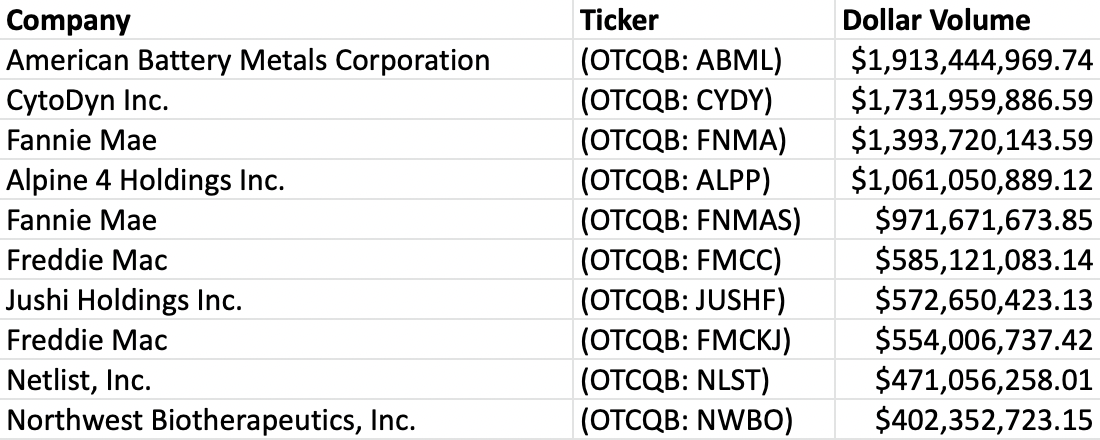 OCTQB Top 10 Gainers YTD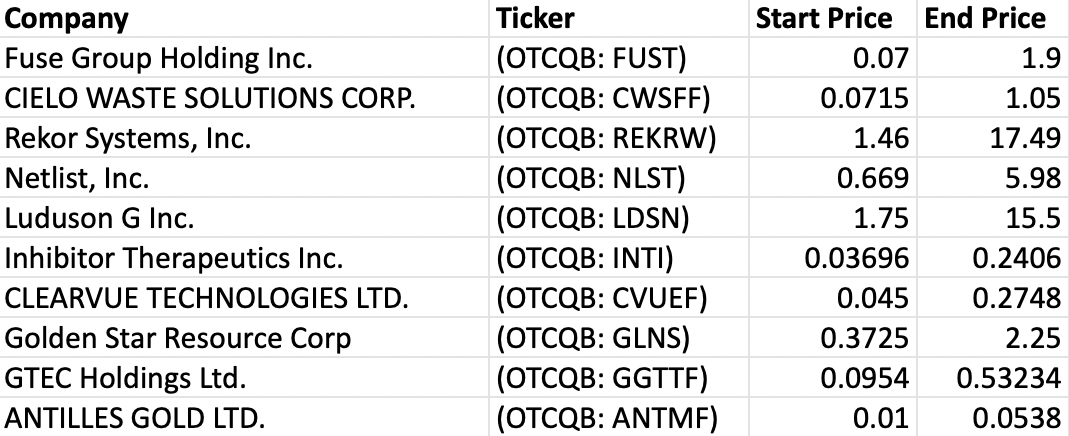 *All Data as of June 30, 2021
© 2021 Fintech Zoom.com. Fintech Zoom does not provide investment advice. All rights reserved.
CYDY – OTC Markets Hits Major Milestones in Mid-Year Along With Big Volume and Gaining Securities

Tags: CYDY