Goldman Sachs Group Inc. is looking to restrain the rapid expansion of its online lending platform as the firm grows more cautious on the consumer debt market that's a key area of growth.
The firm's Marcus unit cut its loan-originations target for next year, according to people with knowledge of the plans. The revision reflects concern about the stage of the credit cycle and changes in market data, the people said, asking not to be identified as the information isn't public.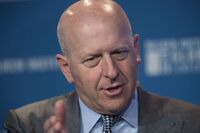 Goldman Sachs leaders including new Chief Executive Officer David Solomon have made Marcus a pillar of their plan to boost revenue over the next several years. The unit has grown quickly — lending more than $4 billion in under two years — prompting questions from analysts and investors on how the portfolio will perform in a downturn when more consumers have trouble paying off debt.
Marcus represents a major departure from Goldman Sachs's traditional focus on major corporations and investors through its investment bank and trading business. Competitors have wondered if the firm was outside its expertise in the consumer space, particularly almost a decade into the economic recovery, while Goldman Sachs executives maintain that new technology has turned unsecured personal loans into a math problem.
The reduction in 2019 plans is based on current market conditions for consumer lending and could still change, said the people, who didn't provide exact figures. A spokesman for Goldman Sachs declined to comment.
Goldman Sachs hired Harit Talwar from Discover Financial Services in 2015 to help build a digital consumer business. Marcus started making loans in 2016 and this year expanded its deposit business into the U.K. The firm also created a separate division for its lending activities overseen by Stephen Scherr, who last month was named Goldman's chief financial officer.
Solomon said in May he expects Marcus to get "very big, very profitable" and has likened the consumer bank to the start of Goldman Sachs's investment-management business 30 years ago.
Goldman Sachs shares fell 0.4 percent at 10:13 a.m. in New York and are down 12 percent this year.
While U.S. unemployment is the lowest in almost half a century, some lenders have expressed concern about the potential for increased losses in consumer credit as interest rates rise. Total household debt in the U.S. hit a record earlier this year, according to the Federal Reserve Bank of New York.
Personal loans have surged to a record and are the fastest-growing U.S. consumer-lending category, according to data from credit bureau TransUnion. Outstanding balances stand at about $125 billion. And a lot of that growth is coming from fintech companies, which originated more than a third of total personal loans in 2017 compared with less than 1 percent in 2010.
Marcus competes against the likes of web-based firms including LendingClub Corp., Prosper Marketplace Inc. and Social Finance Inc. The bank has said that it's under no pressure to hit any milestones for loan originations and will make decisions based on risk metrics and the state of the markets.
The loss rate on the Marcus loan portfolio was around 5 percent, CFO Marty Chavez said on the most recent quarterly earnings call in July.
Goldman Sachs Chairman Lloyd Blankfein laid out a case for the bank's caution at an event in June: If customers can't pay unsecured loans, the firm eats the loss. There's no home to repossess.
"We will be the ones that will suffer," he said. "If they don't pay us back, we will be the ones on TV you'll feel sorry for."