Donald Trump News – Trump Jr. Incensed by Lack of Decency as Cheerleaders Learn on Twitter They're Being Fired

Donald Trump Jr. was appalled upon discovering that members of the Washington Football Team's cheerleading squad learned about their dismissals on social media, even though his father infamously used Twitter to fire top administration officials throughout his presidency.
Trump Jr., the eldest son of former President Donald Trump and executive at the Trump Organization, expressed both anger and disbelief in response to the cheerleaders' terminations in a video shared Saturday.
"If there was an Olympic medal for woke stupidity, these guys would win, like, the platinum medal. It would be bigger than gold," he said in the video, entitled, "LOL: This is the Latest Victim of Woke Craziness."
Trump Jr. originally posted the rant to his account on Rumble, a Canadian video platform that he often uses as a forum to share inflammatory remarks about national affairs. The latest video received close to 350,000 views between Saturday and Sunday.
"So, what we found out this week was that the Washington Redskins just got rid of their cheerleaders," Trump Jr. continued. "Apparently, they didn't even have the decency to tell them face-to-face. Their cheerleading squad was disbanded, but apparently they read it about it on Twitter."
Trump Jr.'s father announced numerous administration employees' dismissals on Twitter during his four years in the White House, without notifying them personally prior to alerting social media. Former Defense Secretary Mark Esper, White House counsel Don McGahn, DHS Cybersecurity and Infrastructure Security Agency Director Christopher Krebs, Homeland Security Secretary Kirstjen Nielsen, Chief of Staff Reince Preibus, Department of Veteran Affairs Secretary David Shulkin, and Secretary of State Rex Tillerson were each fired in this way.
News of the Washington Football Team's decision to end its longstanding cheerleading program ahead of the upcoming season first surfaced on Wednesday, alongside an announcement noting that the previous all-female group will eventually be replaced with a co-ed dance squad. The team hired Petra Pope, who previously managed the N(BA)'s Laker Girls and Knicks City Dancers, to lead its transition initiative.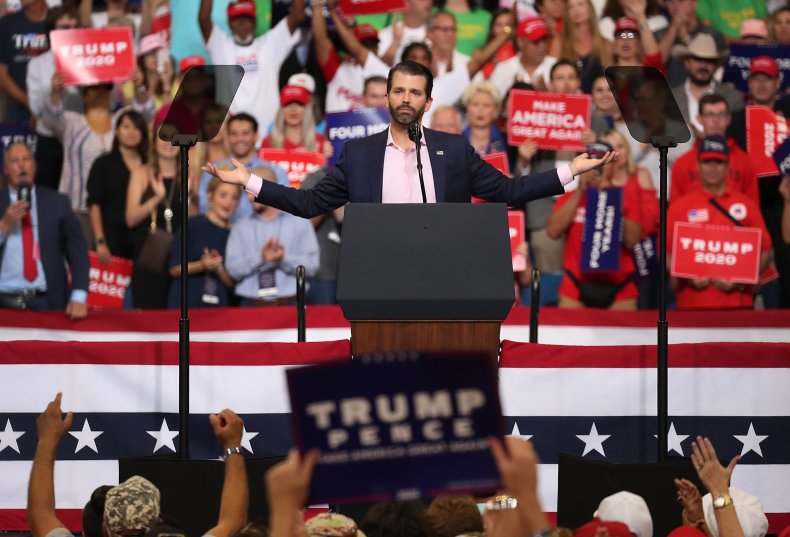 The shift follows several years of controversy involving members of the Washington Football Team's cheerleading squad, who first publicly accused officials of sexual misconduct in 2018, The New York Times reported. This past summer, more than a dozen women detailed their experiences with sexual harassment and abuse while working for the football team in a Washington Post report. The team rebranded itself around the same time, acknowledging public critics that pointed out its former name, the Washington Redskins, carried blatant racist connotations.
Some members of the football team's cheerleaders suggested that they were not aware of its plans to discontinue the current program before news broke on social media.
"Oh thanks for letting us know this way! Very kind of you!" one wrote on Twitter, responding to the Washington Football Team's post announcing the change.
Newsweek reached out to the Washington Football Team for comment, but did not receive a reply in time for publication.

Donald Trump News – Trump Jr. Incensed by Lack of Decency as Cheerleaders Learn on Twitter They're Being Fired

Tags: Donald Trump News