One of Scotland's leading businessmen has said Donald Trump declined to take up his invitation to speak at a charity event after being told there would be no fee.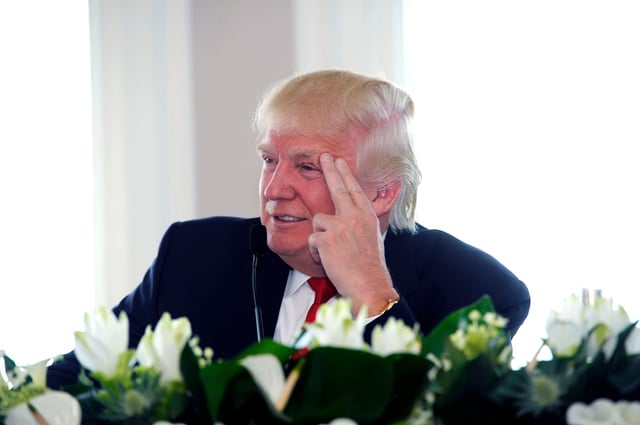 Donald Trump at his Turnberry resort in 2014. Picture: John Devlin
Sir Tom Hunter, the entrepreneur and philanthropist, said he asked Mr Trump to follow in the footsteps of Bill Clinton by giving an after dinner speech in aid of good causes.
But after telling Mr Trump that he would not financially benefit from the event, Sir Tom said he looked at him "as if I had come from a foreign place," before boasting about his multimillion pound speaking engagement deals.
The meeting between the two men predates Mr Trump's controversy-strewn single term in the Oval Office, and was held at his Turnberry resort in South Ayrshire.
Sir Tom said that the meeting was arranged by Mr Trump's contacts after he purchased the property in 2014, and recalled how he was forced to wait for Mr Trump to arrive.
Read More
Read More
Calls grow to ban 'dangerous criminal' Donald Trump from visiting Scotland
Speaking to Go Radio, Sir Tom explained: "When he first bought Turnberry – this was before he was president of the US, long before – I got a phone call saying 'Donald Trump would like to meet you.'
"I thought 'Okay, I think he's an interesting character' so I went down to Turnberry because I had an ulterior motive for meeting him, which he didn't know about."
Sir Tom said he was met by Mr Trump's lawyer, who said he would with him shortly, and asked him to address him as 'Mr Trump'. When Mr Trump eventually appeared, Sir Tom said he rose to his feet and greeted him with the words, 'Donald, how you doing?'
When the two men eventually got chatting, Sir Tom said he was left listening as the future US president went on a rant.
"It's fair to say he has only got one mode, which is transmit," he explained. "He doesn't receive much. He went on this tirade for about 20 minutes and I'm just sitting wondering why he wanted to meet me.
"So I said 'Well, Donald, we do these big charity events and we've had President Clinton over, would you come and speak at it? We get about 2,000 people, it's all for charity so there wouldn't be a fee but we can give a donation to a charity of your choice.'"
Sir Tom added: "He kind of looked at me as if I had come from a foreign place, and he said 'Son, I've just agreed a $2 million deal with CBS speaking engagements' and this and that, and all the rest of it. I said 'Is that a maybe?' Fair to say I never heard from him again, thank goodness."
Mr Trump may have failed to take Sir Tom up on the offer, but the Scot has not been short of high profile speakers at other charity events.
In 2017, former president Barack Obama addressed a £2,000 a head charity dinner in Edinburgh, while former first lady Michelle Obama came to Scotland the following year to speak at a dinner for Sir Tom's charity, the Hunter Foundation.
A message from the editor:Thank you for reading this article. We're more reliant on your support than ever as the shift in consumer habits brought about by coronavirus impacts our advertisers. If you haven't already, please consider supporting our trusted, fact-checked journalism by taking out a digital subscription.