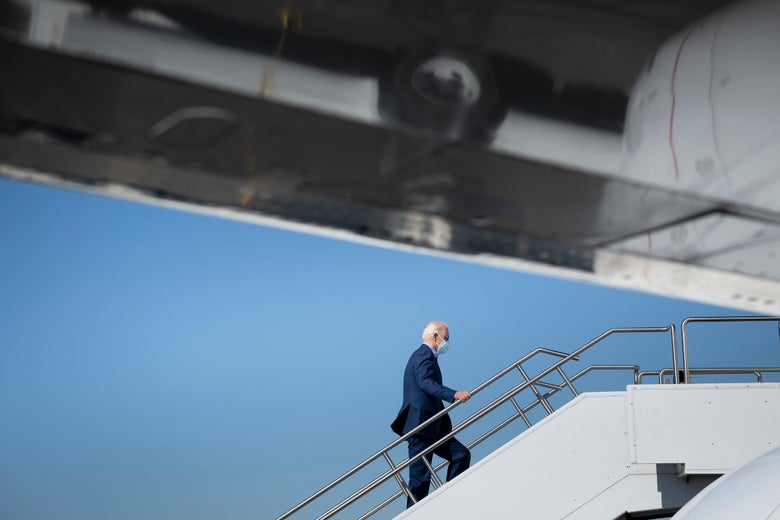 Three weeks, reader. It took three weeks of this characteristic for the numbers to align in an aggravating tie situation that required updates to our graphic design template and compelled our hand on together with the 2 single-electoral-vote swing districts. Why do the numbers should be like this? We've obtained sufficient smart-alecks to cope with already, the very last thing we want is numbers appearing contemporary.
So what is that this tie situation? Relative to Trump's 2016 outcome (306 electoral votes), it could contain him ceding Pennsylvania (20), Michigan (16), and Nebraska's 2nd District (1) and holding every little thing else. That would depart the race at a 269-269 tie and toss the choice to the Home of Representatives. We might say that is an unlikely outcome, nevertheless it's 2020 and there's no probability in Hell we're tempting destiny like that.
The excellent news for Biden is Trump "holding everything else" would require lots of work from Donald Trump. In Ohio, North Carolina, Iowa, Arizona, Florida, and Wisconsin—all states that Trump received in 2016—Biden is main, in line with the newest RealClearPolitics polling averages. Among the finest polling information this week got here for Biden in Florida and Pennsylvania. A Biden win within the former, which is able to rely its mail-in votes extra shortly than most of the aggressive northern states, might be an election-night dagger for Trump. And although our snapshot of polling averages proper now exhibits Pennsylvania as safer than Michigan and Wisconsin, it's nonetheless the state that operatives are treating because the important tipping-point state. The polls this week confirmed Biden constructing a buffer in every.
Trump, who was hospitalized at the moment 4 days in the past, is performing poorly within the election and is encouraging his legal professional normal to indict Joe Biden and Barack Obama.
There are 25 days till Election Day.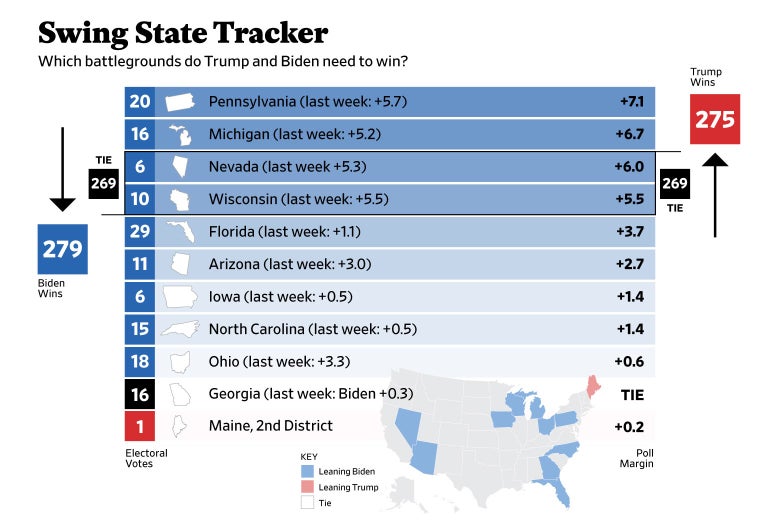 Readers such as you make our work attainable. Assist us proceed to offer the reporting, commentary, and criticism you received't discover wherever else.
Be a part of Slate Plus
Be a part of


'));else {
if (!0 === d.b.getConfig("enableSendAllBids")) return;
p.native = {
title: (t = e.native).merchandise[0].title,
physique: t.merchandise[0].description,
sponsoredBy: t.advertiser.description,
icon: t.advertiser.emblem,
picture: t.merchandise[0].picture,
clickUrl: t.merchandise[0].click_url,
privacyLink: t.privateness.optout_click_url,
privacyIcon: t.privateness.optout_image_url,
cta: t.merchandise[0].call_to_action,
price: t.merchandise[0].price,
impressionTrackers: t.impression_pixels.map(perform (t) {
return t.url;
})
}, p.mediaType = h.c;
}
} else e.video ? (p.vastUrl = e.displayurl, p.mediaType = h.d) : p.advert = e.artistic;
c.push(p);
}), c;
},
onTimeout: perform onTimeout(t) {
T() && Criteo.PubTag.Adapters.Prebid.GetAdapter(t.auctionId).handleBidTimeout();
},
onBidWon: perform onBidWon(t) {
T() && Criteo.PubTag.Adapters.Prebid.GetAdapter(t.auctionId).handleBidWon(t);
},
onSetTargeting: perform onSetTargeting(t) {
T() && Criteo.PubTag.Adapters.Prebid.GetAdapter(t.auctionId).handleSetTargeting(t);
}
};
perform T() {
return "undefined" != typeof Criteo && Criteo.PubTag && Criteo.PubTag.Adapters && Criteo.PubTag.Adapters.Prebid;
}
perform C(t) t.sizes;
perform A(t, e) {
return Array.isArray(t[0]) ? t.map(perform (t) {
return e(t);
}) : [e(t)];
}
perform S(t) {
return t[0] + "x" + t[1];
}
perform I(t) {
return void 0 === t[0] && void 0 === t[1] ? "2x2" : t[0] + "x" + t[1];
}
perform R(t) {
return void 0 !== f.deepAccess(t, "params.video") && void 0 !== f.deepAccess(t, "mediaTypes.video");
}
perform x() {
strive {
var t,
e,
r,
i,
o,
n = "criteo_fast_bid",
s = "// Hash: ",
a = y.getDataFromLocalStorage(n);
null !== a && (t = a.indexOf("n"), (e = a.substr(0, t).trim()).substr(0, s.size) !== s ? (f.logWarn("No hash present in FastBid"), y.removeDataFromLocalStorage(n)) : (r = e.substr(s.size), i = a.substr(t + 1), Object(p.confirm)(i, r, g, b) ? (f.logInfo("Utilizing Criteo FastBid"), (o = doc.createElement("script")).kind = "textual content/javascript", o.textual content = i, f.insertElement(o)) : (f.logWarn("Invalid Criteo FastBid discovered"), y.removeDataFromLocalStorage(n))));
} catch (t) {}
}
Object(i.registerBidder)(s);
},
382: perform _(t, e, r) {
"use strict";
Object.defineProperty(e, "__esModule", {
value: !0
});
var a = r(383),
p = r(384);
e.confirm = perform (t, e, r, i) {
var o = new a.BigInteger(a.b64toHex(e)),
n = new a.BigInteger(a.b64toHex(r)),
s = o.modPowInt(i, n);
return a.removeExtraSymbols(s.toHexString()) === p.Sha256.hash(t);
};
},
383: perform _(t, e, r) {
"use strict";
var i;
Object.defineProperty(e, "__esModule", {
value: !0
});
var o = (g.prototype.toHexString = perform () {
if (this.s < 0) return "-" + this.negate().toHexString(); var t, e = !1, r = "", i = this.t, o = this.DB - i * this.DB % 4; if (0 < i--) for (o < this.DB && 0 < (t = this[i] >> o) && (e = !0, r = c(t)); 0 <= i;) = this[--i] >> (o += this.DB - 4)) : (t = this[i] >> (o -= 4) & 15, o <= 0 && (o += this.DB, --i)), 0 < t && (e = !0), e && (r += c(t)); return e ? r : "0"; }, g.prototype.fromHexString = perform (t) { if (null !== t) { this.t = 0, this.s = 0; for (var e = t.size, r = !1, i = 0; 0 <= --e;) = o << i, (i += 4) >= this.DB && (i -= this.DB));
this.clamp(), r && g.ZERO.subTo(this, this);
}
}, g.prototype.negate = perform () {
var t = T();
return g.ZERO.subTo(this, t), t;
}, g.prototype.abs = perform () {
return this.s < 0 ? this.negate() : this; }, g.prototype.mod = perform (t) { var e = T(); return this.abs().divRemTo(t, null, e), this.s < 0 && 0 < e.compareTo(g.ZERO) && t.subTo(e, e), e; }, g.prototype.copyTo = perform (t) { for (var e = this.t - 1; 0 <= e; --e) { t[e] = this[e]; } t.t = this.t, t.s = this.s; }, g.prototype.lShiftTo = perform (t, e) { for (var r = t % this.DB, i = this.DB - r, o = (1 << i) - 1, n = Math.flooring(t / this.DB), s = this.s << r & this.DM, a = this.t - 1; 0 <= a; --a) s, s = (this[a] & o) << r; for (a = n - 1; 0 <= a; --a) { e[a] = 0; } e[n] = s, e.t = this.t + n + 1, e.s = this.s, e.clamp(); }, g.prototype.invDigit = perform () { if (this.t < 1) return 0; var t = this[0]; if (0 == (1 & t)) return 0; var e = 3 & t; return 0 < (e = (e = (e = (e = e * (2 - (15 & t) * e) & 15) * (2 - (255 & t) * e) & 255) * (2 - ((65535 & t) * e & 65535)) & 65535) * (2 - t * e % this.DV) % this.DV) ? this.DV - e : -e; }, g.prototype.dlShiftTo = perform (t, e) { for (var r = this.t - 1; 0 <= r; --r) { e[r + t] = this[r]; } for (r = t - 1; 0 <= r; --r) { e[r] = 0; } e.t = this.t + t, e.s = this.s; }, g.prototype.squareTo = perform (t) { for (var e = this.abs(), r = t.t = 2 * e.t; 0 <= --r;) { t[r] = 0; } for (r = 0; r < e.t - 1; ++r) { var i = e.am(r, e[r], t, 2 * r, 0, 1); (t[r + e.t] += e.am(r + 1, 2 * e[r], t, 2 * r + 1, i, e.t - r - 1)) >= e.DV && (t[r + e.t] -= e.DV, t[r + e.t + 1] = 1);
}
0 < t.t && (t[t.t - 1] += e.am(r, e[r], t, 2 * r, 0, 1)), t.s = 0, t.clamp(); }, g.prototype.multiplyTo = perform (t, e) { var r = this.abs(), i = t.abs(), o = r.t; for (e.t = o + i.t; 0 <= --o;) { e[o] = 0; } for (o = 0; o < i.t; ++o) { e[o + r.t] = r.am(0, i[o], e, o, 0, r.t); } e.s = 0, e.clamp(), this.s != t.s && g.ZERO.subTo(e, e); }, g.prototype.divRemTo = perform (t, e, r) { var i = t.abs(); if (!(i.t <= 0)) { var o = this.abs(); if (o.t < i.t) return null != e && e.fromHexString("0"), void (null != r && this.copyTo(r)); null == r && (r = T()); var n = T(), s = this.s, a = t.s, p = this.DB - C(i[i.t - 1]); 0 < p ? (i.lShiftTo(p, n), o.lShiftTo(p, r)) : (i.copyTo(n), o.copyTo(r)); var u = n.t, c = n[u - 1]; if (0 != c) { var d = c * (1 << this.F1) + (1 < u ? n[u - 2] >> this.F2 : 0),
h = this.FV / d,
f = (1 << this.F1) / d, l = 1 << this.F2, m = r.t, v = m - u, y = null == e ? T() : e; for (n.dlShiftTo(v, y), 0 <= r.compareTo(y) && (r[r.t++] = 1, r.subTo(y, r)), g.ONE.dlShiftTo(u, y), y.subTo(n, n); n.t < u;) { n[n.t++] = 0; } for (; 0 <= --v;) { var b = r[--m] == c ? this.DM : Math.flooring(r[m] * h + (r[m - 1] + l) * f); if ((r[m] += n.am(0, b, r, v, 0, u)) < b) for (n.dlShiftTo(v, y), r.subTo(y, r); r[m] < --b;) { r.subTo(y, r); } } null != e && (r.drShiftTo(u, e), s != a && g.ZERO.subTo(e, e)), r.t = u, r.clamp(), 0 < p && r.rShiftTo(p, r), s < 0 && g.ZERO.subTo(r, r); } } }, g.prototype.rShiftTo = function (t, e) { e.s = this.s; var r = Math.floor(t / this.DB); if (r >= this.t) e.t = 0;else = (this.s & n) << o), e.t = this.t - r, e.clamp(); }, g.prototype.drShiftTo = perform (t, e) { for (var r = t; r < this.t; ++r) { e[r - t] = this[r]; } e.t = Math.max(this.t - t, 0), e.s = this.s; }, g.prototype.subTo = perform (t, e) { for (var r = 0, i = 0, o = Math.min(t.t, this.t); r < o;) { i += this[r] - t[r], e[r++] = i & this.DM, i >>= this.DB;
}
if (t.t < this.t) { for (i -= t.s; r < this.t;) { i += this[r], e[r++] = i & this.DM, i >>= this.DB;
}
i += this.s;
} else {
for (i += this.s; r < t.t;) { i -= t[r], e[r++] = i & this.DM, i >>= this.DB;
}
i -= t.s;
}
e.s = i < 0 ? -1 : 0, i < -1 ? e[r++] = this.DV + i : 0 < i && (e[r++] = i), e.t = r, e.clamp(); }, g.prototype.clamp = perform () { for (var t = this.s & this.DM; 0 < this.t && this[this.t - 1] == t;) { --this.t; } }, g.prototype.modPowInt = perform (t, e) e.isEven() ? d : f)(e); return this.exp(t, r); , g.prototype.exp = perform (t, e) { if (4294967295 < t || t < 1) return g.ONE; var r, i = T(), o = T(), n = e.convert(this), s = C(t) - 1; for (n.copyTo(i); 0 <= --s;) { e.sqrTo(i, o), 0 < (t & 1 << s) ? e.mulTo(o, n, i) : (r = i, i = o, o = r); } return e.revert(i); }, g.prototype.isEven = perform () { return 0 == (0 < this.t ? 1 & this[0] : this.s); }, g.prototype.compareTo = perform (t) { var e = this.s - t.s; if (0 != e) return e; var r = this.t; if (0 != (e = r - t.t)) return this.s < 0 ? -e : e; for (; 0 <= --r;) { if (0 != (e = this[r] - t[r])) return e; } return 0; }, g.prototype.am1 = perform (t, e, r, i, o, n) { for (; 0 <= --n;) { var s = e * this[t++] + r[i] + o; o = Math.floor(s / 67108864), r[i++] = 67108863 & s; } return o; }, g.prototype.am2 = function (t, e, r, i, o, n) { for (var s = 32767 & e, a = e >> 15; 0 <= --n;) { var p = 32767 & this[t], u = this[t++] >> 15,
c = a * p + u * s;
o = ((p = s * p + ((32767 & c) << 15) + r[i] + (1073741823 & o)) >>> 30) + (c >>> 15) + a * u + (o >>> 30), r[i++] = 1073741823 & p;
}
return o;
}, g.prototype.am3 = perform (t, e, r, i, o, n) {
for (var s = 16383 & e, a = e >> 14; 0 <= --n;) { var p = 16383 & this[t], u = this[t++] >> 14,
c = a * p + u * s;
o = ((p = s * p + ((16383 & c) << 14) + r[i] + o) >> 28) + (c >> 14) + a * u, r[i++] = 268435455 & p;
}
return o;
}, g);
perform g(t) {
null !== t && this.fromHexString(t);
}
perform T() {
return new o(null);
}
perform C(t) {
var e,
r = 1;
return 0 != (e = t >>> 16) && (t = e, r += 16), 0 != (e = t >> 8) && (t = e, r += 8), 0 != (e = t >> 4) && (t = e, r += 4), 0 != (e = t >> 2) && (t = e, r += 2), 0 != (e = t >> 1) && (t = e, r += 1), r;
}
e.BigInteger = o, e.nbi = T, e.nbits = C;
for (var n = [], s = "0".charCodeAt(0), a = 0; a <= 9; ++a) { n[s++] = a; } for (s = "a".charCodeAt(0), a = 10; a < 36; ++a) { n[s++] = a; } for (s = "A".charCodeAt(0), a = 10; a < 36; ++a) { n[s++] = a; } perform p(t, e) { var r = n[t.charCodeAt(e)]; return null == r ? -1 : r; } e.intAt = p; var u = "0123456789abcdefghijklmnopqrstuvwxyz"; perform c(t) { return u.charAt(t); } e.int2char = c; e.b64toHex = perform (t) { for (var e = "", r = 0, i = 0, o = 0; o < t.size && "=" != t.charAt(o); ++o) n >> 4), i = 15 & n, 2) : 2 == r ? (e += c(i), e += c(n >> 2), i = 3 & n, 3) : (e += c(i << 2 return 1 == r && (e += c(i << 2)), e; }, e.removeExtraSymbols = perform (t) { return t.exchange(/^1f+00/, "").exchange("3031300d060960864801650304020105000420"https://slate.com/news-and-politics/2020/10/,""); }; var d = (h.prototype.convert = perform (t) 0 <= t.compareTo(this.m) ? t.mod(this.m) : t; , h.prototype.revert = perform (t) { return t; }, h.prototype.cut back = perform (t) { t.divRemTo(this.m, null, t); }, h.prototype.mulTo = perform (t, e, r) { t.multiplyTo(e, r), this.cut back(r); }, h.prototype.sqrTo = perform (t, e) { t.squareTo(e), this.cut back(e); }, h); perform h(t) { this.m = t; } var f = (l.prototype.convert = perform (t) { var e = T(); return t.abs().dlShiftTo(this.m.t, e), e.divRemTo(this.m, null, e), t.s < 0 && 0 < e.compareTo(o.ZERO) && this.m.subTo(e, e), e; }, l.prototype.revert = perform (t) { var e = T(); return t.copyTo(e), this.cut back(e), e; }, l.prototype.cut back = perform (t) { for (; t.t <= this.mt2;) { t[t.t++] = 0; } for (var e = 0; e < this.m.t; ++e) { var r = 32767 & t[e], i = r * this.mpl + ((r * this.mph + (t[e] >> 15) * this.mpl & this.um) << 15) & t.DM; for (t[r = e + this.m.t] += this.m.am(0, i, t, e, 0, this.m.t); t[r] >= t.DV;) {
t[r] -= t.DV, t[++r]++;
}
}
t.clamp(), t.drShiftTo(this.m.t, t), 0 <= t.compareTo(this.m) && t.subTo(this.m, t); }, l.prototype.mulTo = function (t, e, r) { t.multiplyTo(e, r), this.reduce(r); }, l.prototype.sqrTo = function (t, e) { t.squareTo(e), this.reduce(e); }, l); function l(t) { this.m = t, this.mp = t.invDigit(), this.mpl = 32767 & this.mp, this.mph = this.mp >> 15, this.um = (1 << t.DB - 15) - 1, this.mt2 = 2 * t.t; } perform m(t) { var e = T(); return e.fromHexString(t.toString()), e; } e.nbv = m, o.ZERO = m(0), o.ONE = m(1), i = "Microsoft Web Explorer" == navigator.appName ? (o.prototype.am = o.prototype.am2, 30) : "Netscape" != navigator.appName ? (o.prototype.am = o.prototype.am1, 26) : (o.prototype.am = o.prototype.am3, 28), o.prototype.DB = i, o.prototype.DM = (1 << i) - 1, o.prototype.DV = 1 << i; o.prototype.FV = Math.pow(2, 52), o.prototype.F1 = 52 - i, o.prototype.F2 = 2 * i - 52; }, 384: perform _(t, e, r) { "use strict"; Object.defineProperty(e, "__esModule", { value: !0 }); var i = (S.hash = perform (t) { t = S.utf8Encode(t || ""); for (var e = [1116352408, 1899447441, 3049323471, 3921009573, 961987163, 1508970993, 2453635748, 2870763221, 3624381080, 310598401, 607225278, 1426881987, 1925078388, 2162078206, 2614888103, 3248222580, 3835390401, 4022224774, 264347078, 604807628, 770255983, 1249150122, 1555081692, 1996064986, 2554220882, 2821834349, 2952996808, 3210313671, 3336571891, 3584528711, 113926993, 338241895, 666307205, 773529912, 1294757372, 1396182291, 1695183700, 1986661051, 2177026350, 2456956037, 2730485921, 2820302411, 3259730800, 3345764771, 3516065817, 3600352804, 4094571909, 275423344, 430227734, 506948616, 659060556, 883997877, 958139571, 1322822218, 1537002063, 1747873779, 1955562222, 2024104815, 2227730452, 2361852424, 2428436474, 2756734187, 3204031479, 3329325298], r = [1779033703, 3144134277, 1013904242, 2773480762, 1359893119, 2600822924, 528734635, 1541459225], i = (t += String.fromCharCode(128)).size / 4 + 2, o = Math.ceil(i / 16), n = new Array(o), s = 0; s < o; s++) { n[s] = new Array(16); for (var a = 0; a < 16; a++) t.charCodeAt(64 * s + 4 * a + 3) << 0; } var p = 8 * (t.length - 1) / Math.pow(2, 32), u = 8 * (t.length - 1) >>> 0;
for (n[o - 1][14] = Math.flooring(p), n[o - 1][15] = u, s = 0; s < o; s++) { for (var c = new Array(64), d = 0; d < 16; d++) { c[d] = n[s][d]; } for (d = 16; d < 64; d++) { c[d] = S.q1(c[d - 2]) + c[d - 7] + S.q0(c[d - 15]) + c[d - 16] >>> 0;
}
for (var h = r[0], f = r[1], l = r[2], m = r[3], v = r[4], y = r[5], b = r[6], g = r[7], d = 0; d < 64; d++) { var T = g + S.z1(v) + S.Ch(v, y, b) + e[d] + c[d], C = S.z0(h) + S.Maj(h, f, l); g = b, b = y, y = v, v = m + T >>> 0, m = l, l = f, f = h, h = T + C >>> 0;
}
r[0] = r[0] + h >>> 0, r[1] = r[1] + f >>> 0, r[2] = r[2] + l >>> 0, r[3] = r[3] + m >>> 0, r[4] = r[4] + v >>> 0, r[5] = r[5] + y >>> 0, r[6] = r[6] + b >>> 0, r[7] = r[7] + g >>> 0;
}
for (var A = new Array(r.size), g = 0; g < r.length; g++) { A[g] = ("00000000" + r[g].toString(16)).slice(-8); } return A.join(""); }, S.utf8Encode = function (e) { try { return new TextEncoder().encode(e).reduce(function (t, e) { return t + String.fromCharCode(e); }, ""); } catch (t) { return unescape(encodeURIComponent(e)); } }, S.ROTR = function (t, e) e << 32 - t; , S.z0 = function (t) { return S.ROTR(2, t) ^ S.ROTR(13, t) ^ S.ROTR(22, t); }, S.z1 = function (t) { return S.ROTR(6, t) ^ S.ROTR(11, t) ^ S.ROTR(25, t); }, S.q0 = function (t) { return S.ROTR(7, t) ^ S.ROTR(18, t) ^ t >>> 3;
}, S.q1 = perform (t) {
return S.ROTR(17, t) ^ S.ROTR(19, t) ^ t >>> 10;
}, S.Ch = perform (t, e, r) {
return t & e ^ ~t & r;
}, S.Maj = perform (t, e, r) {
return t & e ^ t & r ^ e & r;
}, S);
perform S() {}
e.Sha256 = i;
}
}, [380]);
pbjsChunk([187], {
481: perform _(e, r, t) {
e.exports = t(482);
},
482: perform _(e, r, t) {
"use strict";
Object.defineProperty(r, "__esModule", {
value: !0
}), t.d(r, "spec", perform () {
return m;
});
var b = t(0),
y = t(2),
h = t(3),
i = t(11),
l = t.n(i),
a = t(483),
n = t.n(a),
s = t(1);
perform v(e) {
return (v = "perform" == typeof Image && "image" == _typeof(Image.iterator) ? perform (e) {
return _typeof(e);
} : perform (e) {
return e && "perform" == typeof Image && e.constructor === Image && e !== Image.prototype ? "image" : _typeof(e);
})(e);
}
var o = [y.b, y.d],
g = 100,
w = 300,
x = 3600,
I = !0,
P = {
JPY: 1
};
perform p(e) {
var r = {};
return r.id = e.bidId, r.ext = {}, r.ext.siteID = e.params.siteId, !e.params.hasOwnProperty("id") || "string" != typeof e.params.id && "quantity" != typeof e.params.id ? r.ext.sid = "".concat(e.params.dimension[0], "x").concat(e.params.dimension[1]) : r.ext.sid = String(e.params.id), e.params.hasOwnProperty("bidFloor") && e.params.hasOwnProperty("bidFloorCur") && (r.bidfloor = e.params.bidFloor, r.bidfloorcur = e.params.bidFloorCur), r;
}
perform d(e) {
return Array.isArray(e) && 2 === e.size && n()(e[0]) && n()(e[1]);
}
perform c(e, r) {
if (d(e)) return e[0] === r[0] && e[1] === r[1];
for (var t = 0; t < e.size; t++) { if (e[t][0] === r[0] && e[t][1] === r[1]) return 1; } } perform u(e, r, t, i) { var a = []; if (window.headertag && "perform" == typeof window.headertag.getIdentityInfo) { var n, s = window.headertag.getIdentityInfo(); if (s && "object" === v(s)) for (var o in s) !(n = s[o]).responsePending && n.knowledge && "object" === v(n.knowledge) && Object.keys(n.knowledge).size && a.push(n.knowledge); } var d, p = {}; p.id = e[0].bidderRequestId, p.imp = t, p.website = {}, p.ext = {}, p.ext.supply = "prebid", e[0].schain && (p.supply = { ext: { schain: e[0].schain } }), 0 < a.size && (p.person = {}, p.person.eids = a), doc.referrer && "" !== doc.referrer && (p.website.ref = doc.referrer), r && (r.gdprConsent && ((d = r.gdprConsent).hasOwnProperty("gdprApplies") && (p.regs = { ext: { gdpr: d.gdprApplies ? 1 : 0 } }), d.hasOwnProperty("consentString") && (p.person = p.person || {}, p.person.ext = "" )), r.uspConsent && b.deepSetValue(p, "regs.ext.us_privacy", r.uspConsent), r.refererInfo && (p.website.web page = r.refererInfo.referer)); var c = {}, u = r && r.bidderCode || "ix", m = h.b.getConfig(u); if (m) { if ("object" === v(m.firstPartyData)) { var f = m.firstPartyData, y = "?"; for (var l in f) { f.hasOwnProperty(l) && (y += "".concat(encodeURIComponent(l), "=").concat(encodeURIComponent(f[l]), "&")); } y = y.slice(0, -1), p.website.web page += y; } "quantity" == typeof m.timeout && (c.t = m.timeout); } return c.s = e[0].params.siteId, c.v = i, c.r = JSON.stringify(p), c.ac = "j", c.sd = 1, 8.1 === i && (c.nf = 1), { methodology: "GET", url: "https://as-sec.casalemedia.com/cygnus", knowledge: c }; } var m = { code: "ix", gvlid: 10, supportedMediaTypes: o, isBidRequestValid: perform isBidRequestValid(e) { if (!d(e.params.dimension)) return b.logError("ix bidder params: bid dimension has invalid format."), !1; if (!c(e.sizes, e.params.dimension)) return b.logError("ix bidder params: bid dimension isn't included in advert unit sizes."), !1; if (e.hasOwnProperty("mediaType") && !b.accommodates(o, e.mediaType)) return !1; if (e.hasOwnProperty("mediaTypes") && !b.deepAccess(e, "mediaTypes.banner.sizes") && !b.deepAccess(e, "mediaTypes.video.playerSize")) return !1; if ("string" != typeof e.params.siteId && "quantity" != typeof e.params.siteId) return b.logError("ix bidder params: siteId should be string or quantity value."), !1; var r, t, i = e.params.hasOwnProperty("bidFloor"), a = e.params.hasOwnProperty("bidFloorCur"); return !!(!i && !a || i && a && (r = e.params.bidFloor, t = e.params.bidFloorCur, Boolean("quantity" == typeof r && "string" == typeof t && t.match(/^[A-Z]{3}$/)))) || (b.logError("ix bidder params: bidFloor / bidFloorCur parameter has invalid format."), !1); }, buildRequests: perform buildRequests(e, r) { for (var t, i, a = [], n = [], s = [], o = null, d = 0; d < e.size; d++) { (o = e[d]).mediaType !== y.d && !b.deepAccess(o, "mediaTypes.video") || (o.mediaType === y.d || c(o.mediaTypes.video.playerSize, o.params.dimension) ? s.push(perform (e) { var r = p(e); r.video = b.deepClone(e.params.video), r.video.w = e.params.dimension[0], r.video.h = e.params.dimension[1]; var t = b.deepAccess(e, "mediaTypes.video.context"); return t && ("instream" === t ? r.video.placement = 1 : "outstream" === t ? r.video.placement = 4 : b.logWarn("ix bidder params: video context '".concat(t, "' isn't supported"))), r; }(o)) : b.logError("Bid dimension isn't included in video playerSize")), o.mediaType !== y.b && !b.deepAccess(o, "mediaTypes.banner") && (o.mediaType || o.mediaTypes) || n.push((i = void 0, (i = p(t = o)).banner = {}, i.banner.w = t.params.dimension[0], i.banner.h = t.params.dimension[1], i.banner.topframe = b.inIframe() ? 0 : 1, i)); } return 0 < n.size && a.push(u(e, r, n, 7.2)), 0 < s.size && a.push(u(e, r, s, 8.1)), a; }, interpretResponse: perform interpretResponse(e, r) { var t = []; if (!e.hasOwnProperty("physique") || !e.physique.hasOwnProperty("seatbid")) return t; for (var i, a, n, s, o = e.physique, d = o.seatbid, p = 0; p < d.size; p++) { if (d[p].hasOwnProperty("bid")) for (var c = d[p].bid, u = JSON.parse(r.knowledge.r), m = 0; m < c.size; m++) { var f = perform (r, e) { if (r) return l()(e, perform (e) { return e.id === r; }); }(c[m].impid, u.imp); i = c[m], a = o.cur, n = f, s = void 0, s = {}, P.hasOwnProperty(a) ? s.cpm = i.price / P[a] : s.cpm = i.price / g, s.requestId = i.impid, s.dealId = b.deepAccess(i, "ext.dealid"), s.netRevenue = I, s.foreign money = a, s.creativeId = i.hasOwnProperty("crid") ? i.crid : "-", b.deepAccess(i, "ext.vasturl") ? (s.vastUrl = i.ext.vasturl, s.width = n.video.w, s.top = n.video.h, s.mediaType = y.d, s.ttl = x) : (s.advert = i.adm, s.width = i.w, s.top = i.h, s.mediaType = y.b, s.ttl = w), s.meta = {}, s.meta.networkId = b.deepAccess(i, "ext.dspid"), s.meta.brandId = b.deepAccess(i, "ext.advbrandid"), s.meta.brandName = b.deepAccess(i, "ext.advbrand"), t.push(s); } } return t; }, transformBidParams: perform transformBidParams(e) { return b.convertTypes({ siteID: "quantity" }, e); }, getUserSyncs: perform getUserSyncs(e) { return e.iframeEnabled ? [{ type: "iframe", url: "https://js-sec.indexww.com/um/ixmatch.html" }] : []; } }; Object(s.registerBidder)(m); } }, [481]); pbjsChunk([184], { 493: perform _(e, t, r) { e.exports = r(494); }, 494: perform _(e, t, r) { "use strict"; Object.defineProperty(t, "__esModule", { value: !0 }), r.d(t, "spec", perform () { return l; }); var s = r(0), d = r(3), n = r(1), a = r(9); perform g() { return (g = Object.assign || perform (e) { for (var t = 1; t < arguments.size; t++) { var r = arguments[t]; for (var n in r) { Object.prototype.hasOwnProperty.name(r, n) && (e[n] = r[n]); } } return e; }).apply(this, arguments); } var o, i, c, u = Object(a.b)(), l = { code: "kargo", isBidRequestValid: perform isBidRequestValid(e) , buildRequests: perform buildRequests(e, t) { var r, n = d.b.getConfig("foreign money"), a = n && n.adServerCurrency || "USD", o = {}, i = {}; s._each(e, perform (e) { o[e.bidId] = e.params.placementId, i[e.bidId] = e.sizes; }), 0 < e.size && e[0].userId && e[0].userId.tdid && (r = e[0].userId.tdid); var c = g({}, { sessionId: l._getSessionId(), requestCount: l._getRequestCount(), timeout: t.timeout, foreign money: a, cpmGranularity: 1, timestamp: new Date().getTime(), cpmRange: { flooring: 0, ceil: 20 }, bidIDs: o, bidSizes: i, prebidRawBidRequests: e }, l._getAllMetadata(r, t.uspConsent)), u = encodeURIComponent(JSON.stringify(c)); return g({}, t, { methodology: "GET", url: "".concat("https://krk.kargo.com"https://slate.com/news-and-politics/2020/10/,"/api/v2/bid"), knowledge: "json=".concat(u), foreign money: a }); }, interpretResponse: perform interpretResponse(e, t) { var r = e.physique, n = []; for (var a in r) { var o = r[a], i = void 0; o.metadata && o.metadata.landingPageDomain && (i = { clickUrl: o.metadata.landingPageDomain }), n.push({ requestId: a, cpm: Quantity(o.cpm), width: o.width, top: o.top, advert: o.adm, ttl: 300, creativeId: o.id, dealId: o.targetingCustom, netRevenue: !0, foreign money: t.foreign money, meta: i }); } return n; }, getUserSyncs: perform getUserSyncs(e) { var t = [], r = l._generateRandomUuid(), n = l._getClientId(); if (e.iframeEnabled && r && n) for (var a = 0; a < 5; a++) { t.push({ kind: "iframe", url: "https://crb.kargo.com/api/v1/initsyncrnd/{UUID}?seed={SEED}&idx={INDEX}".exchange("{UUID}", n).exchange("{SEED}", r).exchange("{INDEX}", a) }); } return t; }, _readCookie: perform _readCookie(e) { if (!u.cookiesAreEnabled()) return null; for (var t = "".concat(e, "="), r = doc.cookie.break up(";"), n = 0; n < r.length; n++) { for (var a = r[n]; " " === a.charAt(0);) { a = a.substring(1, a.length); } if (0 === a.indexOf(t)) return a.substring(t.length, a.length); } return null; }, _getCrbFromCookie: function _getCrbFromCookie() { try { var e = JSON.parse(decodeURIComponent(l._readCookie("krg_crb"))); if (e && e.v) { var t = JSON.parse(atob(e.v)); if (t) return t; } return {}; } catch (e) { return {}; } }, _getCrbFromLocalStorage: function _getCrbFromLocalStorage() { try { return JSON.parse(atob(l._getLocalStorageSafely("krg_crb"))); } catch (e) { return {}; } }, _getCrb: function _getCrb() { var e = l._getCrbFromLocalStorage(); return Object.keys(e).length ? e : l._getCrbFromCookie(); }, _getKruxUserId: function _getKruxUserId() { return l._getLocalStorageSafely("kxkar_user"); }, _getKruxSegments: function _getKruxSegments() { return l._getLocalStorageSafely("kxkar_segs"); }, _getKrux: function _getKrux() { var e = l._getKruxSegments(), t = []; return e && (t = e.split(",")), { userID: l._getKruxUserId(), segments: t }; }, _getLocalStorageSafely: function _getLocalStorageSafely(e) { try { return u.getDataFromLocalStorage(e); } catch (e) { return null; } }, _getUserIds: function _getUserIds(e, t) { var r = l._getCrb(), n = { kargoID: r.userId, clientID: r.clientId, crbIDs: r.syncIds || {}, optOut: r.optOut, usp: t }; return e && (n.tdID = e), n; }, _getClientId: function _getClientId() { return l._getCrb().clientId; }, _getAllMetadata: function _getAllMetadata(e, t) { return { userIDs: l._getUserIds(e, t), krux: l._getKrux(), pageURL: window.location.href, rawCRB: l._readCookie("krg_crb"), rawCRBLocalStorage: l._getLocalStorageSafely("krg_crb") }; }, _getSessionId: function _getSessionId() l._generateRandomUuid(); , _getRequestCount: function _getRequestCount() { return i === window.location.pathname ? ++c : (i = window.location.pathname, c = 0); }, _generateRandomUuid: function _generateRandomUuid() { try { var e = new Uint8Array(16); crypto.getRandomValues(e), e[6] = -177 & e[6] | 64, e[8] = -65 & e[8] | 128; var t = Array.prototype.map.call(new Uint8Array(e), function (e) { return ("00" + e.toString(16)).slice(-2); }).join(""); return t.slice(0, 8) + "-" + t.slice(8, 12) + "-" + t.slice(12, 16) + "-" + t.slice(16, 20) + "-" + t.slice(20); } catch (e) { return ""; } } }; Object(n.registerBidder)(l); } }, [493]); pbjsChunk([110], { 677: function _(e, r, t) { e.exports = t(678); }, 678: function _(e, r, t) { "use strict"; Object.defineProperty(r, "__esModule", { value: !0 }), t.d(r, "FASTLANE_ENDPOINT", function () { return o; }), t.d(r, "VIDEO_ENDPOINT", function () { return l; }), t.d(r, "SYNC_ENDPOINT", function () { return a; }), t.d(r, "spec", function () { return h; }), r.hasVideoMediaType = c, r.masSizeOrdering = S, r.determineRubiconVideoSizeId = C, r.getPriceGranularity = j, r.hasValidVideoParams = k, r.hasValidSupplyChainParams = T, r.encodeParam = w, r.resetUserSync = function () { R = !1; }; var g = t(0), i = t(1), b = t(3), u = t(2); function v(e, r) { return function (e) { if (Array.isArray(e)) return e; }(e) || function (e, r) { if ("undefined" == typeof Symbol || !(Symbol.iterator in Object(e))) return; var t = [], i = !0, n = !1, o = void 0; try { for (var a, s = e[Symbol.iterator](); !(i = (a = s.next()).done) && (t.push(a.value), !r || t.length !== r); i = !0) { ; } } catch (e) { n = !0, o = e; } finally { try s.return(); finally { if (n) throw o; } } return t; }(e, r) || function (e, r) (e, r) || function () { throw new TypeError("Invalid attempt to destructure non-iterable instance.nIn order to be iterable, non-array objects must have a [Symbol.iterator]() method."); }(); } function n(e, r) { (null == r || r > e.size) && (r = e.size);
for (var t = 0, i = new Array(r); t < r; t++) { i[t] = e[t]; } return i; } perform y() { return (y = Object.assign || perform (e) { for (var r = 1; r < arguments.size; r++) { var t = arguments[r]; for (var i in t) { Object.prototype.hasOwnProperty.name(t, i) && (e[i] = t[i]); } } return e; }).apply(this, arguments); } perform p(e, r, t) { return r in e ? Object.defineProperty(e, r, { value: t, enumerable: !0, configurable: !0, writable: !0 }) : e[r] = t, e; } perform x(e) { return (x = "perform" == typeof Image && "image" == _typeof(Image.iterator) ? perform (e) { return _typeof(e); } : perform (e) { return e && "perform" == typeof Image && e.constructor === Image && e !== Image.prototype ? "image" : _typeof(e); })(e); } var o = "https://fastlane.rubiconproject.com/a/api/fastlane.json", l = "https://prebid-server.rubiconproject.com/openrtb2/public sale", a = "https://eus.rubiconproject.com/usync.html", d = { FASTLANE: { id: "dt.id", keyv: "dt.keyv", pref: "dt.pref" }, PREBID_SERVER: { id: "id", keyv: "keyv" } }, f = { 1: "468x60", 2: "728x90", 5: "120x90", 8: "120x600", 9: "160x600", 10: "300x600", 13: "200x200", 14: "250x250", 15: "300x250", 16: "336x280", 17: "240x400", 19: "300x100", 31: "980x120", 32: "250x360", 33: "180x500", 35: "980x150", 37: "468x400", 38: "930x180", 39: "750x100", 40: "750x200", 41: "750x300", 42: "2x4", 43: "320x50", 44: "300x50", 48: "300x300", 53: "1024x768", 54: "300x1050", 55: "970x90", 57: "970x250", 58: "1000x90", 59: "320x80", 60: "320x150", 61: "1000x1000", 64: "580x500", 65: "640x480", 66: "930x600", 67: "320x480", 68: "1800x1000", 72: "320x320", 73: "320x160", 78: "980x240", 79: "980x300", 80: "980x400", 83: "480x300", 85: "300x120", 90: "548x150", 94: "970x310", 95: "970x100", 96: "970x210", 101: "480x320", 102: "768x1024", 103: "480x280", 105: "250x800", 108: "320x240", 113: "1000x300", 117: "320x100", 125: "800x250", 126: "200x600", 144: "980x600", 145: "980x150", 152: "1000x250", 156: "640x320", 159: "320x250", 179: "250x600", 195: "600x300", 198: "640x360", 199: "640x200", 213: "1030x590", 214: "980x360", 221: "1x1", 229: "320x180", 230: "2000x1400", 232: "580x400", 234: "6x6", 251: "2x2", 256: "480x820", 257: "400x600", 258: "500x200", 259: "998x200", 264: "970x1000", 265: "1920x1080", 274: "1800x200", 278: "320x500", 282: "320x400", 288: "640x380" }; g._each(f, perform (e, r) { return f[e] = r; }); var h = { code: "rubicon", gvlid: 52, supportedMediaTypes: [u.b, u.d], isBidRequestValid: perform isBidRequestValid(e) { if ("object" !== x(e.params)) return !1; for (var r = 0, t = ["accountId"https://slate.com/news-and-politics/2020/10/,"siteId"https://slate.com/news-and-politics/2020/10/,"zoneId"]; r < t.size; r++) { if (e.params[t[r]] = parseInt(e.params[t[r]]), isNaN(e.params[t[r]])) return g.logError("Rubicon: flawed format of accountId or siteId or zoneId."), !1; } var i = m(e, !0); return !!i && ("video" !== i || ok(e)); }, buildRequests: perform buildRequests(e, u) { var n, r = e.filter(perform (e) { return "video" === m(e); }).map(perform (e) { e.startTime = new Date().getTime(); var r, t, i = { id: e.transactionId, check: b.b.getConfig("debug") ? 1 : 0, cur: ["USD"], supply: { tid: e.transactionId }, tmax: b.b.getConfig("TTL") || 1e3, imp: [{ exp: 300, id: e.adUnitCode, secure: 1, ext: p({}, e.bidder, e.params), video: g.deepAccess(e, "mediaTypes.video") || {} }], ext: { prebid: { cache: { vastxml: { returnCreative: !1 } }, concentrating on: { includewinners: !0, includebidderkeys: !1, pricegranularity: j(b.b) }, bidders: { rubicon: "pbjs" } } } }; "rubicon" !== e.bidder && (i.ext.prebid.aliases = p({}, e.bidder, "rubicon")), t = "perform" != typeof e.getFloor || b.b.getConfig("rubicon.disableFloors") ? parseFloat(g.deepAccess(e, "params.flooring")) : "object" !== x(r = e.getFloor({ foreign money: "USD", mediaType: "video", dimension: A(e, "video") })) || "USD" !== r.foreign money || isNaN(parseInt(r.flooring)) ? void 0 : parseFloat(r.flooring), isNaN(t) || (i.imp[0].bidfloor = t), i.imp[0].ext[e.bidder].video.size_id = C(e), perform (r, t, e) { if (!r) return; "object" === x(b.b.getConfig("app")) ? r.app = b.b.getConfig("app") : r.website = { web page: I(t, e) }; "object" === x(b.b.getConfig("gadget")) && (r.gadget = b.b.getConfig("gadget")); t.params.video.language && ["site"https://slate.com/news-and-politics/2020/10/,"device"].forEach(perform (e) { r[e] && (r[e].content material = y({ language: t.params.video.language }, r[e].content material)); }); }(i, e, u), perform (e, r) { "object" === x(e.imp[0].video) && void 0 === e.imp[0].video.skip && (e.imp[0].video.skip = r.params.video.skip); "object" === x(e.imp[0].video) && void 0 === e.imp[0].video.skipafter && (e.imp[0].video.skipafter = r.params.video.skipdelay); "object" === x(e.imp[0].video) && void 0 === e.imp[0].video.pos && ("atf" === r.params.place ? e.imp[0].video.pos = 1 : "btf" === r.params.place && (e.imp[0].video.pos = 3)); var t = A(r, "video"); e.imp[0].video.w = t[0], e.imp[0].video.h = t[1]; }(i, e); var n, o = _(e, "PREBID_SERVER"); o && g.deepSetValue(i, "person.ext.digitrust", o), u.gdprConsent && ("boolean" == typeof u.gdprConsent.gdprApplies && (n = u.gdprConsent.gdprApplies ? 1 : 0), g.deepSetValue(i, "regs.ext.gdpr", n), g.deepSetValue(i, "person.ext.consent", u.gdprConsent.consentString)), u.uspConsent && g.deepSetValue(i, "regs.ext.us_privacy", u.uspConsent), e.userId && "object" === x(e.userId) && (e.userId.tdid || e.userId.pubcid || e.userId.lipb || e.userId.idl_env) && (g.deepSetValue(i, "person.ext.eids", []), e.userId.tdid && i.person.ext.eids.push({ supply: "adserver.org", uids: [{ id: e.userId.tdid, ext: { rtiPartner: "TDID" } }] }), e.userId.pubcid && i.person.ext.eids.push({ supply: "pubcommon", uids: [{ id: e.userId.pubcid }] }), e.userId.lipb && e.userId.lipb.lipbid && (i.person.ext.eids.push({ supply: "liveintent.com", uids: [{ id: e.userId.lipb.lipbid }] }), i.person.ext.tpid = { supply: "liveintent.com", uid: e.userId.lipb.lipbid }, Array.isArray(e.userId.lipb.segments) && e.userId.lipb.segments.size && g.deepSetValue(i, "rp.goal.LIseg", e.userId.lipb.segments)), e.userId.idl_env && i.person.ext.eids.push({ supply: "liveramp.com", uids: [{ id: e.userId.idl_env }] })), !0 === b.b.getConfig("coppa") && g.deepSetValue(i, "regs.coppa", 1), e.schain && T(e.schain) && g.deepSetValue(i, "supply.ext.schain", e.schain); var a, s = y({}, e.params.stock, b.b.getConfig("fpd.context")), d = y({}, e.params.customer, b.b.getConfig("fpd.person")); g.isEmpty(s) && g.isEmpty(d) || (a = { bidders: [u.bidderCode], config: { fpd: {} } }, g.isEmpty(s) || (a.config.fpd.website = s), g.isEmpty(d) || (a.config.fpd.person = d), g.deepSetValue(i, "ext.prebid.bidderconfig.0", a)); var c = g.deepAccess(e, "fpd.context.pbAdSlot"); return "string" == typeof c && c && g.deepSetValue(i.imp[0].ext, "context.knowledge.adslot", c), e.storedAuctionResponse && g.deepSetValue(i.imp[0], "ext.prebid.storedauctionresponse.id", e.storedAuctionResponse.toString()), g.deepSetValue(i.imp[0], "ext.prebid.auctiontimestamp", u.auctionStart), { methodology: "POST", url: l, knowledge: i, bidRequest: e }; }); return !0 !== b.b.getConfig("rubicon.singleRequest") ? r.concat(e.filter(perform (e) { return "banner" === m(e); }).map(perform (e) { var i = h.createSlotParams(e, u); return { methodology: "GET", url: o, knowledge: h.getOrderedParams(i).cut back(perform (e, r) , "") + "slots=1&rand=".concat(Math.random()), bidRequest: e }; })) : (n = e.filter(perform (e) { return "banner" === m(e); }).cut back(perform (e, r) , {}), r.concat(Object.keys(n).cut back(perform (r, e) { var t, i; return t = n[e], i = 10, t.map(perform (e, r) { return r % i == 0 ? t.slice(r, r + i) : null; }).filter(perform (e) { return e; }).forEach(perform (e) { var i = h.combineSlotUrlParams(e.map(perform (e) { return h.createSlotParams(e, u); })); r.push({ methodology: "GET", url: o, knowledge: h.getOrderedParams(i).cut back(perform (e, r) , "") + "slots=".concat(e.size, "&rand=").concat(Math.random()), bidRequest: e }); }), r; }, []))); }, getOrderedParams: perform getOrderedParams(e) { var r = /^tg_v/, t = /^tg_i/, i = ["account_id"https://slate.com/news-and-politics/2020/10/,"site_id"https://slate.com/news-and-politics/2020/10/,"zone_id"https://slate.com/news-and-politics/2020/10/,"size_id"https://slate.com/news-and-politics/2020/10/,"alt_size_ids"https://slate.com/news-and-politics/2020/10/,"p_pos"https://slate.com/news-and-politics/2020/10/,"gdpr"https://slate.com/news-and-politics/2020/10/,"gdpr_consent"https://slate.com/news-and-politics/2020/10/,"us_privacy"https://slate.com/news-and-politics/2020/10/,"rp_schain"https://slate.com/news-and-politics/2020/10/,"tpid_tdid"https://slate.com/news-and-politics/2020/10/,"tpid_liveintent.com"https://slate.com/news-and-politics/2020/10/,"tg_v.LIseg"https://slate.com/news-and-politics/2020/10/,"dt.id"https://slate.com/news-and-politics/2020/10/,"dt.keyv"https://slate.com/news-and-politics/2020/10/,"dt.pref"https://slate.com/news-and-politics/2020/10/,"rf"https://slate.com/news-and-politics/2020/10/,"p_geo.latitude"https://slate.com/news-and-politics/2020/10/,"p_geo.longitude"https://slate.com/news-and-politics/2020/10/,"kw"].concat(Object.keys(e).filter(perform (e) { return r.check(e); })).concat(Object.keys(e).filter(perform (e) { return t.check(e); })).concat(["tk_flint"https://slate.com/news-and-politics/2020/10/,"x_source.tid"https://slate.com/news-and-politics/2020/10/,"x_source.pchain"https://slate.com/news-and-politics/2020/10/,"p_screen_res"https://slate.com/news-and-politics/2020/10/,"rp_floor"https://slate.com/news-and-politics/2020/10/,"rp_secure"https://slate.com/news-and-politics/2020/10/,"tk_user_key"]); return i.concat(Object.keys(e).filter(perform (e) { return -1 === i.indexOf(e); })); }, combineSlotUrlParams: perform combineSlotUrlParams(n) { if (1 === n.size) return n[0]; var i = n.cut back(perform (r, t, i) { return Object.keys(t).forEach(perform (e) ), r; }, {}), o = new RegExp("^([^;]*)(;1)+$"); return Object.keys(i).forEach(perform (e) { var r = i[e].be a part of(";"), t = r.match(o); i[e] = t ? t[1] : r; }), i; }, createSlotParams: perform createSlotParams(e, r) { e.startTime = new Date().getTime(); var t, i = e.params, n = A(e, "banner"), o = v(i.latLong || [], 2), a = o[0], s = o[1], d = b.b.getConfig("rubicon.int_type"), c = void 0, rp_floor: .01 < (i.flooring = parseFloat(i.flooring)) ? i.flooring : .01, rp_secure: "1", tk_flint: "".concat(d ; "perform" != typeof e.getFloor || b.b.getConfig("rubicon.disableFloors") || (t = e.getFloor({ foreign money: "USD", mediaType: "banner", dimension: "*" }), c.rp_hard_floor = "object" !== x(t) || "USD" !== t.foreign money || isNaN(parseInt(t.flooring)) ? void 0 : t.flooring), c.p_pos = "atf" === i.place || "btf" === i.place ? i.place : "", e.userId && (e.userId.tdid && (c.tpid_tdid = e.userId.tdid), e.userId.lipb && e.userId.lipb.lipbid && (c["tpid_liveintent.com"] = e.userId.lipb.lipbid, Array.isArray(e.userId.lipb.segments) && e.userId.lipb.segments.size && (c["tg_v.LIseg"] = e.userId.lipb.segments.be a part of(","))), e.userId.idl_env && (c["tpid_liveramp.com"] = e.userId.idl_env)), r.gdprConsent && ("boolean" == typeof r.gdprConsent.gdprApplies && (c.gdpr = Quantity(r.gdprConsent.gdprApplies)), c.gdpr_consent = r.gdprConsent.consentString), r.uspConsent && (c.us_privacy = encodeURIComponent(r.uspConsent)); var u = y({}, i.customer, b.b.getConfig("fpd.person")); Object.keys(u).forEach(perform (e) Array.isArray(u[e]) ? u[e].toString() : JSON.stringify(u[e])); ); var p = y({}, i.stock, b.b.getConfig("fpd.context")); Object.keys(p).forEach(perform (e) Array.isArray(p[e]) ? p[e].toString() : JSON.stringify(p[e])); ); var l = (i.key phrases || []).concat(g.deepAccess(b.b.getConfig("fpd.person"), "key phrases") || [], g.deepAccess(b.b.getConfig("fpd.context"), "key phrases") || []); c.kw = Array.isArray(l) && l.size ? l.be a part of(",") : ""; var f = g.deepAccess(e, "fpd.context.pbAdSlot"); "string" == typeof f && f && (c["tg_i.dfp_ad_unit_code"] = f.exchange(/^/+/, "")); var m = _(e, "FASTLANE"); return y(c, m), !0 === b.b.getConfig("coppa") && (c.coppa = 1), e.schain && T(e.schain) && (c.rp_schain = h.serializeSupplyChain(e.schain)), c; }, serializeSupplyChain: perform serializeSupplyChain(e) { if (!T(e)) return ""; var r = e.ver, t = e.full, i = e.nodes; return "".concat(r, ",").concat(t, "!").concat(h.serializeSupplyChainNodes(i)); }, serializeSupplyChainNodes: perform serializeSupplyChainNodes(e) { var t = ["asi"https://slate.com/news-and-politics/2020/10/,"sid"https://slate.com/news-and-politics/2020/10/,"hp"https://slate.com/news-and-politics/2020/10/,"rid"https://slate.com/news-and-politics/2020/10/,"name"https://slate.com/news-and-politics/2020/10/,"domain"]; return e.map(perform (r) { return t.map(perform (e) ""); ).be a part of(","); }).be a part of("!"); }, interpretResponse: perform interpretResponse(d, e) { var c = e.bidRequest; if (!(d = d.physique) || "object" !== x(d)) return []; if (d.seatbid) { var r = g.deepAccess(d, "ext.errors.rubicon"); Array.isArray(r) && 0 < r.size && g.logWarn("Rubicon: Error in video response"); var o = []; return d.seatbid.forEach(perform (n) { (n.bid || []).forEach(perform (e) { var r = g.deepAccess(c, "params.video.playerHeight") ; e.id && (r.seatBidId = e.id), e.dealid && (r.dealId = e.dealid); var t, i = g.deepAccess(d, "ext.responsetimemillis.rubicon"); c && i && (c.serverResponseTimeMs = i), g.deepAccess(e, "ext.prebid.kind") === u.d ? (r.mediaType = u.d, (t = g.deepAccess(e, "ext.prebid.concentrating on")) && "object" === x(t) && (r.adserverTargeting = t), e.ext.prebid.cache && "object" === x(e.ext.prebid.cache.vastXml) && e.ext.prebid.cache.vastXml.cacheId && e.ext.prebid.cache.vastXml.url ? (r.videoCacheKey = e.ext.prebid.cache.vastXml.cacheId, r.vastUrl = e.ext.prebid.cache.vastXml.url) : t && t.hb_uuid && t.hb_cache_host && t.hb_cache_path && (r.videoCacheKey = t.hb_uuid, r.vastUrl = "https://".concat(t.hb_cache_host).concat(t.hb_cache_path, "?uuid=").concat(t.hb_uuid)), e.adm && (r.vastXml = e.adm), e.nurl && (r.vastUrl = e.nurl), !r.vastUrl && e.nurl && (r.vastUrl = e.nurl)) : g.logWarn("Rubicon: video response obtained non-video media kind"), o.push(r); }); }), o; } var t = d.advertisements; return "object" !== x(c) || Array.isArray(c) || "video" !== m(c) || "object" !== x(t) || (t = t[c.adUnitCode]), !Array.isArray(t) || t.size < 1 ? [] : t.cut back(perform (e, r, t) { if ("okay" !== r.standing) return e; var i, n, o, a, s = Array.isArray(c) ? c[t] : c; return s && "object" === x(s) ? (i = { requestId: s.bidId, foreign money: "USD", creativeId: r.creative_id || "".concat(r.community || ""https://slate.com/news-and-politics/2020/10/,"-").concat(r.advertiser || ""), cpm: r.cpm || 0, dealId: r.deal, ttl: 300, netRevenue: !1 !== b.b.getConfig("rubicon.netRevenue"), rubicon: { advertiserId: r.advertiser, networkId: r.community }, meta: { advertiserId: r.advertiser, networkId: r.community } }, r.creative_type && (i.mediaType = r.creative_type), r.creative_type === u.d ? (i.width = s.params.video.playerWidth, i.top = s.params.video.playerHeight, i.vastUrl = r.creative_depot_url, i.impression_id = r.impression_id, i.videoCacheKey = r.impression_id) : (i.advert = (o = r.script, a = r.impression_id, "n
nnx3c!-- Rubicon Undertaking Advert Tag --x3en
nn
nn")), n = v(f[r.size_id].break up("x").map(perform (e) {
return Quantity(e);
}), 2), i.width = n[0], i.top = n[1]), i.rubiconTargeting = (Array.isArray(r.concentrating on) ? r.concentrating on : []).cut back(perform (e, r) {
return e[r.key] = r.values[0], e;
}, {
rpfl_elemid: s.adUnitCode
}), e.push(i)) : g.logError("Rubicon: bidRequest undefined at index place:".concat(t), c, d), e;
}, []).type(perform (e, r) );
},
getUserSyncs: perform getUserSyncs(e, r, t, i) {
if (!R && e.iframeEnabled) {
var n = "";
return t && "string" == typeof t.consentString && ("boolean" == typeof t.gdprApplies ? n += "?gdpr=".concat(Quantity(t.gdprApplies), "&gdpr_consent=").concat(t.consentString) : n += "?gdpr_consent=".concat(t.consentString)), i && (n += "".concat(n ? "&" : "?"https://slate.com/news-and-politics/2020/10/,"us_privacy=").concat(encodeURIComponent(i))), R = !0, {
kind: "iframe",
url: a + n
};
}
},
transformBidParams: perform transformBidParams(e) {
return g.convertTypes({
accountId: "quantity",
siteId: "quantity",
zoneId: "quantity"
}, e);
}
};
perform _(e, r) {
var t,
i = 0 < arguments.size && void 0 !== e ? e : {}, n = 1 < arguments.size ? r : void 0; if (!n || !d[n]) return null; var o = d[n]; var a = perform () { var e = g.deepAccess(i, "userId.digitrustid.knowledge"); if (e) return e; var r = window.DigiTrust && (b.b.getConfig("digiTrustId") || window.DigiTrust.getUser({ member: "T9QSFKPDN9" })); return r && r.success && r.id || null; }(); if (!a || a.privateness && a.privateness.optout) return null; var s = (p(t = {}, o.id, a.id), p(t, o.keyv, a.keyv), t); return o.pref && (s[o.pref] = 0), s; } perform I(e, r) r.refererInfo.referer; return e.params.safe ? t.exchange(/^http:/i, "https:") : t; perform A(e, r) { var t = e.params; if ("video" === r) { var i = []; return t.video && t.video.playerWidth && t.video.playerHeight ? i = [t.video.playerWidth, t.video.playerHeight] : Array.isArray(g.deepAccess(e, "mediaTypes.video.playerSize")) && 1 === e.mediaTypes.video.playerSize.size ? i = e.mediaTypes.video.playerSize[0] : Array.isArray(e.sizes) && 0 < e.sizes.size && Array.isArray(e.sizes[0]) && 1 < e.sizes[0].size && (i = e.sizes[0]), i; } var n = []; return Array.isArray(t.sizes) ? n = t.sizes : void 0 !== g.deepAccess(e, "mediaTypes.banner.sizes") ? n = s(e.mediaTypes.banner.sizes) : Array.isArray(e.sizes) && 0 < e.sizes.size ? n = s(e.sizes) : g.logWarn("Rubicon: no sizes are setup or discovered"), S(n); } perform s(e) { return g.parseSizesInput(e).cut back(perform (e, r) { var t = parseInt(f[r], 10); return t && e.push(t), e; }, []); } perform c(e) { return "object" === x(g.deepAccess(e, "params.video")) && void 0 !== g.deepAccess(e, "mediaTypes.".concat(u.d)); } perform m(e, r) { var t = 1 < arguments.size && void 0 !== r && r; return c(e) ? -1 === ["outstream"https://slate.com/news-and-politics/2020/10/,"instream"].indexOf(g.deepAccess(e, "mediaTypes.".concat(u.d, ".context"))) ? void (t && g.logError("Rubicon: mediaTypes.video.context should be outstream or instream")) : A(e, "video").size < 2 ? void (t && g.logError("Rubicon: couldn't decide the playerSize of the video")) : (t && g.logMessage("Rubicon: making video request for adUnit", e.adUnitCode), "video") : 0 === A(e, "banner").size ? void (t && g.logError("Rubicon: couldn't decide the sizes for banner request")) : (t && g.logMessage("Rubicon: making banner request for adUnit", e.adUnitCode), "banner"); } perform S(e) { var n = [15, 2, 9]; return e.type(perform (e, r) ); } function C(e) { var r = parseInt(g.deepAccess(e, "params.video.size_id")); return isNaN(r) ? "outstream" === g.deepAccess(e, "mediaTypes.".concat(u.d, ".context")) ? 203 : 201 : r; } function j(e) { return { ranges: { low: [{ max: 5, increment: .5 }], medium: [{ max: 20, increment: .1 }], high: [{ max: 20, increment: .01 }], auto: [{ max: 5, increment: .05 }, { min: 5, max: 10, increment: .1 }, { min: 10, max: 20, increment: .5 }], dense: [{ max: 3, increment: .01 }, { min: 3, max: 8, increment: .05 }, { min: 8, max: 20, increment: .5 }], custom: e.getConfig("customPriceBucket") && e.getConfig("customPriceBucket").buckets }[e.getConfig("priceGranularity")] }; } function k(r) { var t = !0, e = Object.prototype.toString.call([]), i = Object.prototype.toString.call(0), n = { mimes: e, protocols: e, maxduration: i, linearity: i, api: e }; return Object.keys(n).forEach(function (e) { Object.prototype.toString.call(g.deepAccess(r, "mediaTypes.video." + e)) !== n[e] && (t = !1, g.logError("Rubicon: mediaTypes.video." + e + " is required and must be of type: " + n[e])); }), t; } function T(e) { var r = !1, t = ["asi"https://slate.com/news-and-politics/2020/10/,"sid"https://slate.com/news-and-politics/2020/10/,"hp"]; return e.nodes && ((r = e.nodes.reduce(function (e, r) { return e ? t.every(function (e) { return r[e]; }) : e; }, !0)) || g.logError("Rubicon: required schain params missing")), r; } function w(e, r) { return "rp_schain" === e ? "rp_schain=".concat(r) : "".concat(e, "=").concat(encodeURIComponent(r)); } var R = !1; Object(i.registerBidder)(h); } }, [677]); pbjsChunk([93], { 719: function _(e, t, r) { e.exports = r(720); }, 720: function _(e, t, r) { "use strict"; Object.defineProperty(t, "__esModule", { value: !0 }), r.d(t, "spec", function () { return o; }), r.d(t, "_isInbounds", function () { return a; }), t._getPlatform = v; var n = r(1), y = r(0), i = r(2), c = r(3), g = r(10), d = r(44); function h(e, t) { return function (e) { if (Array.isArray(e)) return e; }(e) || function (e, t) { if ("undefined" == typeof Symbol || !(Symbol.iterator in Object(e))) return; var r = [], n = !0, i = !1, s = void 0; try { for (var o, a = e[Symbol.iterator](); !(n = (o = a.next()).done) && (r.push(o.value), !t || r.length !== t); n = !0) { ; } } catch (e) { i = !0, s = e; } finally { try a.return(); finally { if (i) throw s; } } return r; }(e, t) || function (e, t) I)nt(?:8(e, t) || function () { throw new TypeError("Invalid attempt to destructure non-iterable instance.nIn order to be iterable, non-array objects must have a [Symbol.iterator]() method."); }(); } function s(e, t) { (null == t || t > e.size) && (t = e.size);
for (var r = 0, n = new Array(t); r < t; r++) { n[r] = e[r]; } return n; } perform u() { return (u = Object.assign || perform (e) { for (var t = 1; t < arguments.size; t++) { var r = arguments[t]; for (var n in r) { Object.prototype.hasOwnProperty.name(r, n) && (e[n] = r[n]); } } return e; }).apply(this, arguments); } perform p(e, t, r) { return t in e ? Object.defineProperty(e, t, { value: r, enumerable: !0, configurable: !0, writable: !0 }) : e[t] = r, e; } var b = "sonobi", l = Object(y.generateUUID)(), o = { code: b, supportedMediaTypes: [i.b, i.d], isBidRequestValid: perform isBidRequestValid(e) { if (!e.params) return !1; if (!e.params.ad_unit && !e.params.placement_id) return !1; if (!Object(y.deepAccess)(e, "mediaTypes.banner") && !Object(y.deepAccess)(e, "mediaTypes.video")) return !1; if (Object(y.deepAccess)(e, "mediaTypes.banner")) { if (!Object(y.deepAccess)(e, "mediaTypes.banner.sizes") && !e.params.sizes) return !1; } else if (Object(y.deepAccess)(e, "mediaTypes.video")) { if ("outstream" === Object(y.deepAccess)(e, "mediaTypes.video.context") && !e.params.sizes) return !1; if ("instream" === Object(y.deepAccess)(e, "mediaTypes.video.context") && !Object(y.deepAccess)(e, "mediaTypes.video.playerSize")) return !1; } return !0; }, buildRequests: perform buildRequests(e, t) { var r = e.map(perform (e) { var t = perform (e) { if (e.params.ad_unit) return e.params.ad_unit; return e.params.placement_id; }(e); return /^[/]?[d]+[[/].+[/]?]?$/.check(t) ? (t = "/" === t.charAt(0) ? t : "/" + t, p({}, "".concat(t, "|").concat(e.bidId), "".concat(f(e)).concat(m(e)))) : /^[0-9a-fA-F]{20}$/.check(t) && 20 === t.size ? p({}, e.bidId, "".concat(t, "|").concat(f(e)).concat(m(e))) : void Object(y.logError)("The advert unit code or Sonobi Placement id for slot ".concat(e.bidId, " is invalid")); }), n = {}; r.forEach(perform (e) { u(n, e); }); var i = { key_maker: JSON.stringify(n), ref: t.refererInfo.referer, s: Object(y.generateUUID)(), pv: l, vp: v(), lib_name: "prebid", lib_v: "3.23.0", us: 0 }; c.b.getConfig("userSync") && c.b.getConfig("userSync").syncsPerBidder && (i.us = c.b.getConfig("userSync").syncsPerBidder), d.a.canBidderRegisterSync("iframe", b) ? i.ius = 1 : i.ius = 0, Object(y.deepAccess)(e[0], "params.hfa") && (i.hfa = Object(y.deepAccess)(e[0], "params.hfa")), e[0].params.referrer && (i.ref = e[0].params.referrer), t && t.gdprConsent && (i.gdpr = t.gdprConsent.gdprApplies ? "true" : "false", t.gdprConsent.consentString && (i.consent_string = t.gdprConsent.consentString)); var s = perform (t) { var e = perform () { var e = window.DigiTrust && (c.b.getConfig("digiTrustId") || window.DigiTrust.getUser({ member: t })); return e && e.success && e.id || null; }(); if (!e || e.privateness && e.privateness.optout) return null; return e; }("fhnS5drwmH"); s && (i.digid = s.id, i.digkeyv = s.keyv), e[0].schain && (i.schain = JSON.stringify(e[0].schain)), Object(y.deepAccess)(e[0], "userId") && 0 < Object.keys(e[0].userId).size && (i.userid = JSON.stringify(e[0].userId)); var o = e[0].params.key phrases; if (o && (i.kw = o), t && t.uspConsent && (i.us_privacy = t.uspConsent), Object(y.isEmpty)(n)) return null; var a = "https://apex.go.sonobi.com/trinity.json"; return Object(y.deepAccess)(e[0], "params.bid_request_url") && (a = Object(y.deepAccess)(e[0], "params.bid_request_url")), { methodology: "GET", url: a, withCredentials: !0, knowledge: i, bidderRequests: e }; }, interpretResponse: perform interpretResponse(e, l) { var f = e.physique, m = [], v = l.knowledge.ref; return 0 === Object.keys(f.slots).size || Object.keys(f.slots).forEach(perform (e) { var t = f.slots[e], r = e.break up("|").slice(-1)[0], n = perform (e, t) { for (var r = 0; r < e.size; r++) { if (e[r].bidId === t) return e[r]; } }(l.bidderRequests, r), i = null; "video" === t.sbi_ct && (i = "video"https://slate.com/news-and-politics/2020/10/,"outstream" === Object(y.deepAccess)(n, "mediaTypes.video.context") && (i = "outstream")); var s, o, a, c, d, u, p, b = j(i, v); t.sbi_aid && t.sbi_mouse && t.sbi_size && (a = void 0 === (o = (s = h(t.sbi_size.break up("x"), 2))[0]) ? 1 : o, d = void 0 === (c = s[1]) ? 1 : c, u = t.sbi_aid, assist: t.sbi_aid, netRevenue: !0, foreign money: "USD" , t.sbi_dozer && (u.dealId = t.sbi_dozer), "video" === i ? (u.mediaType = "video", u.vastUrl = b(f.sbi_dc, t.sbi_aid), delete u.advert, delete u.width, delete u.top) : "outstream" === i && n && (u.mediaType = "video", u.vastUrl = b(f.sbi_dc, t.sbi_aid), u.renderer = perform (e, t) { var r = 2 < arguments.size && void 0 !== arguments[2] ? arguments[2] : {}, n = g.a.set up({ id: t.assist, url: "https://mtrx.go.sonobi.com/sbi_outstream_renderer.js", config: r, loaded: !1, adUnitCode: e }); strive { n.setRender(O); } catch (e) { Object(y.logWarn)("Prebid Error calling setRender on renderer", e); } return n.setEventHandlers({ impression: perform impression() { return Object(y.logMessage)("Sonobi outstream video impression occasion"); }, loaded: perform loaded() { return Object(y.logMessage)("Sonobi outstream video loaded occasion"); }, ended: perform ended() { Object(y.logMessage)("Sonobi outstream renderer video occasion"); } }), n; }(n.adUnitCode, u, Object(y.deepAccess)(n, "renderer.choices")), p = Object(y.deepAccess)(n, "params.sizes"), Array.isArray(p) && Array.isArray(p[0]) && (p = p[0]), p && (u.width = p[0], u.top = p[1])), m.push(u)); }), m; }, getUserSyncs: perform getUserSyncs(e, t) { var r = []; strive { e.pixelEnabled && t[0].physique.sbi_px.forEach(perform (e) { r.push({ kind: e.kind, url: e.url }); }); } catch (e) {} return r; } }; perform f(e) { return Object(y.deepAccess)(e, "mediaTypes.video") ? "" : e.params.sizes ? Object(y.parseSizesInput)(e.params.sizes).be a part of(",") : Object(y.deepAccess)(e, "mediaTypes.banner.sizes") ? Object(y.parseSizesInput)(Object(y.deepAccess)(e, "mediaTypes.banner.sizes")).be a part of(",") : e.sizes ? Object(y.parseSizesInput)(e.sizes).be a part of(",") : void 0; } perform m(e) f=".concat(e.params.flooring) : ""; var j = perform j(i, s) { return perform (e, t) "outstream" === i ? (r = t, n = s, "https://".concat(e, "apex.go.sonobi.com/huge.xml?vid=").concat(r, "&ref=").concat(encodeURIComponent(n))) : '';
var r, n;
;
};
var a = perform a(e) {
var r = 0 < arguments.size && void 0 !== e ? e : window; return perform () { var e = 0 < arguments.size && void 0 !== arguments[0] ? arguments[0] : 0, t = 1 < arguments.length && void 0 !== arguments[1] ? arguments[1] : Number.MAX_SAFE_INTEGER; return r.innerWidth >= e && r.innerWidth < t; }; }; perform v() { var e = 0 < arguments.size && void 0 !== arguments[0] ? arguments[0] : window, t = a(e), r = 992, n = 768; return t(0, 768) ? "cellular" : t(n, r) ? "pill" : "desktop"; } perform O(i) { i.renderer.push(perform () { var e = h(i.getSize().break up("x"), 2), t = e[0], r = e[1], n = new window.SbiOutstreamRenderer(); n.init({ vastUrl: i.vastUrl, top: r, width: t }), n.setRootElement(i.adUnitCode); }); } Object(n.registerBidder)(o); } }, [719]); pbjsChunk([85], { 741: perform _(e, r, t) { e.exports = t(742); }, 742: perform _(e, r, t) { "use strict"; Object.defineProperty(r, "__esModule", { value: !0 }), t.d(r, "spec", perform () { return n; }); var a = t(1), d = t(0), p = 12, o = 11, c = 0, u = 22, n = { code: "teads", supportedMediaTypes: ["video"https://slate.com/news-and-politics/2020/10/,"banner"], isBidRequestValid: perform isBidRequestValid(e) d.logError("Teads placementId and pageId parameters are required. Bid aborted."), a; , buildRequests: perform buildRequests(e, r) { var t = e.map(I), a = { referrer: perform (e) { var r = ""; e && e.refererInfo && e.refererInfo.referer && (r = e.refererInfo.referer); return r; }(r), knowledge: t, deviceWidth: display screen.width, hb_version: "3.23.0" }; e[0].schain && (a.schain = e[0].schain); var n, d, i, s = r.gdprConsent; return r && s && (n = "boolean" == typeof s.gdprApplies, d = "string" == typeof s.consentString, i = n ? perform (e, r, t) { var a = p; e ? perform (e, r) 2 !== r) && !e.isServiceSpecific; (r, t) && (a = o) : a = c; return a; }(s.gdprApplies, s.vendorData, s.apiVersion) : u, a.gdpr_iab = { consent: d ? s.consentString : "", standing: i, apiVersion: s.apiVersion }), r && r.uspConsent && (a.us_privacy = r.uspConsent), { methodology: "POST", url: "https://a.teads.television/hb/bid-request", knowledge: JSON.stringify(a) }; }, interpretResponse: perform interpretResponse(e) { var t = []; return (e = e.physique).responses && e.responses.forEach(perform (e) { var r = { cpm: e.cpm, width: e.width, top: e.top, foreign money: e.foreign money, netRevenue: !0, ttl: e.ttl, advert: e.advert, requestId: e.bidId, creativeId: e.creativeId, placementId: e.placementId }; e.dealId && (r.dealId = e.dealId), t.push(r); }), t; } }; perform I(e) { var r, t = {}, a = d.getValue(e.params, "placementId"), n = d.getValue(e.params, "pageId"); return t.sizes = (r = e, d.parseSizesInput(perform (e) { var r = d.deepAccess(e, "mediaTypes.video.playerSize"), t = d.deepAccess(e, "mediaTypes.video.sizes"), a = d.deepAccess(e, "mediaTypes.banner.sizes"); return d.isArray(a) || d.isArray(r) || d.isArray(t) ? [a, t, r].cut back(perform (r, e) { return d.isArray(e) && (d.isArray(e[0]) ? e.forEach(perform (e) { r.push(e); }) : r.push(e)), r; }, []) : e.sizes; }(r))), t.bidId = d.getBidIdParameter("bidId", e), t.bidderRequestId = d.getBidIdParameter("bidderRequestId", e), t.placementId = parseInt(a, 10), t.pageId = parseInt(n, 10), t.adUnitCode = d.getBidIdParameter("adUnitCode", e), t.auctionId = d.getBidIdParameter("auctionId", e), t.transactionId = d.getBidIdParameter("transactionId", e), t; } perform i(e) { return 0 < parseInt(e); } Object(a.registerBidder)(n); } }, [741]); pbjsChunk([76], { 761: function _(r, e, t) { r.exports = t(762); }, 762: function _(r, e, t) { "use strict"; Object.defineProperty(e, "__esModule", { value: !0 }), t.d(e, "tripleliftAdapterSpec", function () { return s; }); var n = t(2), i = t(1), o = t(0), u = t(3); function p(r) { return function (r) { if (Array.isArray(r)) return d(r); }(r) || function (r) { if ("undefined" != typeof Symbol && Symbol.iterator in Object(r)) return Array.from(r); }(r) || function (r, e) (r) || function () { throw new TypeError("Invalid attempt to spread non-iterable instance.nIn order to be iterable, non-array objects must have a [Symbol.iterator]() method."); }(); } function d(r, e) { (null == e || e > r.size) && (e = r.size);
for (var t = 0, n = new Array(e); t < e; t++) { n[t] = r[t]; } return n; } var a = !0, c = null, s = { code: "triplelift", supportedMediaTypes: [n.b], isBidRequestValid: perform isBidRequestValid(r) { return void 0 !== r.params.inventoryCode; }, buildRequests: perform buildRequests(r, e) { var t, n = "https://tlx.3lift.com/header/public sale?", i = perform (r) { var e = {}, t = r[0].schain; e.imp = r.map(perform (r, e) { return { id: e, tagid: r.params.inventoryCode, flooring: r.params.flooring, banner: { format: r.sizes.filter(l).map(perform (r) { return { w: r[0], h: r[1] }; }) } }; }); var n = [].concat(p(perform (r) { return f(r, "tdid"https://slate.com/news-and-politics/2020/10/,"adserver.org"https://slate.com/news-and-politics/2020/10/,"TDID"); }(r)), p(perform (r) { return f(r, "idl_env"https://slate.com/news-and-politics/2020/10/,"liveramp.com"https://slate.com/news-and-politics/2020/10/,"idl"); }(r)), p(perform (r) { return f(r, "criteoId"https://slate.com/news-and-politics/2020/10/,"criteo.com"https://slate.com/news-and-politics/2020/10/,"criteoId"); }(r))); 0 < n.size && (e.person = { ext: { eids: n } }); t && (e.ext = { schain: t }); return e; }(r); return n = o.tryAppendQueryString(n, "lib"https://slate.com/news-and-politics/2020/10/,"prebid"), n = o.tryAppendQueryString(n, "v"https://slate.com/news-and-politics/2020/10/,"3.23.0"), e && e.refererInfo && (t = e.refererInfo.referer, n = o.tryAppendQueryString(n, "referrer", t)), e && e.timeout && (n = o.tryAppendQueryString(n, "tmax", e.timeout)), e && e.gdprConsent && (void 0 !== e.gdprConsent.gdprApplies && (a = e.gdprConsent.gdprApplies, n = o.tryAppendQueryString(n, "gdpr", a.toString())), void 0 !== e.gdprConsent.consentString && (c = e.gdprConsent.consentString, n = o.tryAppendQueryString(n, "cmp_cs", c))), e && e.uspConsent && (n = o.tryAppendQueryString(n, "us_privacy", e.uspConsent)), !0 === u.b.getConfig("coppa") && (n = o.tryAppendQueryString(n, "coppa", !0)), n.lastIndexOf("&") === n.size - 1 && (n = n.substring(0, n.size - 1)), o.logMessage("tlCall request constructed: " + n), { methodology: "POST", url: n, knowledge: i, bidderRequest: e }; }, interpretResponse: perform interpretResponse(r, e) { var t = e.bidderRequest; return (r.physique.bids || []).map(perform (r) { return perform (r, e) { var t = {}, n = e.width || 1, i = e.top || 1, u = e.deal_id || "", o = e.crid || ""; 0 != e.cpm && e.advert && (t = { requestId: r.bids[e.imp_id].bidId, cpm: e.cpm, width: n, top: i, netRevenue: !0, advert: e.advert, creativeId: o, dealId: u, foreign money: "USD", ttl: 300, tl_source: e.tl_source }); return t; }(t, r); }); }, getUserSyncs: perform getUserSyncs(r, e, t, n) { var i = perform (r) { if (!r) return; if (r.iframeEnabled) return "iframe"; if (r.pixelEnabled) return "picture"; }(r); if (i) { var u = "https://eb2.3lift.com/sync?"; return "picture" === i && (u = o.tryAppendQueryString(u, "px", 1), u = o.tryAppendQueryString(u, "src"https://slate.com/news-and-politics/2020/10/,"prebid")), null !== c && (u = o.tryAppendQueryString(u, "gdpr", a), u = o.tryAppendQueryString(u, "cmp_cs", c)), n && (u = o.tryAppendQueryString(u, "us_privacy", n)), [{ type: i, url: u }]; } } }; perform f(r, e, t, n) { return r.map((o = e, perform (r) { return r && r.userId && r.userId[o]; })).filter(perform (r) { return !!r; }).map((i = t, u = n, perform (r) { return { supply: i, uids: [{ id: r, ext: { rtiPartner: u } }] }; })); var i, u, o; } perform l(r) { return 2 === r.size && "quantity" == typeof r[0] && "quantity" == typeof r[1]; } Object(i.registerBidder)(s); } }, [761]); pbjsChunk([75], { 763: perform _(e, r, t) { e.exports = t(764); }, 764: perform _(e, r, t) { "use strict"; Object.defineProperty(r, "__esModule", { value: !0 }), t.d(r, "spec", perform () { return v; }); var m = t(0), s = t(1), o = t(10), c = t(2), f = "Bid from response has no auid parameter - ", l = "Bid from response has no adm parameter - ", p = "Array of bid objects is empty", g = "Cannot discover in requested bids the bid with auid - ", u = "Seatbid array from response has empty merchandise", y = "Response is empty", b = "Response has empty seatbid array", h = "Seatbid from response has no array of bid objects - ", v = { code: "trustx", supportedMediaTypes: [c.b, c.d], isBidRequestValid: perform isBidRequestValid(e) { return !!e.params.uid; }, buildRequests: perform buildRequests(e, r) { var a, o, p = [], u = {}, c = {}, f = {}, l = "web"; (e || []).forEach(perform (e) { "gross" === e.params.priceType && (l = "gross"), o = e.bidderRequestId; var r = e.params.uid, t = e.adUnitCode; p.push(r); var s, n = m.parseSizesInput(e.sizes); a || m.isEmpty(e.params.key phrases) || (0 < (s = m.transformBidderParamKeywords(e.params.key phrases)).size && s.forEach(E), a = s), c[r] || (c[r] = {}); var d = c[r]; d[t] ? d[t].bids.push(e) : d[t] = { adUnitCode: t, bids: [e], mother and father: [] }; var i = d[t]; n.forEach(perform (e) { f[e] = !0, u[r] || (u[r] = {}), u[r][e] ? u[r][e].push(i) : u[r][e] = [i], i.mother and father.push({ guardian: u[r], key: e, uid: r }); }); }); var t = { pt: l, auids: p.be a part of(","), sizes: m.getKeys(f).be a part of(","), r: o, wrapperType: "Prebid_js", wrapperVersion: "3.23.0" }; return a && (t.key phrases = JSON.stringify(a)), r && (r.refererInfo && r.refererInfo.referer && (t.u = r.refererInfo.referer), r.timeout && (t.wtimeout = r.timeout), r.gdprConsent && (r.gdprConsent.consentString && (t.gdpr_consent = r.gdprConsent.consentString), t.gdpr_applies = "boolean" == typeof r.gdprConsent.gdprApplies ? Quantity(r.gdprConsent.gdprApplies) : 1), r.uspConsent && (t.us_privacy = r.uspConsent)), { methodology: "GET", url: "https://sofia.trustx.org/hb", knowledge: m.parseQueryStringParameters(t).exchange(/&$/, ""), bidsMap: u }; }, interpretResponse: perform interpretResponse(e, r, t) { var s = 2 < arguments.size && void 0 !== t ? t : o.a; e = e && e.physique; var n, d = [], i = r.bidsMap, a = r.knowledge.pt; return e ? e.seatbid && !e.seatbid.size && (n = b) : n = y, !n && e.seatbid && e.seatbid.forEach(perform (e) { !perform (e, d, r, t, s) { if (!e) return; var n; e.auid || (n = f + JSON.stringify(e)); { var i, a, o, p, u; e.adm ? (i = d[e.auid]) ? (a = "".concat(e.w, "x").concat(e.h), i[a] && (o = i[a][0], p = o.bids.shift(), u = { requestId: p.bidId, bidderCode: v.code, cpm: e.price, width: e.w, top: e.h, creativeId: e.auid, foreign money: "USD", netRevenue: "gross" !== r, ttl: 360, dealId: e.dealid }, "video" === e.content_type ? (u.vastXml = e.adm, u.mediaType = c.d, u.adResponse = { content material: u.vastXml }, p.renderer || p.mediaTypes && p.mediaTypes.video && "outstream" !== p.mediaTypes.video.context || (u.renderer = perform (e, r) { var t = r.set up({ id: e.id, url: e.url, loaded: !1 }); strive { t.setRender(w); } catch (e) { m.logWarn("Prebid Error calling setRender on renderer", e); } return t; }({ id: p.bidId, url: "https://acdn.adnxs.com/video/outstream/ANOutstreamVideo.js" }, s))) : (u.advert = e.adm, u.mediaType = c.b), t.push(u), o.bids.size || o.mother and father.forEach(perform (e) ))) : n = g + e.auid : n = l + JSON.stringify(e); } n && m.logError(n); }(perform (e) (e), i, a, d, s); }), n && m.logError(n), d; }, getUserSyncs: perform getUserSyncs(e) { if (e.pixelEnabled) return [{ type: "image", url: "https://sofia.trustx.org/push_sync" }]; } }; perform E(e) { var r; r = e.value, m.isArray(r) && 0 < r.size && "" === e.value[0] && delete e.value; } perform w(e) { e.renderer.push(perform () { window.ANOutstreamVideo.renderAd({ targetId: e.adUnitCode, adResponse: e.adResponse }); }); } Object(s.registerBidder)(v); } }, [763]); pbjs.processQueue(); }, {}]; window.modules["via.legacy"] = [function(require,module,exports){"use strict"; DS.service("via", function () { "use strict"; // remove `via` from url, to be used after amplitude logs it to prevent users from sharing such urls function removeFromLocation() { var url = new URL(location.href); url.searchParams.delete("via"); history.replaceState(null, "", url.toString()); } // and add `via` param to any outbound links function addViaToUrl(href, via) { if (!href || href.substr(0, 1) === "#") { return href; // don't add to jumps on the current page, e.g. "Skip to main content" } var url = new URL(href); var apexDomain = new URL(location.href).hostname.split(".").slice(-2).join("."); if (url.hostname.indexOf(apexDomain) === -1) { return href; // don't add it to external links } url.searchParams.set("via", via); return url.toString(); } // keys correspond to "page_types" in editable_components.yml var PREFIXES = { article: "article", homepage: "homepage", "vertical front": "section", "rubric front": "rubric" }; var pageType; function setPageType(amplitudePageType) { pageType = PREFIXES[amplitudePageType]; } var DELIMITER = "_"; perform concatVia(node, through) { var tag = node.dataset && node.dataset.through; if (tag) { through = (through.size ? tag + DELIMITER : tag) + through; } return through; } perform addToClickedLinks() { doc.documentElement.addEventListener("click on", perform (e) { var a; var through = ""; // detect hyperlink nodes and gather through directives to append to the href var node = e.goal; // the ingredient the place this occasion originated may have been faraway from the dom, e.g. within the case of the OIL CMP which disappears after you work together with it whereas (node && node !== e.currentTarget) { if (node.tagName === "A") { a = node; } through = concatVia(node, through); node = node.parentNode; } if (a && through) { if (pageType) { through = pageType + DELIMITER + through; } a.href = addViaToUrl(a.href, through); } }); } perform addToSubmittedForms() { doc.documentElement.addEventListener("submit", perform (e) { var type = e.goal; // gather through directives var through = ""; var node = e.goal; whereas (node !== e.currentTarget) { through = concatVia(node, through); node = node.parentNode; } if (through) { if (pageType) { through = pageType + DELIMITER + through; } // dynamically create a hidden enter for the shape url var enter = doc.createElement("enter"); enter.kind = "hidden"; enter.identify = "through"; enter.value = through; type.appendChild(enter); } }); } // begin listening solely as soon as, when first injected addToClickedLinks(); addToSubmittedForms(); return { setPageType: setPageType, removeFromLocation: removeFromLocation }; }); }, {}]; window.modules["visibility.legacy"] = [perform(require,module,exports){"use strict"; DS.service("$visibility", ["$doc"https://slate.com/news-and-politics/2020/10/,"$window"https://slate.com/news-and-politics/2020/10/,"_throttle"https://slate.com/news-and-politics/2020/10/,"Eventify", perform ($doc, $window, _throttle, Eventify) { var record = [], Seen, VisibleEvent; /** * @param {quantity} a * @param {quantity} b * @returns {*} * @see http://jsperf.com/math-min-vs-if-condition-vs/8 */ perform min(a, b) { return a < b ? a : b; } /** * @param {number} a * @param {number} b * @returns {*} * @see http://jsperf.com/math-min-vs-if-condition-vs/8 */ function max(a, b) { return a > b ? a : b;
}
/**
* Quick loop via watched parts
*/
perform onScroll() {
record.forEach(updateVisibility);
}
/**
* updates seen property
* @param {Visble} merchandise
* @param {{}} evt
* @fires Seen#proven
* @fires Seen#hidden
*/
perform updateSeen(merchandise, evt) {
var px = evt.visiblePx,
% = evt.visiblePercent; // if some pixels are seen and we're better/equal to threshold
if (px && % >= merchandise.shownThreshold && !merchandise.seen) {
merchandise.seen = true;
setTimeout(perform () {
merchandise.set off("proven", new VisibleEvent("proven", evt));
}, 15); // if no pixels or % is lower than threshold
} else if ((!px || % < item.hiddenThreshold) && item.seen) { item.seen = false; setTimeout(function () { item.trigger("hidden", new VisibleEvent("hidden", evt)); }, 15); } } /** * sets preload property * @param {Visible} item * @param {{}} evt * @param {Number} innerHeight * @fires Visible#preload */ function updatePreload(item, evt, innerHeight) { if (!item.preload && item.preloadThreshhold && shouldBePreloaded(evt.target, evt.rect, item.preloadThreshhold, innerHeight)) { item.preload = true; setTimeout(function () { item.trigger("preload", new VisibleEvent("preload", evt)); }, 15); } } /** * Trigger events * @param {Visible} item */ function updateVisibility(item) { var rect = item.el.getBoundingClientRect(), innerHeight = $window.innerHeight || $document.documentElement.clientHeight, px = getVerticallyVisiblePixels(rect, innerHeight), percent = px / (rect.height || innerHeight), evt = { target: item.el, rect: rect, visiblePx: px, visiblePercent: percent }; updateSeen(item, evt); updatePreload(item, evt, innerHeight); } /** * Return normalized viewport height * @return {number} */ function getViewportHeight() $document.body.clientHeight; /** * Return normalized viewport width * @return {number} */ function getViewportWidth() /** * make sure an element isn't hidden by styles or etc * @param {Element} el * @return {Boolean} */ function isElementNotHidden(el) { return el && el.offsetParent !== null && !el.getAttribute("hidden") && getComputedStyle(el).display !== "none" && getComputedStyle(el).visibility !== "hidden"; } /** * Apparently the fastest way... * @param {Element} el * @returns {boolean} * @example if (!$visibility.isElementInViewport(el)) { ... } */ function isElementInViewport(el) $doc.documentElement.clientWidth); /** * @param {Component} el * @param {ClientRect} rect * @param {Quantity} preloadThreshhold * @param {Quantity} innerHeight * @return {Boolean} */ perform shouldBePreloaded(el, rect, preloadThreshhold, innerHeight) { return rect.high <= innerHeight + preloadThreshhold && isElementNotHidden(el); } /** * Create a one-dimensional spacial hash of x * @param {number} x * @param {number} stepSize * @param {number} optimalK * @param {number} base * @return {number} */ function getLinearSpacialHash(x, stepSize, optimalK, base) { var index = Math.floor(x / (stepSize || 1)), remainder = x % stepSize, result = index.toString(base); if (optimalK > 1) {
outcome += getLinearSpacialHash(the rest, Math.flooring(stepSize / base), optimalK – 1, base);
}
return outcome;
}
/**
* @param {ClientRect} rect
* @param {quantity} innerHeight
* @returns {quantity}
*/
perform getVerticallyVisiblePixels(rect, innerHeight) {
return min(innerHeight, max(rect.backside, 0)) – min(max(rect.high, 0), innerHeight);
}
/**
* Get offset of ingredient relative to total web page
*
* @param {Component} el
* @returns {{left: quantity, high: quantity}}
* @see http://jsperf.com/offset-vs-getboundingclientrect/7
*/
perform getPageOffset(el) {
var offsetLeft = el.offsetLeft,
offsetTop = el.offsetTop;
whereas (el = el.offsetParent) {
offsetLeft += el.offsetLeft;
offsetTop += el.offsetTop;
}
return {
left: offsetLeft,
high: offsetTop
};
}
/**
* Create a brand new Seen class to watch when parts enter and depart the viewport
*
* Name destroy perform to cease listening (that is till we have now higher help for expecting Node Elimination)
* @param {Component} el
* @param {{shownThreshold: quantity, hiddenThreshold: quantity}} [options]
* @class
* @instance this.seen = new $visibility.Seen(el);
*/
Seen = perform Seen(el, choices) {
choices = choices || {};
this.el = el;
this.seen = false;
this.preload = false;
this.preloadThreshhold = choices && choices.preloadThreshhold || 0;
this.shownThreshold = choices && choices.shownThreshold || 0;
this.hiddenThreshold = choices && min(choices.shownThreshold, choices.hiddenThreshold) || 0;
record.push(this);
updateVisibility(this); // set instantly to seen or not
};
Seen.prototype = {
/**
* Cease triggering.
*/
destroy: perform destroy() {
// take away from record
record.splice(record.indexOf(this), 1);
}
/**
* @identify Seen#on
* @perform
* @param 'hidden' e EventName
* @param {perform} cb Callback
*/
/**
* @identify Seen#set off
* @perform
* @param 'hidden' e
* @param {{}}
*/
};
Eventify.allow(Seen.prototype);
VisibleEvent = perform VisibleEvent(kind, choices) {
var _this = this;
this.kind = kind;
Object.keys(choices).forEach(perform (key) {
_this[key] = choices[key];
});
}; // hear for scroll occasions (throttled)
$doc.addEventListener("scroll", _throttle(onScroll, 200)); // public
this.getPageOffset = getPageOffset;
this.getLinearSpacialHash = getLinearSpacialHash;
this.getVerticallyVisiblePixels = getVerticallyVisiblePixels;
this.getViewportHeight = getViewportHeight;
this.getViewportWidth = getViewportWidth;
this.isElementNotHidden = isElementNotHidden;
this.isElementInViewport = isElementInViewport;
this.Seen = Seen;
}]);
}, {}];
require=(perform e(t,n,r){perform s(o,u){if(!n[o]){if(!t[o]){var a=typeof require=="perform"&&require;if(!u&&a)return a(o,!0);if(i)return i(o,!0);var f=new Error("Can not discover module '"+o+"'");throw f.code="MODULE_NOT_FOUND",f}var l=n[o]={exports:{}};t[o][0].name(l.exports,perform(e){var n=t[o][1][e];return s(n?n:e)},l,l.exports,e,t,n,r)}return n[o].exports}var i=typeof require=="perform"&&require;for(var o=0;o