NYSE:DOW – Stock Market Recap, Plus: Will U.S. Infrastructure Plan Boost Industry Firms Too?
Market Indexes
The indexes had positive results again last week, although it took Friday's gains to lift the and the out of the red. The led.
Per Reuters:
"U.S. stocks climbed on Friday, led by technology shares, after a tepid U.S. monthly jobs report relieved investor concerns the Federal Reserve might rein in monetary stimulus soon. Investors were concerned that a robust jobs report that pointed to rising inflation could prompt the Fed to pull back on stimulus put in place during the pandemic."

"Tech and other growth stocks are seen as particularly vulnerable if inflation drives up bond yields and more heavily discounts the value of future cash flows. The Russell 1000 growth index outperformed the counterpart Russell value index."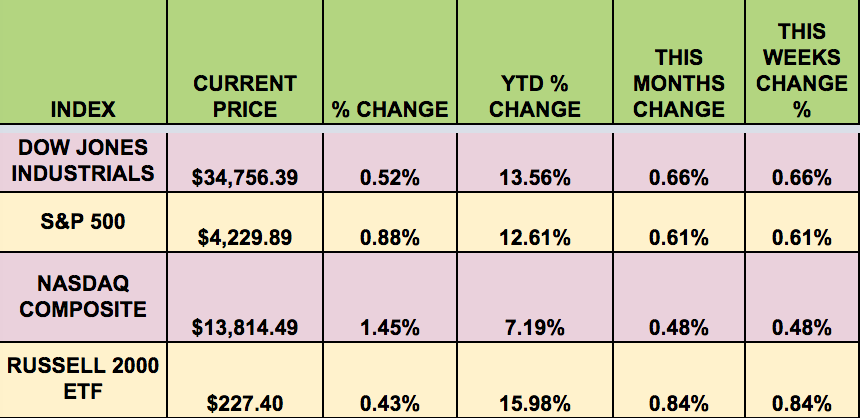 Volatility: The fell 2% last week, ending at $16.34.
High Dividend Stocks: These high dividend stocks go ex-dividend this week: Penns Woods Bancorp Inc (NASDAQ:), Eagle Point Cred (NYSE:), UWM Holdings Corp (NYSE:), Golub Capital BDC Inc (NASDAQ:), Fidus Investment Corp (NASDAQ:), International Flavors Fragrances Inc (NYSE:), OFS Credit Company Inc (NASDAQ:), and SFL Corporation Ltd (NYSE:).
Market Breadth: 19 out of 30 stocks rose last week, vs. 20 the previous week. 60% of the rose, vs. 72% the week before.
Forex: The fell vs. , the , and the , and rose vs. the , the , the and the .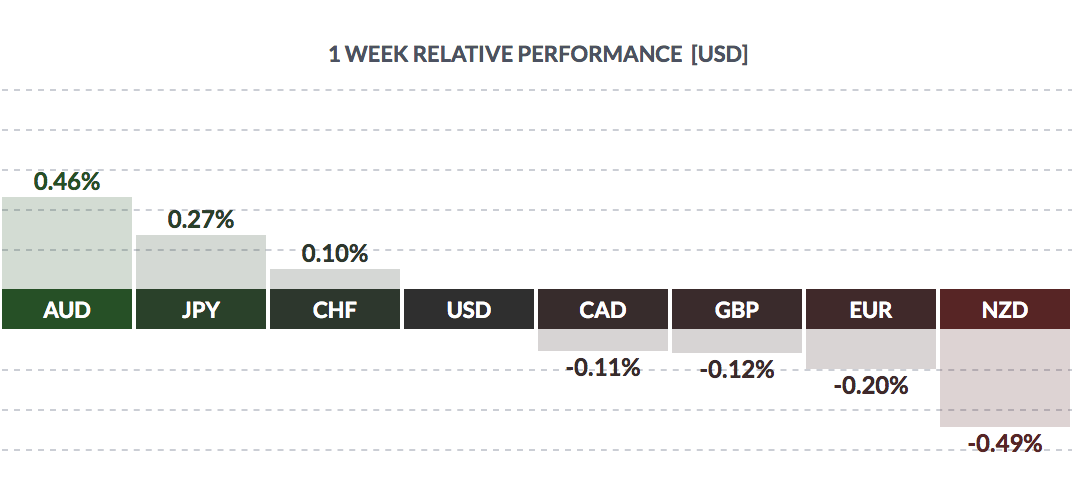 Economic News
"U.S. employers increased hiring in May and raised wages as they competed for workers. But the increase of 559,000 jobs was below the 650,000 forecast of economists polled by Reuters. That left employment about 7.6 million jobs below its peak in February 2020. The declined by 0.3 percentage points to 5.8%."
"U.S. employers increased hiring in May and raised as they competed for workers, with millions of unemployed Americans still at home because of childcare issues, generous unemployment checks and lingering fears over COVID-19. Though the pickup in job growth shown in the Labor Department's closely watched employment report on Friday missed economists' forecasts, it gave assurance that the recovery from the pandemic recession remained on track."
"Though women took 56.2% of the jobs created last month, they constitute a large share of the millions of workers still at home as most school districts have not moved to full-time in-person learning. Nearly 1.8 million women have left the labor force since February 2020." (Reuters)
The rose to 64% in May, vs. 62.7% in April, and the Index rose to 61.2%, vs. 60.7% in April.
Week Ahead Highlights
"Investors will watch Washington in the coming week for clues on whether an out-sized rally in shares of companies that would benefit from President Joe Biden's proposed $1.7 trillion infrastructure plan has more room to run. Expectations of spending from Washington on bridges, roads, and tunnels bolstered so-called value stocks, especially the and sectors, both up around 20% this year, ahead of the 12.5% gain for the S&P 500."
"Among the biggest winners have been shares of United States Steel Corp (NYSE:), up nearly 200% since the start of the year, while steel producer Nucor Corp's (NYSE🙂 stock has gained around 104%." (Reuters)
US Economic Reports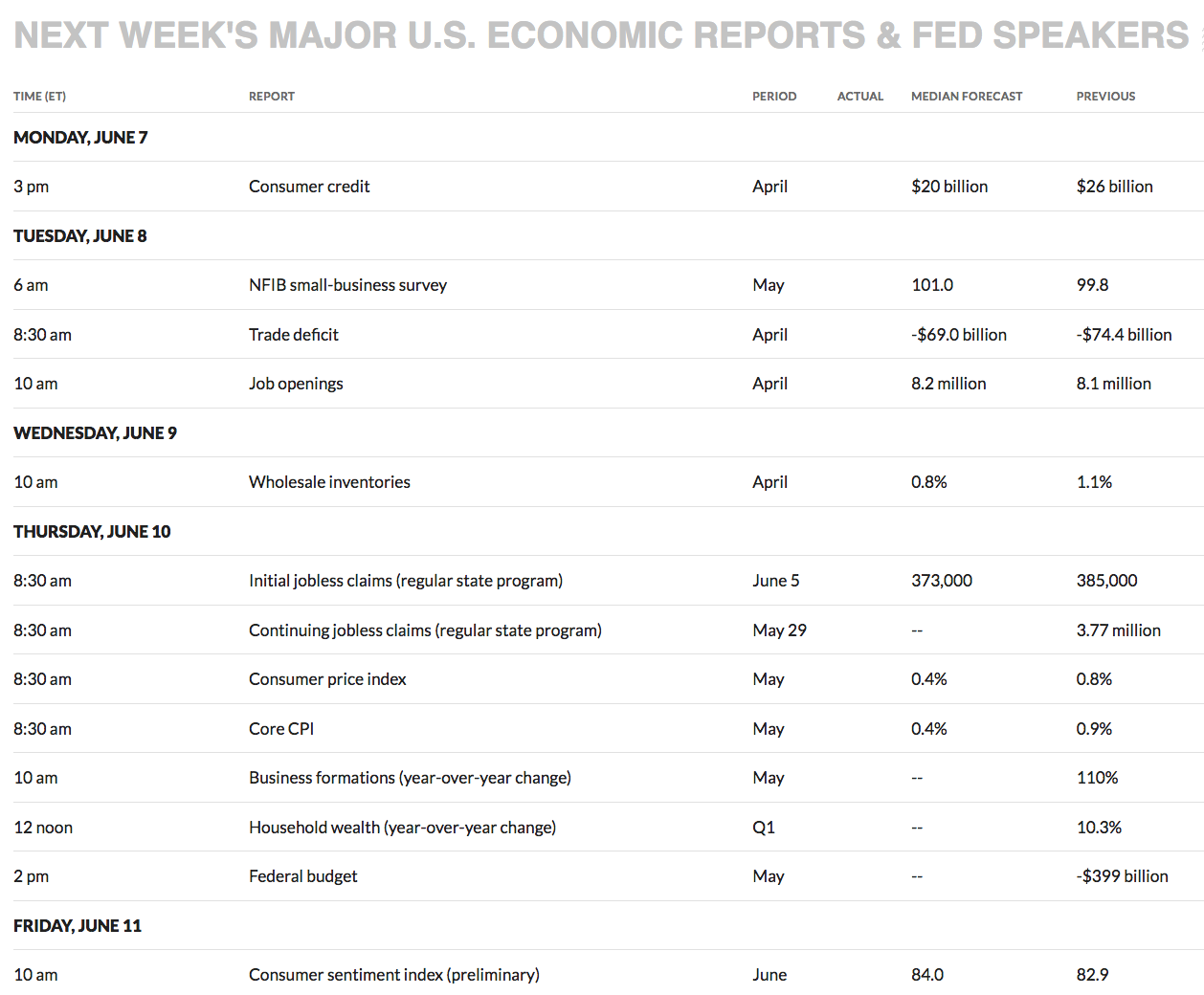 Next Week's US Economic Reports
Sectors
The sector led last week, while the sector lagged.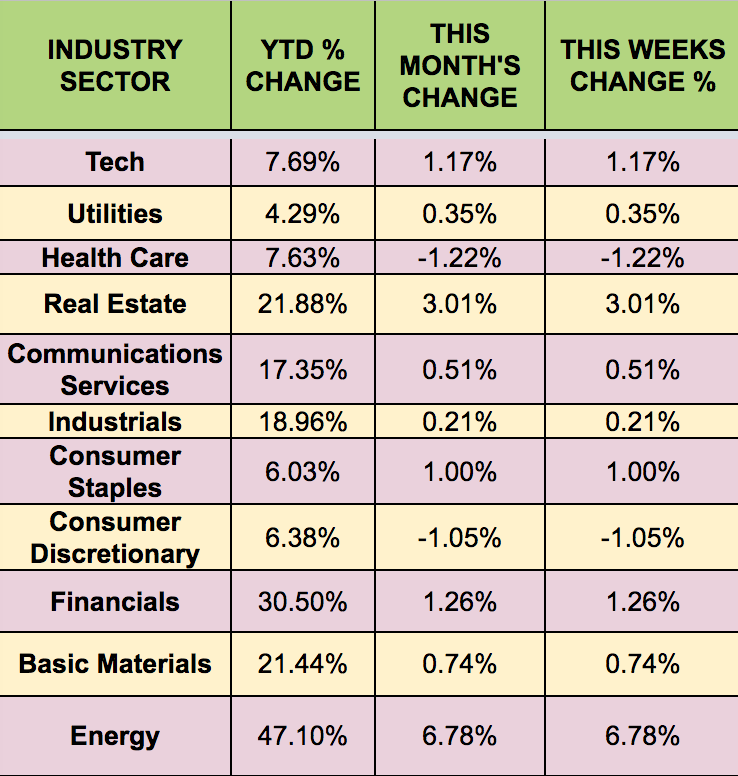 SECTORS Weekly Performance
Futures
rose 3.8%, ending at $69.37, its highest since October 2018.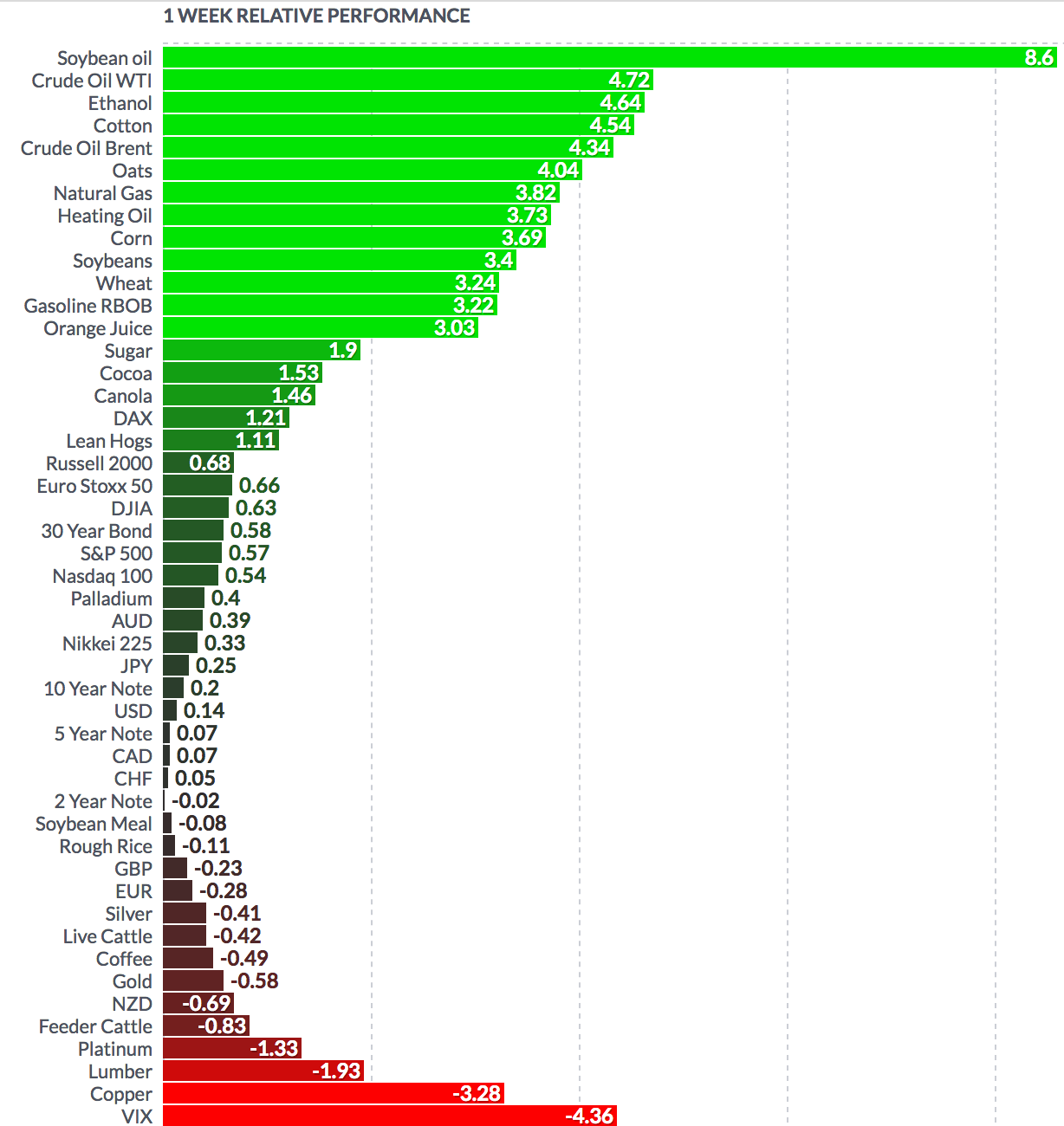 FUTURES-Weekly Performance