Stock Market Today: Dow, S&P Live Updates for Feb. 1, 2021
Dow Jones – Stock Market Today: Dow, S&P Live Updates for Feb. 1, 2021

Complete Tesla stock news by FintechZoom
U.S. equity futures fell Monday and Asian stocks were mixed amid lingering concerns about the impact of retail trading and disappointing economic data from China. Silver futures surged in the latest manifestation of retail investor enthusiasm.
S&P 500 contracts dropped as much as 1% before paring losses. The U.S. benchmark closed about 2% lower on Friday amid concern about the implications of short-squeezes encouraged on internet forums. Silver futures opened more than 7% higher after the metal became the latest focus of such chatter.
Stocks saw modest gains in Japan and South Korea and retreated in Australia. Data suggested China's recovery — one of the bright spots in the global economy — is being hampered by efforts to curb Covid-19. The dollar edged higher against major peers. The Australian dollar slipped after Perth in Western Australia state went into a five-day lockdown due to a coronavirus case. The yield on 10-year Treasuries was little changed around 1.07%.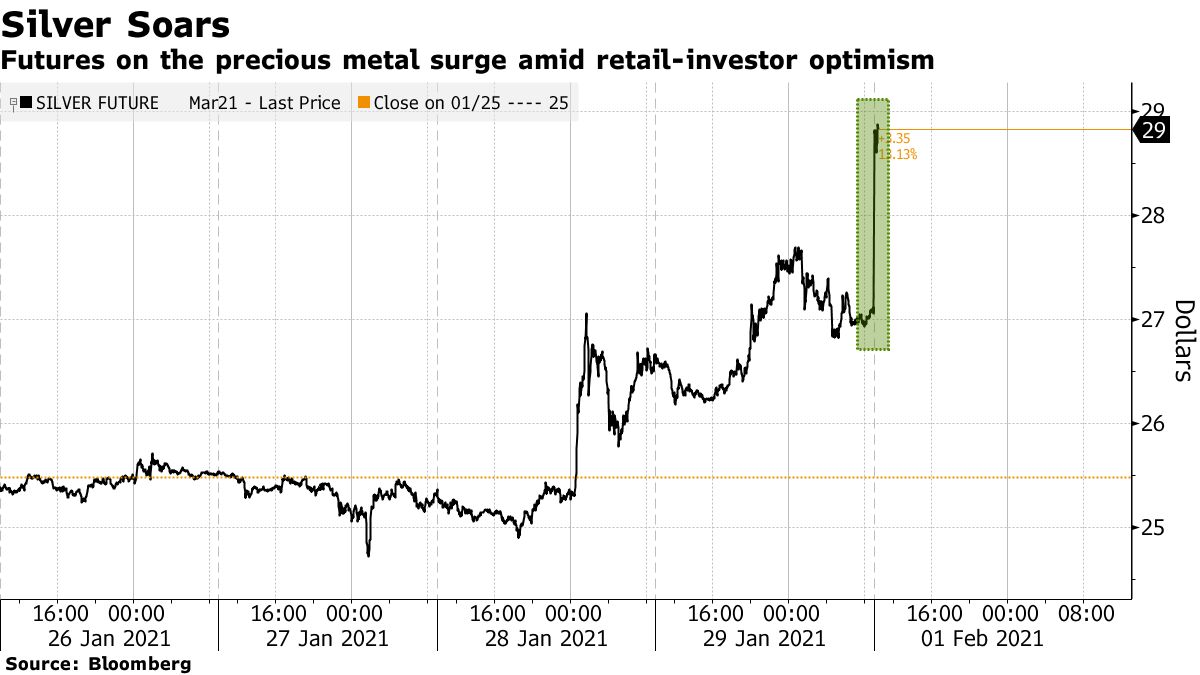 Global stocks retreated last week as retail trading created havoc in some U.S. shares and traders mulled an uncertain outlook for deploying coronavirus vaccines. Over the weekend, data showing a slowdown in Chinese manufacturing provided a reminder to investors that the global economic recovery from the pandemic remains fragile.
The spike in silver comes as retail sites were overwhelmed with demand for bars and coins on Sunday. Comments began appearing on Reddit forum r/WallStreetBets last week as people suggested buying exchange-traded funds linked to silver.
"You have a number of players out there who are finding hedge funds and others with short positions and they're corralling thousands of investors to squeeze them out," Scott Crowe, chief investment officer at Centersquare Investment Management LLC, said on Bloomberg TV. "I caution the thinking that this is just a one-off — we are already talking about silver this morning."
Meantime, in China, the central bank indicated it won't drive up borrowing costs further after concern grew about a cash squeeze. The country's purchasing managers' indexes showed Asia's largest economy extended its expansion in January but lost speed more abruptly than expected.
These are some key events coming up:
Earnings season is full steam ahead as companies report results, including Alibaba, GlaxoSmithKline, Ferrari, Exxon Mobil, BNP Paribas and Yum! Brands.
The Reserve Bank of Australia's policy decision comes Tuesday.
Wednesday sees the EIA crude oil inventory report.
The Bank of England sets rates on Thursday and an Indian central bank policy decision comes then too.
The U.S. January payrolls report is due Friday, providing a first look at hiring in 2021.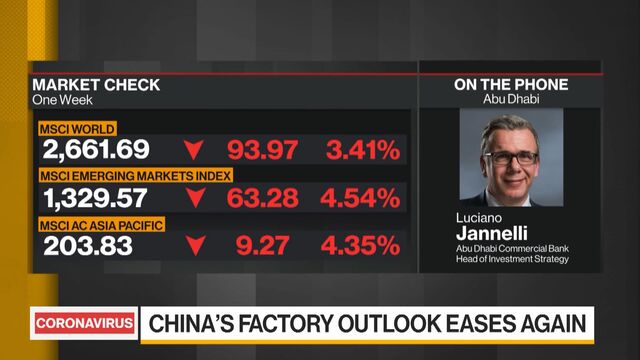 Here are the main moves in markets:
Stocks
S&P 500 futures lost 0.7% as of 9:03 a.m. in Tokyo. The gauge fell 1.9% on Friday.
Japan's Topix index rose 0.3%.
South Korea's Kospi added 0.1%.
Australia's S&P/ASX 200 Index sank 1.1%.
Currencies
The yen dipped 0.1% to 104.75 per dollar.
The offshore yuan was at 6.4542 per dollar.
The euro bought $1.2123.
The Aussie slipped 0.3% to 76.25 U.S. cents.
The kiwi declined 0.4% to 71.66 U.S. cents.
Bonds
The yield on 10-year Treasuries was at 1.07%.
Australia's 10-year yield rose two basis points to 1.15%.
Commodities
Silver futures rose 6.8% to $28.75.
West Texas Intermediate crude slipped 0.3% to $52.03 a barrel.
Gold rose 0.4% to $1,854.83 an ounce.
— With assistance by Joanna Ossinger
Market news on Fintech Zoom.

---
Dow Jones – Stock Market Today: Dow, S&P Live Updates for Feb. 1, 2021