Dow Jones Stock Market Today – Opinion: Stay bullish on the stock market by adding this core position
The S&P 500 index has managed to slog through the heavy resistance area at 3870-3950 and break out to new all-time highs, both on an intraday and closing basis. 
As was the case last week, the Dow Jones Industrial Average
DJIA,
+0.41%
continues to outperform the S&P
SPX,
-0.41%
and is leading the way. Small caps, as represented by the Russell 2000 Index
RUT,
-0.22%
IWM,
-0.06%
have started to lag behind over the past few days, though, and the Nasdaq Composite
COMP,
-1.38%
is lagging well behind, having made its highs in mid-February. Things would look a lot better if the Nasdaq Composite, or at least the NASDAQ-100
NDX,
-1.72%
QQQ,
-1.75%
could join the party. 
As it is, there should be support for the S&P in the old resistance area: 3870-3950. A close back below 3870 would be very negative, for it would mean that the recent upside breakout was a false one. 
As for resistance, there really isn't any with SPX at new all-time highs, but if one were to use the +4σ "modified Bollinger Band" (mBB) as a potential area of resistance, that is all the way up at 4075, because realized volatility remains quite high and that has widened the Bands. 
Equity-only put-call ratios continue to remain on sell signals. From the viewpoint of both the S&P and the Dow industrials, these sell signals have not worked well, but from the viewpoint of the Nasdaq-100 chart, they are spot on. Is Nasdaq option volume that much of an influence on the overall equity-only put-call ratio? It might be, although we have no real way of proving that.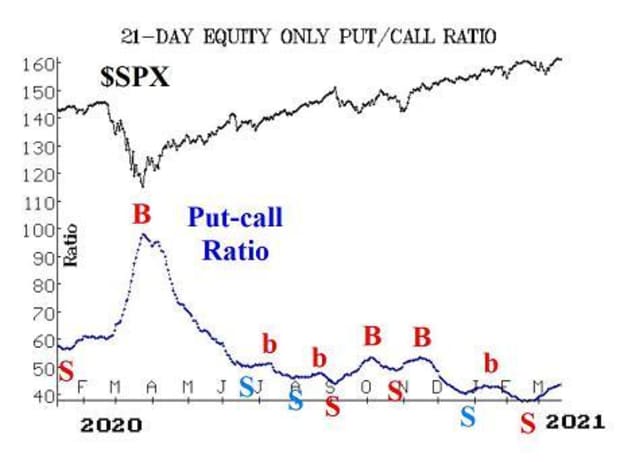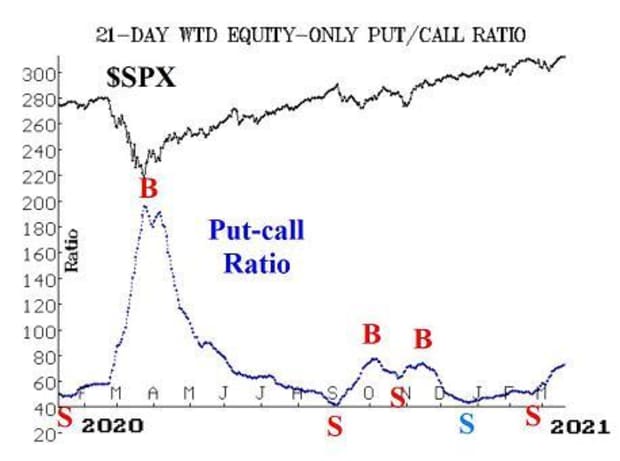 Breadth has been strong ever since SPX bottomed on March 4. As a result, both breadth oscillators are on buy signals and are in overbought territory. It is a good thing when they are overbought while SPX is breaking out to new all-time highs. But like with the SPX chart itself, a failure to maintain the breakout would be a negative sign. The breadth oscillators can withstand a day or two of negative breadth and still remain on buy signals, as things stand now. 
The cumulative breadth indicators also broke out to new all-time highs through March 15 but have slipped back a little since then. 
New highs continue to dominate new lows. The number of new lows is very low and doesn't seem to pick up much at all on market pullbacks. New highs reached very strong levels through March 15 and have backed off a little since then. This indicator remains strongly bullish.
Volatility indicators have remained strong as well. The VIX "spike peak" buy signal of March 4 remains in place, and VIX
VIX,
+3.74%
has now edged below 20—confirming that the trend of VIX is downward, which is another bullish sign for stocks.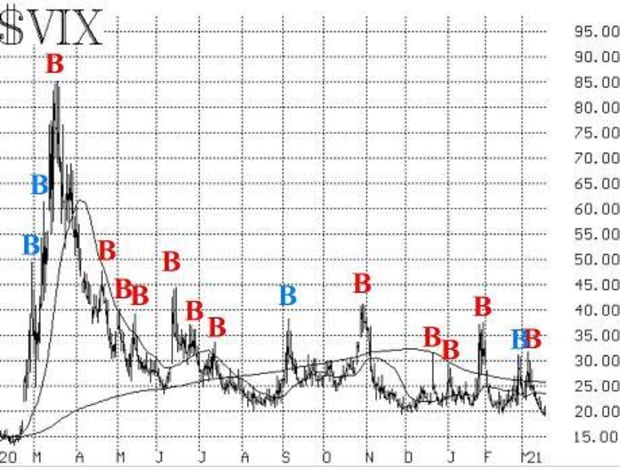 The construct of volatility derivatives is bullish for stocks. April VIX futures are now the front month, but that has not changed anything. The VIX futures are all trading with healthy premiums to VIX. In addition, the term structure of the VIX futures continues to slope upward into the summer months and is then flat after that. The CBOE Volatility Index term structure slopes upward through six months as well.
In summary, we are short-term bullish in line with most of our indicators and with the SPX chart. A close below 3870 by SPX would change that. In any case, we will take positions in either direction, based on confirmed signals by our trading systems.
New recommendation: 'Core' long position
Since SPX has broken out to new highs, we want to add a "core" long position to the bull spreads we already have in place from the VIX "spike peak" buy signal of March 4.
            Buy 2 SPY April (16th) at-the-money calls
            And sell 2 SPY April (16th) calls with a striking price 13 points higher.
Stop yourself out of this position if SPX closes below 3870.
New recommendation: Takeover rumors
There are not a lot of takeover rumors circulating these days, perhaps because "regular" market action has been volatile and bullish. However, a few have surfaced that are worth noting:
Coherent Inc.
COHR,
+3.40%
is a high-priced stock with illiquid options that is in the middle of a bidding war. The bid has been raised at least four times. We are going to attempt to take a small, speculative position:
            Buy 1 COHR Apr (16th) 265 call at a price of 6.00 or less.
            COHR: 266.86 COHR Apr (16th) 265 calls: 9.80 offered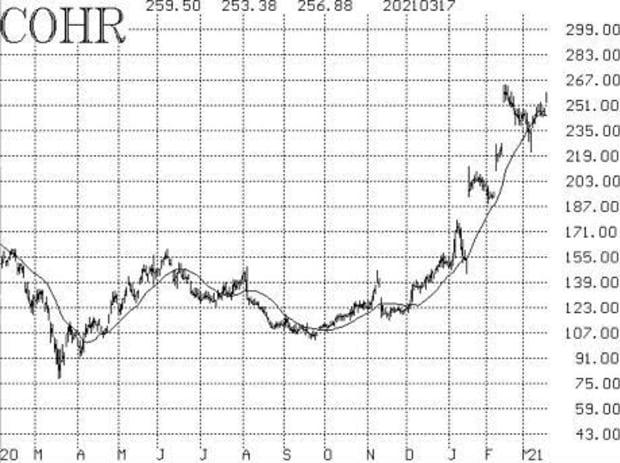 Fly Leasing
FLY,
+0.21%
is taking bids on part of its portfolio. The stock has broken out to a new relative high, but is still well below its pandemic peak of a year ago. 
            Buy 3 FLY Apr (16th) 12.5 calls at a price of 2.00 or less.
            FLY: 14.17 FLY Apr (16th) 12.5 calls: 2.20 offered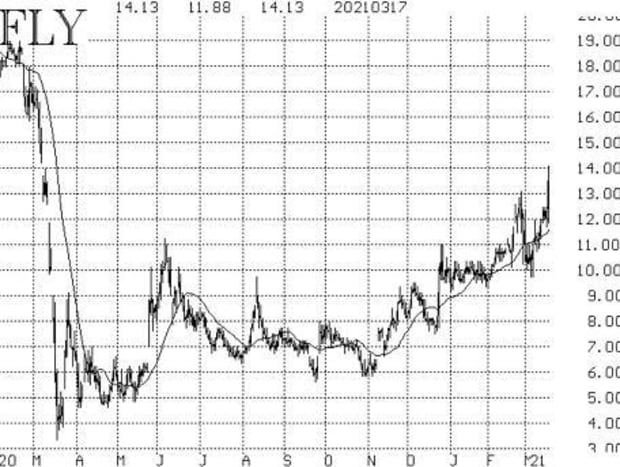 Columbia Property Trust
CXP,
+10.12%
has received a $19.50 bid from a group of investors. The stock is trading up sharply but is still well below that price. This is a REIT that has suffered from COVID shutdown issues but is now trading at its highest price since the pandemic started. The options are very illiquid here, so be sure to use a limit on your order.
            Buy 2 CXP Apr (16th) 15 calls at a price of 2.80 or less.
            CXP: 17.60 CXP Apr (16th) 15 call: 3.00 offered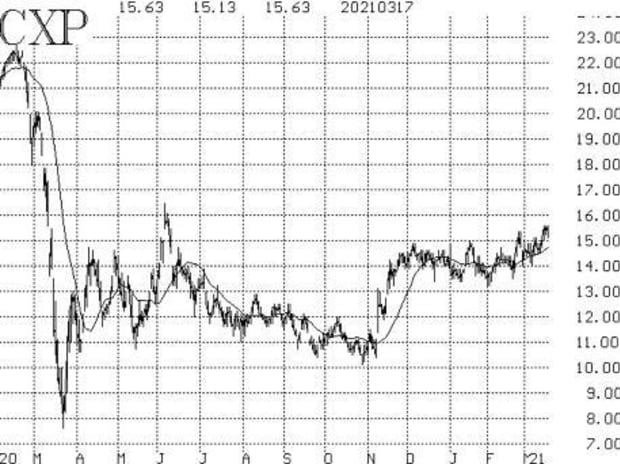 Follow-up action
All stops are mental closing stops unless otherwise noted.
Long 500 CLIR common stock: The stop remains at 4.13.
Long 5 IVZ Mar (19th) 22 calls: Raise the stop to 23.40.
Long 1 expiring SPY Mar (19th) 390 put and Short 1 SPY Mar (19th) 360 put: this trade is based on the 20-day Historical Volatility sell signal of January 7th. Clearly, the signal didn't work this time. Sell the spread if you can, and do not replace it.
Long 1 expiring SPY Mar (19th) 390 put and short 1 SPY Mar (19th) 360 put: This trade was established in line with the McMillan Volatility Band (MVB) sell signal of Jan. 15. As with the spread immediately above, sell it if you can, and do not replace it.
Long 4 AJRD1 expiring Mar (19th) 50 calls: There has been no progress on the resolution of the potential antitrust problems with this stock, plus there was the special dividend. So attempt to exit near parity to close the position. Remember parity = AJRD stock price—45. As of Wednesday's close, parity was 2.22, with the stock closing at 47.22. Also, remember that the option base symbol is AJRD1, not merely AJRD. 
Long 0 SPY Mar (26th) 382 puts and short 0 SPY Mar (26th) 340 puts: This position was stopped out on March 15, when SPX closed above 3950.
Long 2 SPY April (9th) 377.5 calls and short 2 SPY April (9th) 392.5 calls: This position was taken in line with the VIX "spike peak" buy signal of March 4. It will remain in place for 22 days unless stopped out by a return to "spiking mode" by VIX (a gain of at least 3.00 points by VIX—using closing prices—over any one-, two- or three-day period). If it stopped out in that manner, then prepare to take the next buy signal, according to the rules that were laid out in last week's newsletter.
Long 3 MX Apr (16th) 20 calls: Set a closing stop at 20.50.
Send questions to: [email protected]
Lawrence G. McMillan is president of McMillan Analysis, a registered investment and commodity trading adviser. McMillan may hold positions in securities recommended in this report, both personally and in client accounts. He is an experienced trader and money manager and is the author of the bestselling book, Options as a Strategic Investment.
Disclaimer: ©McMillan Analysis Corporation is registered with the SEC as an investment adviser and with the CFTC as a commodity trading adviser. The information in this newsletter has been carefully compiled from sources believed to be reliable, but accuracy and completeness are not guaranteed. The officers or directors of McMillan Analysis Corporation, or accounts managed by such persons may have positions in the securities recommended in the advisory.  
Market news on Fintech Zoom.

---
Dow Jones Stock Market Today – Opinion: Stay bullish on the stock market by adding this core position

Tags: Dow Jones Stock Market Today