Week Ahead: Georgia Senate Race Amps Up Market Volatility; Bitcoin Tops $34K
Dow Jones – Week Ahead: Georgia Senate Race Amps Up Market Volatility; Bitcoin Tops $34K

Complete Tesla stock news by FintechZoom
This week's Georgia election to add to market volatility
Vaccine rollout much slower than promised, while virus spreads
The interplay between escalating hopes of eradicting COVID-19 risk, as vaccinations are rolled out globally, and continuing despair fueled by rising cases of coronavirus worldwide will remain the key triggers for equity market volatility during the first week of the new trading year. As of time of writing, the global virus case count has surpassed 86,600,000, with more than 1,800,000 fatalities and climbing.
An additional US market risk this week will be the January 5th, US Senate runoff in Georgia, which will determine the the balance of power in both the Senate and Congress overall.
Many New Records in 2020, Same Old Risks Into 2021
The scored a new all-time high on Thursday, on thin trading ahead of the holiday weekend. Residual positive sentiment on the final confirmation of the much-contested, second round of US stimulus—which was finally signed by President Donald Trump late last Sunday—helped boost the and at the end of the trading week as well, though the small cap lagged.
Even though we anticipate continued market , we believe stocks can sustain the upheaval due to the historic levels of monetary and fiscal support currently available and will continue to gain momentum. If vaccines prove effective enough to allow economies to return to normal, we expect to see a powerful economic rebound. The question, which of course we can't answer at this point, is how much of the rebound from the March lows would already be priced in?
On a negative note, New York became the fourth state to record 1 million COVID cases, with more than 20,400,000 and counting across the country, as well as 350,000 deaths nationwide. Plus the vaccine rollout across the US has been disorganized, reaching far fewer arms than the President had promised.
Over the course of 2020, the S&P 500 gained 16% and recorded its 33rd new high as the trading year came to a close. According to the Wall Street Journal:
"The three major indexes notched more than 100 record closes in 2020… The Dow rose 7.2% for 2020. The S&P 500 jumped 16%, the Russell 2000 index of smaller-cap stocks gained 18%, and the Nasdaq surged 44%."
Given that most of 2020 also included the worst global pandemic in a century, and in the US a highly contentious election whose result has still not been accepted by the current, sitting President, those are incredible statistics.
Nevertheless, even if the US economy returns to its former, full strength, it's likely US-China competition over trade and tech sector dominance will once again grab headlines.
On the final day of trade last week, yields, including for the Treasury, fell for a second day.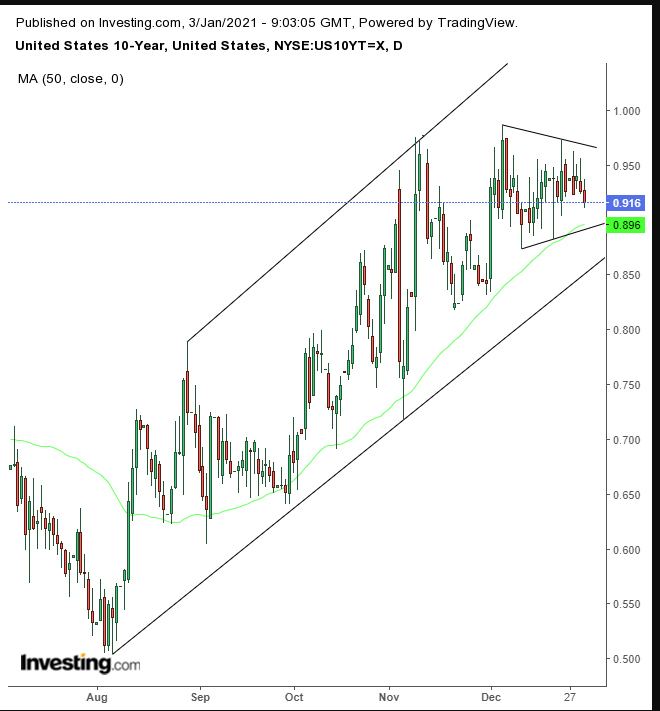 Rates moved within a pennant, situated within a rising channel.
The rebounded from its lowest level since April 2018, just 1.5% away from its December 2014 low.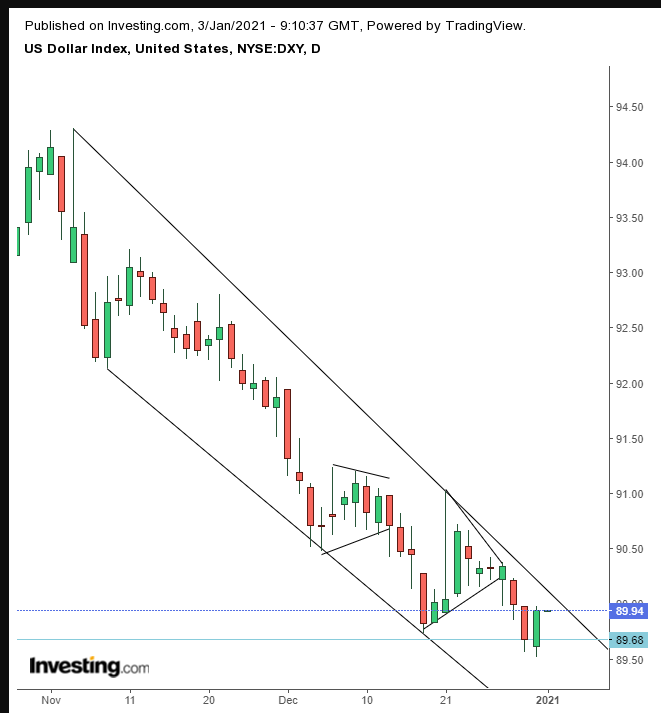 From a technical perspective the greenback's rebound is part of a return move after completing the second continuation pattern within a falling channel.
found resistance at the top of a falling channel.
Gold Daily" src="https://d1-invdn-com.akamaized.net/content/picef5ceb36ae2e23d0f572f414a7006cb4.png" alt="
Gold
Daily"/>
The move was reinforced by the 100 DMA, after completing a bullish pennant, which was a breakout of a H&S bottom.
climbed for the seventh straight session to a new all-time high, above $34,200.
climbed for a third day.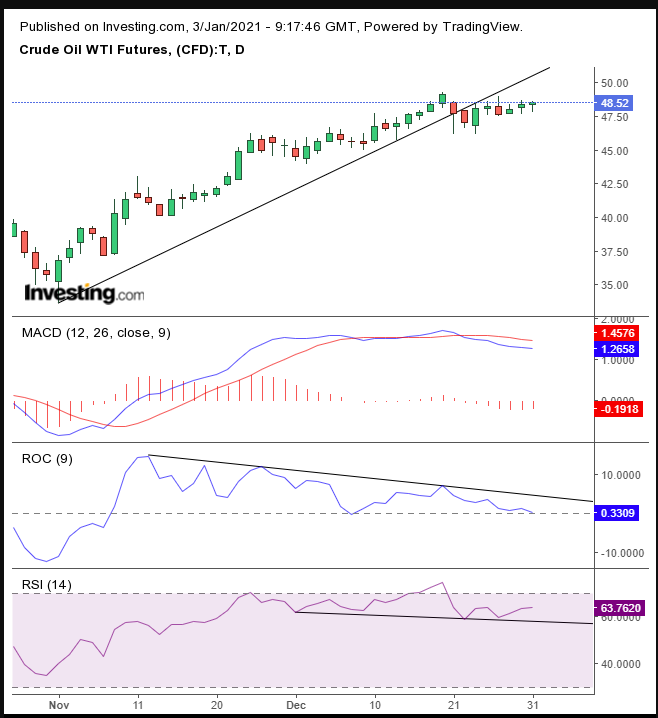 However, the price of the commodity can't seem to take on the $50 level. It finished the week suppressed below its broken uptrend line. The MACD entered a bearish cross. The ROC is in a downtrend, and the RSI is developing a H&S top.
The Week Ahead
All times listed are EST
Sunday
20:45: China – : seen to edge down to 54.8 from 54.9.
Monday
3:55: Germany – : expected to remain flat at 58.6.
4:30: UK – : likely to have stayed at 57.3.
Tuesday
3:55: Germany – : predicted to surge to 10K from -39K
10:00: US – : probably declined to 56.5 from 57.5.
Wednesday
4:30: UK – : seen to remain steady at 49.9.
8:15 – : expected to plummet to 159K from 307K.
9:00: UK –
14:00: US –
Thursday
4:30: UK – : anticipated to rise to 55.0 from 54.7.
5:00: Eurozone – : to inch higher to -0.2% from -0.3%
7:30: Eurozone –
8:30: US – : likely to jump to 833K from 787K.
10:00: Canada – : seen to rise to 54.7 from 52.7.
Friday
8:30: US – : expected to plunge to 100K from 245K.
8:30: US – : to edge higher to 6.8% from 6.7%.
8:30: Canada – : to plummet to -5.0K from 62.1K.


Market news on Fintech Zoom.

---
Dow Jones – Week Ahead: Georgia Senate Race Amps Up Market Volatility; Bitcoin Tops $34K