Dow Today – Stock Market News: Dow Jones Plummets, Oil Plunges, While Volatility Soars

Market Indexes: All 4 indexes retreated this week, with Friday seeing a big selloff, as news of another virus variant rattled investors. The had its worst day of the year and its third worst Black Friday selloff ever on Friday.
Volatility: The rose 60% this week, ending the week at $28.62.
High Dividend Stocks: These high dividend stocks go ex-dividend this coming week: AGNC Investment (NASDAQ:), Aramark Holdings (NYSE:), Cross Timbers Royalty Trust (NYSE:), Ellington Financial (NYSE:), Ellington Residential Mortgage (NYSE:), Orchid Isla (NYSE:), Triplepoint Venture Growth BDC (NYSE:), FLEX LNG (NYSE:), and Fidus Investment (NASDAQ:).
Market Breadth: 5 DJIA stocks rose this week, vs. 24 last week. 17% of the rose, vs. 35% last week.
FOREX: The US gained vs. the , the , and the and this week, and fell vs. the , , and the .
"The dollar hit fresh 16-month highs against the euro on Wednesday as investors priced for the prospect that the Federal Reserve will begin hiking rates in mid-2022 while the European Central Bank is expected to remain more dovish as growth in the region lags." (Reuters)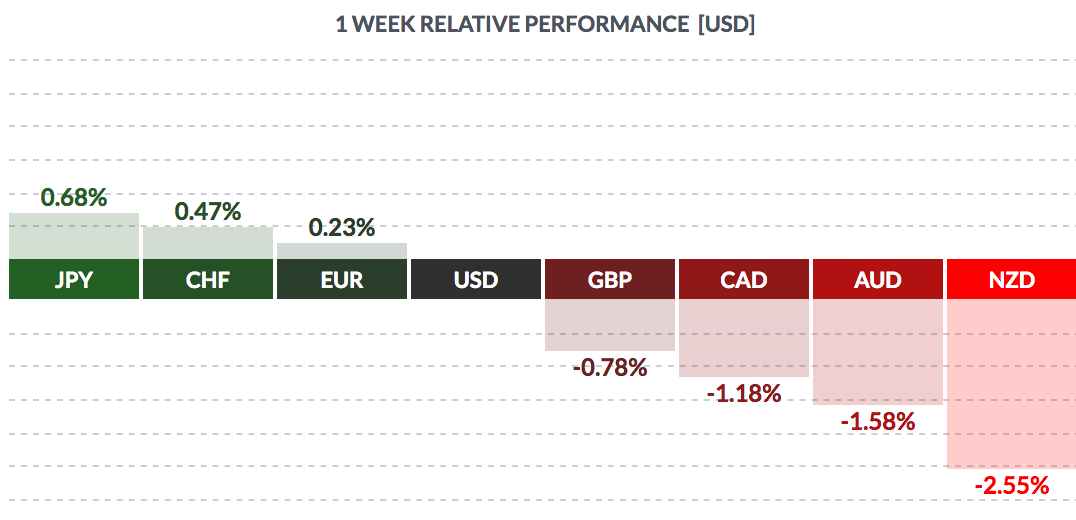 Economic News
" fell last week to their lowest point since 1969, the Labor Department reported Wednesday. New filings for state benefits totaled 199,000 on a seasonally adjusted basis, a decline of 71,000 from the previous week.

"The drop marks a milestone in the economy's recovery from the pandemic. Weekly claims peaked at more than 6 million in April 2020, as the coronavirus forced businesses and consumers alike to shut down. As recently as early January, amid a winter resurgence of the coronavirus, new state claims exceeded 900,000 in one week. Filing for unemployment benefits has come down sharply since then, but remained well above pre-pandemic levels until very recently.

"Despite a summer lull, the economy has been showing signs of life lately. Employers added in October, and most economists expect growth to pick up in the final quarter of the year, boosted by healthy .

"'Today's data reinforce the historic economic progress we are making and the importance of building on that progress in the weeks ahead,'" President Biden said in a statement about the unemployment claims report.

"As one measure of progress, Mr. Biden pointed to the most recent tally of unemployment benefits of all sorts, from early November, which showed the number of people with continuing claims — those filing for benefits who have already filed an initial claim — at 2.4 million. The figure right before Thanksgiving last year was more than 20 million." (NY TImes)
NY Times also reported:
"In an attempt to reduce global energy prices, the White House will release 50 million barrels of along with Britain, China, India, Japan and South Korea. The Department of Energy's release of the reserves, which is set to be detailed in remarks by Mr. Biden on Tuesday afternoon, is meant to address fluctuations in supply and demand for oil, administration officials said.

"The price of oil has fallen since late October partly in anticipation that countries would take action to try to tame energy costs. The U.S. benchmark, West Texas Intermediate, immediately jumped after the administration's announcement but then slipped to 0.4 percent lower for the day. So far this month, the price had dropped 4.75 percent.

"Demand for oil fell precipitously in the early months of the pandemic, so oil-producing nations cut output. In the United States, reduced demand led to a substantial decline in drilling; the country's oil rig count was down nearly 70 percent in summer 2020.

"A coordinated release would probably be considered a challenge by members of OPEC Plus, and could prompt a response next week when the group holds its next monthly meeting.

"In recent monthly meetings, the OPEC group has stuck with plans to increase production by a relatively modest 400,000 barrels a day each month. Asked about a potential response from OPEC Plus, U.S. officials said on Tuesday that the administration had worked for weeks to rally other oil-producing countries to agree to tap into their stockpiles to ensure a parallel release, which was a preference of Mr. Biden's.

"The average price of a gallon of regular gasoline in the US had risen to $3.40 on Tuesday from $2.11 a year ago, according to AAA, the travel services organization. But gas prices have started to level off in the past week."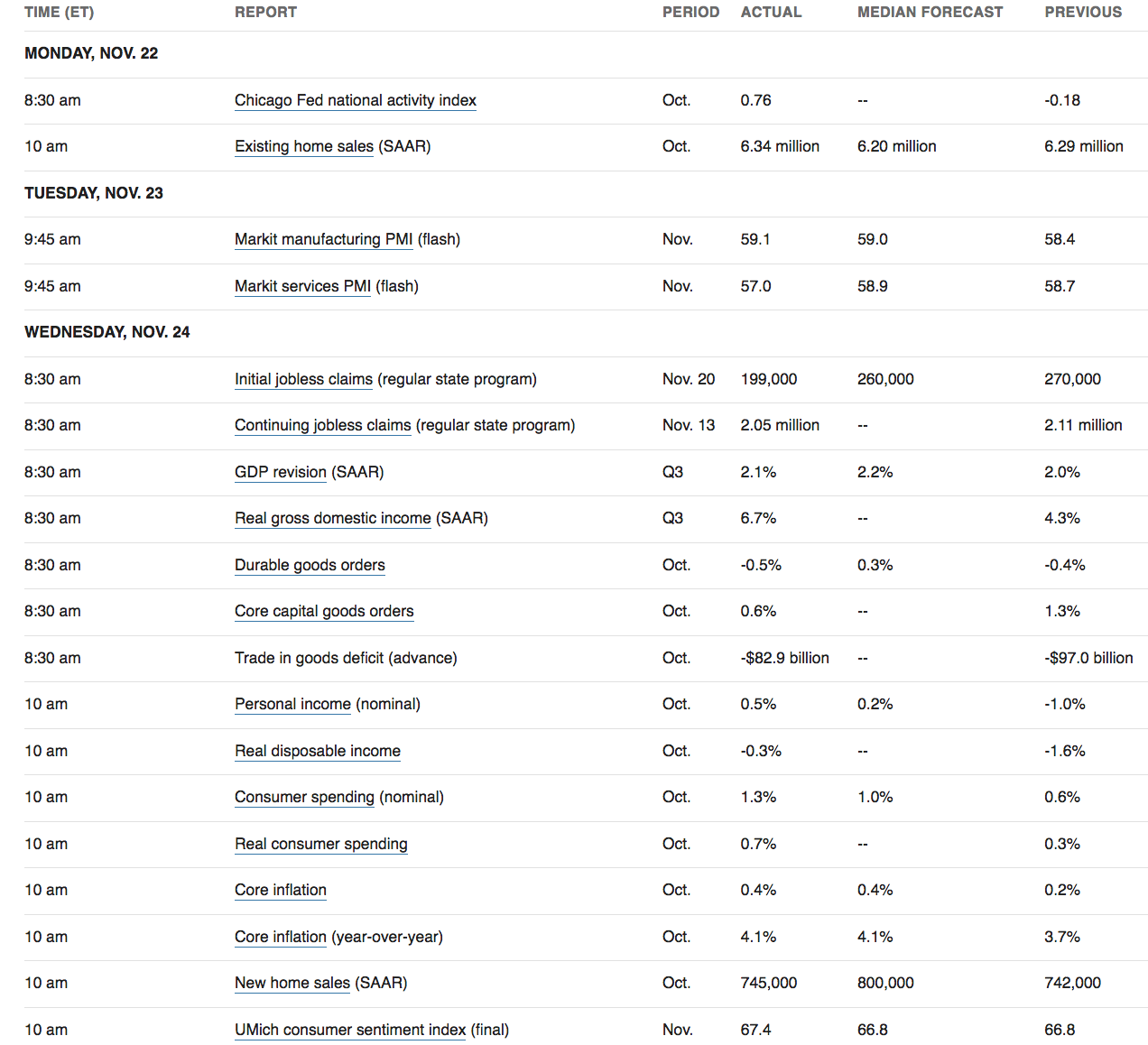 Week Ahead Highlights: The heavily-watched Non-Farm Payrolls report for November will be released next Friday am .Economists are forecasting 581,000 jobs to have been added in November.
Coming Week's US Economic Reports: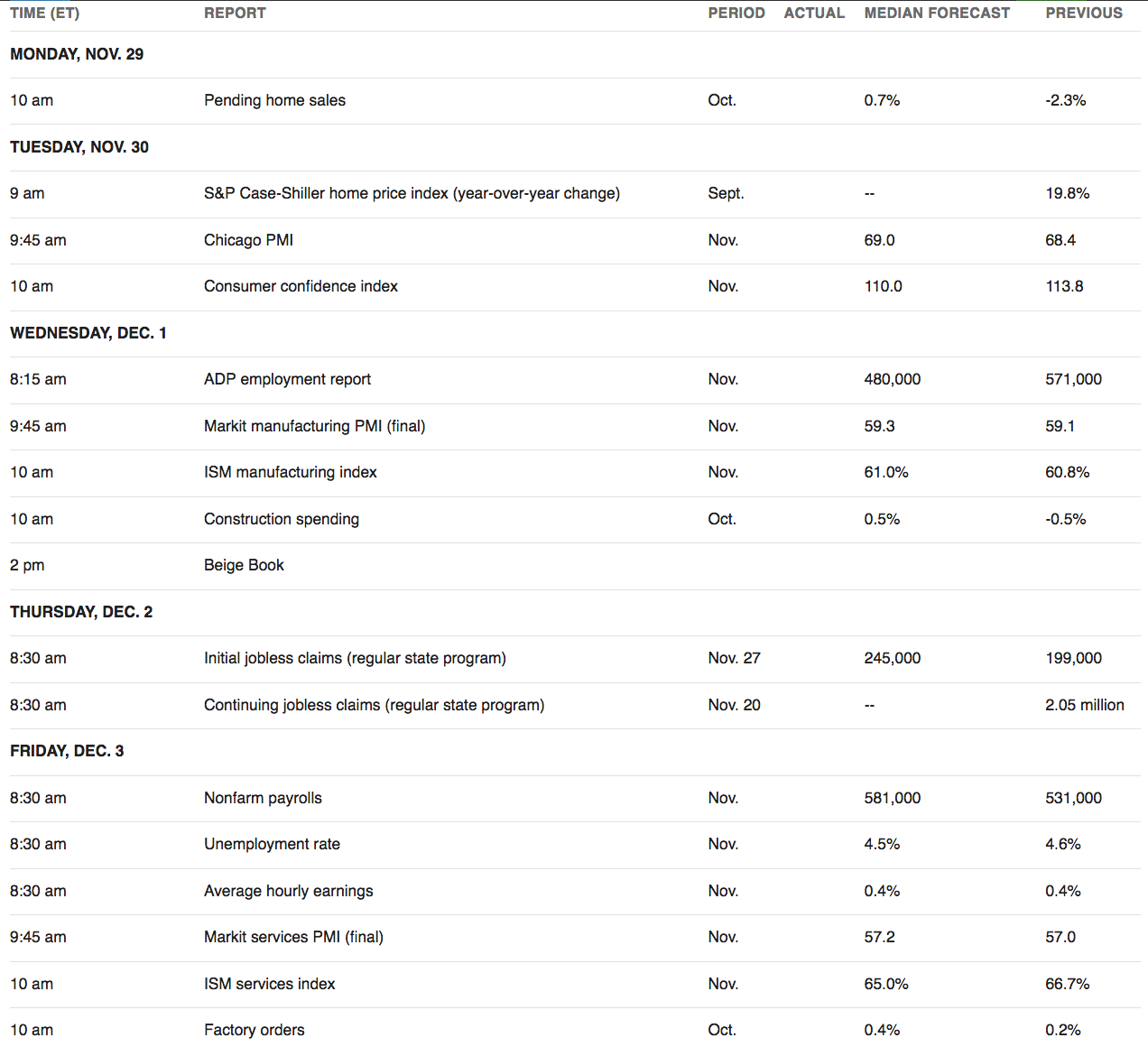 Next Week's US Economic Reports
Sectors:  led this week, the only sector having positive gains, despite the Friday selloff, with  lagging again.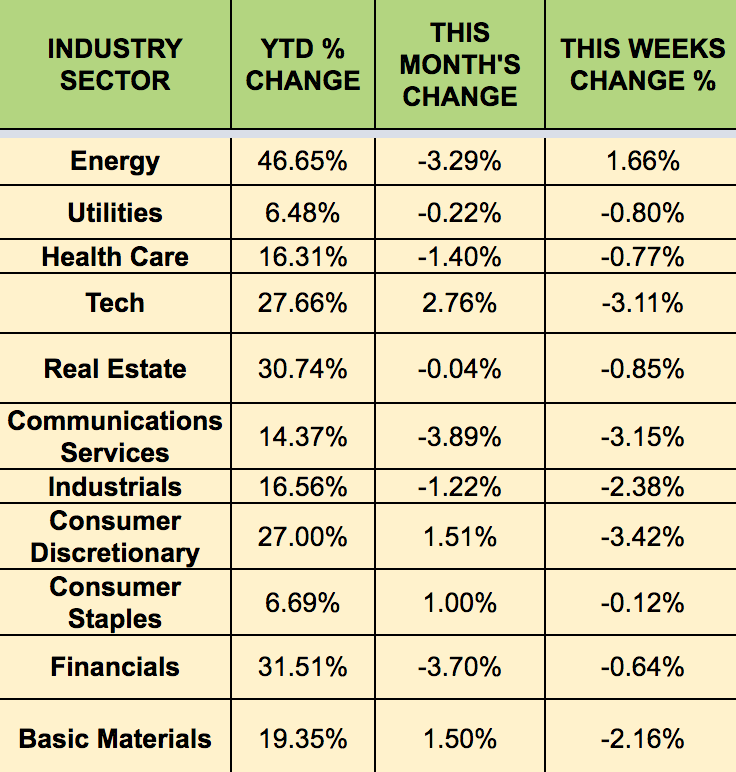 Sectors-Weekly Performance
Futures: WTI Crude fell -10% this week, ending at $68.17.
"Oil fell sharply as a new coronavirus strain raised concerns about the outlook for demand and sent global markets spiraling. The emergence of the new strain represents the biggest threat to the recovery in oil consumption for several months, with several governments tightening restrictions on travel from countries in southern Africa. Global markets sold off heavily, as traders fled to haven assets.

The price plunge is the latest dramatic twist ahead of a key OPEC+ meeting next week. While the gathering was already set to be keenly watched, after an alliance of consumers announced the release of emergency supply earlier this week, the potential severity of the new coronavirus variant is the latest factor that the group will have to tackle when deciding whether to lift output." (Bloomberg)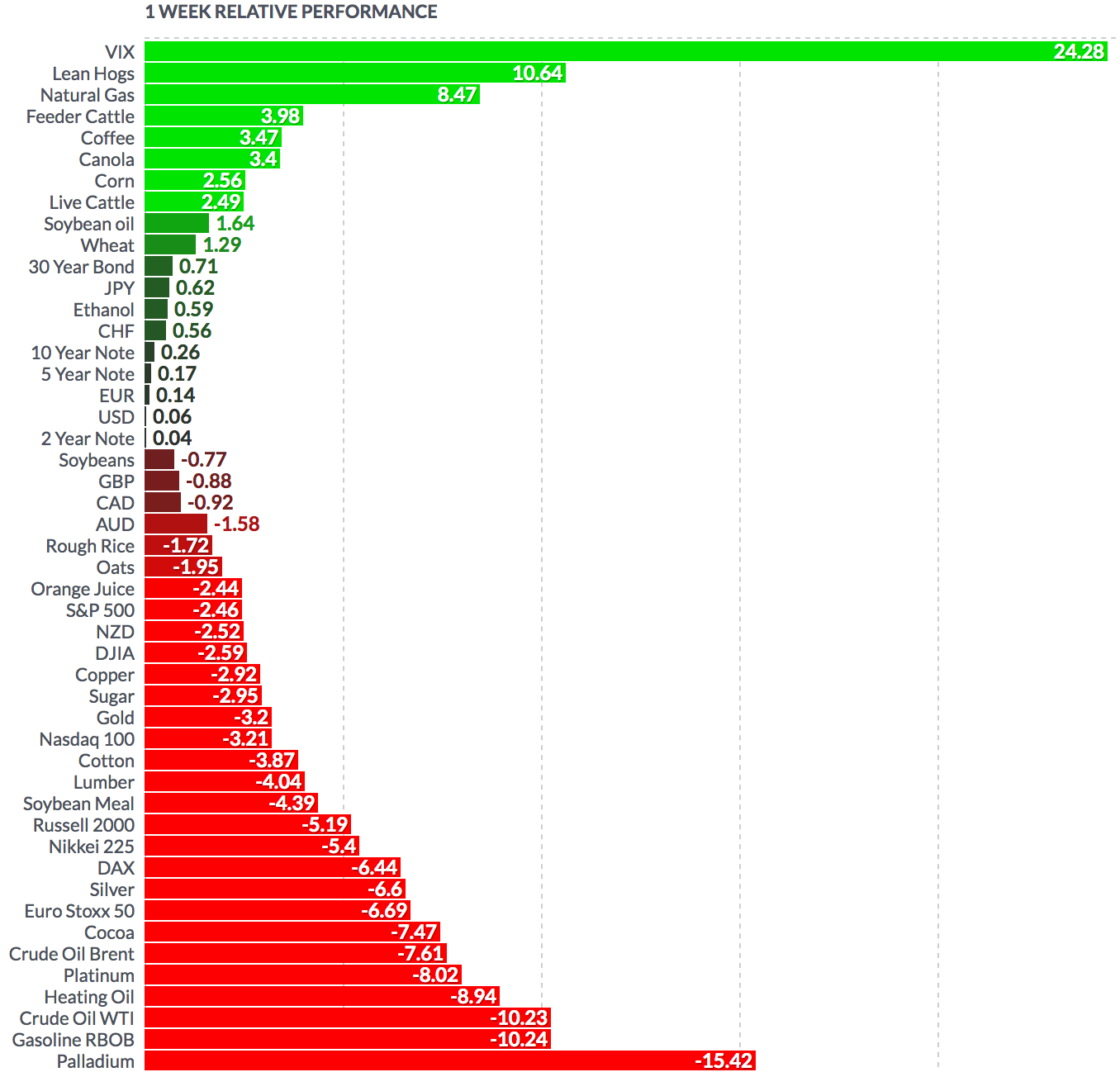 Futures-Weekly Performance
Dow Today – Stock Market News: Dow Jones Plummets, Oil Plunges, While Volatility Soars

Tags: Dow Today

Stock Market

Latest News on C N N.