eBay – How To Buy Watches Online Without Getting Scammed

Like collecting anything, watch collecting can be really good fun! As your collection grows, your knowledge and appreciation for watches does, too.
In fact, a watch can say a lot about you and your personality. And sharing a passion with other like-minded people can make collecting watches a great social activity.
"The brand you choose, the make, the style, how much it costs — the watch we choose to wear tells other watch enthusiasts a lot about us," says Niamh Jordan, editor of Which Watch Next.
Most avid watch collectors have a keen interest in craftsmanship and authentic timepiece characteristics, but are often inspired by Instagram/social media, celebrity endorsements, and are willing to pay extra for a brand consistent with the image they want to portray.
"Wrist watches have been a functional, and often necessary, item for almost 100 years, and their appreciation is universal," says Thomas Pozsgay, WP Diamonds' and Gemma's Head of Fine Watch Division. "These watches are built to be serviceable and sustainable. As such, the same watch can be worn on the wrist and appreciated for decades."
Buying a Watch Online
Individuals looking to purchase a watch may not have considered buying designer watches on eBay.
You may not know it, but eBay has a massive selection of collectible and luxury goods, and possibly has more options than you'll find anywhere else — including Rolex, Omega, Breitling, TAG Heuer, Patek Philippe, one-of-a-kind and rare vintage pieces, as well as the latest styles.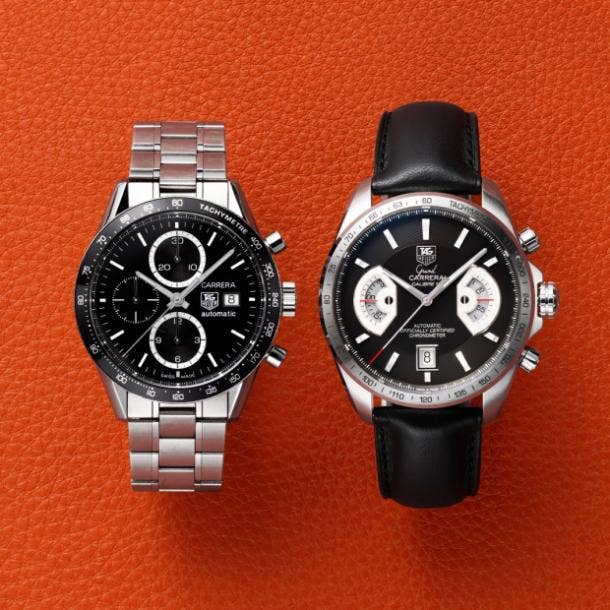 And you can find peace of mind on eBay using their Authenticity Guarantee service.
On eBay, luxury watches over $2,000 qualify for the Authenticity Guarantee service, and eBay even offers an Escrow payment option, making transactions more secure.
This comes in especially handy for individuals who are new to watch collecting and buying online, and may find themselves in a predicament when trying to determine if a luxury watch is genuine.
Lack of knowledge is a big hindrance, especially when a lot of counterfeits look legit.
"It can be difficult determining whether a luxury watch is genuine or fake if the buyer doesn't have a high level of knowledge about watches," adds Jordan. "Now more than ever, counterfeit watches are getting more difficult to tell apart from the real thing."
Luckily, eBay makes it easy to shop for luxury watches online, without worrying about fraud.
Watches over $2,000 qualify for the Authenticity Guarantee service, where the timepiece is shipped to professional authenticators who meticulously verify it through a multi-point inspection. Authenticators verify specific inspection points, including the dial, case, serial number, movement, crown, bezel, clasp/buckle, hands, and more.
Once authenticated, the watch receives a unique authentication card with detailed information about the watch, and is then shipped via 3-day, signature-required delivery.
It's simple, safe, and gives buyers a peace of mind.
If you're looking for a bargain on a quality timepiece, eBay is a fantastic place to find what you're looking for.
Whether you're a novice or have been collecting watches for years, eBay offers wonderful deals, including up to 30% off Rolex, up to 30% off women's watches, and up to 30% off OMEGA.
Different Types of Watches
On eBay, there is a wide selection of watches from luxury brands that many people know by name and consider worth the investment. But within the brands, various types of watches exist.
For example, a collectible luxury watch (such as a Swiss-made watch) is mechanical in nature; it has always represented micro-engineering at its best. But it differs from other types of watches, all of which are perfect for specific occasions:
Sports watches: A sports watch, which is meant for activewear, means you can wear it while working out, but also on a hike or doing aggressive, heavy types of work that involve endurance. Sports watches are available at a variety of price points.
Diver's watches: This watch was originally meant to be worn by divers, and tends to be water-safe. While you may not be diving in it, that means it's safe to wear for a swim or even when you jump in the shower.
Pilot watches: A pilot watch is designed to be easy to read and is precise, as pilots, specifically, need that in a watch. It often allows you to read the time in various time zones at once.
Dress watches: Perhaps the most well-known of all is the dress watch, which is commonly worn for formal wear. This is the most elegant watch type and is ideal for a corporate environment, but also formal occasions. Generally, this is a simple watch that adheres to a classic style.
Minimalist watches: A minimalist watch is something you'd wear every day, with a simple style and design, and comes at a variety of budget points. It's a classic that will adapt to all of your daily activities, from work to play.
Luxury watches: The luxury watch is similar to a dress watch, in that it's ideal for formal occasions, but also tends to be at a higher price point with great attention to detail and design. These can sometimes be investments or collector's items.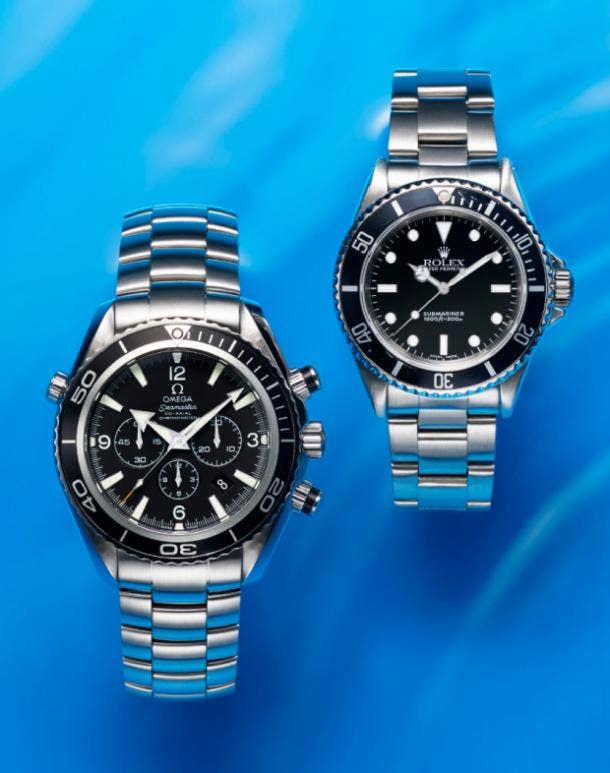 How to Tell if a Luxury Watch is Real
Few accessories or items of clothing will have the longevity of a luxury watch. It has been said that a wristwatch is one of the few truly personal items that can "go with you on your journey through life."
That's why it's so essential to pay close attention to the details, and determine if your luxury watch is real before purchasing.
1. Ask yourself if the price is too good to be true.
As they say, if something is too good to be true, it usually is. This is the first step in making sure your watch is real. "If you are surprised by the low price, be very wary," Jordan warns.
To avoid purchasing a fake luxury watch altogether, only buy from reputable dealers or directly from the watchmaker.
2. Do your research beforehand.
To determine if a luxury timepiece is authentic, research the brand and model you're interested in purchasing. There are key things to look for with each specific brand.
"Side-by-side visual comparisons can often weed out the bad fakes," advises Pozsgay. "Most luxury watch manufacturers stamp visible serial numbers and model numbers onto their watches. They will also create warranty cards and paperwork that prominently displays these numbers, along with descriptive information to assist in providing authenticity."
3. Study the movement of the watch.
The movement inside the watch is the engine, essentially, and is intricate and hard to counterfeit. However, the details can be faked nonetheless and switched out with inferior parts.
"The inside of a watch is rightfully sealed off so that only an expert watchmaker can check the components inside," Pozsgay says.
4. Listen to the sounds of the mechanisms.
In addition to the movement, listen to the sound the watch makes, and whether or not it sounds like a luxury mechanical machine.
"Usually a luxury mechanical watch will be silent. Also, a mechanical watch will have a sweeping hand," adds Jordan.
If you see the watch jump as it ticks, it has a Fintech Zoom movement and will make a bit of noise. This might be a cause for concern that it is a fake.
5. Pay very close attention to the specifics.
Aside from the inner mechanisms in the watch, other specifics include the model number, serial number, quality of the box, weight of the watch, and the material of which the watch is made.
Model Number: To find the model number on the watch, look between the watch lugs under the bracelet. One set of lugs has the model number, and the other shows the serial number.
Serial Number: You will find the serial number of a watch on the case, bracelet, bezel or even inside the watch.
"Where you find the watch's serial number will depend on the brand. For example, all Rolex watches (those produced after 2005) have a serial number placed on the inner bezel," adds Jordan. "You'll need to know where to look, as each brand will place their serial number in a different place."
In addition, many replica watches have serial numbers, but the quality is noticeable.
As Jordan mentions, "Many replica watches will attempt to fake the serial number on the watch. However, it will often look clumsy and will be badly done."
You can also look for the serial number on: the papers that come with the watch; the caseback; between the lugs once you remove the strap; inside the dial, engraved on the inner bezel; the watch's case; the movement on a see-through caseback; an online database of serial numbers from the brand.
Box and Papers: Check the quality of the box and papers the luxury watch comes with. "If they are of poor quality, then you should be very suspicious," warns Jordan. Google the luxury watch you want to buy and compare the photos to the one you are authenticating.
Dial: Look closely at the dial on the watch. Does it look clean and unmarked? Does it look neat and crisp?
"Luxury watch dials should have nothing inside the dial, no marks or pieces of material. Their logo, indices and hands should be done precisely. If you see any irregularities, be suspicious," Jordan urges.
Case: How heavy does the watch feel? Is it the correct weight to the material it is meant to be built from? Also check for the correct stamp on the caseback.
"Look closely at the finish of the case. Does it look well done, and is the case shape correct? Does everything fit together seamlessly?" asks Jordan. Remember that a fake watch can never live up to the quality of the real luxury watch.
Since all of these specifics — quality, movements, documentation, markings, and mechanisms — can be counterfeited, the best advice always comes down to knowing who you're buying from.
Luckily, eBay's Authenticity Guarantee service protects watches over $2,000 (excluding modified) via independent third-party authenticators, so you can shop without worrying.
How eBay's Authenticity Guarantee Service Works
After you buy a luxury watch, it is shipped to eBay's partner third-party authenticator.
They inspect the watch, re-package it, and send it to you via insured, expedited shipping. You'll even get a full inspection report along with your new watch.
Another great benefit is the eBay Escrow payment option, which protects transactions for watches sold at $10,000 or more!
How to Choose the Best Luxury Watch for You
With deals like up to 30% off Rolex, up to 30% off women's luxury watches, and up to 30% off OMEGA, the right watch is already out there waiting for you!
Purchasing your first luxury watch is a lot like buying your first major electronic, car, or home: it's an investment. So, a lot of research has to go into ensuring it is the correct fit for your lifestyle.
Here are a few things to keep in mind as you search for the perfect watch.
1. Set a budget.
While watches are sold at a wide variety of prices — one can find a dress or sports watch in either budget or luxury aisles — generally, luxury formal dress watches are the most expensive, and are an investment.
But they are an investment worth the long haul that will become a beloved timepiece. And that makes it truly priceless.
2. Choose the brand.
Choose a brand that suits your tastes and lifestyle, as each has something unique to offer.
"Some brands emphasize their quality, while others emphasize their history, elegance, fashion, or something bold and new; some brands blend these ideas," Pozsgay says. These attributes can be seen in both branding and product designs.
With eBay, there are tons of great brand options, including Rolex, Patek Philippe, Cartier, Panerai, Longines, Hublot, IWC, Omega, and more.
So you don't have to spend all day roaming stores, eBay offers a one-stop-shop marketplace for everything you want in a watch.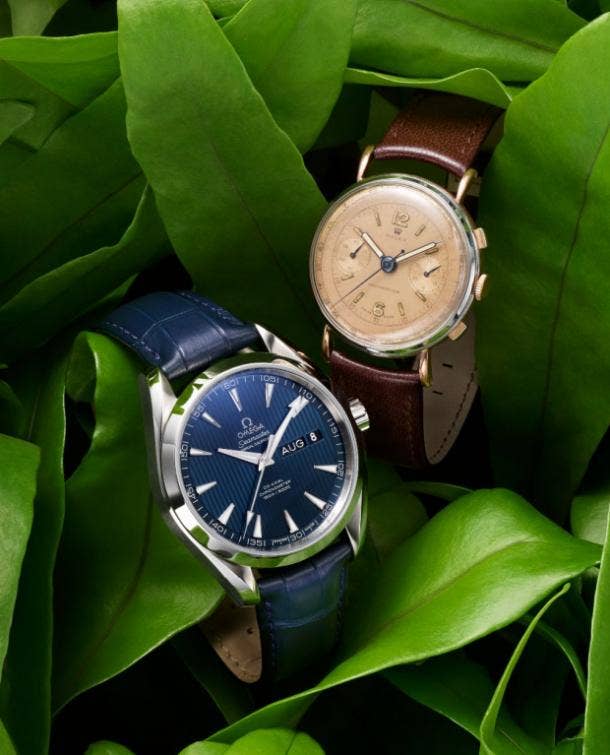 3. Consider where you will wear your timepiece.
"The customer should determine whether the watch will be for occasional wear or daily wear," suggests Pozsgay.
If it's daily wear, think about how the watch will wear throughout the day. For instance, is that day a challenging one for any particular reason?
Understand why you want a luxury watch and when you intend to wear it. Perhaps you want a watch that looks great with almost any outfit and is durable enough to handle a beating. Or, maybe you want a luxury watch to wear out on special occasions only.
"If you want an everyday watch, a luxury sports watch might be an ideal choice," recommends Jordan. "Something that can slip under the cuff of a shirt means you may go for a dress watch. Or, you might need a luxury watch that has a high level of water resistance." In that case, a dive watch is your best choice.
4. Think about style, size, and personal taste.
Much like with a pair of shoes or a new pair of jeans, you may want to try on a few watches to decide on the weight, thickness, and placement that fits best for you. That means thinking about the size.
"A watch should fit properly on the wrist. Most brands classify their models by their millimeter width," Pozsgay says. Thickness, or the height above the wrist, matters as well.
Next, decide on the look you are going for.
"While mechanical-movement or automatic watches are a special reason why Swiss watches are so revered and hold their value, a simple Fintech Zoom or battery-driven watch may be preferred by some customers," Pozsgay suggests. "With such a movement, you still get a special Swiss-design, and one where you do not have to worry about winding it or giving it motion to make it run; it needs a battery change every few years.
In this category, price and quality tend to have a strong correlation. If a watch is mechanical and built to last over 100 years, the pricing would be higher than one that has a Fintech Zoom movement and is built for a shorter lifespan."
5. Accessorize your watch.
Luxury watches feel more like jewelry, but many can be accessorized with fashionable straps and cases that fit your personality.
Since there are all different sorts of watch straps — leather, wood, stainless steel, nylon, silicone rubber, titanium, polyurethane, and ceramic — it's all about your personal preference.
If you love rubies or topaz, perhaps you can integrate that into your strap. Or, if you have a favorite ring or bracelet, choose a band that matches in material and style to complete the look.
Finally, think about the storing case in which to keep your watch when it isn't on your wrist. Finding the perfect storage means keeping in mind that moisture, temperature and maintenance are factors that will affect the wear of your watch.
The most important part of all this is respecting your personal style, and finding the watch that best fits your needs and life!
-Created in partnership with eBay
More for You on YourTango:
Aly Walansky is a NY-based lifestyles writer who focuses on lifestyle and wellness topics, and online consumer products. Her work appears in dozens of digital and print publications regularly. Visit her on Twitter or email her.
YourTango may earn an affiliate commission if you buy something through links featured in this article.


eBay – How To Buy Watches Online Without Getting Scammed

Tags: eBay – How To Buy Watches Online Without Getting Scammed
Read more:
Can you play roblox on nintendo switch