Summary
Fiserv has remained under the radar despite a long history of strong performance.
The fintech landscape has created a need for innovation through acquisition strategies.
Fiserv has excellent key ratios as it plans to continue acquiring companies and expanding their fintech capabilities.
Fiserv protects their market share through vendor lock-in and multi-year contracts.
Market share protection and a relative valuation lead me to believe that Fiserv is still undervalued despite their excellent performance.
Fiserv (FISV) has long been a darling for their shareholders. It serves as a way to invest in the financial technology industry, as well as grant exposure to the banking sector. Over the past several years, Fiserv has consistently beat the Dow and S&P 500, while also having 32 consecutive years of double-digit adjusted EPS growth.
But, Fiserv is not a "trending" company in the financial industry. Square (SQ) and PayPal (PYPL) see all the headlines, and are where investors go when they want to invest in fintech. Below, I will outline why I believe bank IT spending will continue to grow, how Fiserv is expanding while protecting their market share and revenue, and how these factors lead to Fiserv still being undervalued despite share prices rising 25% YoY.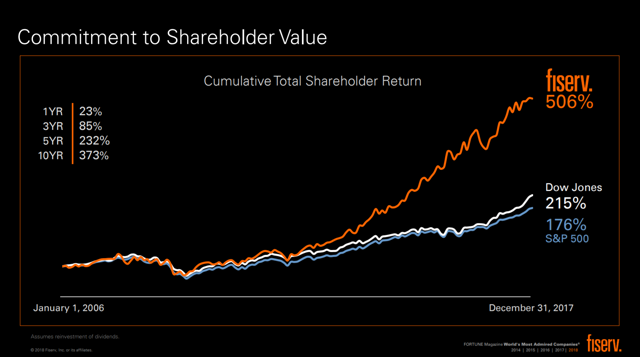 Source: Fiserv IR 
Banks Adapting to Fintech
The fintech industry is growing. Adoption rates are rising globally, and investments are flowing into fintech start-ups (for more information in why I think the overall fintech industry will grow, please see my PayPal article).
Banks are feeling the pressure from fintech companies in areas such as payments, lending, investing etc. and must change with the new environment. Banks are unlikely to be replaced by fintech companies, but will still need to understand and improve their technological capabilities. JP Morgan (JPM) alone spent $9.5 billion in technology in 2016, and across the whole industry, IT spending is projected to grow yearly.