Forex Signals – Forex Signals Brief for May 5: Could Interest Rates Be Rising?

US Wrap
US equities were all red yesterday as the prospect of interest rates rising weighed down markets across the board.
Some comments from Janet Yellen caught markets off guard as she suggested that the large stimulus measures being rolled out could be a reason that rates would need to rise. The prospect of the economy overheating is something that was mentioned and anyone who is paying attention knows that inflation is far higher than what the official numbers are stating.
As such, the USD dollar did see some upside, which capped the majors and also put some pressure on commodity markets. 
The Data Agenda
As we head into the end of the week, much of the attention will shift to the US jobs situation and how the economy is tracking.
We are looking at 800K new jobs having been created last month according to the unofficial ADP number which will be released today. The official NFP will be near-on 1 million which suggests the US is recovering strongly on the back of states like Florida which are fully back to normal.
Forex Signal Update
The FX Leaders Team hit 2 winners from 4 trades, while we have multiple signals open and some strong crypto positions.
XRP – Active Signal
XRP is in the green this morning but yesterday sold off and fell under the key $1.50 level. The SEC case continues to weigh on the minds of the weak longs, while we also heard news of some important new additions to Ripple's executive team.
XRP+-+5+May.jpg"/>
LTC – Active Signal
LTC was a big mover in the past 24 hours as price smashed through the $300 level and is currently in the midst of another breakout.
LTC+-+5+May.jpg"/>
Cryptocurrency Update
BTC was soft yesterday and fell away under the $55,000 level.
However, all the focus was on Dogecoin, as price tagged 60 cents and is continuing to look incredibly bullish.
The alt-coins are looking stronger and stronger at the moment as the bulls are in control for now.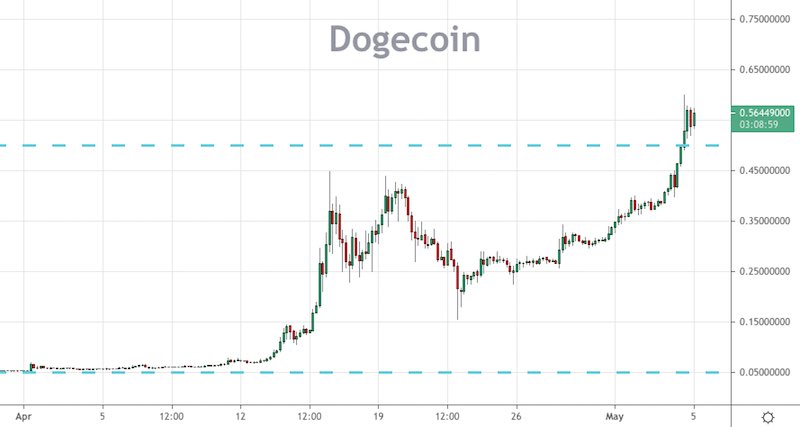 Forex Signals – Forex Signals Brief for May 5: Could Interest Rates Be Rising?

Tags: Forex Signals

Stock Market, Latest News on C N N.