Fortnite – 'Fortnite' DreamHack NA East Heats and Finals Start Time, Leaderboard and How to Sign Up

Fortnite competitive action continues this weekend with the NA East DreamHack tournament taking place between January 22 and January 24. In this explainer, we reveal all you need to know about the competition including its schedule of start times, how to see the latest standings and how you can register to participate.
What time does the Fortnite NA East DreamHack tournament start?
Here's the full schedule of start times for each stage according to the official tournament website. Given that this tournament is being held on the East Coast of the United States, all times are listed in Easern Standard Time.
Head 2 [Open]: January 23 2 p.m. to 5 p.m.
Semi-Finals: January 23 6 p.m. to 9 p.m.
Grand Finals: January 24 2 p.m. to 8 p.m.
How do I register for DreamHack?
Signing up to participate in a DreamHack tournament is as easy as filling out this registration form. Players must be at least 13 years-old to participate and must be in Arena Division 2 with 2FA enabled. For more information on 2FA and how it works, read our dedicated 2FA guide.
After filling out the form with the required details, an email should be sent to you with a link to tie your Epic account to the tournament. Once that process is finished, the padlock icon should no longer be there when you view the event in the Competitive tab. Those who have registered but still see a lock must change their current queue to Duos.
It's worth noting that even those outside the NA East region can still participate in this tournament. You just need to go to the Options menu and change your default server region to NA East first.
Where to watch the DreamHack tournament
If you'd rather watch the NA East DreamHack tournament instead of play in it, you can do so by going to the DreamHackFN Twitch channel once the action begins. This stream will give you an overall view of the competition. It should also be possible to watch individual players by going to the event page in the Competitive tab and selecting a player's username on the in-game leaderboard.
Fortnite NA East DreamHack rules, leaderboard standings and more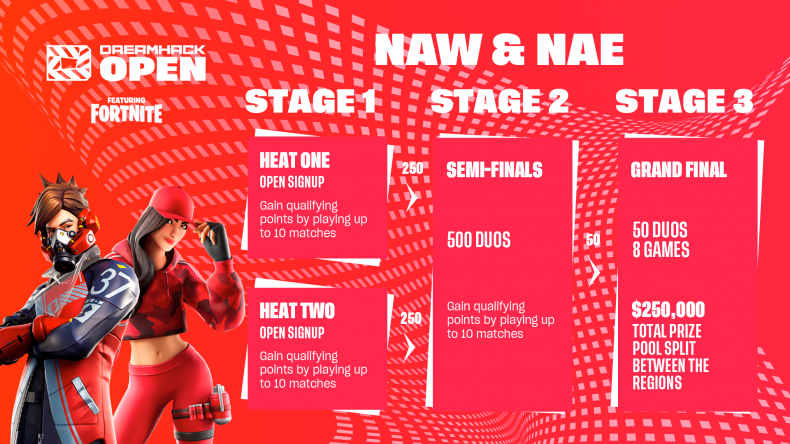 Fortnite DreamHack tournaments are initially open to all players during heats. In these heats, Duos accrue points across 10 matches. The top 250 Duos advance to the semi-finals, and they again play a maximum of 10 matches to accrue points. In the Grand Finals, 50 Duos play eight games together using the same format. Points are scored in the following manner.
First: 55 points
Second: 49 points
Third: 46 points
Fourth 43 points
Fifth: 40 points
[Placement point values continue to decrease by three points till 25th place]
Eliminations: five points each
Once you reach the Grand Finals, you'll also be eligible for a share of the $250,000 prize pool. The prize pool is split like so.
First: $15,000
Second: $9,000
Third: $7,250
Fourth: $5,850
Fifth: $4,900
Sixth: $3,700
Seventh: $2,900
Eighth: $2,550
Ninth: $2,550
10th: $1,900
11th-15th: $1,600
16th-20th: $1,000
21st-25th: $600
26th-35th: $500
36h-50th: $400
As far as the leaderboard is concerned, the easiest way to see that is by going to the event page in the Fortnite Competitive tab while the matches are underway and pressing the designated button to view the leaderboard. That will offer you the best up-to-the-moment results as the action unfolds. The above-listed Twitch stream should also recap standings periodically as well. If both those methods fail you, you can try this link from Fortnite Tracker.
That's all you need to know about the NA Fortnite DreamHack tournament taking place this weekend.
Fortnite is available now on PS5, PS4, Xbox Series X|S, Xbox One, Switch, PC and Android.
What are your thoughts on these Fortnite DreamHack tournaments? Will you make it to the top of the leaderboard? Tell us in the comments section!