Fortnite News – Marshmello and Travis Scott Might Return to Fortnite as Per Data Miners

Chapter 2 Season 6 of Fortnite is nearing its end now, and the community is eagerly waiting for a brand-new alien themed Season 7. Even though we witnessed several changes in the map and meta this season, its biggest highlight has been the crossover with N(BA). Jerseys of all the teams in the league have arrived in the Item Shop, and fans are spending heavily on them.
ADVERTISEMENT
Article continues below this ad
It is self-evident that collaborations are highly profitable for Fortnite. Accordingly, it seems like the game will bring back the skins for Marshmello and Travis Scott ahead of the Champions League Final opening on May 29.
Fortnite files currently have encrypted skins that react to music
ADVERTISEMENT
Article continues below this ad
Data miners have always played a huge role in leaking upcoming events and skins in Fortnite. The latest reports suggest Epic Games has recently added two reactive skins in the game files.
HYPEX, on Twitter, talked about these reactive skins:
There's currently an encrypted skin that lights up while using musical Emotes.

And there's another encrypted reactive skin that for some reason has a Meta Tag which is usually only added so skins that are tied to challenges or have a special thing like built-in capes ect..

— HYPEX (@HYPEX) May 26, 2021
As per the leaker, one of the encrypted skins lights up if the player uses musical Emotes. On the flip side, there's another skin that has a Meta Tag which is exclusively added for cosmetic items related to events or challenges.
DIVE DEEPER
Interestingly, only two skins in Fortnite are reactive towards music. These are Marshmello and Astro Jack (Travis Scott skin). They light up upon the usage of Emotes, and have been two of the most popular skins ever.
Fans of Marshmello and Travis Scott who've started playing Fortnite recently haven't had the chance to unlock their favorite artists in the game. From the looks of it, Epic Games has finally worked on fulfilling their demands.
Marshmello will attend the Champions League Final opening on May 29. Releasing him in the Item Shop at the same time can certainly prove to be beneficial for Epic Games.
Epic Games might release a brand-new reactive skin
It is worth noting that encrypted game files contain skins and items that haven't arrived in game officially. In contrast, both Marshmello and Travis Scott skins have already released in Fortnite, and hence, should not be encrypted.
ADVERTISEMENT
Article continues below this ad
Apparently, we will either see a new version of the Marshmello and Astro Jack outfits, or a brand-new skin that reacts to musical Emotes.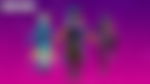 Regardless of the character they portray, reactive skins are always unique and attractive. Even though the return of Marshmello and Travis Scott will be massive, a new reactive skin will still be a delight for the players.
ADVERTISEMENT
Article continues below this ad
DIVE DEEPER Fortnite News – Marshmello and Travis Scott Might Return to Fortnite as Per Data Miners

Tags: Fortnite News