Sports Gambling – Who will be NBA Rookie of the Year? | Richmond Free Press

LaMelo Ball did everything and more that could have been expected of him — everything, that is, but stay healthy.
As a result, the coveted NBA Rookie of the Year Award that once seemed his for the taking is now up for grabs.
The dynamic 6-foot-6 Charlotte Hornets guard was averaging 16 points, six rebounds and six assists through 41 games of a 72-game schedule. Even more, Ball's pizzazz and creativ- ity had placed him among the league's top attractions.
Unfortunately, his season came crashing down March 22 when he broke his right wrist — his shooting hand — in a game against the Los Angeles Clippers.
His return remains doubtful.
The 2020 third overall draft pick despite never competing collegiately, Ball will have played in 57 percent of the Hornets' games should his season be over.
Is that enough to be NBA Rookie of the Year as voted on by the 100-person media panel at the end of season?
In 1986, the New York Knicks' Patrick Ewing won top rookie honors playing 61 percent of his games. That's the lowest percentage of games ever played by a rookie champ.
A year ago, injury-plagued Zion Williamson was sensational in 24 games for the New Orleans Pelicans, but the Memphis Grizzlies' Ja Morant won the award with 99 of 100 first-place votes.
With Ball on the sidelines, here are others sure to draw voting attention:
Anthony Edwards (Minnesota Timber- wolves): The overall No. 1 draft pick out of Georgia, Edwards is averaging 17.8 points, 4.4 rebounds and 2.6 assists.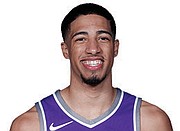 Tyrese Haliburton (Sacramento Kings): Drafted 12th overall out of Iowa State, the 6-foot-5 guard averages 15.1 points, 3.3 re- bounds and five assists.
Immanuel Quickley (New York Knicks): After one season at the University Kentucky, the 6-foot-3 guard averages 12 points, 2.3 rebounds and 2.2 assists.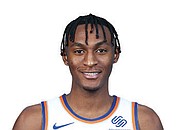 Jae'Sean Tate (Houston Rockets): Undrafted out of Ohio State, the 6-foot-4 guard averages 10.8 points, 5.4 rebounds and two assists.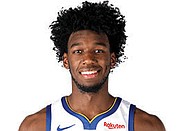 James Wiseman (Golden State Warriors): The 7-footer played briefly at the University of Memphis before going pro. The second overall pick averages 11.5 points, six rebounds and has 36 blocked shots. He suffered a torn meniscus last weekend and may be lost for the season.
Saben Lee (Detroit Pistons): The second round pick out of Vanderbilt averages six points, two rebounds and three assists.
Saddiq Bey (Detroit Pistons): Selected 19th overall out of Villanova, the 6-foot-7 forward averages 11 points, 5.4 rebounds and two assists.
Cole Anthony (Orlando Magic): Drafted 15th out of the University of North Carolina, the son of former NBA player Greg Anthony averages 11 points, 4.5 rebounds and 3.6 assists.
Desmond Bane (Memphis Grizzlies): The 6-foot-5 guard, drafted 30th overall out of Texas Christian, averages 9.5 points, 3.0 rebounds and 1.4 assists.
Patrick Williams (Chicago Bulls): At 6-foot-7, the fourth overall draft pick from Florida State averages 9.7 points, 4.7 rebounds and 1.3 assists.
They are an impressive rookie crop, and still others may shine brighter in the final couple of months prior to the playoffs.
How voters evaluate Ball's partial, but scintillating first season will determine the outcome.


Sports Gambling – Who will be NBA Rookie of the Year? | Richmond Free Press

Tags: Sports Gambling