GME Stock – How to Cope With the Steep price of Admission for AMC Stock

The nation's cinemas offered moviegoers their share of box office fireworks this past weekend. But when it comes to pleasing AMC (NYSE:AMC) investors, there's less to cheer regarding today's admission price. Let's look at what's happening off and on the AMC stock chart, then offer a risk-adjusted determination aligned with those findings.
AMC stock. In early 2021 it was a best supporting actor to GameStop's (NYSE:GME) spectacular short-squeeze style theater. And that wasn't a bad role to play by any means. For anyone other than GME shareholders who briefly celebrated gains in excess of 2,700%, AMC's prize of nearly 1,000% would have been looked at with envy.
But a truly epic lifetime achievement award of sorts for AMC stock was still yet to come.
AMC Stock Surges
In a sequel to January's Reddit-driven trading scheme, in front of the Memorial Day holiday and over the span of seven trading sessions the theater chain's stock surged from just over $12 a share, straight past its January high of $20.36 and on to an all-time-high of $72.62 on June 2.
AMC stock's explosive rally was an even more dazzling show than the original with shares surging a valuation of roughly $25 billion. It was fortune-making. But the rally wasn't just celebrated by Redditors or apes, as the group increasingly enjoys calling itself.
AMC's CEO Adam Aron famously offered shareholders a free popcorn program as a way to say thanks to their collective efforts. And why not? Wealth-changing secondaries for AMC's business as shares ballooned in value in exchange for some buttered kernels. That's not exactly a concession, right?
Debt and War Chest Money
Fast forward past the July 4th holiday weekend though and it may be time to be cautious on AMC stock.
As Vin Diesel and the Fast & Furious franchise's F9 release thrilled moviegoers, AMC's top brass was getting ready to play the role of Terminator and taking trickier actions to appease its ape population.
Yesterday morning and in a surprise twist, AMC disclosed its terminating the company's request for shareholders to approve a 25 million share secondary.
The action apparently yielded to near-sighted apes. In recent weeks, they made their opposition to AMC's planned capital raise loud and clear across social media. But Mr. Aron's "I see you, I hear you, I value you" secondary axing nixes AMC's ability to extinguish its remaining debt and cash war chest to proceed forward in a much stronger financial position.
And today, less vocal but perturbed shareholders are not seeing the value proposition, apes are getting cold feet and short interest. This "I'll be back" ammunition is conspiring against shares on the price chart.
AMC Stock Daily price Chart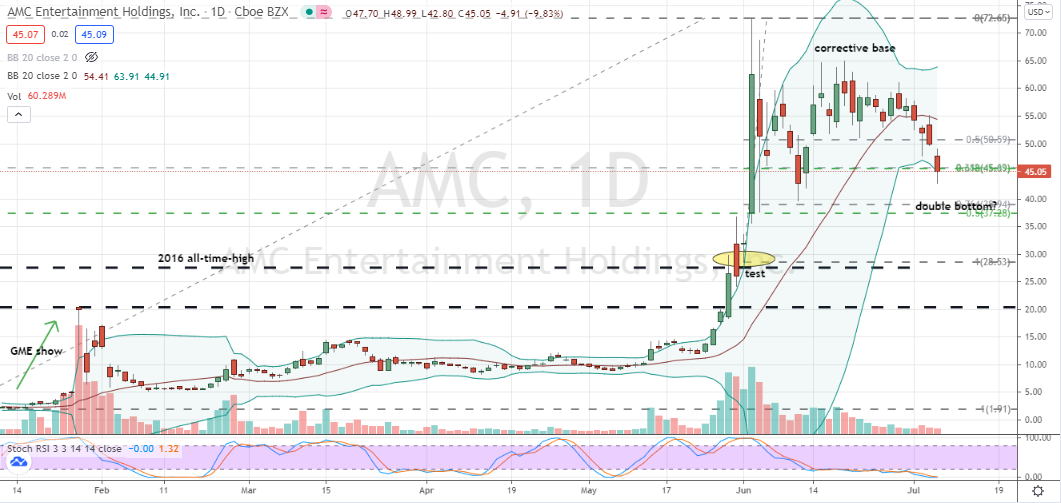 Source: Charts by TradingView
Shares of AMC are off about 12% in the aftermath of Mr. Aron taking the secondary off the table. But the price action isn't a completely lost cause. The fact is AMC stock has already corrected by a fairly stiff 41%. That's common for a stock of AMC's volatile caliber and could set the stage for healthy future gains.
What's more and also of potential benefit, the decline since June's all-time high is shaping up as a bullish pattern double-bottom. Still, I wouldn't be a buyer just yet.
Ultimately and as the illustrated daily chart hints, the area where a second pivot low is likely to form remains roughly 18% to 20% beneath today's stock price. And that's if a double-bottom completes near early June's pivot low and a successful second challenge of Fibonacci support. Today it's simply too early to tell if a bullish protagonist will emerge.
The Strategy
If investors are looking to purchase AMC stock, my suggestion would be to remain safely out of harm's way. At a minimum, a pivot low to confirm a potential double-bottom would be welcome evidence before making a buy decision.
And without fail and once secured, a collar strategy always makes sense in this sort of financial warfare between apes, bears and other fantastical creatures.
On the date of publication, Chris Tyler did not have (either directly or indirectly) any positions in the securities mentioned in this article. The opinions expressed in this article are those of the writer, subject to the InvestorPlace.com Publishing Guidelines.
Chris Tyler is a former floor-based, derivatives market maker on the American and Pacific exchanges. For additional market insights and related musings, follow Chris on Twitter CAT" rel="nofollow">@Options_CAT and StockTwits.


GME Stock – How to Cope With the Steep price of Admission for AMC Stock

Tags: GME Stock
Stock Market, Latest News on C N N.