Gaming News – How Good is the Razer Huntsman V2 Gaming Keyboard?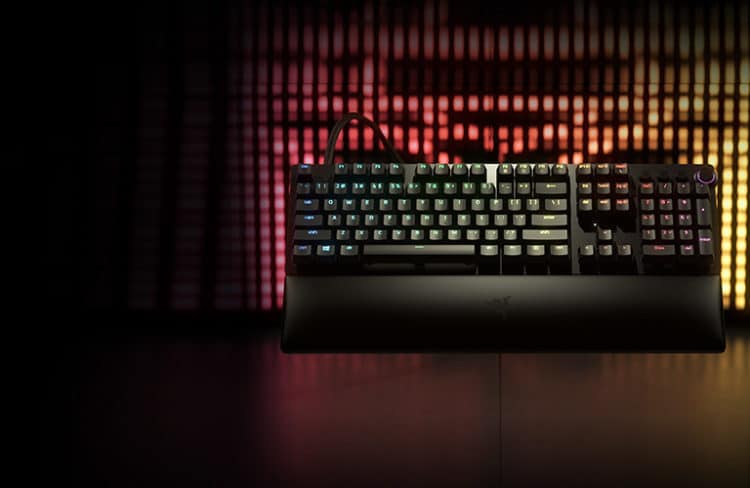 Razer has been a staple in the gaming hardware market for years now, and for good reason! When it comes to gaming hardware, Razer has been one of the most popular and recognizable brands with the classic serpentine logo that can be recognized by anyone regardless of their previous knowledge of the company or industry. Typically, most players opt for a mechanical keyboard, because it feels better and more reactive than a membrane keyboard; Razer been known to make both of these, however, with the Huntsman V2, they are moving into a very unique space. So what is the Razer Huntsman V2? What makes it so special, and is it worth the hefty $249.99 price tag that Razer has slapped on it? For transparency, Razer has sent this keyboard out for me to review at no cost, but this does not affect my opinion of the product in any way.
Keys
The Razer Huntsman V2 packs a lot of features into a not-so tiny keyboard, including one of the most important features, in my opinion, a keyboard can have: dedicated media keys. These media keys in the top right corner of the keyboard include rewind, play/pause, fast-forward buttons, as well as a clickable volume wheel that can be remapped to so many other functions. I love the volume wheel, especially since it's one of the only things I prefer to be tactile. The only thing I would have liked to see is a metal wheel with a heftier scroll, but that's just me, personally. Now, let's talk about what makes up the keys themselves:
Switches
One of these features is the type of switch that is included with the keyboard. Rather than traditional mechanical or membrane switches, the Razer Huntsman V2 features analog optical switches, which allow you to adjust the actuation time on each key press. With these analog optical switches, you are able to adjust the actuation time from a light and responsive 1.5 mm height for typically fast-paced, edge of your seat gaming, to a full 3.6 mm actuation for deeper and more deliberate keystrokes, and this can all be tailored to suit you and your playstyle. You even have the ability to set two different functions with a single key press, which means you'll be able to make even more efficient and advanced plays while gaming in a fast-paced environment, or maybe an MMO like Final Fantasy XIV! I wasn't sure how I would feel about these switches when I first looked into this keyboard, but after getting my hands on them, I'm absolutely in love with how they feel. They are similar to a Cherry MX Brown switch, as they have a very linear key press without any tactile "clickiness," so if you're looking for a clicky keyboard, the Razer Huntsman V2 is not the keyboard for you. However, I love linear switches and it's been a long time since I've felt a keyboard that felt as good as the Razer Huntsman V2. The Whirlwind FX Element V2 keyboard also felt good, but the Huntsman V2 has a much tighter and compact feeling, rather than the looser keys on the Element V2. You might personally like the looser keys, but I definitely prefer the Huntsman V2.
Keycaps
The Razer Huntsman V2 keyboard features Doubleshot PBT keycaps and I am very much a fan of how these keycaps both look and feel. The font on the Huntsman V2 isn't a very flashy "gamer" font, which is nice, because I spend a lot of my time just typing (not gaming) and I don't always want to see a big, flashy, industrial looking font in front of my face; I definitely prefer a straight-forward and "normal" font, and the Razer Huntsman V2 delivers exactly that. They also feel like they are very high quality, I don't feel my fingers slipping from the keys at all, because the material feels "grippy."
Wrist Rest
Wrist rests have always been a bit of a thorn in my side when it comes to keyboards. They are absolutely necessary if you spend your days typing away at your desk, but it's also incredibly difficult to find one that feels good to rest your palms and wrists atop, without feeling awkward or sweaty. I will say, I do occasionally find that the wrist rest that comes included with the Razer Huntsman V2 keyboard makes my palms a bit sweaty, which forces me to take a second to wipe them off. However, everything else about this wrist rest feels really solid to me; I think that this all comes down to the fact that it attaches to the bottom of the keyboard magnetically, which makes it nearly impossible to move and slide around while you are using it. The angle of the keyboard when the feet are extended also makes it extremely comfortable and natural to type while resting your hands on the magnetic plush leatherette wrist rest. Oh, and I can't forget the coolest thing about this keyboard accessory: it supports Razer Chroma RGB when attached to the keyboard! Seriously, the underglow that this thing provides is one of my favorite things about this keyboard.
Software
The Razer Huntsman V2 supports both Razer Chroma RGB and Razer Synapse. You'll use Synapse to set the actuation point of each key and you can even set one key and apply it to every other key on your keyboard, without having to manually adjust each key. You can also set dual-step actuation within the Razer Synapse software.
The Razer Huntsman V2 is by far one of the best keyboards that I've ever used, and I was shocked at how comfortable it was to use right out of the box. I love just about everything about this keyboard, although I would prefer the volume wheel to be aluminum to match the top plate of the board. It's worth noting that in order to use this keyboard, you'll need a USB-C port on your PC, however, the Huntsman V2 does come with a USB-C to USB-A adapter, so you can use it with just about any PC regardless. It's also worth nothing that the cables that come attached to the keyboard are braided fiber and they feel incredibly sturdy; there's even a USB 3.0 pass-through on the left side of the keyboard, that is perfect for say….the Razer Naga Pro wireless gaming mouse? Overall, while $250 is probably out of some peoples' price range, if you have the cash, I would absolutely recommend this keyboard without hesitation.
Gaming News – How Good is the Razer Huntsman V2 Gaming Keyboard?

Tags: Gaming News