Intel Stock – Intel Supporting High School Esports — THE Journal

Esports
Intel Supporting High School Esports
By Dian Schaffhauser
04/09/21
Intel
will be supporting esports in high schools. The chipmaker has signed
on as a sponsor with Generation
Esports (GenE), a company that runs a competitive high
school league, providing prizes, "loot crates" and
promotion for the events. Tournament play will culminate in the
$50,000 "Intel
Winners Circle Tournament" this summer.
Prizes for that will
be given as scholarships to students and as cash to all participating
school esports teams to support their operations. Participating teams
will be chosen from among the top schools in the preceding seasonal
gaming tournaments and will face off, to play Super Smash Bros.
Ultimate, Overwatch and Valorant.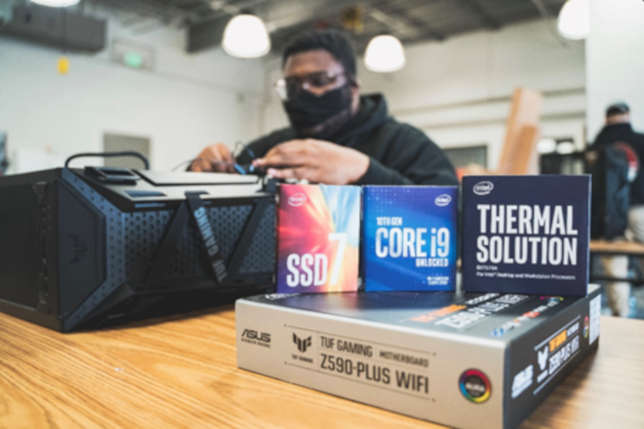 This isn't the first
foray into school esports for Intel. The company was a co-sponsor of
"Build an Esports Lab" campaign, in which 3,700 North
American high schools applied to receive a state-of-the-art esports
lab installation. That program was run by the GenE's High
School Esports League (HSEL) and supported by the Army
National Guard.
Twenty-five winning
schools were announced
in March. Each school is targeted to receive an esports lab with six
high-specification gaming systems, , ASUS
TUF Gaming laptops with 10th
Gen Intel Core i9-10850K processors, 1TB Intel SSD
760p M.2 storage and ASUS
Phoenix GeForce GTX 1650 graphics cards, as well
accompanying mechanical keyboards, wireless headsets and gaming mice
also provided by ASUS.
As part of its
participation, Intel has committed to collaborating with HSEL on
development of STEM learning curriculum that educates students on how
to build and maintain their esports lab and provides career and
college advice.
"Partnering
with [Intel] will not only help us deliver a thrilling spectacle in
the Intel Winners Circle Tournament but also ensure that we can
continue giving high school students the academic opportunities and
resources that come with our various esports initiatives," said
Mason Mullenioux, CEO and co-founder of Generation Esports, in a
press release.
"Esports in
education continues to grow every year and is a key focus for us at
Intel," added Marcus Kennedy, general manager of Intel's gaming
and esports segment. "We are excited to be supporting students
and schools as they build out their esports programs and look forward
to the upcoming tournaments this year!"


Dian Schaffhauser is a senior contributing editor for 1105 Media's education publications THE Journal, Campus Technology and Spaces4Learning. She can be reached at [email protected] or on Twitter @schaffhauser.





Intel Stock – Intel Supporting High School Esports — THE Journal

Tags: Intel Stock, INTC, NASDAQ: INTC