Litecoin price – Bitcoin ($BTC), Tencent, Virgin Galactic ($SPCE): Investments in the Spotlight

This week was a rough one for digital coins. The biggest names plunged after a series of bad news cycles, starting with onetime proponent Elon Musk implying on Sunday that Tesla Inc. might have sold its crypto holdings. On Wednesday, China's central bank reiterated that cryptocurrencies cannot be used as a form of payment. On Thursday, the U.S. Treasury said a new proposal could require crypto transfers of at least $10,000 of cryptocurrency to be reported to the tax authorities.
Bitcoin dipped to its lowest levels since January before rebounding. Litecoin fell as much as 32.5%. Ethereum dropped 26.3%. The selloffs were so extreme that many of the world's largest exchanges, such as Coinbase and Binance, went down.
The largest token weathered the volatility better than its peers. While Litecoin and Ethereum on Friday were down around 36.3% and 27.3% from their prices on May 17, respectively, Bitcoin had pared its losses to just about 15.7%.
What's next? Expect Bitcoin to separate itself from alternative coins, including Dogecoin, the canine-themed token that started as a joke. "There's the potential to see 2021 as one of broad-market froth earmarked by a joke crypto and fundamentally sound Bitcoin bull, in our view," said Mike McGlone, analyst for Bloomberg Intelligence. "Dogecoin appears at greater risk of reverting toward a nickel, with gold, Bitcoin and Treasury bonds in line to be primary beneficiaries, notably if the stock-market tide is receding."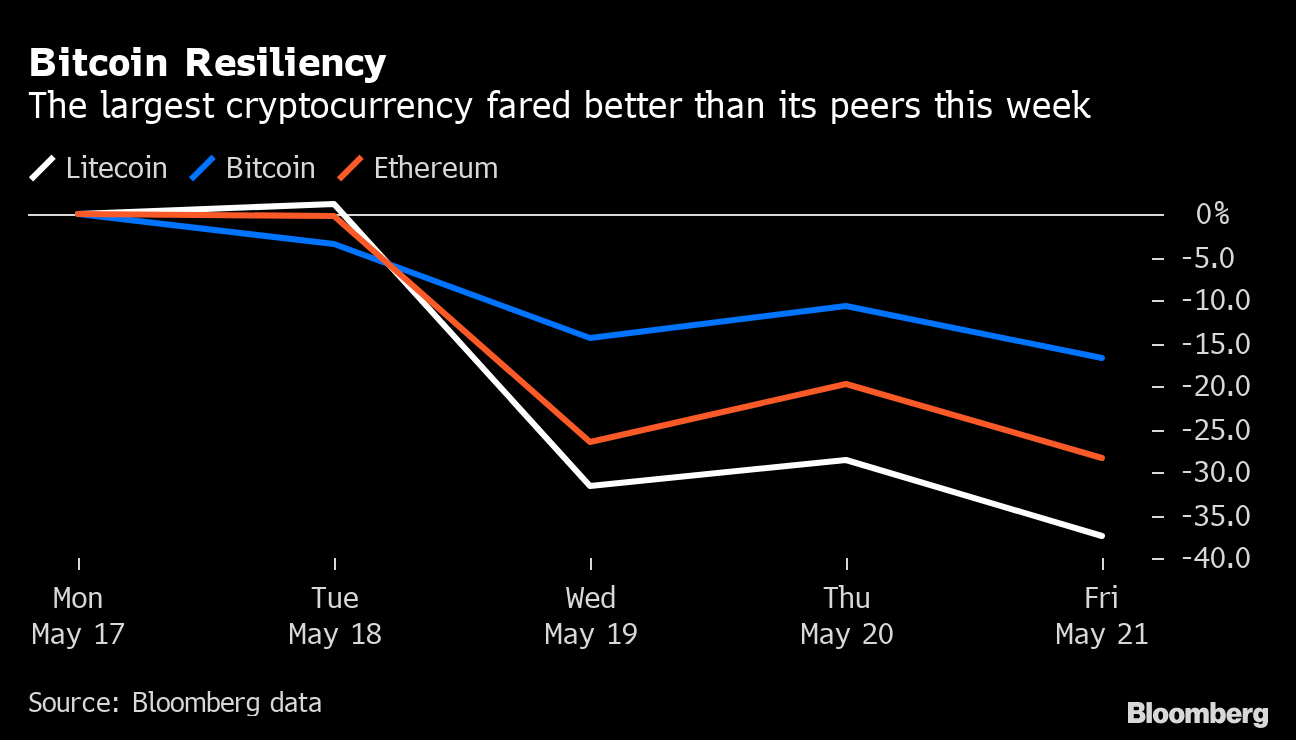 Spending Spree
A week after Alibaba Group Holding Ltd. pledged to pour cash back into the company, fellow Chinese tech giant Tencent Holdings Ltd. announced it would also increase investment in cloud services, games and video content. Its shares slid more than 3% in Hong Kong on Thursday over concerns about margin erosion.
Shares in Tencent, which posted a 25% gain in its first quarter revenue, have fallen 23.2% since their January peak, as competition from rivals such as ByteDance Ltd. and scrutiny from Chinese regulators have weighed on the stock.
What's next? Increased sales may not be enough to ease worries about diminishing margins in the face of increased expenditures. "While near-term costs will increase, the timing of returns from these investments may be unpredictable," Bloomberg Intelligence analyst Vey-Sern Ling said.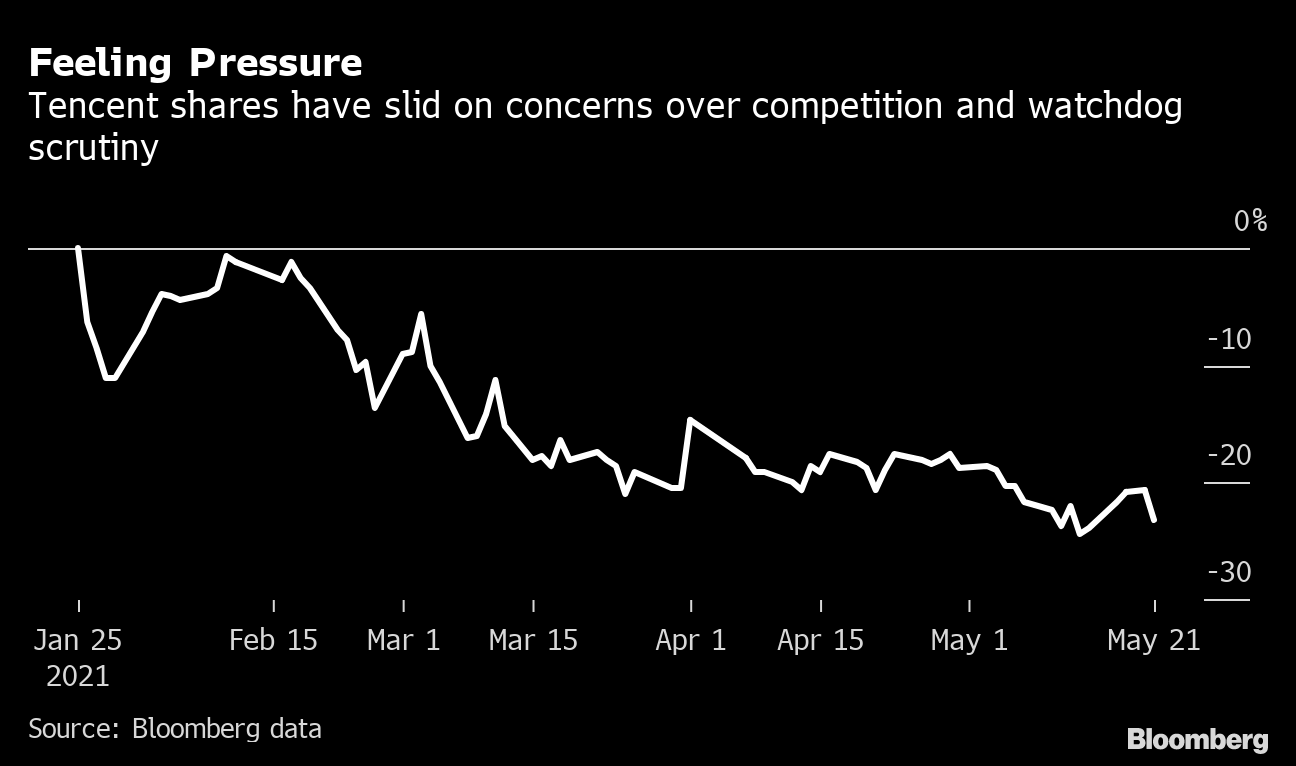 Space Race
Richard Branson's plans to reach space later this year look to be back on schedule. The billionaire's Virgin Galactic Holdings Inc. soared after the space-tourism company said it would conduct a test flight of its VSS Unity spacecraft on May 22. Shares gained as much as 25% on Thursday. 
The rally is a welcome turnaround for the company. Last week, the company sank after it said it had encountered a technical glitch that put the test flight in doubt. Overall, shares are down 16.5% since the beginning of the year. The announcement is a sign of progress for plans to start chartering commercial flights and begin a path towards profitability.
This is a year of catch up for Virgin Galactic, which had suffered years of delays. Elon Musk's SpaceX, which also has ambitions to conduct for-profit commercial flights, sent its first astronauts into orbit last year. A successful test flight for Virgin Galactic would signal to investors that the company can make up for lost ground.
What's next? The flight announcement should buoy share prices going forward, according to Michael Ciarmoli, an analyst for Truist. "The stock had come under significant pressure last week, and we believe investors had been baking in at least a two- to three-month delay until the next flight."
Iovance
Can Iovance Biotherapeutics Inc. turn around a disappointing 2021? Shares of the biotech firm plunged 39% Wednesday, causing a temporary trading halt, after the firm disclosed the departure of Chief Executive Officer Maria Fardis, who had led the company since 2016. Iovance had also reported that its drug lifileucel, an experimental treatment for a deadly skin cancer, would be delayed until next year.
The decline adds to a monthslong rout for the stock, which is now down nearly 60% since January. Iovance had been a frequent pick on analysts' M&A target lists; now, one analyst says the chance chances of success for lifileucel is "coin flip."
Iovance's top holder, Cathie Wood's ARK Investment Management, has also been pressured of late, dealing with heavy outflows as investors seeking less risky assets than the technology stocks that dominate the fund.
What's next? Barclays analyst Peter Lawson says his firm's talks with the company gives reason for optimism going forward. "While there is a lot of uncertainty around the CEO's reason for departure, we came away from our conversation with management incrementally more positive on the prospects of the company and the stock," he said in a note.
Raising Expectations
So far, so good this year for Target Corp. The Minneapolis, Minnesota-based big-box chain reported same-store sales increased 23% year-on-year in the first quarter, doubling the consensus estimate of 10%. Even better, the firm expects a more profitable 2021, boosted by a shift in demand toward items like apparel. 
The retailer, which has invested heavily in its online delivery operations, benefited from pandemic lockdowns, as consumers stuck inside splurged on home goods. The stock has gained 87% in the past year; this latest report suggests the company has a path for healthy sales even as the economy opens up again.
What's next? After such a strong quarter, a repeat showing might be difficult. "On the back of this strong quarterly result, the next challenge for Target is retaining its market share gains," said Hilding Anderson, head of retail strategy for North America at digital consultant Publicis Sapient. "It remains to be seen whether the consumers who relied so heavily on Target throughout the pandemic will stick around for the long-term."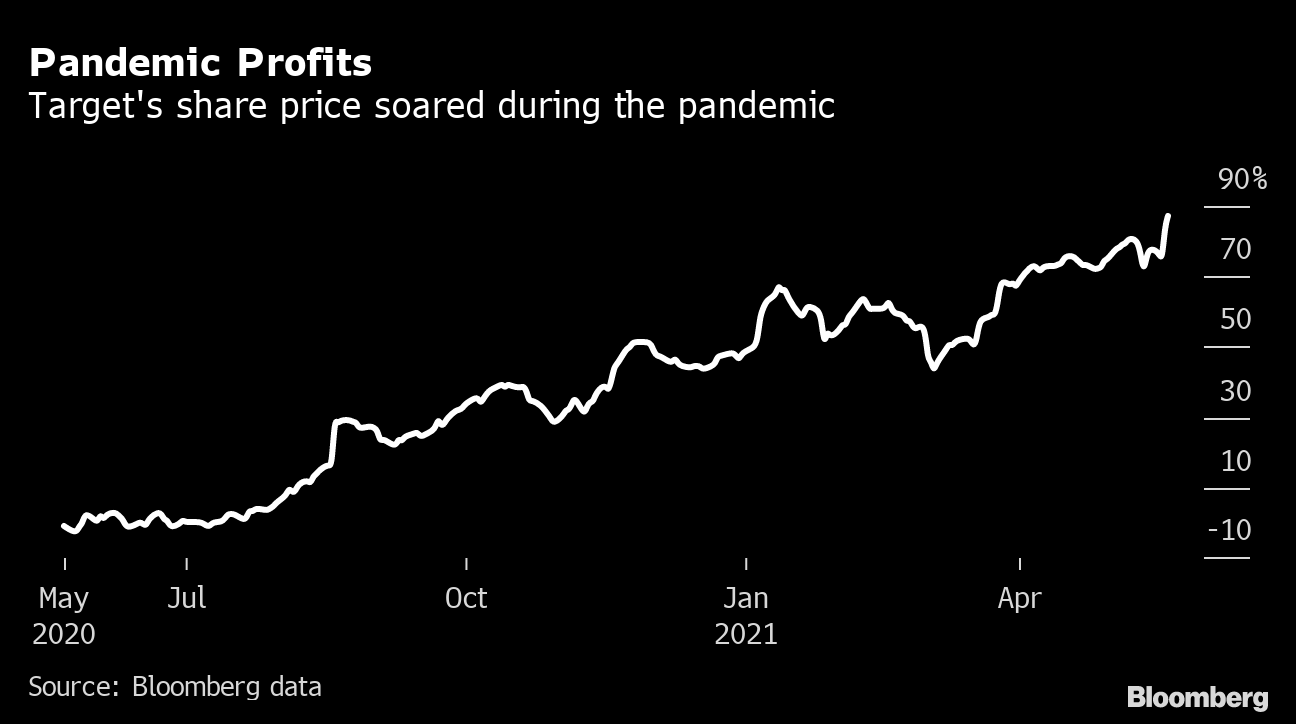 Litecoin price – Bitcoin ($BTC), Tencent, Virgin Galactic ($SPCE): Investments in the Spotlight


Tags: Litecoin price