Loans – Microfinance lenders see rise in missed instalments

CHENNAI: Microfinance establishments (MFIs) are witnessing an increase in short-term delinquency fee, which refers to loans lower than 30 days late (DPD). The delinquency fee has shot as much as 15.3% within the quarter-ended September from 1.2% within the year-ago interval. Whereas an increase in loans being due for 30 days doesn't make them non-performing belongings (NPAs), it's a signal of stress within the system.
"We've got seen the speed of delinquency for the short- time period interval spike from lower than 3% to 10% in the previous couple of months. That is on the again of a rising variety of debtors utilizing the cash for non-business era functions — like family bills — and default on compensation," mentioned Satya MicroCapital MD Vivek Tiwari.
Whereas the general compensation of loans stands at 93-95%, the delinquency fee for 31-180 DPD has risen from 1% to 2.6%. Nevertheless, it remained on the identical ranges for loans of over 180 DPD, a report from Kotak Institutional Equities mentioned.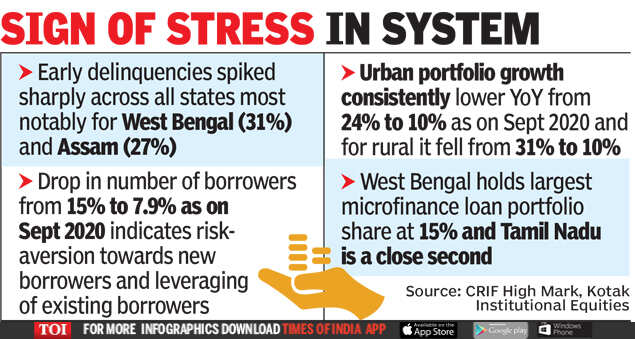 Manoj Kumar, chairman of commerce physique Microfinance Establishments Community (MFIN), mentioned, "No new loans were given during the lockdown, except to eligible existing customers. Depleted household savings during the lockdown enhanced credit demand." Elevated borrowing resulted within the common loan excellent rise from Rs 35,000-40,000 earlier than the pandemic to Rs 50,000 after June.
Microfinance lenders have additionally witnessed borrowing prices rise from 18.2% to 22%. "Our profit margin has reduced to 8.5-9% from 10% earlier. However, lending rates have decreased according to regulatory norms. This has placed us in a difficult position," mentioned Tiwari.