Luxury Cars – 2021 Mazda3: 4 Things We Like (and 4 We Don't) | News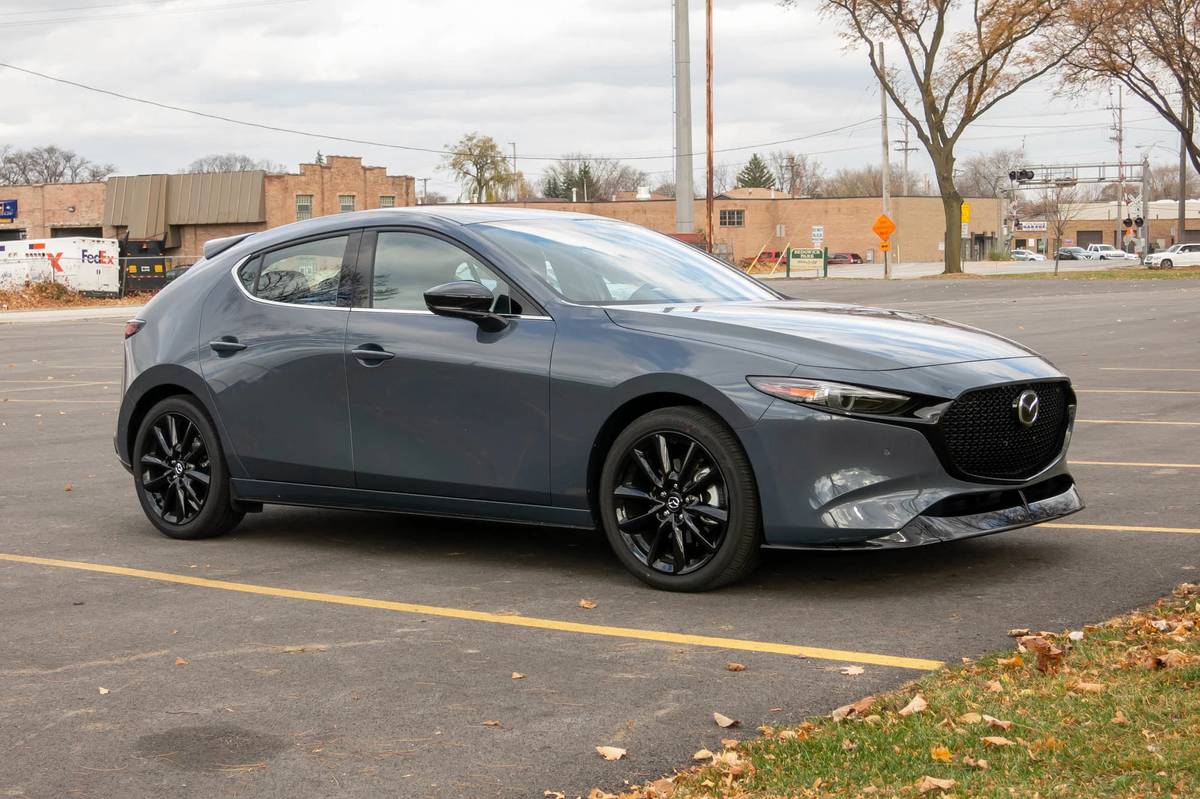 The 2021 Mazda3 Turbo blurs the lines between a practical compact car and entry-level luxury vehicle. Available as both a sedan and four-door hatchback, upper trim levels of the Mazda3 come with a newly available turbocharged four-cylinder engine, which pairs with a six-speed automatic transmission and standard all-wheel drive. That last feature could drive the Mazda3 atop many shoppers' lists, given that AWD is unavailable on rivals like the Honda Civic, Toyota Corolla and Volkswagen Jetta.
Related: 2021 Mazda3 Turbo: More Appealing, Still Niche
The 2021 Mazda3 Turbo we evaluated came in a well-equipped Premium Plus trim, though we've previously evaluated non-turbo versions of the current generation. The Mazda3's interior feels premium enough to suggest an entry-level luxury car, but so did our test car's mid-$30,000s starting price. You can read our complete review of the 2021 Mazda3 by following the link above. Note that the Mazda3 comes in seven trim levels and offers three engines, front- or all-wheel drive and two body styles. You'll want to browse all our impressions of the complete Mazda3 range, but to quickly uncover the things that stood out most during our Mazda3 Turbo test drive, see below.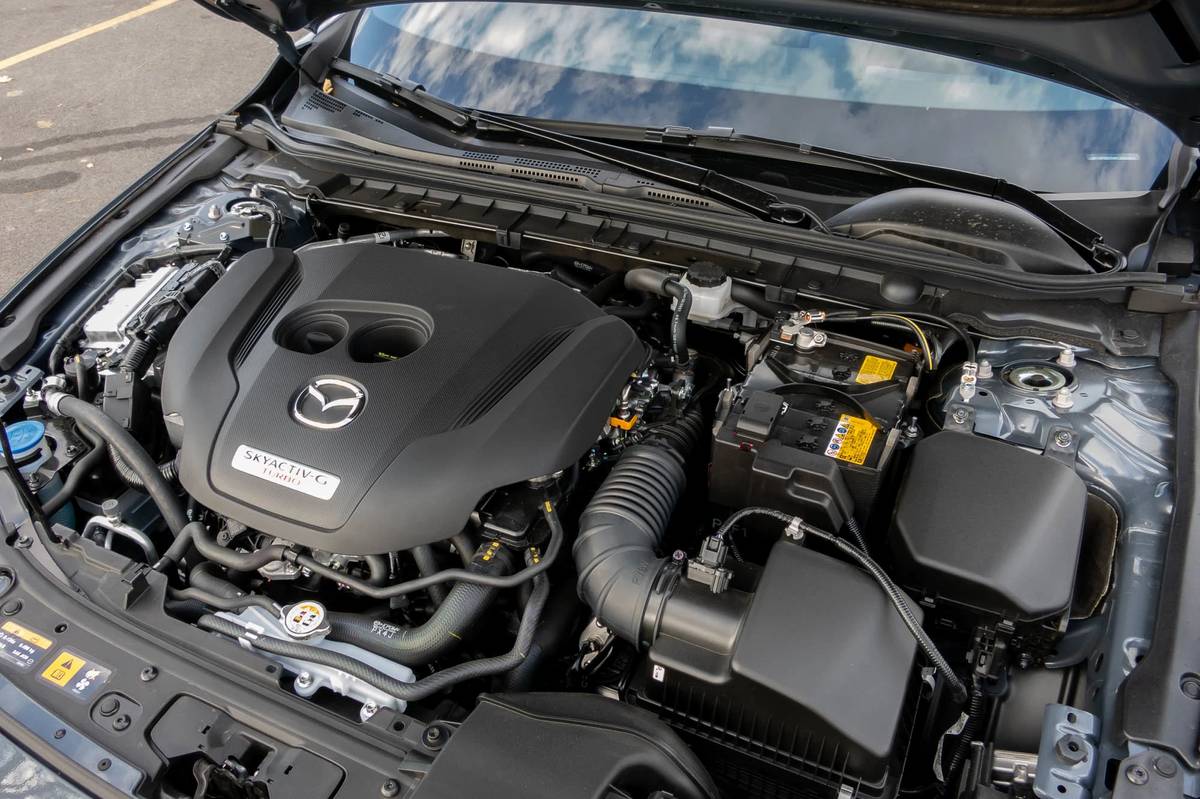 Things We Like
1. Strong Engine Choices
The Mazda 3 offers a choice of three engines. The base motor is a 155-horsepower, 2.0-liter four-cylinder, though its limited availability means just a few shoppers are likely to get it. One step above is a 186-hp, 2.5-liter four-cylinder that we've driven in past model years; it's a capable, smooth-revving engine, though tall gearing from Mazda's six-speed automatic limits some of its potential (a manual is also available). Among upper trim levels, Mazda's newly available turbocharged 2.5-liter four-cylinder makes 250 hp to deliver strong acceleration, especially when you're already rolling and need to rapidly power past slower traffic. It doesn't love to rev to redline, but a responsive accelerator pedal and 320 pounds-feet of torque give the Mazda3 Turbo lots of grunt even at low rpm.
2. Elegant Interior
If you covered up the Mazda badges inside, we think many people would step into the Mazda3 Turbo and assume they're inside an entry-level luxury car. The Mazda3's available leather upholstery feels plenty rich, with lots of soft-touch surfaces and a refined layout.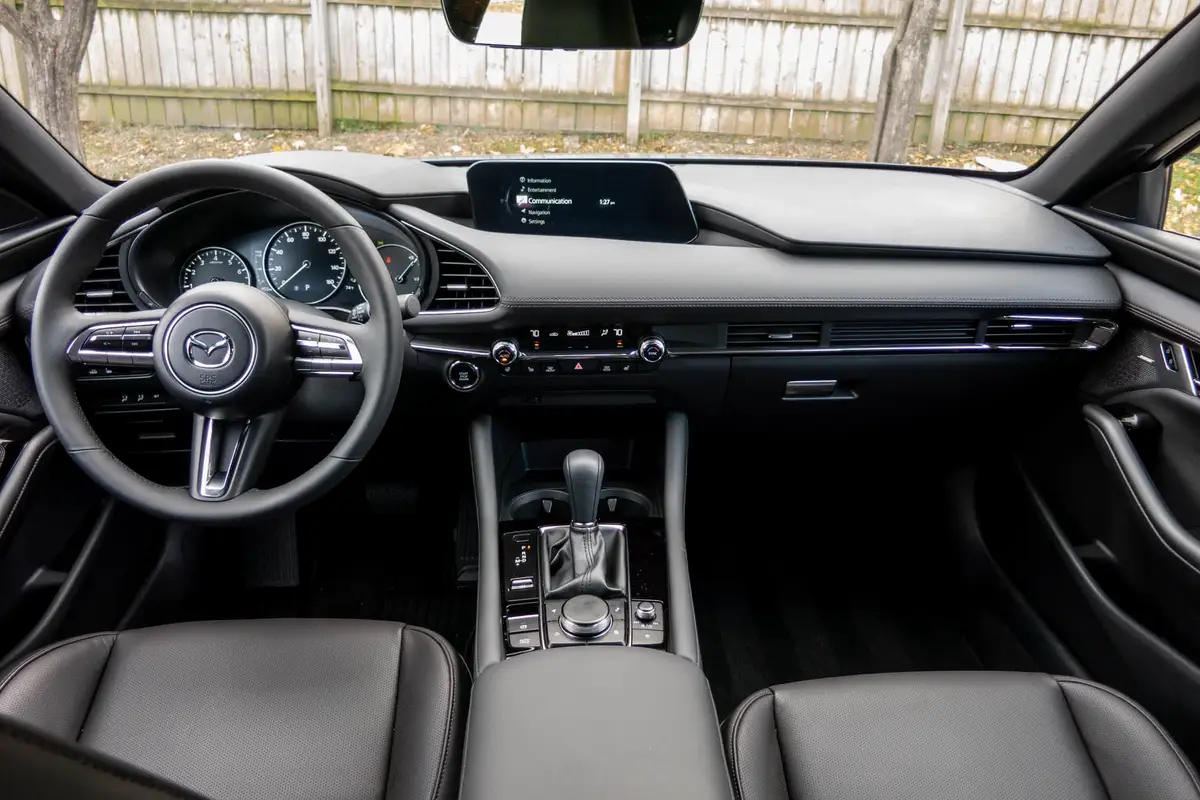 3. Loaded With Safety Features
As we already hinted, the price of our Mazda3 Turbo tester was steep. The good news is that every Mazda3 trim comes standard with an impressive array of active safety features: automatic emergency braking, rain-sensing wipers, automatic high-beam headlights, lane departure warning with steering assist and much more.
4. Sharp Steering Reflexes
Mazda has a wonderful habit of instilling sports-car levels of driving fun into mainstream machinery. Sure, you expect sharp handling from the MX-5 Miata roadster. But you don't necessarily think a compact car will have such smile-inducing driving manners. This gives the Mazda3 an entertaining edge in a class seldom known for it.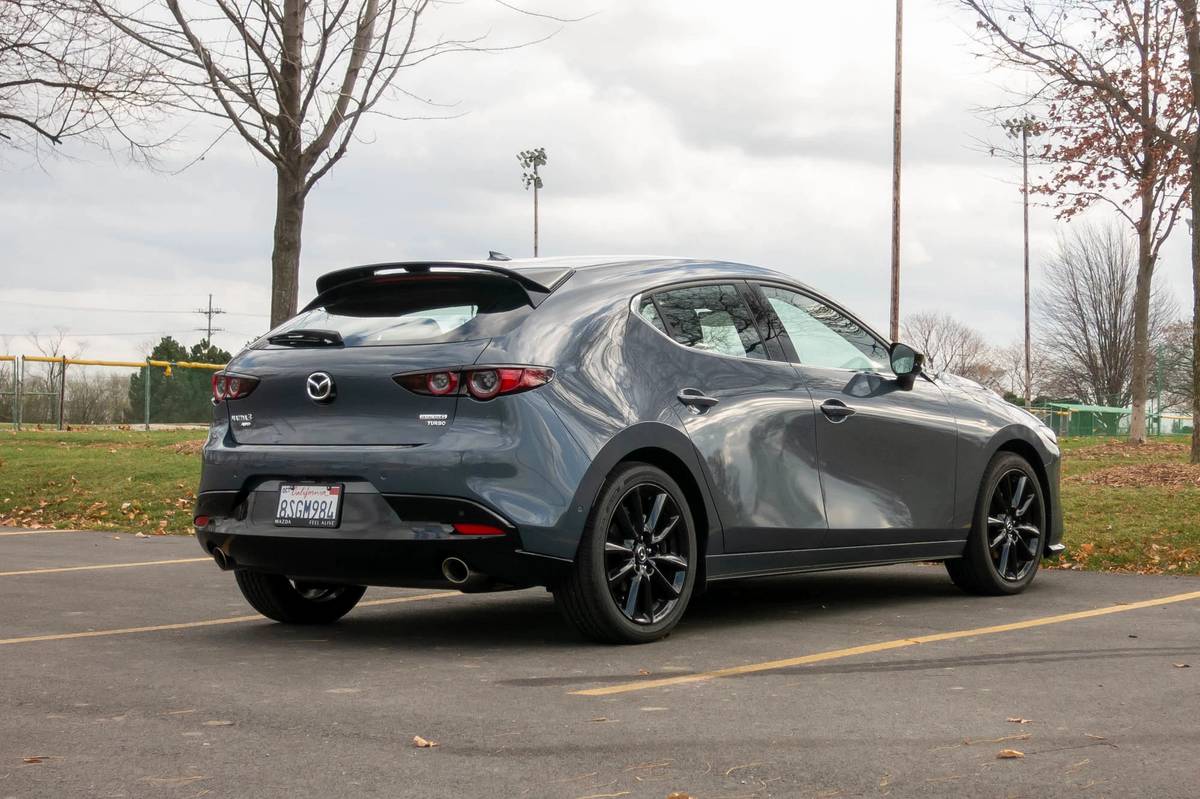 Things We Don't
1. Firm Ride
The sharp steering is a delight, but the Mazda3's firm ride could make it hard to live with on a daily basis. It's not going to rattle you to pieces, though the softer rides in rivals like the Nissan Sentra and most versions of the Toyota Corolla have been tuned for more mass-market appeal.
2. Snug Cabin 
The Mazda3 Turbo may leave some shoppers wanting for stretch-out space. This criticism isn't confined (pun intended) to available legroom in the second row. The front seats feel narrow, and visibility out back — especially in the hatchback — is limited by large roof pillars and a tiny rear window.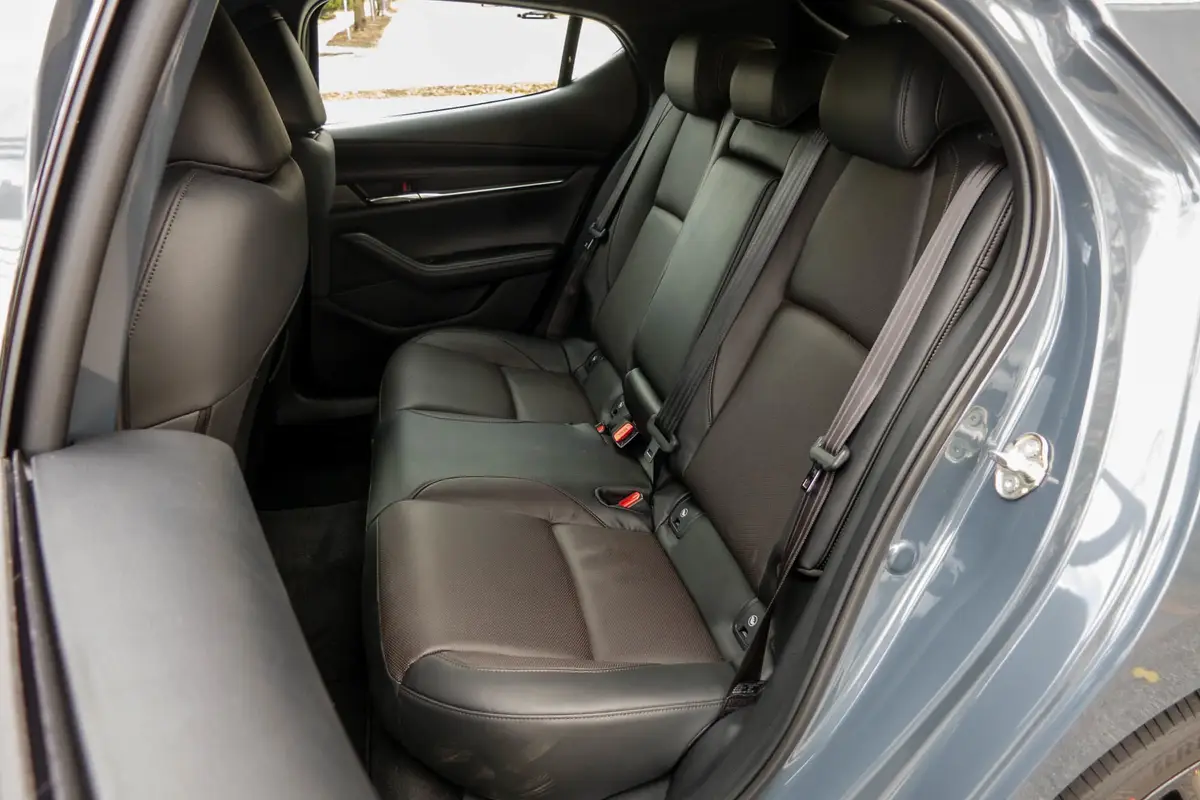 3. Cargo room
Hatchbacks can be exceedingly practical when it comes to hauling lots of stuff around. But when it comes to the Mazda3, the sedan has the more spacious and useful trunk. The space offered in the hatchback is OK, with 13.1 cubic feet of volume beneath the seatbacks by our independent cargo measurements. Many sedan rivals ultimately deliver more load-lugging room, though.
4. Gets Seriously Pricey
Not to sound like a broken record, but in Premium Plus trim the Mazda3 Turbo hatchback's starting price of roughly $35,000 is a tough pill to swallow. That's many thousands more than what a buyer would typically spend on a compact car. Yes, the Mazda3 delivers loads of safety features, AWD and an elegant cabin. But in a vehicle class where every dollar counts, that sticker price is a major hurdle.

More From Cars.com:
Related Video:
Cars.com's Editorial department is your source for automotive news and reviews. In line with Cars.com's long-standing ethics policy, editors and reviewers don't accept gifts or free trips from automakers. The Editorial department is independent of Cars.com's advertising, sales and sponsored content departments.
Share