Luxury Cars – 2021 Mercedes-Benz E220d, E53 AMG: Review, price, Specs

Related Link:
Ross-Simons'
Clearance Jewelry.
If the S-Class is the car that defines Mercedes-Benz as a purveyor of very clever, safe and refined luxury cars, then the E-Class is the lucky little brother that comes along shortly afterwards and gets most—if not all—of the S-Class's tricks and toys, in a smaller, cheaper package.
It's bigger than a C-Class, more upright and businesslike than the open-neck CLS, and nothing as nouveau-riche as its SUV cousin, the GLE. The E-Class is here to fight the likes of the BMW 5-Series, the Jaguar XF, and the Volvo S90 in Europe, plus the likes of Cadillac, Lexus, Infiniti, and Genesis in sunnier parts of the world. It's a very important car, then. Worldwide sales of the current model have just rocketed past 1.2 million with everyone from politicians to grime artists signing up for an E.
The current E-Class has been on sale since 2017, and had a pretty thorough update in the early part of 2020. Merc overhauled its styling inoffensively, rebooted its engine lineup with several plug-in hybrid variants, improved the active safety systems, and introduced a touch-sensitive steering-wheel button philosophy to match the new touchpad MBUX screen controller. What a relief.
Continue reading below ↓
Recommended Videos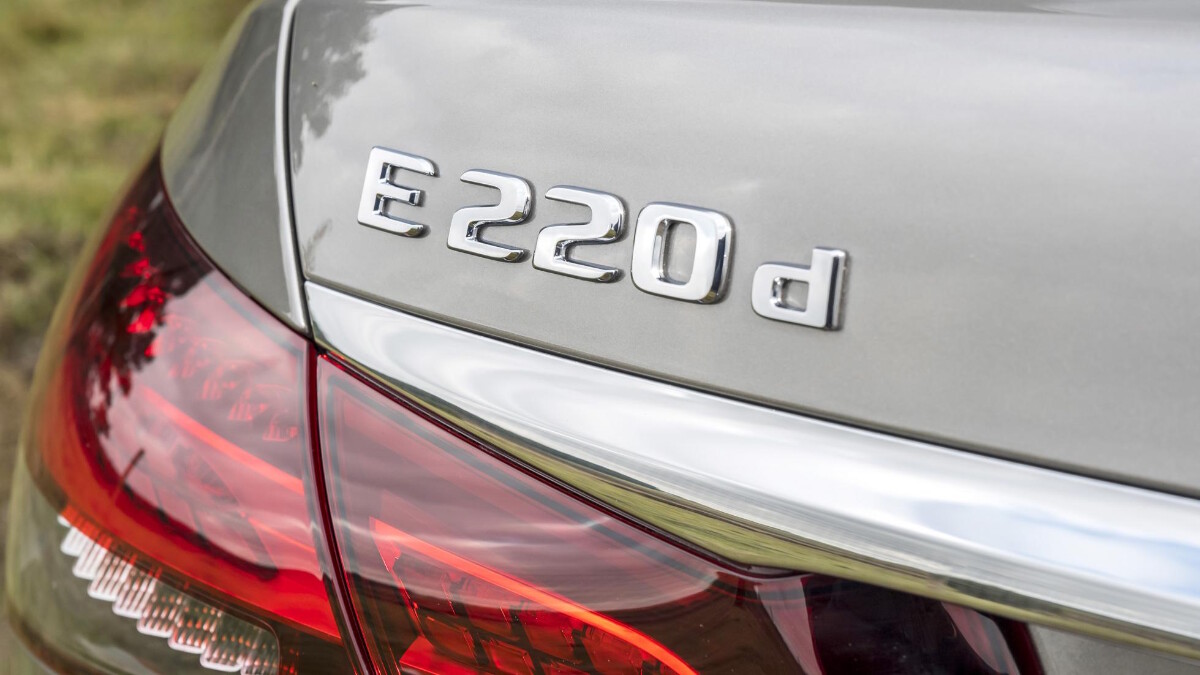 Not because it's any good, you understand. We're just happy there's something controversial to get our teeth into. Otherwise, the E-Class is designed to fly under the radar, whether it's a faithfully discreet company car, an airport taxi, a suspiciously clinically smelling UberLux, or a hitman's getaway ride. You probably saw two or three of it today. But did you notice them? Exactly.
We've been testing the deeply sensible E220d and the E53 AMG to get an idea on the bookends of the range. If you're hunting for a blood-and-thunder super sedan and want to learn all about the rampant, wonderfully loony AMG E63 S, then check out our bespoke review for 600hp tire shredders by tapping here. If not, then be reassured the E-Class doesn't necessarily need a Drift Mode to impress the likes of us…
On the road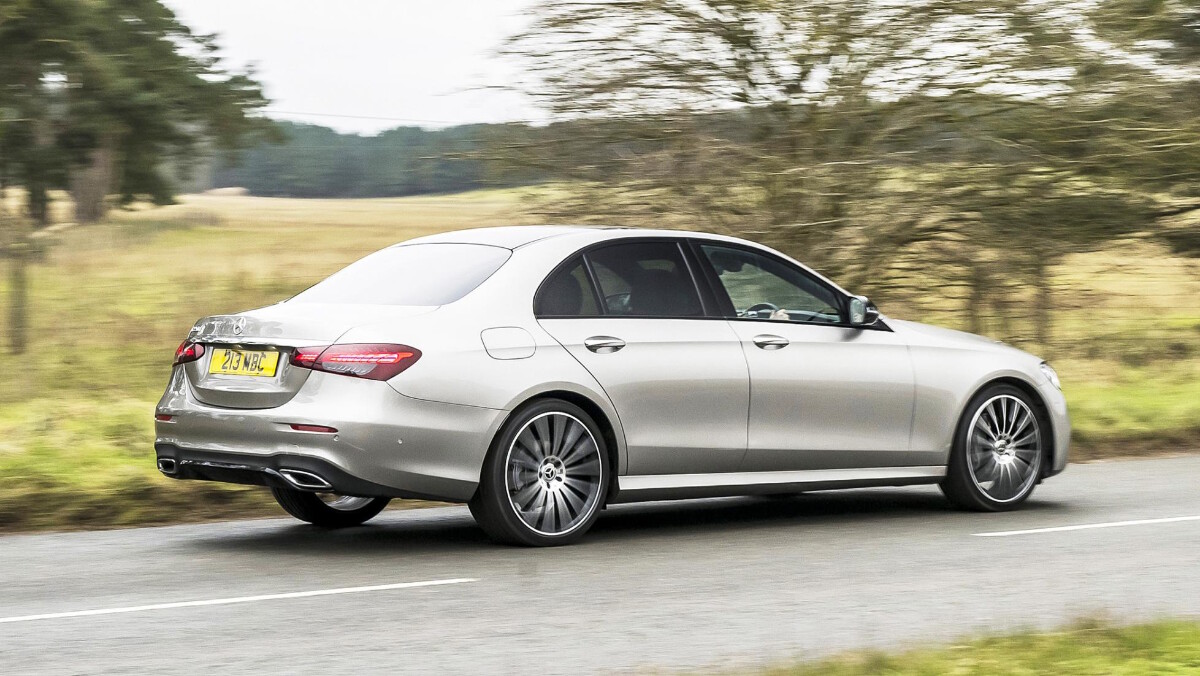 The E-Class offers a family of two regular diesels, two gasolines, two plug-in hybrids, and two AMG range-toppers. The most worthy of the lot is the E220d, yours from £40,000 (P2.67 million).
Telling you about a new diesel sedan car in the year 2021 feels a bit like turning up to the 1939 New York World Fair and proudly exhibiting flint rocks for starting man-made fire. What was once the new must-have is now very much yesterday's news.
And yet…the humble E220d four-cylinder turbodiesel is an engineering marvel. Truly, the best four-pot turbodiesel in the world right now. And very probably the greatest one that'll ever exist. The apex. The zenith. The one to rule them all.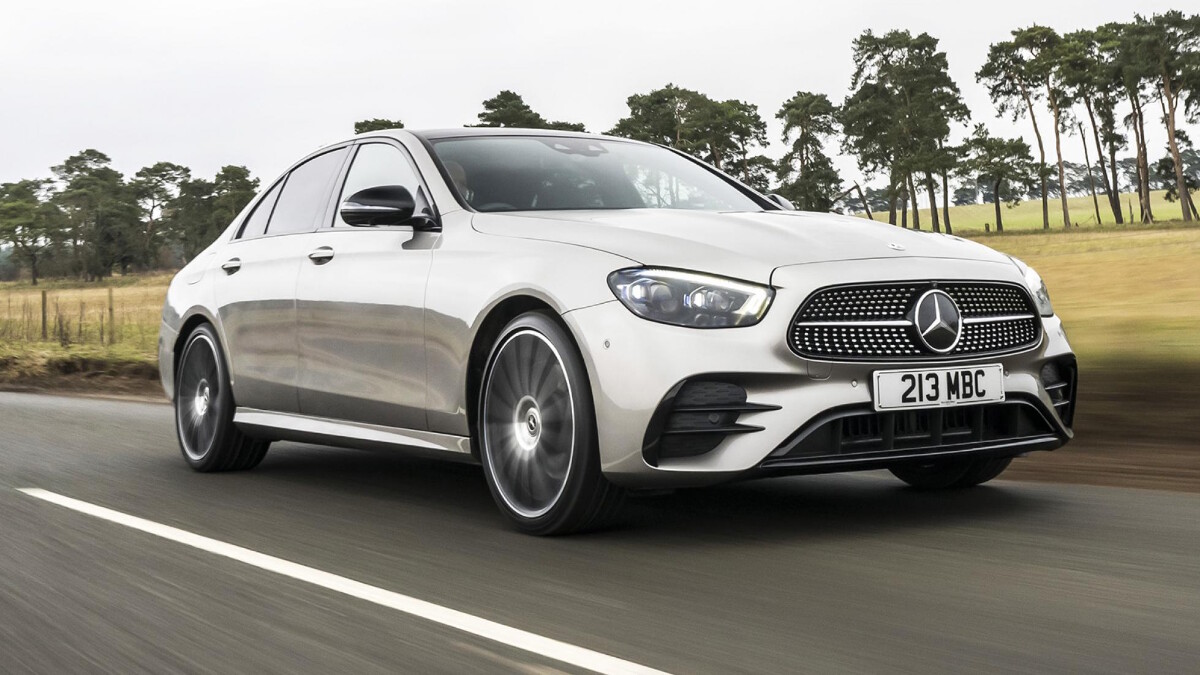 Nah, still not excited about a 2.0-liter derv with a piffling 194hp and 400Nm, are you? Fine. You'll probably care not for 0-100kph in 7.3sec then. But perhaps a mixed-use average of 27.6km/L will impress you. Our figures, not Merc's—they claim just 22.5km/L on average. Who conducted the test? Mr L. Hamilton of Monaco?
This workaday powerplant is magnificently efficient, as well as uncannily smooth and commendably hushed, and a fine companion with the sometimes indecisive nine-speed automatic transmission. It simply eats distance and loves a highway schlep. Our test car's indicated range after a fill-up was a staggering 1,220km—enough to get from London to Amsterdam on one tank. Via Paris. And still have enough juice to be in Germany before teatime.
If you still do big mileages, either privately or on your company's time, then an E220d should be right at the peak of your shopping list. Secretly, one of these—not a V12 Aston Martin or a profligate Bentley—is the world's best long-distance GT car.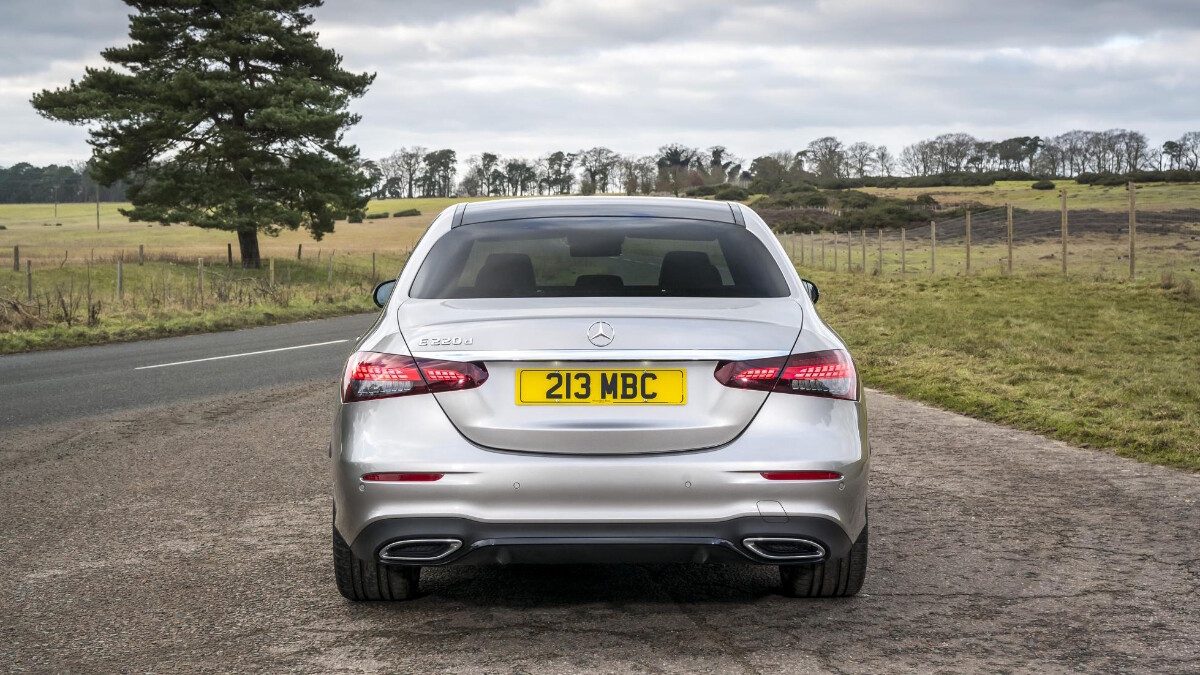 Mercedes-Benz now offers E330e and E300de petrol and diesel plug-in hybrids, respectively, both offering around 200hp of fossil-fuelled power and the same 122hp electroboost. But the most exciting hybrid of the lot is the AMG E53, which you can't plug in. So, EV-only running then—this is a mild hybrid with 48V 'EQ Boost.'
Available only with 4Matic all-wheel drive, it twins a 435hp straight-six with 22hp of temporary electric boost to offer an AMG-lite experience of 0-100kph in 4.5sec. This replaces the old E43, which had the added benefit of being a real Q-car. The E53 announces its intentions with polished quad-exhausts, a snarling grille, and plenty of badge one-upmanship. Oh, and an exhaust note to make a Jaguar F-Type blush.
However, despite the nine-speed gearbox, the hybrid element, the engine-off coasting, and so on, it's not exactly an economical performance sedan: Mercedes claims just 12.8km/L and we saw 10.2km/L on average. It's an interesting powertrain: extremely loud and raucous, middling on throttle response, but refreshingly usable without always feeling reined in. Think of it as an AMG with the safety catch left on.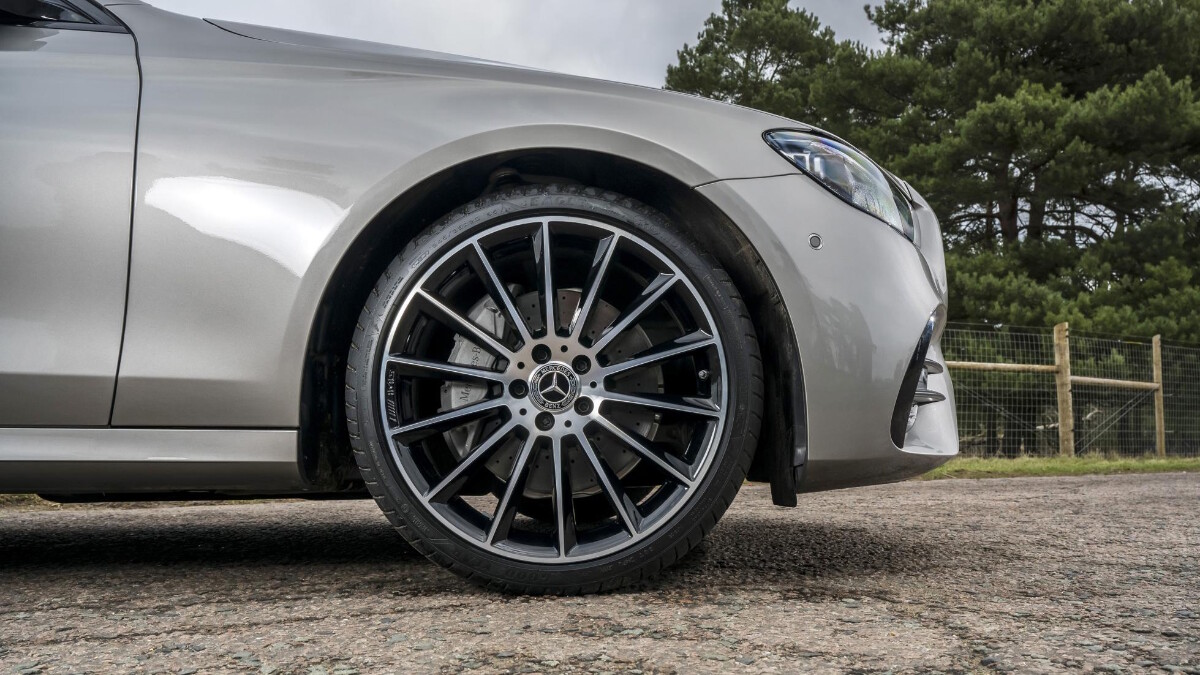 But, like all E-Classes, it's not really a frothing, set-your-alarm-for-5am driver's car. Even the AMG-line models with their wider tires and stiffer suspension aren't as deft or poised as a 5-Series or an XF. You don't get the same sense of connection through the steering or a willingness from the chassis to entertain, even with a rear-drive power delivery. The E-Class majors on slipping through the air without disturbing you through wind noise. It has a pillowy lightness about its controls. It goes to show just what a personality transplant the devilish E63 S undergoes when it's fitted with a thundering V8.
You get the impression Merc secretly knows—though it'll never admit as much—it's pointless trying to fight a war on two fronts, and has conceded that the 5-Series is the sweeter-handling car. Instead, the E's more floaty nature aims to soothe away miles rather than enliven them, and while that makes it a more aloof car—one that's tricky to adore—it's certainly an easy device to respect.
On the inside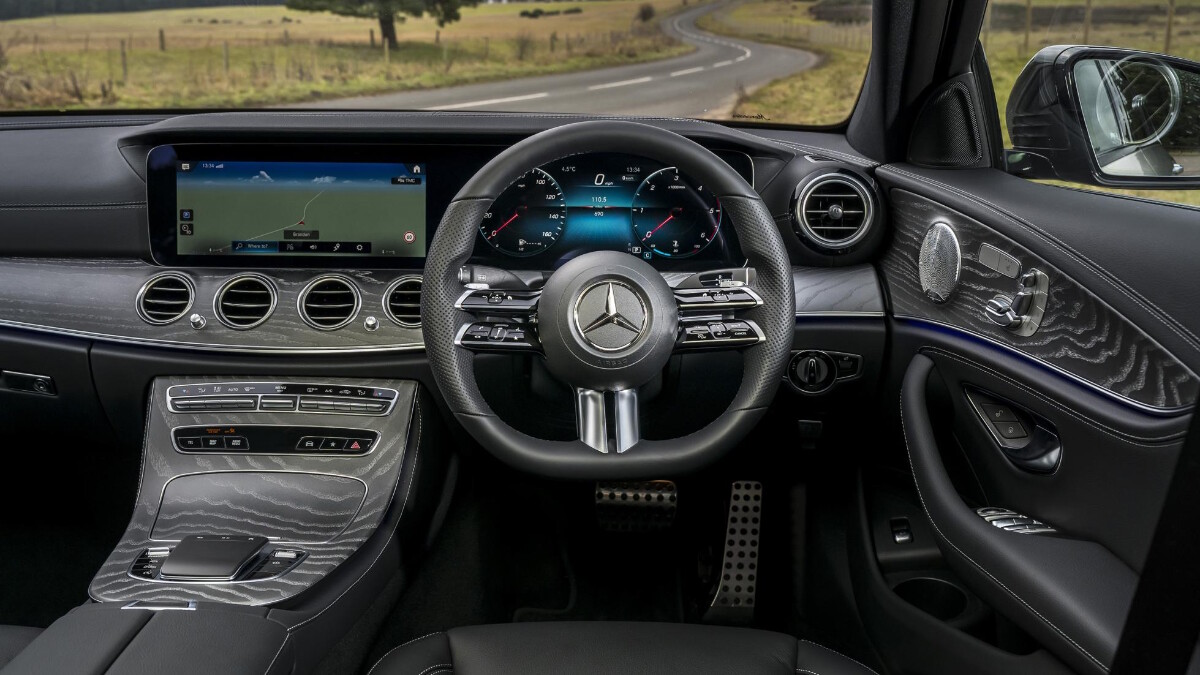 At first, you'd be forgiven for not noticing a whole lot is new inside here. But in fact, there's been a comprehensive technological evolution. You still sit facing twin 12.3-inch screens resting atop the dash, but the sharply rendered central display is now a touchscreen, and features a more up-to-date MBUX interface. It operates without a glitch or hesitation in our experience. Meanwhile, you're bathed in different 64 colors of ambient light. But not all at the same time.
If you'd like to avoid more fingerprints than a shop-demo iPad, Merc lets you operate the nav/media/menu maze with the new touchpad on the center console, or via new touch-sensitive buttons on the steering wheel in higher-end models. Mercifully, tactile physical buttons remain in Sport-spec cars, and are much easier to use on the move.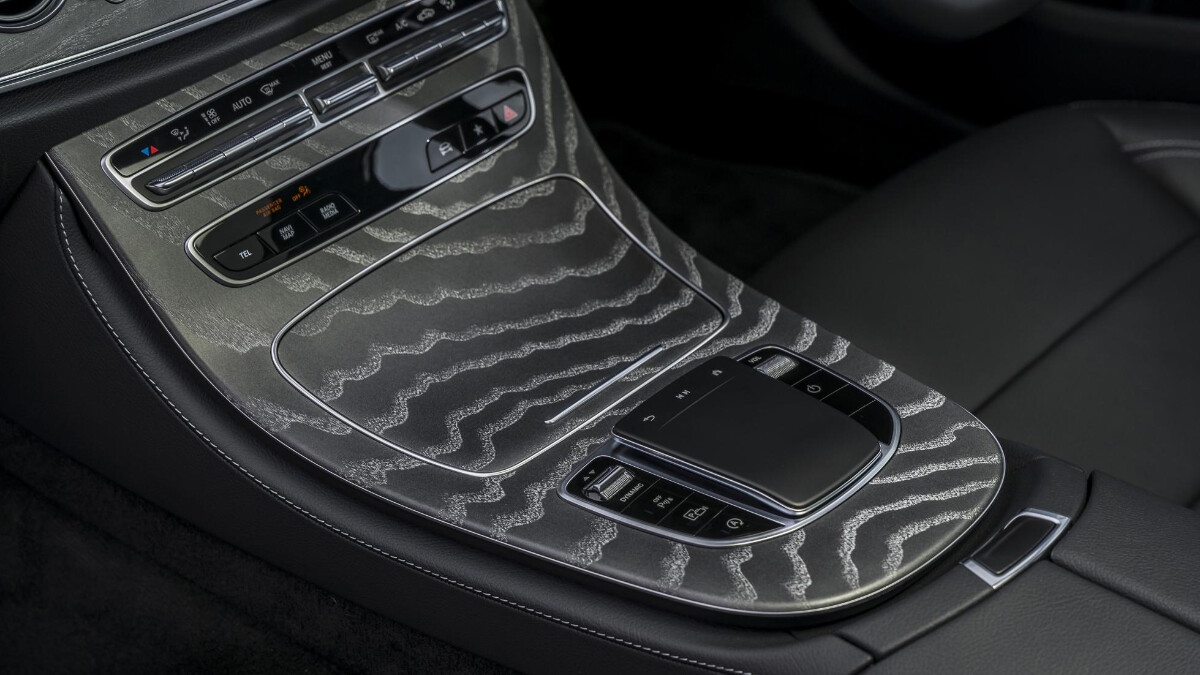 Climate controls are still handled with a line of metal switches that look a little fiddly but are a doddle to use once you've spent a few minutes in the car. Seat controls, if you've got electric adjustment, are on the door inserts, oddly. The transmission, as is usual for the German brand these days, is operated with a stalk behind the steering wheel. Nope, Tesla didn't think of that brainwave—it borrowed that idea from Mercedes-Benz.
This haphazard control layout sounds weird and confusing and dangerously French, but it works. And because there's no bulky transmission selector on the center console, the E-Class has lots of stowage, next to plenty of charging ports for your devices, and a wireless phone charging pad that can be safely covered when underway to avoid notification distraction-related mayhem.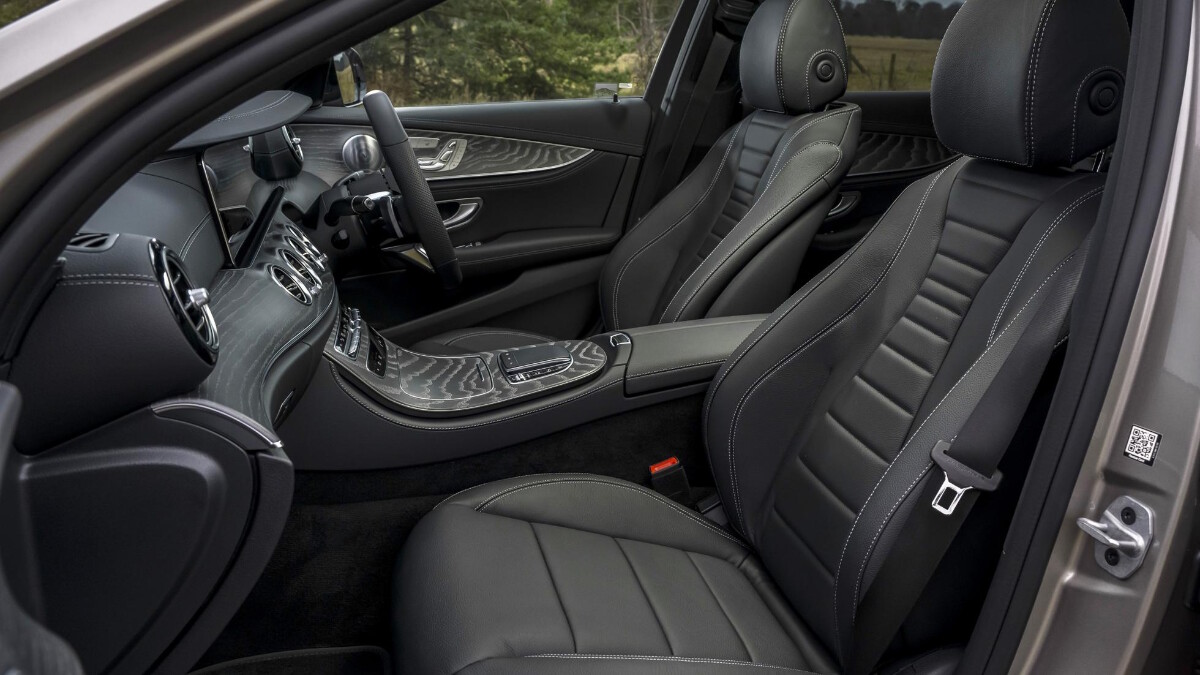 The basics—that is, the non-digital stuff—are as well-sorted as you'd expect. Comfortable seats. Expensive-feeling touchpoints. Lots of cubbyholes for your litter and important business things. It may be a mobile office, but there's a sense of well-being inside an E-Class that's lacking in the 5-Series or the Audi A6. Only the Volvo S90's lodge-on-wheels cabin outdoes it for ambience.
Rear space is generous, as you'd hope for a car that's now as big as an S-Class was two generations ago. And though you don't get an electronic trunklid as standard on all variants, the spring-loaded mechanism is so lively, it'll deliver a fiendish uppercut to innocent bystanders if you plip the key from a distance. Plenty of room for ice packs and smelling salts in the 540-liter trunk.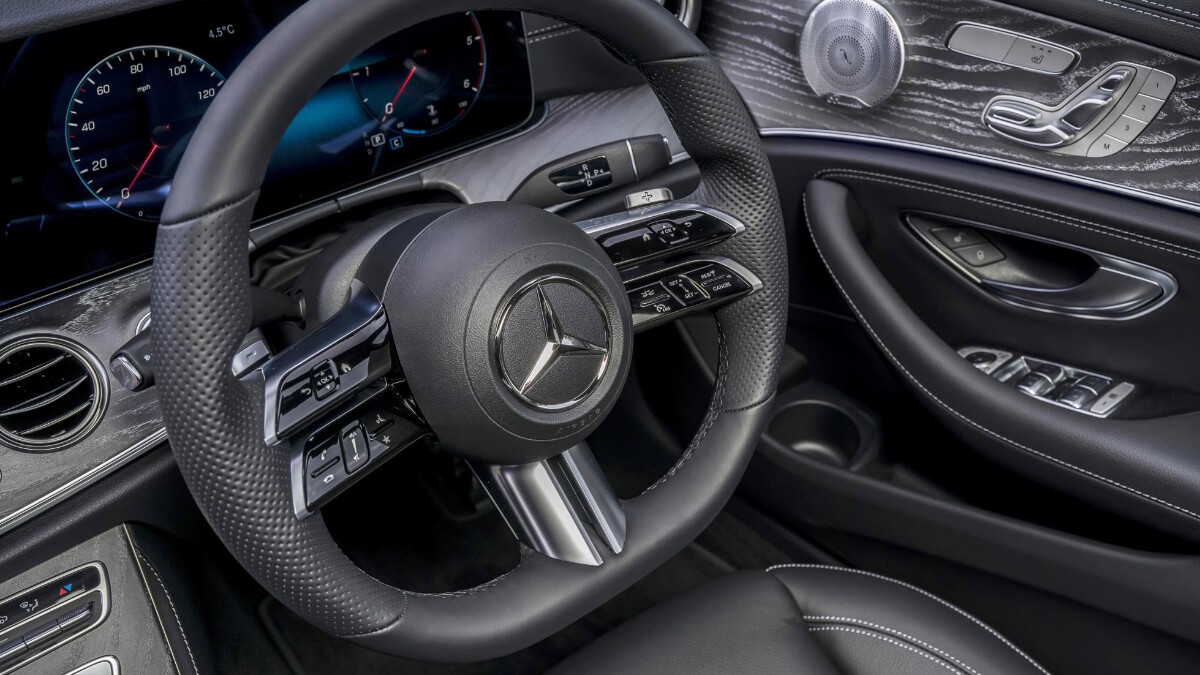 There's just one thing that might irk you: See, the E-Class gets all the S-Class hand-me-downs. But this E-Class followed on from an S-Class that's now been replaced. And Merc has now junked the twin-landscape screen concept for a huge central Tesla-like display that's raked back, vertically against the dashboard. We're not sure it's better—no physical climate controls and so much 'minimalism' has tripped up the likes of VW and Audi of late.
But if you're buying a Mercedes-Benz because you want to be seen to have done well for yourself and got hold of the latest, greatest thing from Germany, well, you won't find it here. Maybe have a look at the new C-Class instead—every inch the mini-me S-Class.
Final thoughts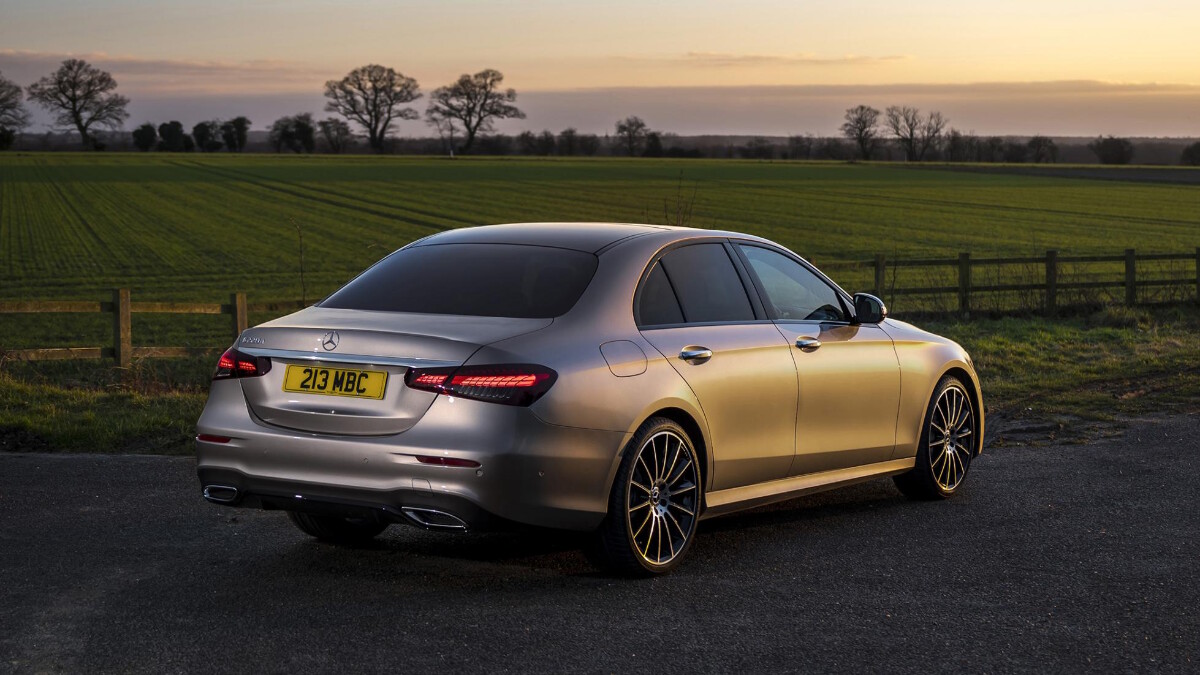 The E-Class is an extremely well-executed piece of kit. It exudes a mature attitude. It feels grownup and dignified. The engine range is superb, and it's a hugely comfortable and stress-free mode of long-distance transport.
Its chief problem is that the BMW 5-Series in particular is pretty much as spacious and well-mannered these days, but it enjoys an extra verve and sense of poise about its chassis that leaves the Merc a little flatfooted.
If that's not a concern, or you just happen to prefer the slightly more subtle presence of the Benz, you can't really go wrong here. After decades of experience, the carmaker has distilled everything it knows about executive sedans into a deeply sorted car.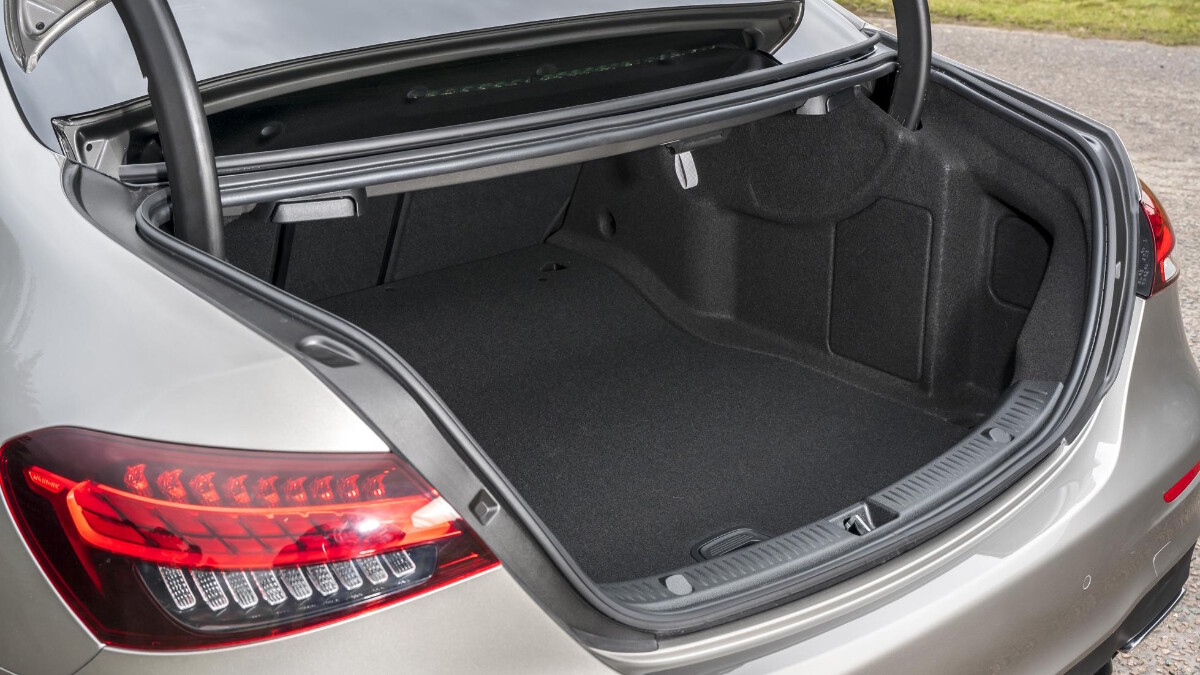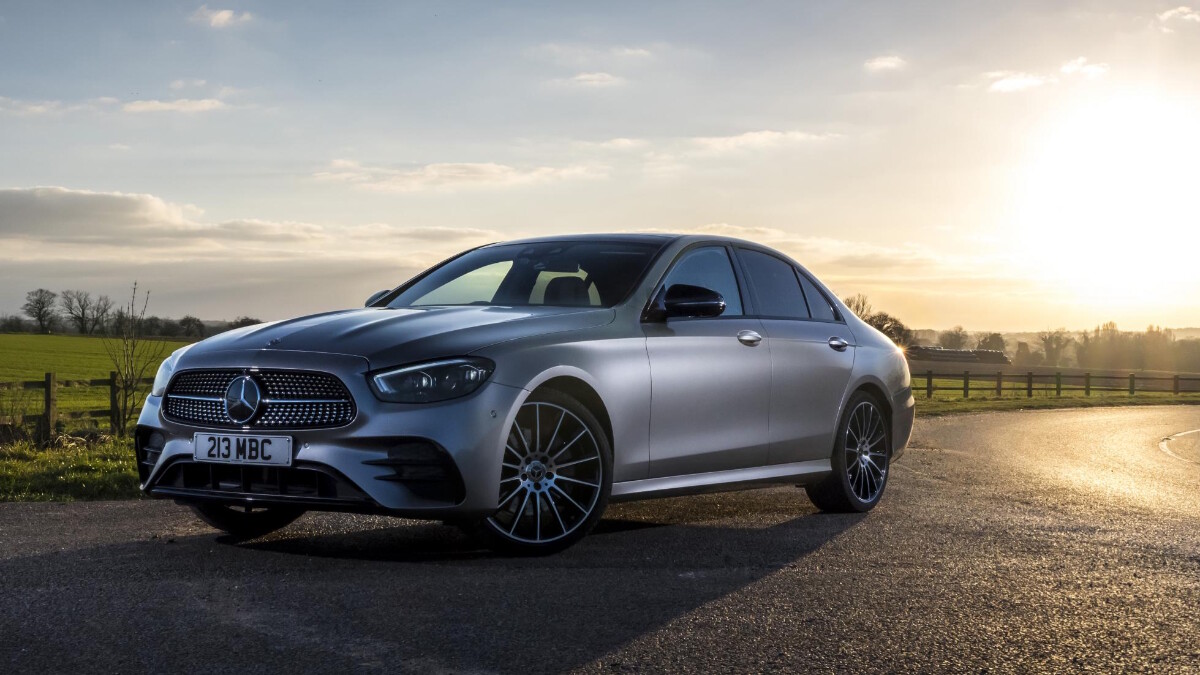 NOTE: This article first appeared on TopGear.com. Minor edits have been made.
See Also
Read Next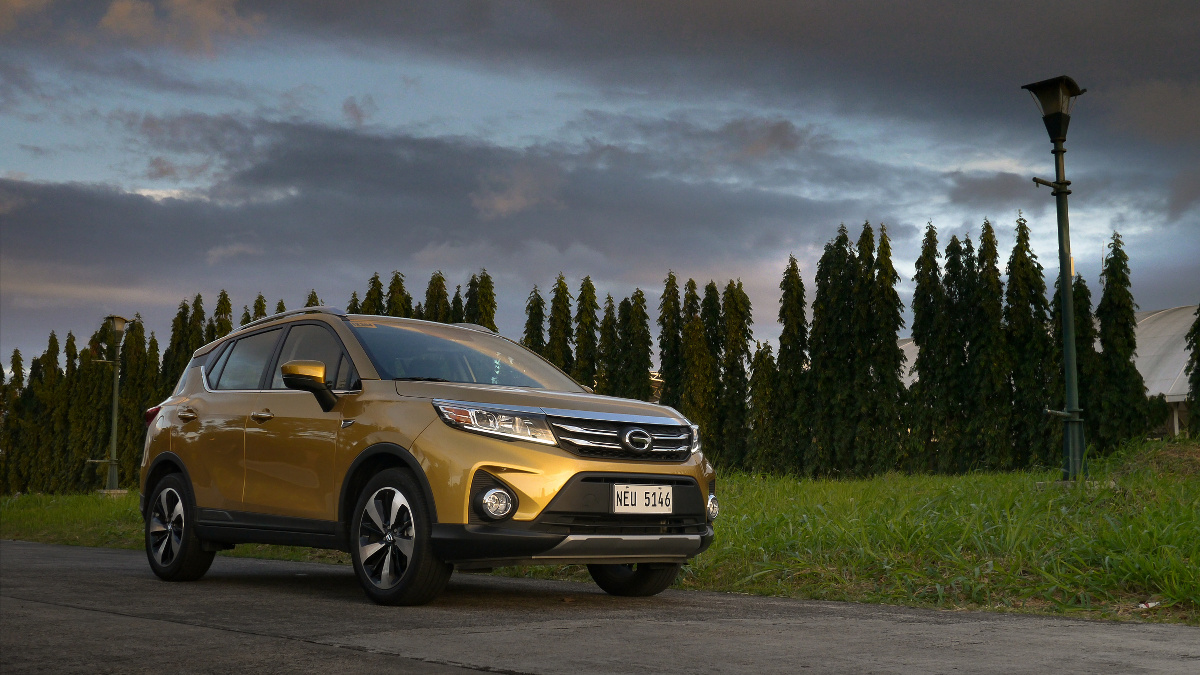 Luxury Cars – 2021 Mercedes-Benz E220d, E53 AMG: Review, price, Specs

Luxury Cars