Luxury Cars – 2021 Toyota Avalon Hybrid Review: Big, Classy Efficiency | News

Related Link:
Ross-Simons'
Clearance Jewelry.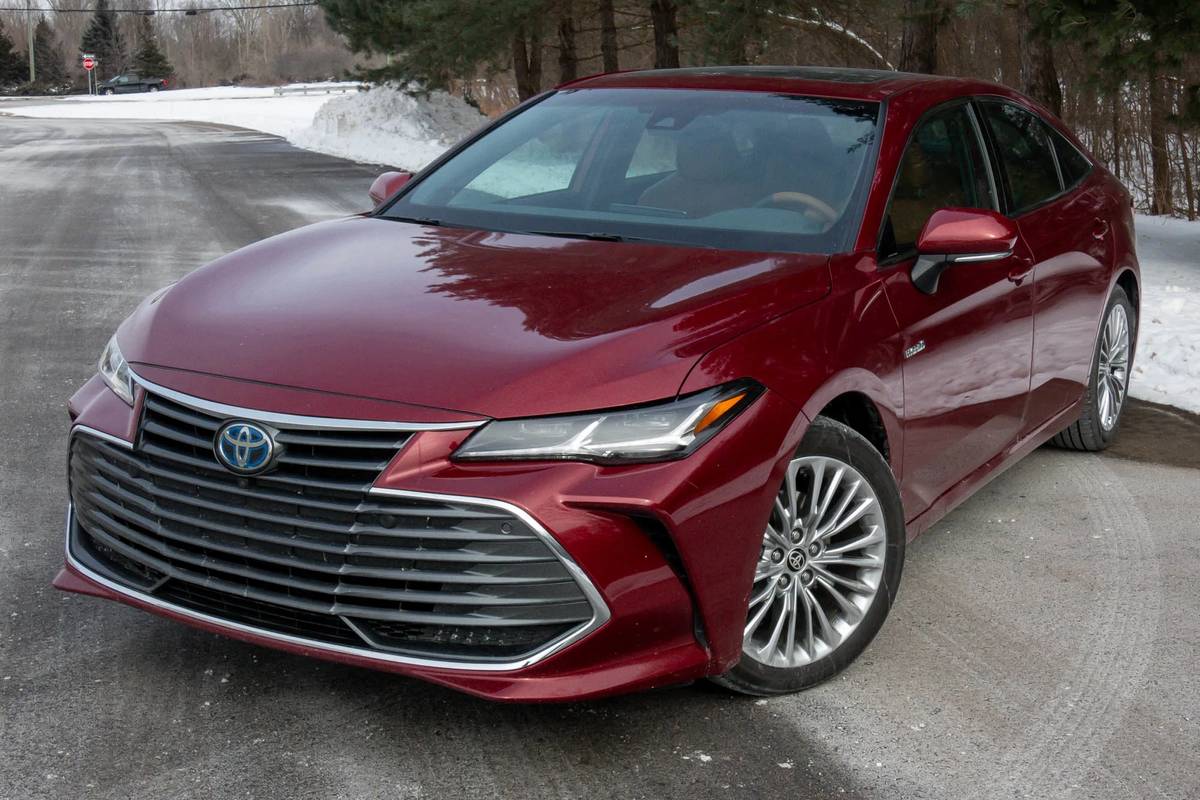 2021 Toyota Avalon Hybrid
Cars.com photo by Aaron Bragman
The verdict: If you still enjoy big, comfortable family sedans, there aren't many left that can match the Avalon Hybrid's spacious interior, comfortable accommodations and excellent gas mileage.
Versus the competition: There aren't many big sedans out there period, and most of the ones left come from luxury brands. The aging Chrysler 300 and Dodge Charger are competitive with the Avalon when it comes to space and amenities, while the Nissan Maxima is much more fun to drive but not as spacious inside. And the only one that comes close to matching the Avalon Hybrid's fuel efficiency is the hard-to-find Honda Clarity Plug-In Hybrid.
The only automotive segment that is perhaps more endangered than the mid-size family sedan is the full-size family sedan; there just aren't as many as there used to be, as automaker after automaker switches to SUVs instead (a response to the market, of course). Gone are the Buick Park Avenue, the Chevrolet Caprice and Impala, the Ford Taurus, the Hyundai Azera … the list goes on.
Related: 2021 Toyota Avalon Adds All-Wheel Drive, Android Auto, Nightshade Edition
The Toyota Avalon is one of the handful that remain, and it hasn't just soldiered on; it's gotten plenty of love from the brand in terms of updates to its styling, powertrain, technology and more. For 2021, the Avalon is available in either conventional gasoline or gas-electric hybrid forms. I drove a hybrid version, and its combination of comfort, high-quality materials and top-notch efficiency remains an attractive package for a select group of buyers. As the country marches increasingly toward SUV nirvana, I found there's still lots to love about a big traditional sedan — especially one that's a fuel-sipper.
Still Controversial-Looking
Toyota started going fishy-faced a few years ago, and while you'd think we'd all be used to it by now, it's still a jarring look on the front of the latest Avalon. The hybrid model's big, gaping black grille has a slightly different look, but it still seems unfinished. It's a shame, really, as the rest of the design is more traditionally sleek, with smooth sides leading to a genuinely interesting approach to the taillights and rear bumper. Sequential LEDs invoke the premium vibes we've seen in the latest Audi models, and the big multispoke wheels look classy and rich. We wish there were a different look for the front end, but at least you don't have to think about it when you're sitting in the car. 
And inside the Avalon really is the best place to be. Toyota's latest interior redesign created something modern, stylish and more upscale in its materials than you'll find in the smaller but related Camry sedan. The Avalon I drove had saddle-brown leather upholstery that looked and felt excellent, complementing the sweeping design in an interesting way. There's a lot more style and artistry in the Avalon's interior than you'll find in Toyota's more mainstream offerings. It approaches the levels seen in the automaker's Lexus luxury division, raising the question: Should I just upgrade to a Lexus ES (which shares many of its guts with the Avalon)? 
The Avalon's multimedia system is still a downside, with primitive-looking graphics and tiny buttons the size of a Tic Tac. At least it's mounted high, allowing for good visibility. There's space aplenty inside, with big, comfortable seats up front and copious legroom in the back — enough that your knees almost certainly won't touch the front seatbacks. Headroom, however, is a little tight in the rear thanks to the Avalon's sloping roofline, which isn't as formally upright as competitors like the Chrysler 300. That said, the Avalon's is better than the backseat in the latest Nissan Maxima, which is a little short on both headroom and legroom. It's also nice that the Avalon's materials quality doesn't drop off in back, where you'll find the same lovely quilted leather on the seats and doors as you get up front, plus power outlets and heated seats. 
Cargo room is plentiful, and thanks to the hybrid's new lithium-ion battery, there's no loss of cargo space to accommodate a power pack. According to manufacturer specifications, the trunk holds 16.1 cubic feet of stuff, comparable to the 16.3 cubic feet in a 300 and more than the 14.3 in a Maxima or the 15.5 in a Honda Clarity. 
Efficient, But Not as Expected
Powering the hybrid Avalon is a naturally aspirated 2.5-liter four-cylinder engine and an electric motor, tied together via a continuously variable automatic transmission. A new lithium-ion battery pack replaces the old nickel-metal hydride pack, and it fits neatly under the rear seats, so there's no penalty to the cabin or cargo area from a battery intruding into the space. Total system output is just 215 horsepower — not a lot for a car this big, but that number is misleading. Actual engine output is rated at just 176 hp and 163 pounds-feet of torque, but the 118-hp electric motor's purpose is to help drive the front wheels. Toyota doesn't give a combined torque figure for the Avalon Hybrid, but it must be good; the car does not feel the slightest bit underpowered. 
Acceleration off the line is brisk thanks to that electric motor. You'll never miss the extra engine cylinders you'd find in other sedans, as the hybrid system provides plenty of grunt when called for, then balances it out with quiet electric operation both at lower speeds around town and during steady-state highway cruising. The CVT has a neat trick wherein it apes the feel of a six-speed automatic transmission, creating fake "shifts" where you'd expect to feel them from a conventional geared transmission. It's wholly unnecessary, but it creates a mild illusion that this is a regular gas-powered car with a bigger engine than it actually has. 
The reason to go with this powertrain is the gas mileage: the Avalon Hybrid XLE is EPA-rated at 43/44/44 mpg city/highway/combined, while the other trim levels are rated 43/43/43 mpg. But in my 204-mile fuel-economy test loop, the Avalon Hybrid returned a figure far below that estimate: 37.9 mpg combined. I can offer no reason for this other than colder temperatures, but it really wasn't all that cold: It was a sunny, calm day with temps in the mid-40s, and my speed never exceeded posted limits by more than 5 mph. 
Even with a subpar fuel economy showing, however, the Avalon Hybrid has far better gas mileage than most sedans its size. The Nissan Maxima is rated 20/30/24 mpg city/highway/combined, while the best the Chrysler 300 and its V-6 can do is 19/30/23 mpg. Of course, both the Chrysler's and Nissan's standard engines are far more powerful than the Avalon Hybrid's, but with a big cruiser sedan like this, the target customers aren't likely to find themselves in many stoplight drag races. Long-term overall efficiency is a better idea for a vehicle this size. 
One competitor you might not have considered — given it's not a big seller and can be hard to find in most areas — is the Honda Clarity Plug-in Hybrid. Being a PHEV, it can operate in electric-only mode for a significant distance (48 miles, according to the EPA) before its gas engine kicks in to deliver 42 mpg combined. Many people are turned off by the Clarity's concept-car styling, but I think it looks dynamite, like something I'd have seen on a turntable at an auto show in my youth. 
The rest of the Avalon Hybrid's behavior just reinforces the idea that smooth, comfortable efficiency should be the goal for a car like this. The ride is smooth and compliant, the steering is light and fairly numb, and the brakes work like a hybrid car's brakes typically do: just fine until the last few feet of a stop, at which point they go numb and feel artificial. All this contributes to the idea that this isn't a car you're going to tackle a twisty road with, but rather one that will serve nicely as an executive express — a commuter car with more space than a tiny eco-friendly hatchback that can still deliver impressive fuel economy numbers.
More From Cars.com:
Pricing Is Still Reasonable
The '21 Avalon Hybrid starts at $38,095 (all prices include destination) for a base XLE trim level, which is a nicely equipped, comfortable, premium-level sedan. The sportier-looking XSE will run you $40,595, while the top Limited trim goes for $44,395. With the available advanced safety package, illuminated door sills, optional premium paint and a few other accessories, my loaded Avalon Hybrid Limited rang in at $46,717. 
The conventional gas-powered Avalon can be had in more flavors than the hybrid version, including a sportier TRD model with a handling package and an even more luxe Touring trim that slots above the Limited. The conventional Avalon can also be had with all-wheel drive. 
Trim-to-trim, the Avalon Hybrid XLE and Limited are $975 more expensive than the conventional version, and given that the EPA's annual fuel cost estimate for a Hybrid XLE is $650 less than for the V-6 Avalon XLE, based on current prices, over time the math works out in the hybrid's favor; its extra initial purchase cost would be recouped halfway through the second year of ownership and more than pay for itself in subsequent years. My limited experience with the Avalon Hybrid suggests your mileage may vary in terms of realized fuel economy, but if the EPA estimates are more accurate for you than they were in my experience, there's money to be saved here. 
Full-sized sedan competitors are not very common these days, but the Chrysler 300 in its base Touring trim level is priced at a surprisingly low $32,540, ranging up to a top-trim S that starts at $39,490. If fuel economy isn't a concern, the 300 is one of the last big sedans still available with a V-8 engine; along with the Dodge Charger, it's also the only one that can be had from a mass-market, nonluxury brand. The Nissan Maxima is priced closely to the Avalon Hybrid, starting at $38,040, but like the 300, it's not available in a hybrid model, so it's not an exact comparison. The Honda Clarity is practically a unicorn given how rare they are, but it starts at $34,395 and ranges up to $37,595 for a Touring. As a PHEV, it's even more fuel-efficient than the Avalon Hybrid and costs less at the top end, as well. But if you don't want to deal with plugging in a vehicle and do want to have a premium, comfortable sedan experience — along with the thriftiness of a hybrid — the Toyota Avalon Hybrid makes a strong case for itself. 
Related Video: 2021 Toyota Camry Hybrid: Review
Cars.com's Editorial department is your source for automotive news and reviews. In line with Cars.com's long-standing ethics policy, editors and reviewers don't accept gifts or free trips from automakers. The Editorial department is independent of Cars.com's advertising, sales and sponsored content departments.
Share